Gyirong Port Transportation: how to get to Gyirong Port from Lhasa, Mount Kailash, Mount Everest and Kathmandu Eachly
Since the earthquake of 2015, there was no overland route to Tibet for more than two years. The earthquake completely destroyed the border crossing at Zhangmu, and the crossing point was quickly moved to Gyirong Port, to the north of Zhangmu.
In August 2017, the border crossing point at Gyirong port was re-opened, and international travelers were once more allowed to cross from Nepal to Tibet and Tibet to Nepal. Traveling overland to Lhasa from Nepal is one of the more popular options for travelers to Tibet that are entering the region from Kathmandu. And with the opening of Gyirong Port, the route was once again set for travelers to make their adventures across the plateau to the Tibetan capital.
Where Is Gyirong Port
Located to the north-northwest of Kathmandu in Nepal, Gyirong Port lies on the border between Nepal and Tibet, on the Chinese side of the Trishuli River Gorge. Situated in Gyirong County of Shigatse Prefecture, Gyirong Port is merely a small collection of official buildings that house the Chinese immigration officials that are there to check foreign nationals entering the country from Nepal, and to check out those heading from China to Nepal. The Resuo Bridge is the actual crossing point of both the Trishuli River and the international border between Nepal and China and links Gyirong Port with Rasuwagadhi Fort on the Nepali side of the border.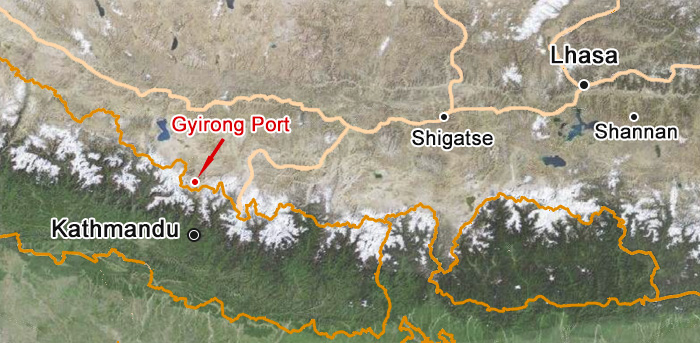 Gyirong Port
How to Get to Gyirong Port
Getting to Gyirong Port can be done from several directions, either from Lhasa direct, from Mount Everest, or from Mount Kailash, two of the most popular tourist destinations in western Tibet. You can also reach Gyirong Port from Nepal, if you are traveling from Kathmandu to Lhasa.
From Lhasa to Gyirong Port
To get to Gyirong Port direct from Lhasa, you will need to travel west from the Tibetan capital, along the Sino-Nepal Friendship Highway. However, this does not take you direct to Gyirong Port, as the other end of the highway terminates at Zhangmu, the former international border crossing. To get to Gyirong Port, you will need to turn off the Friendship Highway, also known as the G318 National Road, where it meets the S214 National Road, just before it turns south to head for Zhangmu.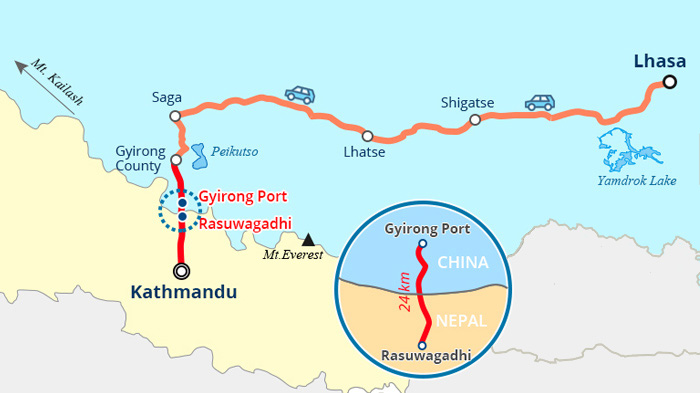 The route from Lhasa to Gyirong Port
On the S214, you continue heading west past Langqiang Co and Paiku Tso, after which you will soon arrive at Gyirong Town. From Gyirong Town, continue southwards another 68 kilometers along Xinglong Road and you will arrive at the last town before you get to the border, Jilongzhen. From there it is just a few kilometers along the same road to get to Gyirong Port. The total distance between Lhasa and Gyirong Port, by road, is around 820 kilometers. - Join 7 Days Lhasa to Kathmandu Overland without EBC via Gyirong Port
From Mount Everest to Gyirong Port
Getting to Gyirong Port from Mount Everest follows some of the same route as when traveling from Lhasa. Once you have finished in Everest Base Camp, you will need to return the way you arrived, following the 218 Country Road back to the G318 National highway at Old Tingri. From there, you turn west along the Friendship Highway towards Zhangmu, turning off when you reach the S214 National Road that takes you to Gyirong Town, Jilongzhen, and finally to Gyirong Port. - Join 7 Days Lhasa to Kathmandu Overland Tour with EBC via Gyirong Port
From Mount Kailash to Gyirong Port
Traveling to Gyirong Port from Mount Kailash in Ngari Prefecture means that you will travel in the opposite direction than when coming from Lhasa or Mount Everest. From Darchen, the town at the foot of the sacred mountain, the road heads southeast along the G219 National Highway, past Lake Rakshastal and Lake Manasarovar. The G219 route heads as far as Saga, where you will turn off onto the local road that heads south past Lake Cuochuolong to Lake Paiku Tso. From there you turn onto the S214 National Road that takes you through Gyirong town and Jilongzhen to Gyirong Port. - Join 13 Day Lhasa Everest Kailash Kathmandu Adventure Tour via Gyirong Port
From Kathmandu to Gyirong Port
Traveling from Kathmandu to Gyirong Port is a journey that takes more than six hours and takes you up into the Himalayas from the Nepali capital along some of the country's roughest roads. There are two ways to get to Gyirong Port from Kathmandu, by local bus or by private car.
The private car option does not really get you there any faster, as you will need to contend with the same traffic as on the public bus. However, it is more comfortable, and less stressful. The public bus, on the other hand, is often crowded and cramped, and is not very well kept, as it is used along one of the roughest roads in the area.
The route to Gyirong Port from Kathmandu starts well, along a well-paved road that heads northwest out of the city, until you reach the town of Burang. From there, the road gets gradually worse, degenerating into little more than a gravel and dirt track. However, this small track carries large buses and trucks along its length daily and is well used. However, it is narrow in many places, so you should expect delays while traffic passes each other going in opposite directions.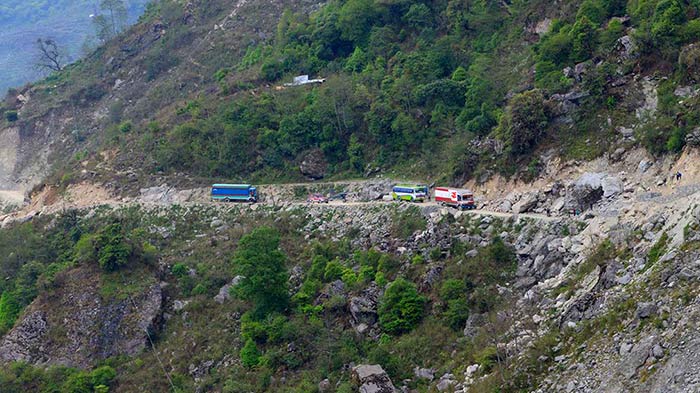 There is usually traffic jam on the way to Gyirong from Kathmandu
The total trip takes around 7-8 hours to cover the 130-kilometer distance to the border, and the bus stops for lunch along the way. Once at the border crossing at Rasuwagadhi Fort, you will cross the Resuo Bridge on foot, arriving at the Gyirong Port immigration checkpoint to have your documents checked to enter China. The view from the bridge is spectacular, though you do not want to stay there too long, as it may cause problems when you get to the Chinese side of the border.
Luckily, we have the third option for you. We can help you arrange the convenient transfer service from Kathmandu to your hotel in Gyirong town. And to ensure your travel safety by avoiding traveling at night in deep valley and driver's drowsy driving, we will arrange you an overnight stay in Syabrubesi Village and later you can cross the Gyirong border the next morning. Both the 7-seat 4 WD, capable of accommodating around 4 travelers and the 25-seat tour bus, carrying around 15 -16 people. The transfer cost is around 40 USD - 60 USD/person. - Join 8 Days Driving Across Himalaya Overland Adventure from Kathmandu to Lhasa via Gyirong Port
Documents required to Gyirong Port
Whichever route you take to get to Gyirong Port, you will require certain documents in order to get there. Even when traveling from Lhasa, there are additional documents that are required to be obtained on top of the main permit required to enter Tibet.
Tibet to Nepal
For traveling to Gyirong Port from Lhasa, Mount Everest, and Mount Kailash, there are certain permits required for traveling in the region. Before entering Tibet, you will have received your Tibet Travel permit, the main permit for entering and traveling around Tibet in Lhasa Prefecture. This is normally obtained by your tour operator prior to you getting to China for your Tibet tour and normally takes 15-20 days to process with the Tibet Tourism Bureau in Lhasa.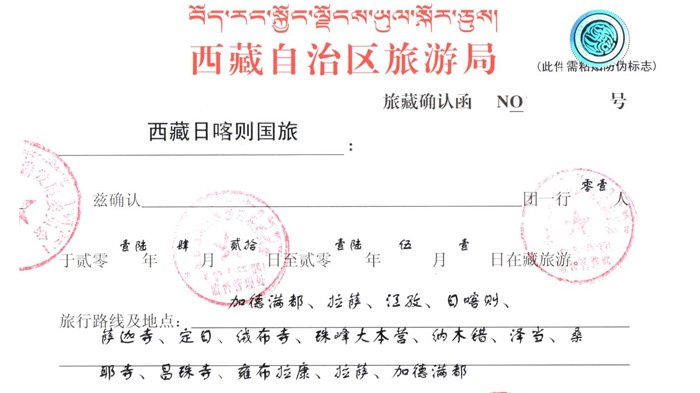 Tibet Travel permit
In order to get to Mount Everest in the first place, you will need to have the Alien's travel Permit, for travel around the opened areas of Tibet outside Lhasa. You will also need the Frontier Pass, which all travelers to the border areas of Tibet are required to have, except for Tibetans. Even the Chinese tourists to the region are required to have the Frontier Pass to get to Everest. To get to Gyirong Port from Everest, there are no other documents required, though you will need to apply for the visa on arrival for entry into Nepal on the other side of the bridge.
If you are coming to Gyirong from Mount Kailash, then you will have already obtained all the permits and passes you will need to get to the border port. For Kailash, in addition to the Tibet Travel permit, the Alien's Travel permit, and the Frontier Pass, you will also need to have the Restricted Areas Permit, also known as the Military Permit. This permit allows you to travel to certain locations within the military-restricted areas of Tibet, such as Nyingchi and Ngari Prefectures.
The permit is obtained at the same time as the Tibet Travel permit requires around 15 to 20 days to process. The Frontier Pass and the Alien's Travel Permit are both obtained by your tour guide once you arrive in Lhasa and take just a few hours to process the applications using your original passport and Tibet Travel Permit.
Nepal to Tibet
For those traveling in the other direction, it is a little more complicated that when coming from Lhasa, though you have to do less yourself as the tour operator handles all of it for you.
The first thing you need is the Group Tourist Visa also known China Group Visa, which allows you to enter China as a tourist through Tibet. The standard Chinese Entry Visa is not valid for entry from Nepal, and the visa you need will be issued by the Chinese Embassy in Kathmandu. This will be applied for on your behalf by your tour operator once you arrive in Kathmandu, and they will require your original passport and completed application form in order to process the visa. Processing takes around three working days, so you need to be in Nepal at least five working days before your date of departure for Tibet.
You will also need all of the permits and passes that are required for anyone traveling to Lhasa from Nepal, such as the Tibet Travel Permit, the Alien's Travel Permit, and the Frontier Pass. Unless you are traveling to Mount Kailash or other parts of Ngari and Nyingchi as part of your tour in Tibet, you will not require the Restricted Areas Permit, as you will not be entering any military restricted zones.