Traveling to Tibet from South Koreans is not a long journey, and there are direct flights from Seoul to more than 30 cities across China, including Beijing, Shanghai, Guangzhou, and Chengdu, to name a few. Flying to Kathmandu to enter Tibet is also an option. However, it requires stops, as there are no direct flights.
Tibet Travel Permit Application for South Korean Tourists
The Tibet Travel Permit for South Korean tourists is required before traveling to Tibet, and travelers should book their tour through as registered tour operator as independent travel in the region is not permitted. All tourists must be on a pre-booked tour that will include their guide, driver, private vehicle, and the relevant permits. And to facilitate your Tibet tour, we offer Tibet Permit service for free to our clients. The application requires your passport and visa photocopy and a digital photo to process, and takes around 15-20 days. Once completed and approved, it will be forwarded to your hotel in China. And you need it to board the Tibet train or flight to Lhasa, Tibet.
Most Popular Join-in Tibet Small Group Tour Packages for South Korean Tourists
Join-In Group Tours are a great way to take a trip to Tibet for solo travelers and those on a budget, or someone who enjoys traveling with other interesting travelers. The tours range from four to fifteen days, and the itineraries depend on the tour you want to take, with fixed departure. The tours leave on set dates, and can have up to around 12 people in each group. A great way to save money, since certain costs are shared between all member of the group, the Join-In Group Tours from Tibet Vista are a popular way to travel to the roof of the world, and give you a better service from your guide due to the lowered numbers in the party.
China Tibet Nepal Tour Packages for South Korean Tourists
A great way to explore the whole of China, across Tibet and on into Nepal, is one of the tour packages that cover all three places in one go. Ideal for those who want to cover more than one place during their trip, you can travel across mainland China, visiting the places you want to see most, before heading up to the Tibetan plateau for a tour across Tibet. You will end the tour in Nepal, where you can relax in the tranquil Kathmandu Valley, or take up trekking at one of the hundreds of amazing trails across the country. The package covers a distance of over 5,000 kilometers across the whole of China and on down from the Himalayas into Nepal. And we promise to offer you the most tourist-friendly service you need, such as Tibet permit application, and Tibet train, flight, hotel booking, etc., leaving you solely focus on the tour experience itself.
How to Get to Tibet from South Korea? Multiple ways to travel from Seoul to Tibet.
Travel to Tibet from South Korea can be done using one of two main routes, through China or through Nepal, and there are multiple options for onward travel from both places to get you to Tibet. Chinese cities such as Shanghai, Beijing, Chengdu, and Guangzhou offer both flights and trains to Lhasa, and you can get a flight from Kathmandu in Nepal, or cross the border overland to get to Lhasa.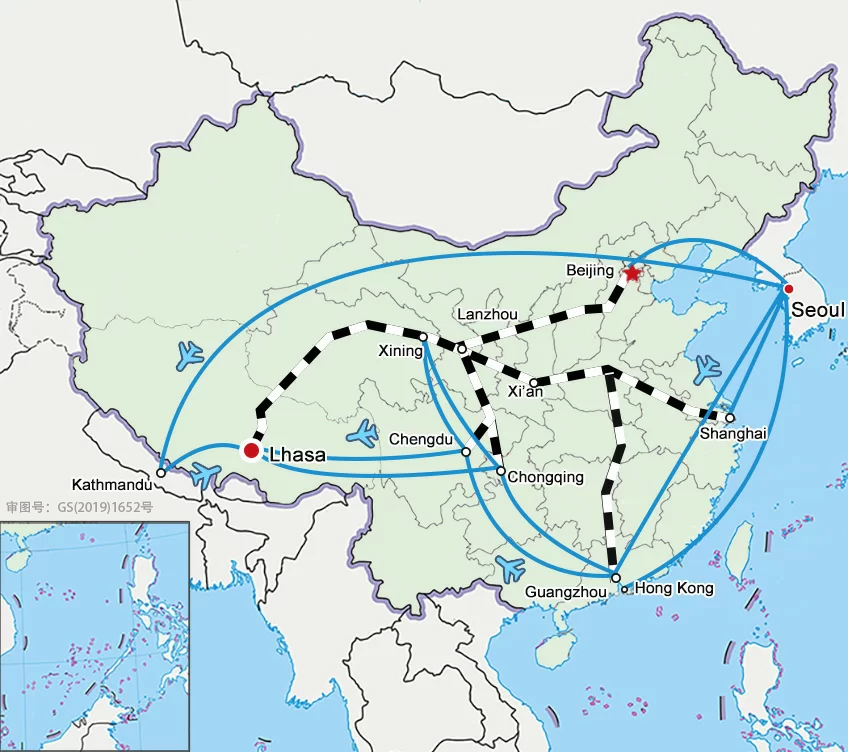 By Flight to China
With dozens of daily flights to the major cities in China, getting a flight from Seoul Incheon International Airport is simple, and the prices are relatively low as well, costing from just US$ 200. The average flight times are:
a. Seoul to Beijing: non-stop - 2 hours, one-stop – up to 14 hours 15 minutes (TAO, XMN, NRT)
b. Seoul to Shanghai: non-stop - 1 hour 50 minutes, one-stop – up to 18 hours 25 minutes (WEH, TAO, PUS)
c. Seoul to Guangzhou: non-stop - 3 hours 35 minutes, one-stop – up to 19 hours 10 minutes (HFE, HGH, WEH)
d. Seoul to Chengdu: non-stop - 4 hours 5 minutes, one-stop – up to 15 hours 55 minutes (TAO, NKG, YNT)
e. Seoul to Hong Kong: non-stop - 4 hours, one-stop – up to 17 hours 25 minutes (CEB, MNL, XMN)
After Your Arrival in China
When you arrive in China at your preferred location, your Tibet Travel Permit will be waiting in the hotel reception for you. In some extreme cases, our staff will give it to you in person the railway station or the airport. You will need the permit to get the boarding pass for your flight or to board the train to Lhasa.
From Beijing to Lhasa
By flight
There is currently only one direct flight per day to Lhasa from Beijing, although there are a larger number of indirect flights that stopover in Chengdu en route to Lhasa. The direct flight takes around 5 hours to get to Lhasa Gonggar International Airport, and costs from around US$ 500 for an economy ticket.
By train
The train from Beijing to Lhasa is the Z21, which leaves daily at around 8:00pm. The journey covers 3,757 kilometers across eight provinces in mainland China as well as Tibet, arriving in Lhasa around 40 hours later at 12:10 pm on the third day. However, in the summer season, from May to September, it can be hard to get a ticket for the train from Beijing to Lhasa, due to the huge demand. One option to counter this would be to take a flight to Xining, in Qinghai Province, and then get the train from there, as there are more carriages on the Xining train and a better chance of being able to procure a ticket.
From Shanghai to Lhasa
By flight
Flights from Shanghai leave several times a day, although there is currently no direct flight to Lhasa. The flights stop at Xi'an, Chengdu, Chongqing, or Kunming, and take from around 8 hours to as much as 26 hours for the multiple-stop flights. The cheaper flights start from around US$ 455.
By train
The Z164 leaves Shanghai daily at 8:10pm, and takes around 47 hours to reach Lhasa, as distance of around 4,373 kilometers. The train arrives in Lhasa at around 7:15 in the evening of the third day, and the journey is the second longest of all the routes to Lhasa.
From Guangzhou to Lhasa
By flight
Similar to Shanghai, there are no direct flights to Lhasa from Guangzhou, although there are a number of indirect flights, with stopovers in Chongqing and Chengdu. The average flight takes from 5 hours 55 minutes to 10 hours 30 minutes, and costs from around US$ 455.
By train
Departing at 11:45 am daily, the train from Guangzhou takes over 53 hours to get to Tibet, making it the longest of all the train journeys to Lhasa. So, it's not recommended to family with small kids or the elderly. Covering almost 5,000 kilometers, the train arrives in the Tibetan capital at around 5:05 pm on the third day.
From Chengdu to Lhasa
By flight
From Chengdu, there are numerous direct flights to Lhasa, which takes around 2 hours 15 minutes on average. With more than 15 flights a day from Chengdu, it is one of the best airports from which to fly to Tibet, and with the short travel time, it is one of the best options for those with time constraints. It is also relatively inexpensive, costing from around US$ 233 for an economy flight.
By train
The trains from Chengdu depart every other day at around 9:37 pm, and arrive in Lhasa on the third day at around 9:55 am. Covering a distance of 3,070 kilometers across mainland China and Tibet, the journey takes a little over 36 hours, and is one of the more popular gateway cities to travel to Tibet from. Scheduled departures from Chengdu are on odd days of the month (1st, 3rd, 5th, etc) in January, April, May, August, November, and December, and even days of the month for the rest of the year.
From HongKong to Lhasa
Without a direct flight to Lhasa, there are several options for connecting you to the Tibetan capital. Flights to Chengdu from Hong Kong and then on to Lhasa are very popular, as is the flight to Xining via Chengdu, and then taking the train to Lhasa. You can also take the train direct from Chengdu, or for the very adventurous, you can get a train direct to Guangzhou from Kowloon Station in Hong Kong, and then get the train from there to Lhasa, a total journey time of around almost 60 hours, that covers nearly 5,000 kilometers.
By Flight to Kathmandu
While inland China is probably the best option for traveling to Tibet, as it is much closer than Nepal to South Korea, there is an option of traveling to Kathmandu and then either flying to Lhasa or taking an overland tour across the plateau. Flights to Kathmandu take from around 9 hours, as there is no direct flight to Kathmandu's Tribhuvan International Airport, and the flights all make stops in either Hong Kong, Shanghai, or Guangzhou. The cheapest flights, however, are still as much as US$ 216 per person for an economy ticket.
Kathmandu to Tibet
By Kathmandu to Lhasa flight
There are several daily flights from Kathmandu's Tribhuvan International Airport, provided by Air China, Tibet Airlines, and Sichuan Airlines. The flight normally takes just 90 minutes, and has the added advantage of allowing you a bird's-eye view of the summit of Mount Everest as the plane flies over the Himalayas. An average economy ticket costs from around US$ 400.
By the Epic Overland Tour from Kathmandu to Lhasa
Having gone to all the trouble of flying all the way to Kathmandu, it makes the flight worth the time and cost if you take an overland tour from Nepal to Lhasa. This journey is an epic adventure that takes you to high mountain passes, vast expansive prairies, shimmering high-altitude lakes, and some of Buddhism's most revered monasteries and temples. You will get the chance to stand close to Mount Everest, and gaze upon its mighty flanks, all the way to the highest peak on the planet, or travel a little further north to one of the most sacred places in the world for Buddhists and Hindus, holy Mount Kailash. Traveling across the region is another adventure, as you will pass by many amazing sights, experience views that are unseen anywhere else in the world, and finally get to experience the cultural and religious heart of Tibet, the stunning city of Lhasa.
The trip is there waiting for you to travel! All you need to do is get in touch with us and tell us your requirements, and we will do most of the work for you, including booking your hotels, train tickets, etc., if you require it. All you need to think about then is enjoying your holiday at the Roof of the World.
Quick Inquiry
We'll get back to you within 24 hours.
If you are planning to enjoy a trip to Tibet from South Korea, yet have no ideas of how to sort it out the details, no worries! We would like to hear your tour plan and offer free professional consultancy and viable solutions. Please feel free to contact us.