Tibet Train Ticket Booking Is Expected to Be Much Easier Since Oct.15, 2016
In the past summer, obtaining a Lhasa train ticket has been the headache for tourists planing a visit to Tibet. And this kind of situation will last until the middle of October. During the National Day holidays, more than 45,830 people has departed from Lhasa Railway Station. Meanwhile, over 43,370 passengers have just got to Tibet. The daily ridership has been over 12,700. We have learned that Lhasa Train Station will maintain this peak state till Oct. 15th. The good news is that passengers in and out of Tibet will reduce sharply after this weekends. And it'll be much easier to book train ticket to Tibet.
Although summer vacation has come to an end, it didn't seem to affect Tibet passenger volume too much. Driven by the students, tourists and work personnel, the peak passenger flow of Lhasa Railway Station still lasts for a period time. During the Golden Week, Tibet railway has handled over 12,700 passengers per day, among which the daily in-Tibet is 6,196 and the off-Tibet is 6,547.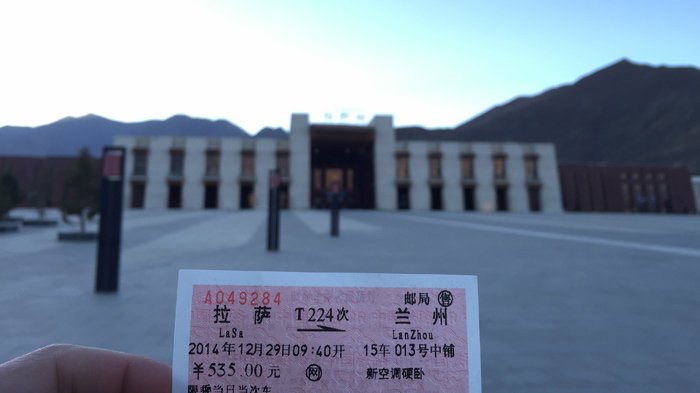 Lhasa train ticket is easier to be obtained in Tibet winter.
Visitors in Lhasa Train Station mainly consist of relatives, tourists, businessmen. Starting from September 30th, the off-Tibet passenger volume has began to increase and then reached its peak in the following seven days. Seeing from the passenger traffic, we find that a large number of travelers have taken Tibet train to Beijing, Shanghai, Guangzhou, Chengdu and Chongqing. And compared with the same period of last year, tourists to Shigatse from Lhasa also have increased. The attendances of off-Tibet trains were over 95%. With less tourists in Lhasa, it's more likely to experience Tibetan religious life. You'll encounter a swam of devoted pilgrims prostrating themselves in front of Jokhang Temple, and circling along Barkhor street, etc.
In order to ensure you a pleasant Tibet train tour, on-site guidance has been strengthened and kind staff are ready to help the disabled and passengers with heavy luggage. According to Tibet train schedule, our experienced tourist guide and local driver will wait outside in advance. You'll be offered a warm pickup service and then escorted to your hotel in Tibet.
The Golden Week has passed for five days, but Tibet Train Station will be packed with passengers till October 15th. And the average daily passenger traffic will remain over 10,000 for several days. The waiting room is full of people. And in the crowded hall, many travelers are lining up to buy train tickets to leave Tibet. During this period of time, Tibet station continues to strengthen the patrol inspections of some key sites, like the entrance, waiting room, platform, sky-bridge, etc. And the colorful Hada visitor service center has got ready to provide convenient service for masses of passengers.
Fortunately, it's expected to be much easier to obtain train ticket in and out of Tibet after Oct.15th, 2016. Analyzing the data from 12306 railway official website, train tickets from Lhasa to Beijing, Shanghai, Guangzhou, Lanzhou and Xining are relatively abundant. But Lhasa Chengdu train tickets and Lhasa Chongqing train tickets are still a little bit tight. Since there are two trains from Lhasa to Shigatse everyday, it's not hard for tourists to obtain Shigatse Lhasa train tickets.
As Tibet train ticket booking period has been extended to 60 days via Internet and telephone as well as 58 days via ticket window, passengers planning for a Tibet winter tour are suggested to collect the tickets in advance so as to avoid any unexpected troubles and delays.