National Highway 109 Implemented Traffic Control for Heavy Snow
Learning from Tibet Autonomous Region Highway Bureau, the traffic situation along National Highway 109 still goes well, though it has snowed for several days. And at the snow-covered sections of Qinghai-Tibet highway, we find that the road maintenance personnel and traffic police have devoted themselves to directing the flow of traffic. For your safety, Tibet Vista kindly reminds all the travellers to use the anti-skid chain and slow down the speed to ensure a safe and sound Tibet journey.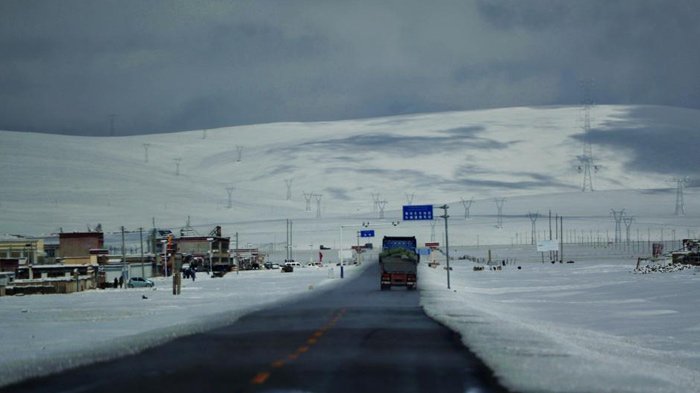 Qinghai-Tibet Highway
Latest Traffic Information of National Highway 109 Qinghai-Tibet Road Section
Due to the wide-ranging impact of the snowfall, many roads in Tibet have been iced up and the relevant departments have began to implement traffic control over some segments. Fortunately, with the weather condition changing better, the traffic situation has also got greatly improved. Till the end of March 20th, there is no traffic block occurring in National Highway 109 Qinghai-Tibet road section. Chances are that travellers would be caught in the traffic jam causing by icy road and a large number of vehicles.
In recent ten days, the road condition of Qinghai-Tibet Highway would be a little bit annoying. Since the alternative one-way traffic is conducted, it would cost you 3 or 4 days to complete this 1000-kilometer-long trip to Tibet. Thus, as for tourists who want to travel overland from Xining to Lhasa, we'd like to suggest you to take other routes to Tibet instead, like Sichuan-Tibet Highway, Yunnan-Tibet Highway, etc.
Join-in Priveat Tibet Overland Tour Packages:
Updated Tibet Road Conditions
According to the relevant person in charge of Tibet Autonomous Region Highway Bureau, National Highway 559 Medog Road has already reopened to traffic on Mar.20th, 2017. To ensure the passengers' safety, the highway department plans to continue the traffic control over Medog Rod. And under the great influence of continuous snow, it has already taken strict control over the heavy loading vehicles running on National Highway 318 Mount Mila section. As for Provincial Highway 302 Namuru-Shibuqi Road, it has been deeply buried under the snow. Considering the risk of the avalanche, the road sector would carry out the snow cleaning work till the weather allows. Up to now, no vehicles and travellers have been obstructed or trapped en route.
With the resumption of traffic, the road sector will strengthen the road patrol and continue the snow cleaning work to further improve the driving conditions for travellers in and out of Tibet.