The 15th Annual Nyingchi Peach Blossom Festival Kicked off on March 25, 2017
As 2017 Nyinchi Peach Blossom Festival kicked off on March 25, numerous tourists from every corner of the world have come to Nyingchi, Tibet. Besides the lovely peach blossom, Nyingchi has more to offer for visitors, like whistling archery competition, Gongbu wedding ceremony, peach blossom food fair and other folk activities.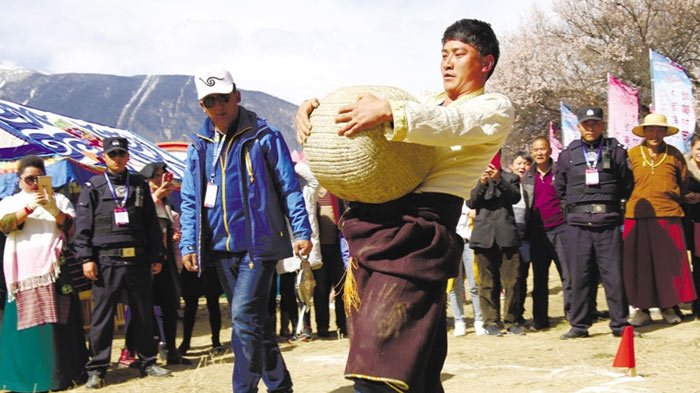 Participating in the stone-lifting during Nyinchi Peach Blossom Festival 2017
The 3rd Annual Nyingchi Peach Blossom Fairy Competition
To further enhance the influence of Nyingchi tourism, the 15th Annual Nyingchi Peach Blossom Festival Organizing Committee has launched a well-planned competition of peach blossom fairy. And the thirteen candidates after rounds of selection have made their public debut on the day of opening ceremony. All the locals and tourists were deeply impressed by their elegant manner and charm personality. The winner has been titled as "the image ambassador of Nyingchi tourism".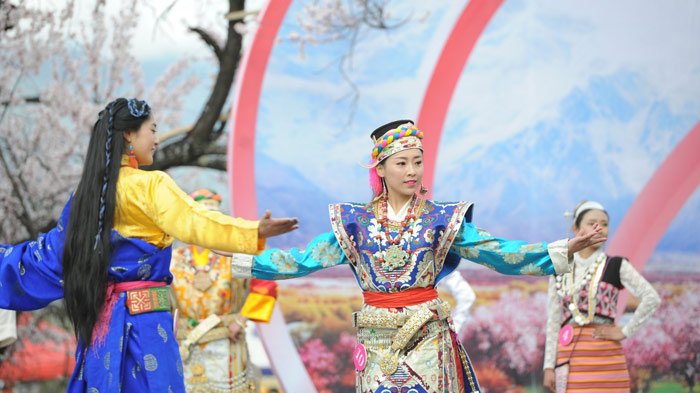 Nyingchi Peach Blossom Fairy Competition
Whistling Archery Competition
However, if you thought that there is nothing special to see except peach blossom, then you are totally wrong! Under the guidance of Nyingchi Whistling Arrow Association, seven representative teams forming by farmers, herdsmen and veterans have participated in the bustling archery competition. The players can not only be presented with the white holy Hada, but also have a chance to take a sip of highland barley wine. Their excellent performance has let the ancient whistling archery come to life again.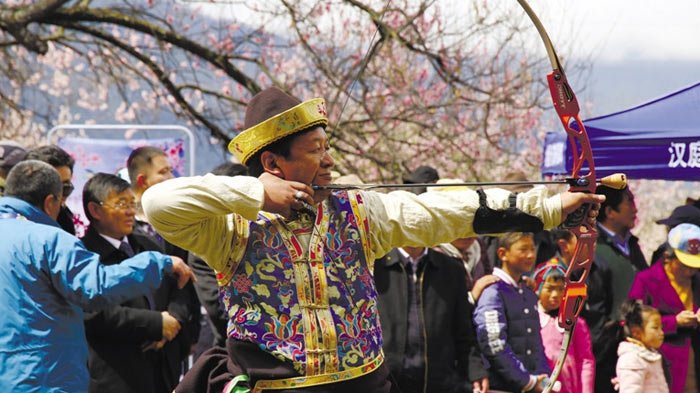 Joining in the whistling archery competition
Gongbu Wedding Customs
Gongbu wedding ceremony is a traditional Tibetan ritual endowing strong folklore characteristics. Here tourists have experienced a couple of interesting things like welcoming the bridegroom, inserting the colorful arrows, hanging the prayer flags, worshiping the gods, singing the blessing songs, etc. The fabulous Tibetan wedding clothes make the whole ceremony more spectacular.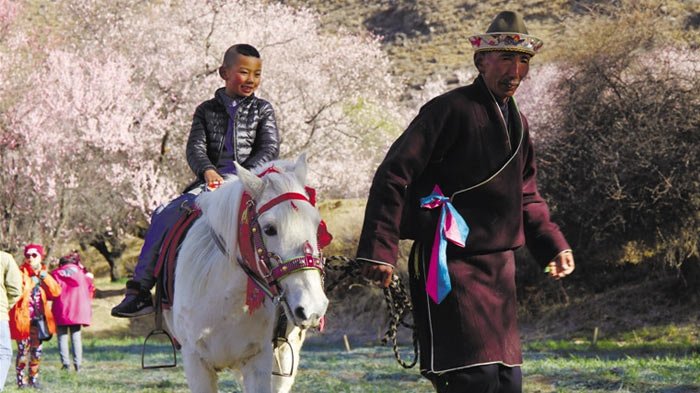 Heading towards Gongbu wedding ceremony
Nyingchi Peach Blossom Food Fair and Stone-lifting Activity
Tibetan cuisine in Gongbu is always famous for its unique culture and great taste. The peach blossom food fair this year must be a splendid feast for tourists' eyes and appetite. The stone-lifting, an entertainment activity for Tibetan farmers and herdsmen at their leisure time, has become a traditional sport game for Tibet cultural tourism festivals. During 2017 Nyingchi Peach Blossom Festival, a man named Nyima Dorje has carried a stone with a weight of 200 pounds for 124.3 meters. The audience, men and woman, young and old, all warmly applauded for this muscular participant.
Nyingchi Peach Blossom Food Fair
Social Gathering at The Source of Peach Blossom
In addition to whistling archery competition, Gongbu wedding ceremony, peach blossom food fair and the stone-lifting activity, Nyingchi Communist Youth League has organized a social gathering at the source of peach blossom. Sixty men and women from Nyingchi enterprises and public institutions have found their soul mates through this grand festival.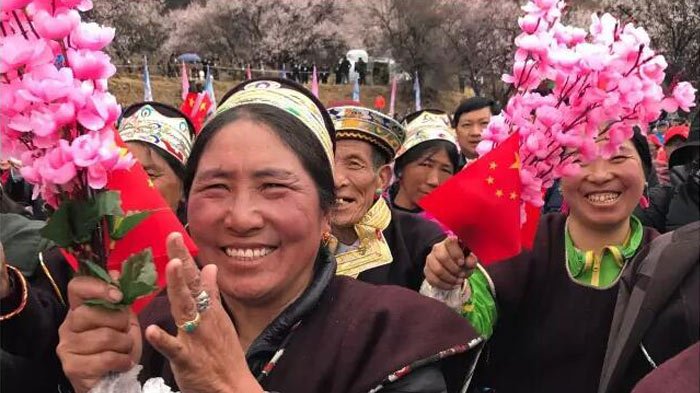 Social gathering at the source of peach blossom
Meanwhile, six sub-venues have already been set up in Bayi District, Gongbo'gyamdada County, Mainling County, Nang County, Bome County, Zayu County. Here tourists can sign for photography competition, join in the Nyingchi cycling competition, enjoy the stone-pot chicken with thousand of visitors, attend the environmental protection activities, experience the folk customs and so on.
The best way to explore what I have talked above is visiting Nyingchi by yourself. Learning from Nyingchi Tourism Development Committee, Nyingchi Peach Blossom Festival 2017 will last till the end of April. If you're curious about this pink festival, it's time to contact our travel experts to customize your trip to Tibet!