Is the Tibet Nepal Border Open for Lhasa and Kathmandu Overland Tour? Yes.
Updated on Jan 15, 2019.
Is Tibet Nepal Border open for the Lhasa Kathmandu overland tour?
Yes, it had been available for Lhasa Kathmandu overland tour since on 30, August, 2017. Please kindly check for the detailed information here about the Gyirong Port.
Until today, the Tibet Nepal Border is still closed for tourists due to the earthquake on April 25, 2015, and it's hard for us to say when the border reopens. But, for sure, we will update the news here, on significant places of our website and also inform you by email if you've sent us an enquiry about Lhasa Kathmandu overland tour.
Before the earthquake, tourists taking Tibet and Nepal overland trip would pass the Zhangmu Port to arrive in Kathmandu or leave for Lhasa. The earthquake severely damaged the roads and buildings in Zhangmu Porter, which would take a couple of years to restore and get back to use for the overland gateway.
So, the Gyirong port which was used for transporting supplies, becomes the new porter for Tibet and Nepal overland tour. It was supposed to be open to the tourists in June 2016 when the CCTV news had confirmed.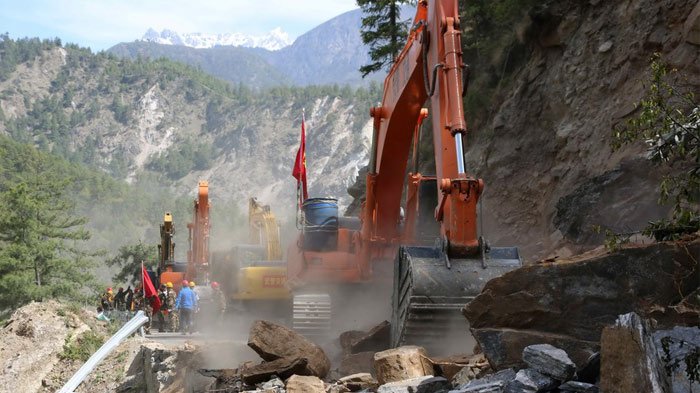 Roads from Gyirong Port to Kathmandu were blocked by the landslides.
However, due the extraordinary serious flood and landslides continuously struck Gyirong port area in the rainy season, the border was closed again before it was officially put into use for the overland trip.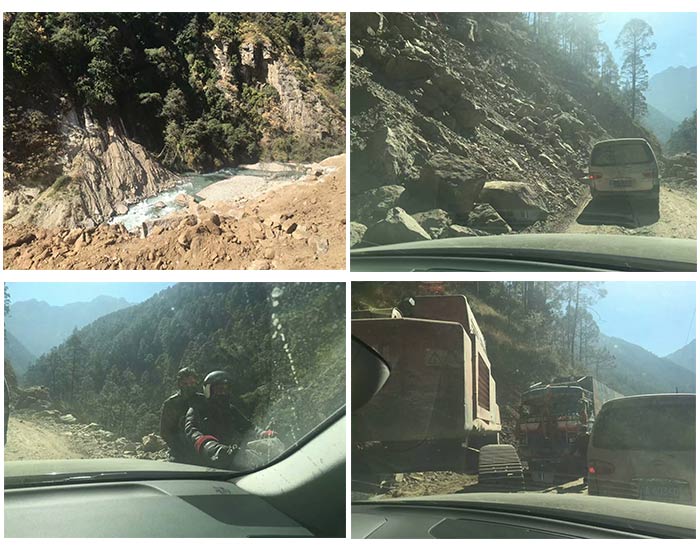 The latest pictures of Gyirong Port were taken on Nov.22 2016. Cars and trucks have to squeeze through the bumpy road.
So currently, taking flights is the only way travel between Tibet and Nepal. Air China runs the flight between Lhasa and Kathmandu every day, while Sichuan Airline runs every other day. See details about the flight schedule between Lhasa and Kathmandu here.
About Gyirong Port:
Located in the Gyirong County, Shigatse, Gyirong Port (Jilong Port) not only has a boundary line of 162 kilometers, but also a long history.
In 789, Gyirong Port has already played a vital role in economic and cultural exchanges between Lhasa and Kathmandu. According to the historical legend, Nepal's Princess Bhrukuti who married the Tibetan King Songtsan have followed this trekking route to Tibet more than 1300 years ago. And in the middle of eighth century, Guru Padmasambhava (Guru Rinpoche) has also traveled overland to Tibet from India via Gyirong valley. Hence, a bustling border market between China and Nepal took shape.
In 1961, Gyirong Port was approved to be open to the public.
In 1972, China's State Council has approved Kyirong Border as a national second-class land port. With the prosperity of Zhangmu Port, the import and export trade at Gyirong Port grounded to a halt. And then the customs, commodity inspection department and other bureaus were revoked gradually.
In 1987, Gyirong Port was upgraded into the national first-class land port. To relieve stress of Zhangmu Border and further develop Tibet trade with neighboring countries, the Chinese Government proposed to fully exploit Gyirong Port. Consequently, Resuo bridge connecting Gyirong to Kathmandu has been officially open to traffic. In addition to barter trade, Nepal Rupee and Chinese Yuan have become the major means of payment.
On December 1st, 2014, China Gyirong and Nepal Resuowa Bilateral Port was officially reopened, which marked that Gyirong Port, the ever biggest China and Nepal border, regained its prosperity and brought new opportunities for the locals.
On April 25th, 2015, the 8.1-magnitude earthquake have heavily struck Nepal and Tibet. The roads from Gyirong Town to Gyirong Port as well as Gyirong Port to Kathmandu got badly damaged. Resuo Bridge and the immigration services building were also hit severely by the Nepalese earthquake. As a result, both Zhangmu Port and Gyirong Port had to be closed down.
On May 12, 2015, another earthquake hit the border between Tibet and Nepal again. People in northern India got a clear feeling and ran out of the building immediately. It was also strongly felt in Tibet. A huge cloud of dust rose at Gyirong Border and stones fell off from time to time. The 216 national road to Gyirong Port was blocked down by landslides once more.
On October 13rd, 2015, Gyirong Port have resumed operations but tourists cannot travel from Lhasa to Kathmandu via Gyirong. Since a great number of relief materials still needed to be exported to Nepal, Gyirong Port was not yet open to tourists.
On April 24th, 2016, a piece of good news was released from CCTV that Gyirong Port will be redefined as an international entry and exit border instead of the previous Sino-Nepal overland gateway. It was expected to open to visitors from other countries in June 2016.
However, Tibet rainy season starts from July to September every year. In this summer, mudslides, landslides, collapses and other geological disasters continuously struck this area. Considering thebad road condition and your safety, Gyirong Port has not yet reopened to the tourists. We also strongly suggest you to take flights from Lhasa to Kathmandu.