The Most Difficult Segment of Sichuan Tibet Railway Is Expected to Start Construction in 2018
Reputed as the most difficult railway to be built on earth, Sichuan Tibet Railway consists of three segments, namely, Chengdu Kangding railway (Chengdu-Ya'an and Ya'an-Kangding), Kangding Nyingchi railway and Lhasa Nyingchi railway. Construction works of both ends have started since 2014. And Kangding-Nyingchi railway, the longest, toughest, last section of Sichuan-Tibet Railway, is expected to begin building in 2018.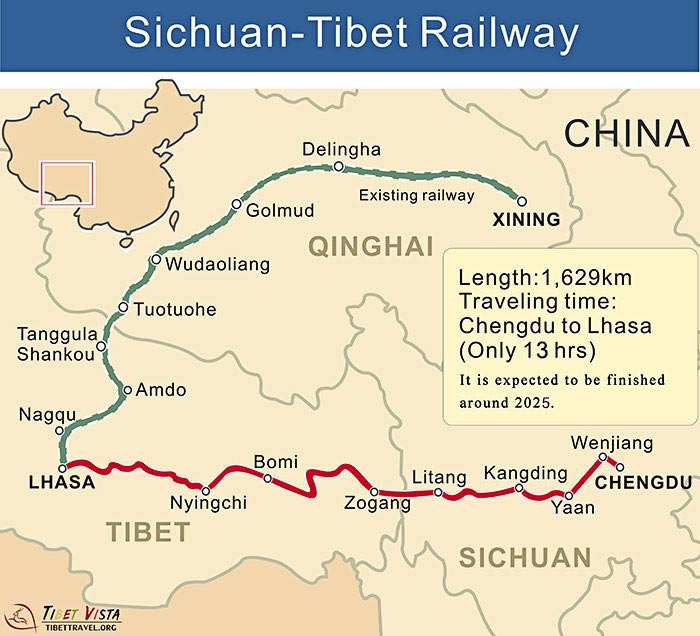 Map of Sichuan Tibet Railway
Learning from China Railway No 2 Bureau, the pre-feasibility study of Kangding-Nyingchi railway will be completed this month. That to say, the integrated Sichuan-Tibet Railway Line will be released in the end of October 2016.
The academic seminar of "Challenges and Strategies in Sichuan-Tibet Railway Construction" was held in Chengdu on Oct.14, 2016. "Kangding-Nyingchi segment of Sichuan-Tibet Railway would start construction in 2018 and it's expected to be accomplished by the year of 2025, five years ahead of schedule", said Lin Shijin, the deputy chief engineer of China Railway Corp.
Kangding-Nyingchi Segment of Sichuan-Tibet Railway
As a major corridor to Tibet, Sichuan-Tibet Railway starts from Chengdu and ends at Lhasa, via Ya'an, Kangding, Gangtuo, Chamdo, Nyingchi and Lhokha. The operating length of Chengdu Lhasa railway is about 1,838 kilometers and its main truck is around 1,738 kilometers. Covering 1,413 kilometers of bridges and tunnels, the engineering investment is estimated to be over 216.6 billion yuan. Chengdu Tibet railway has a designed speed of 200 km per hour, and some segments are limited to 160 km per hour. Once completed, it would take passengers only 13 hours to get to Tibet from Chengdu by train. However, up to now, it still costs tourists almost three days to drive from Chengdu to Lhasa.
Construction work of Chengdu-Ya'an railway has started by the end of 2014; Lhasa-Nyingchi railway has also begun building since June 2015. The feasibility study of Ya'an-Kangding (Xinduqiao) railway has been finished in January 2016. And the pre-feasibility study of Kangding-Nyingchi railway will be completed this month, so far, we'll have a chance to see the integrated Sichuan Tibet Railway Line.
Difficulty of Sichuan Tibet Railway Project
On this seminar, Sun Yongfu, the chairman of China Railway Society, has shown the sketch map of Sichuan-Tibet Railway to the world: starting from Chengdu, the newly-built railway winds through numerous ups and downs and finally extends to Lhasa city.
According to the design, the cumulative height Chengdu-Lhasa train needs to climb will be over 14,000 meters. Since Chengdu Tibet railway have to cross the collision zone between the Indian plate and the Eurasian plate, it's more likely to encounter earthquakes, landslides, collapses, mudslides, glacial lake outburst and other geological disasters in the course of tunnel construction.
Along Sichuan-Tibet Railway, Ya'an is about 1,000 km away from Bome in Nyingchi. But the rail should traverse Hengduan mountain, which is the longest, widest and most typical north-south mountain range in China. And the altitude difference between mountains and valleys can be as high as two or three kilometers. Luding-Kangding railway is a good case in point. After crossing Dadu River, Chengdu to Lhasa train would climb over Zheduoshan mountain. Although the straight-line distance is only 50 km, the elevation difference is already over 2,000 meters, which is equivalent to climb 50 meters per kilometer. It's impossible for Tibet train to climb such kind of linear slope.
Final Decision of Sichuan-Tibet Railway
At the initial stage, experts and scholars have put forward three sets of solutions for Kangding-Baxiu railway across Hengduan ranges. The first option is via Litang and Chamdo. The second is through Ganzi and Chamdo. The third one is along Sichuan-Tibet Highway (G318). Considering terrain, geology, earthquake, natural disaster, economy, transportation and other factors, the first option was finally selected. At the same time, more than 50 studies have been carried out. For example, Sichuan Tibet Railway has stridden over the Yarlung Zangbo River eight times, of which every foothold is chosen after a lot of research and analysis.
Sichuan-Tibet Railway is 100 km shorter than Qinghai-Tibet Railway, but needs longer construction period and more investment. Once completed, it'll shorten the traveling time for tourists getting from Chengdu to Lhasa to 13 hours. What's more, Chengdu Lhasa railway will connect Tibet with Yangtze River economic belt and form a convenient overland route to south Asia. Over five million people will benefit from Sichuan Tibet railway project.