2016 Tibetan Shoton Festival Lasts from Sep.1st to 7th
Before the seventeenth century, Shoton Festival was still the pure religious event for the Gelug sect of Tibetan Buddhism. And now, it has evolved into a grand festival for people from all walks of life. Whether young or old, male or female, Tibetan Buddhists or Bon followers, everyone has expected Shoton Opera Festival for such a long time.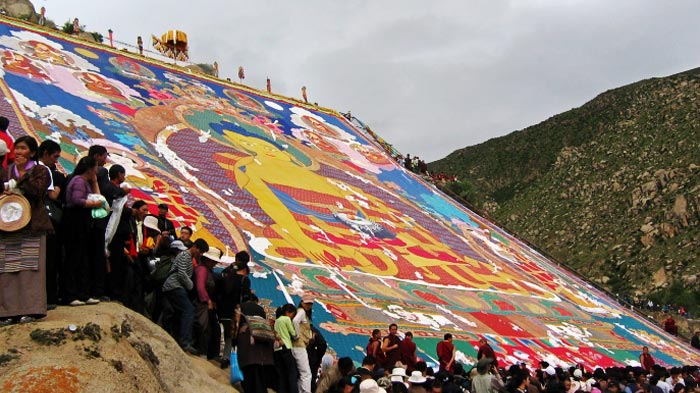 Buddha Exhibition Festival at Deprung Monastery
2016 Tibetan Shoton Festival will be celebrated from September 1st to 7th. Buddha Unfolding Ceremony has been hold at Deprung Monastery yesterday. In addition to Tibetan Opera Performance, tourists can participate in the Tenth Namtso Trekking Assembly, Tibetan Chess Popularization, Painting and Photography Exhibition, and 2016 China · Lhasa Shoton Carnival and other new activities in the following days.
In order to make your Shoton Festival tour more pleasant, we offer some useful travel tips below.
1. The first thing you need to bear in mind is that killing is forbidden in Tibetan Buddhism. If you encounter flies or mosquitoes at Tibetan Monasteries or religious occasions, just drive them away as far as possible!
2. Tibetans won't eat donkey, horse, dog, even fish. So please remember Not to order those dishes in Tibetan restaurants. And don't invite your Tibetan friends to eat those food either.
3. Tibetans are well-known for their hospitality. When you visit Tibetan family, the hostess must pour yak-butter tea for the guests and you'd better hold it with both hands. Good manner is always welcome. Don't offend the host family carelessly!
4. Whenever passing temples, Mani stones, pagodas and other religious facilities, you should detour from left to right! The people you met moving from right to left are believers of Bon religion.
5. No matter where you are in public, religious sites or Tibetan families, you mustn't stride over dharma-vessel and brazier. The prayer wheel should be spun in the clockwise direction.
6. Tibet is a place of strong religious atmosphere and most tourist attractions are regarded as sacred site. Blasphemous behaviors should be avoided, like trampling on Mani stones, prayer flags and paper with Tibetan scriptures, dressing in Thangkas and prayer flags, taking explicit pictures and so on. If you plan to join Namtso trekking during Shoton Festival, you had better take away your cigarette butts and debris rather than throw into the lake. Because Lake Namtso is one of the three holiest lakes in Tibet, occupying an important place in pilgrims' heart.
7. While visiting Tibetan Buddhism monasteries or worshiping Buddha, tourists shall take off their hats. Don't try to touch Buddha statue, leap through Buddhism scriptures, play the drum and other religious items. Please keep silent inside temples. Never take seat of the living Buddha.