Path of the Souls: An Epic Pilgrimage Story of a Tibetan Family
Pilgrimage, some do it for spiritual salvation, some for escape, and others for parents, yet still many for the blessings of all living things.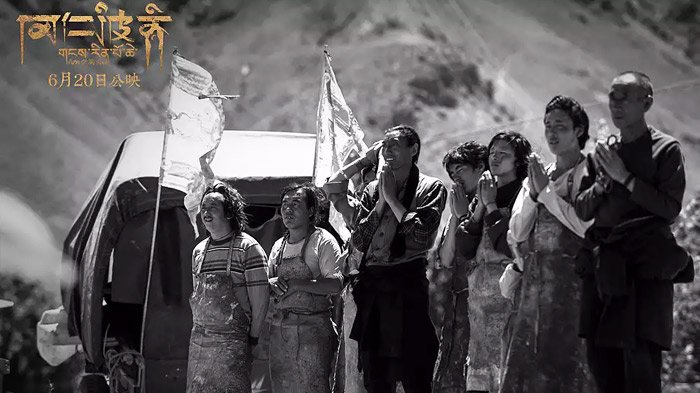 Path of the Souls
The movie "Paths of the Soul" (2017) or "Kang Rinpoche" traced the story of a Tibetan family, young and old, even with a pregnant woman, who made their pilgrimage by continuously prostrating themselves on the ground from Markam, Chamdo Prefecture of Tibet all the way to Nyingchi, Lhasa and eventually holy Mt. Kailash, believed to be the center of universe in Tibetan Buddhism.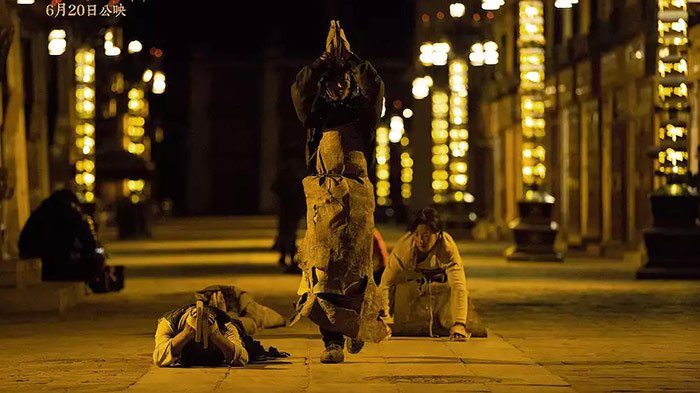 Prostrating along the Barkhor Street
With more than 1 million times' prostration along 2000km pilgrimage route, the determined Tibetan family went through numerous hardships and finally regained their spiritual salvation after 10-month's odyssey along scenic and legendary 318 National Highway.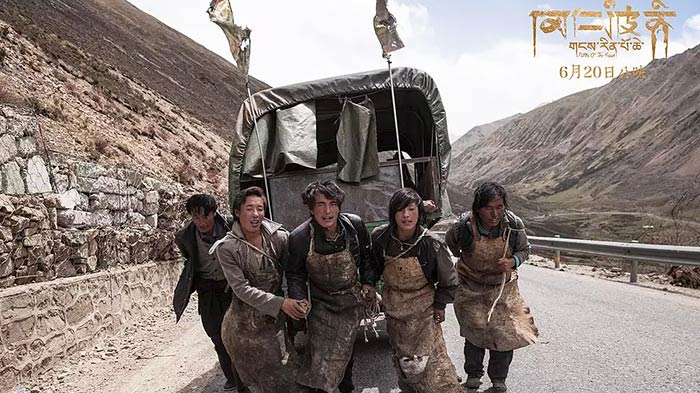 Made the pilgrimage from Markam to Mt.Kailash
Seemingly without any particular synopsis, the smooth and naturalistic documentary movie touched upon the core values of Tibetans and their devotion to Tibetan Buddhism. Things like compassion, optimism, strong conviction, ideas of life and death, filial piety, etc. are masterfully depicted in 115-min narration through a 3rd person's perspective.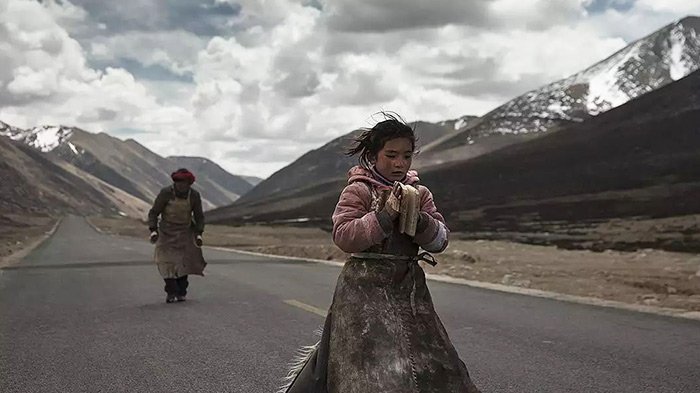 An astonishing journey of redemption, faith and love
While the symbolic new-born and passing of the elderly suggested the endless cycle of vibrant life and long-held Tibetan pilgrimage tradition, the movie itself offered a glimpse of a crucial facet of Tibetan life, i.e. fervent pilgrimage.
Why Are Tibetans So into Pilgrimage
Many found it hard to understand the fact that why Tibetans spent months even years on the roads of pilgrimage. In some extreme cases, the harsh topography and climate on Qinghai-Tibet plateau could even put their life in danger. In fact, the question was as a result of the shallow understandings of Tibetan culture.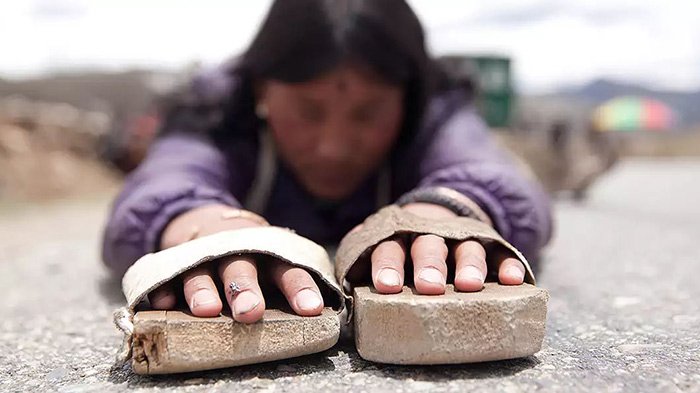 Go on the pilgrimage to Mt.Kailash (Kang Rinpoche)
What is Pilgrimage
Pilgrimage or known as "walking the kora" by Tibetans refers to a religious practice done either by waking or continuous prostrating around holy mountains, sacred rivers and Buddhist sites in Tibet. The highly symbolic move is deemed to be the best way to express their devotion to Tibetan Buddha and holy mountains.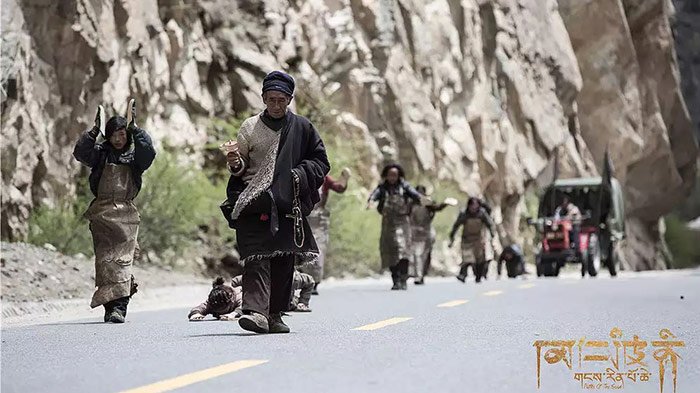 A group of sincere Tibetan pilgrims began their path of the souls.
Tibetans are deeply convinced that by doing pilgrimage all the sins can be washed away; physical pains can be cured; wishes and blessings can be answered and granted by the Buddha. The pilgrimage can only be conducted when the practitioners are completely devoid of his or her selfishness and willing to pray for all living things.
According to Tibetan Buddhism, going one cycle around holy Mt.Kailash can purify all the sins in one's entire life; if one circles 10 times, he or she would be exempt from being condemned to the hell in reincarnation; if anyone can do 108 cycles, he or she will get the enlightenment and become a Buddha in his lifetime.
Pilgrimage is a unique way of socializing
Normally, Tibetans will embark their pilgrimage with many family members. The benefit is that they can take great care of each other in the wildness and share the newly-acquired ideas of their religion and life. As you walk the kora around holy Mt.Kailash, it's pretty common to see family members sitting together for a couple of sweet tea and nutritious Tsampa during the pilgrimage.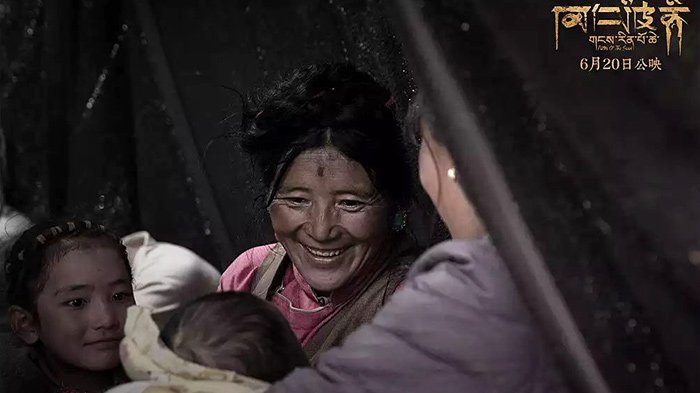 Path of the Souls
Whenever, they see other pilgrims making strenuous prostration by their side, they would kindly greet them and invite them for the tea break and generously share food with them. Unexpectedly, their dialogue always center around each other's family, where do they come from and how do their understand prostration and how to do it in the right way, etc.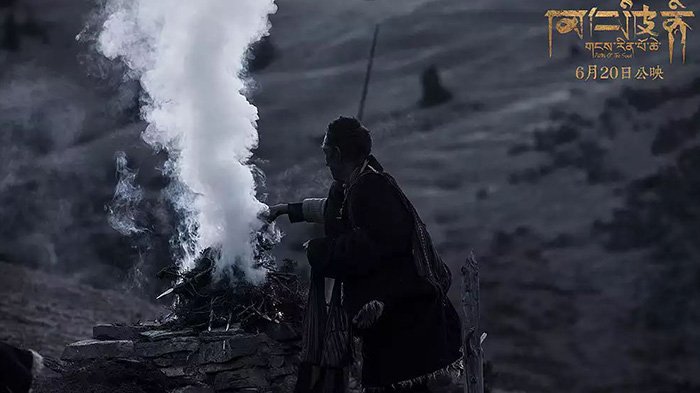 Path of the Souls
To them, pilgrimage is not only a special way of worshipping holy mountains and Buddha but a distinct way of socializing, a deeply-rooted way of Tibetan life. They prostate and pray for all creatures.
Best time for Pilgrimage in Mt. Kailash
Located in Burang County, about 200km from Shiquanhe town, Mt. Kailash is the main peak of Gandise range. The severe gale, thin air, extreme altitude, changeable weather, remoteness make Mt. Kailash kora the most challenging pilgrimage route in Tibet.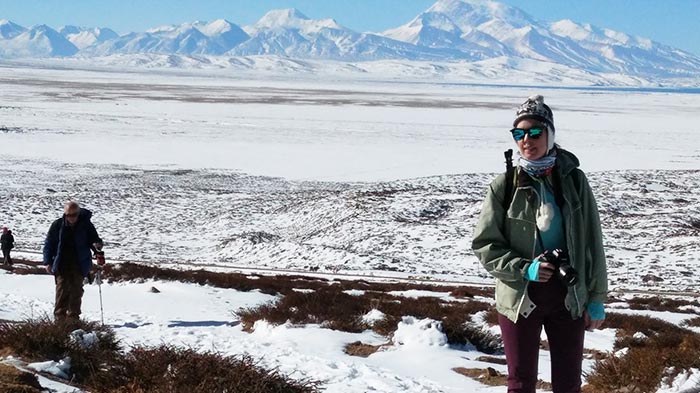 Trekking Mt.Kailash in May
As to the climate, the best time to do pilgrimage or kora around Mt.Kaillash would be from mid-April to Oct. Although the rainy seasons comes in July and ends in early Sept, the semi-arid climate makes it less likely to see heavy rain over a long period of time during the day time.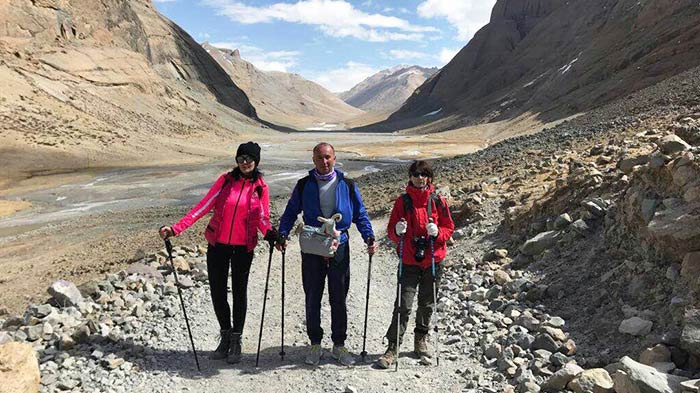 Trekked from Darchen to Sarshung valley on the first of Mt. Kailash trekking
If you want to experience the best religious atmosphere in Mt. Kailash region, do come when the traditional Saga Dawa Festival is celebrated on 15, April on Tibetan Calendar. The grand celebration is observed to mark the birth and enlightenment and death of Sakyamuni. Not only will you see crowds of fervent Tibetan pilgrims but many deeply-religious festivities.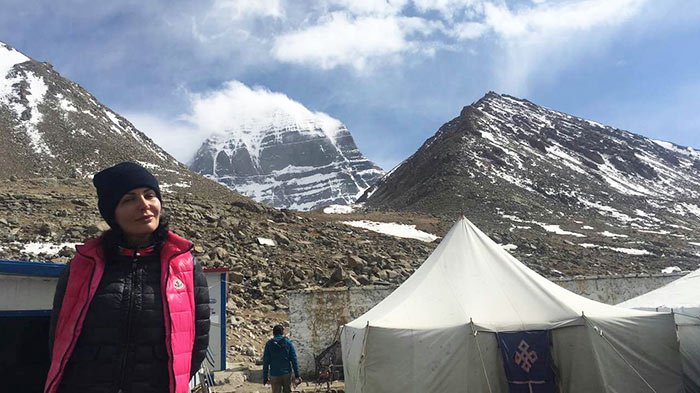 Getting so close to holy Mount Kailash
Another great time for Mt.Kailash kora would be in the year of horse in Chinese zodiac. Tibetans believe that doing pilgrimage to holy Mt. Kailash would be exceedingly auspicious and highly efficient than other times. It is often said that circumambulating (moving around a sacred object or site) holy Mt. Kailash in the year of horse, the blessings one gets would be 12 times more than other years.
Therefore, you are bound to witness awful lots of pious Tibetans pilgrims. They would take three steps and prostrate themselves by stretching their body on the ground and touch ground with the forehead and pray. For the elderly, they simply follow the kora route in clockwise order with spinning their prayer wheels and mumbling the Buddhist mantra.
Most Classic Mount Kailash Pilgrimage Tour
2 Classic Kora Routes of Mt. Kailash
Traditionally, there are two kora routes around Mt. Kailash, i.e. Outer Kora and Inner Kora. The starting point would be the same in Darchen, an idyllic small village at the foot of Mt. Kailash. However, currently only the outer kora is available for international tourists.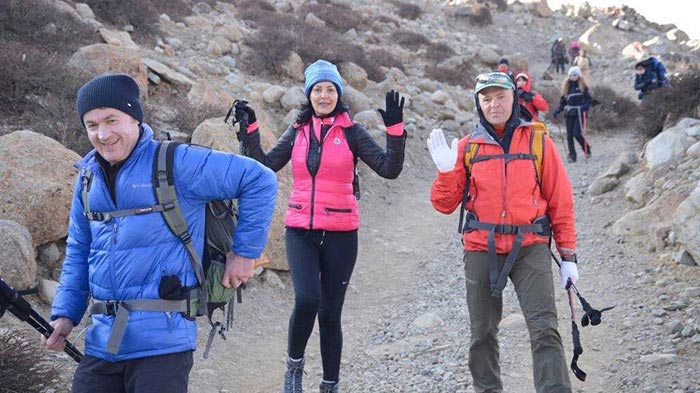 Walk the pilgrimage route around the outer Kora of Mt.Kailash
The outer kora covers a distance of 52km. you will be expected to trek in areas with an average altitude of above 4675m. It's not a pushover for any experienced trekkers to walk at such altitude. The highest mountain pass you will pass is Drolma La Pass (5630m). Due to the remoteness of the mountain, you have to stay in dirty makeshift guesthouse or camping outside and eat some basic Tibetan and Chinese dishes. Of course, you have to take some high-calorie snack , food and water to prevent dizziness cause by low sugar blood.
Basic itinerary of Outer Kora:
Day 1: Trek from Darchen to Drirapuk (22km, 12 hrs)
Day 2: Trek from Drirapuk to Dzultripuk (22km, 12 hours)
Day 3: Trek from Dzultripuk to Darchen (12km, 7hours)
However, the palpable sense of holiness for being so close to the "center of the Universe" namely sacred Mt. Kailash and trekking in world-class mountain range with devout Tibetan pilgrims would definitely be your lifetime experience.
Basic itinerary of Inner Kora:
Day 1: Trek from Darchen to Drirapuk
Day 2: Trek from Drirapuk to Darchen
Although the inner kora covers only 22 km and takes about two days, the craggy mountains and rugged terrain make it even more challenging than the outer kora. The changeable weather and mist surrounding the peaks of Mt. Kailash will do nothing but leave you in great awe.
Reminders for Ordinary Tourists
How to Get to Mt.Kailash
For ordinary tourists, you certainly do not to prostrate all the way from Markam, Nyingchi, Lhasa and eventually to holy Mt. Kailash. After your arrival in Lhasa, it's advisable to spend 2 day's visit in Lhasa to cover the must-see monasteries in and around Lhasa city, mostly importantly to acclimatize to the high altitude on the plateau.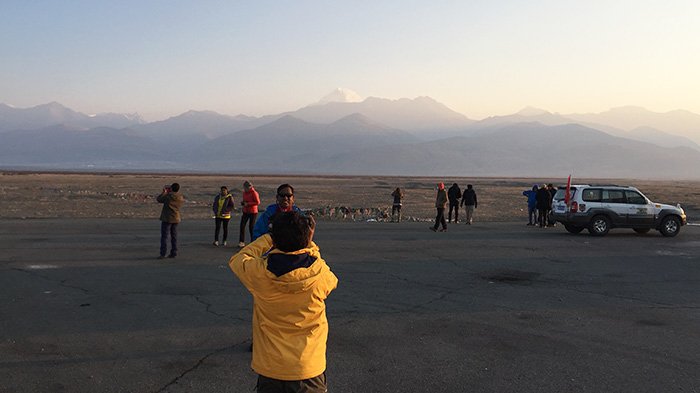 Tour Mount Kailash from Lhasa City
Then you can keep moving from Lhasa to Shigatse, the second largest city of Tibet via historic Gyantse County. You will enjoy the turquoise Yamdrok lake, exotic Pelkor Monastery and prestigious Tashilhunpo Monastery. With time permitting, it's highly recommended to make it to Rongbuk Monastery and EBC before heading to Saga. Then keep moving westward to tour holy Manasrovar Lake and then stay overnight in Darchen to get prepared for the 3-day trek around Mt.Kailash. A highly recommended tour is 15 Days Kailash and Manasarova Small Group Tour.
Travel Documents You Need
Tibet Travel Permit, Alien's Travel Permit, and Military Permit
Tips: after you book our tour, our travel consultants will work with you to sort it out the details and help you get all the necessary permits.
Packing Llist for the Mt. Kailash Kora
GENERAL CHECKLIST
- Light and expedition weight thermal tops
- Fleece Wind-Stopper jacket or pullover
- Down vest and jacket (esp.at high altitude)
- Waterproof shell jacket (preferably breathable fabric)
- Waterproof shell trousers/pants (preferably breathable fabric)
- Lightweight thermal gloves
- Moisture-wicking Underwear (4) (highly recommended)
- Beanie
- Shorts (2)
- Lightweight cotton long trousers/pants
- Light and expedition weight thermal bottoms
- Sun hat or scarf, sun glasses, sun creen, clapstick (lip balm)
- Sunglasses with UV protection
- T-shirts (2)
- Thin, lightweight (inner socks) (4)
- Sleeping bag rated to 0 degrees (for 4 seasons)
- Flashlight & batteries
- Plastic bags - for keeping items dry inside trek bag
- Daypack (35-40 litres/2500-3000 cubic inches)
- Camping mattress (optional)
- Water bottles (2)
- Small wash towel
- Footwear appropriate to the trip
TREKKING CHECKLIST
- Heavyweight gloves or mittens with a waterproof shell outer
- Fleece or wool trousers/pants
- Trekking/Hiking boots with spare laces
- Thick, warm wool hiking socks (4)
- trekking/ski poles (recommended)
FIRST AID MEDICINE
- Bandage for sprains
- Antiseptic ointment for cuts
- Aspirin
- Broad-spectrum antibiotic (norfloxacin or ciprofloxin)
- Diarrhea stopper (Imodium)
- Diamox (altitude sickness, highly recommended)

Tips: It's advisable for you to consult your doctor or pharmacist for the exact medication.
TOILETRIES
- 1 medium sized quick drying towel
- Toothbrush/paste (preferably biodegradable)
- Multipurpose soap (preferably biodegradable)
- Face and body moisturizer
- Feminine hygiene products

Tips: You may not be able to have shower every day and do not take the risk of washing your hair or body with snow or stream. Otherwise, catching cold would be extremely dangerous at high altitude.
Extra:
-camera plus accessories
-Reading books
-Trail Map/Guide book
Lhasa is not your destination, nor is the Mt.Kailash. All of us are on our own road of pilgrimage. So, why not finish watching the brilliant movie and get prepared for your ultimate trip in Tibet.