What's New for Mt. Everest Travel in 2016?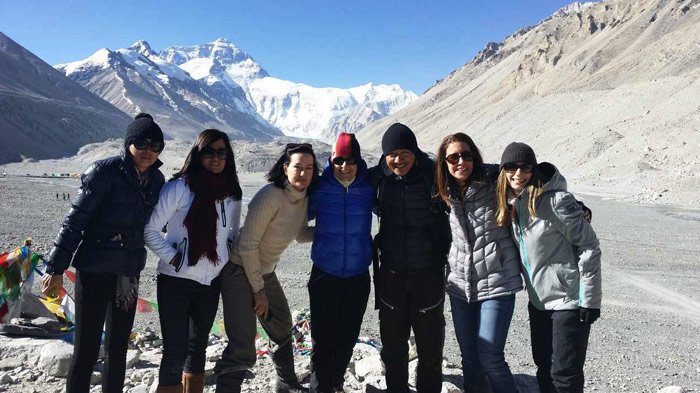 Tibet Vista's Guide with Lovely Tourists at Everest Base Camp
In 2015, Shigatse Tourism Bureau launched Classic Mt. Everest Tours featuring winter tour in Shigatse, and exploration of Mt. Everest, to promote Shigatse tourism. Plenty of world-wide tourists benefited from the event and were deeply impressed by awe-inspiring natural beauty in Shigatse. According to the latest report released by Tringri Tourism Bureau, Shigatse Prefecture, the total number of tourists who travelled to Mount Everest amounted to 40 thousand in 2015, with ticket revenues of over 14 million Yuan. So far, the ceaseless flow of incoming tourists to Everest Base Camp still remain in 2016.
Better infrastructure and Tour Service Facilities
With a total investment of 420 million Yuan, the construction of Quzong Highway (96km) was completed in July, 2015. In addition, the comprehensive tourism service facilities that involved medical aid, restaurants and hotel accommodation, and shopping, etc were also built. As an important project founded by Shanghai province with an initial investment of 25 million Yuan, the entire facilities were expected to be used in this year's Mt. Everest Peak Travel Season (roughly from May to October).
Professional Live Weather Report for Everest Base Camp
Ever since the end of Dec, 2015, a new Led screen showing live report of the latest weather of Everest Base Camp had been installed at the border control station in Tringri County, an important road on G318 National Highway all travelers need to pass. It was in fact part of Tingri Meteorological bureau's initiatives to facilities tourists travelling to Mt. Everest region.
Apart from the rolling weather report of Everest Base Camp in the next 3 days, tourists may also find weather information from Tingri to Mt. Everest, and the weather and traffic information in Giyong Port, Zhangmu town, etc.
More Options to Visit in Shigatse
In recent years, Tingri County has spared no effort to improve the fundamental service facilities for Mt. Everest Tourism. By focusing on Mt. Everest tours, Tingri County also strived to further develop the other attractions around Mt. Everest. Most notable examples are the development of Gama Valley, Ronxar Valley, and Ziburi Mountain. With no surprise, those who travel to Tingri County will have a brand-new experience.
Travel tips: Normally, Tibet travel reopens to foreign tourists in early April every year. Please feel free to send an inquiry to customize your tour.