Lhasa Railway Station Set Up Altitude Sickness Service Center
Lhasa Railway Station Health Service Center was founded on November 14th in Lhasa Railway Station. Health Service Center devoted itself to offering treatment for travelers who were bothered by altitude sickness. In order to deal with travelers emergency cases, altitude service center provided not only basic medical equipment like medical bed, glucose meter, blood pressure meter, but also prepared oxygen, wheelchair, stretcher and first-aid medicines.
Health Service Center would open all day around and set up telephone service for travelers' reservation. As for the passengers who were handicapped, aged, and pregnant or hit by altitude sickness, Lhasa Railway Station would pay great attention and provided grand service throughout the Tibet train journey after the doctor checks the health condition of travelers was ok for this sky road trips.
When travelers waiting for the train were welcomed to use oxygen supply, checked blood pressure and blood sugar in Health Service Center for free at any time. The establishment of Health Center made Tibet Train Travel a better choice for travelers, not only because travelers would acclimatize themselves properly before getting to Tibet, also meant travelers could enjoy the journey completely and don't need to worry about high altitude sickness.
Tibet Train and Our Service
If you want to come to Tibet by train, there are totally 7 routes you can choose. You can depart from Chengdu, Xining, Xian, Chongqing, Guangzhou, Shanghai, Beijing. All these routes you can choose hard sleepers or soft sleepers. As one of the leading Tibet tour operators with more than 10 years' experience, we will not only provide train ticket booking service, but also help customers to customize their itinerary. Even if travel with train is not in your list, we still offer air ticket booking, car renting and excellent service beyond your imagination.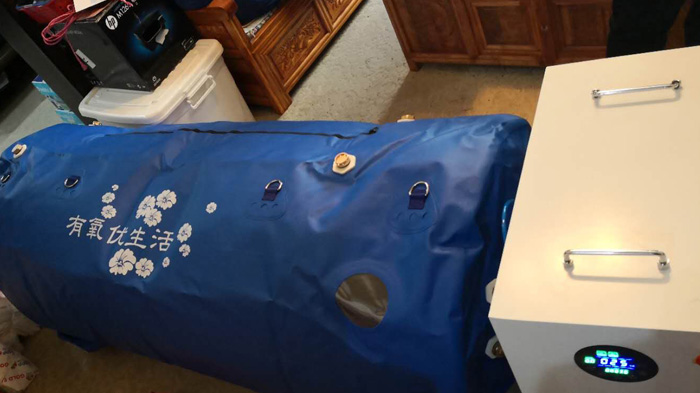 Hyperbaric Oxygen Chamber provided by Tibet Vista
To cope with acute mountain, we upgraded our safety control gears and provided you with portable high-end Hyperbaric Oxygen Chamber and ample oxygen supply device. The altitude of Mt. Kailash and EBC base will not be unreachable with our help. We will ensure your safety and happiness during the journey you spend with us always and forever. Let us know your travel plan, and if you have any question, please don't feel hesitate to contact us.
Basic facts about Altitude Sickness
High altitude sickness is very common and there is no need to get panic. For the newly-arrived tourists, it's normal to have symptoms like headaches, dizziness , shortness of breath and fatigue, raid pulse, etc.
To release these symptoms, you could give your body more time to acclimatize yourself and have a good rest inside your room. Don't exert yourself doing things like jumping or running; besides, don't drink alcohol and smoke cigarette and drink plenty of water.
If your symptom still remains, you can breathe in medical oxygen and contact our tour guide. Our tour guide will help you to get over the pain because they have experience to deal with high altitude sickness. During your day tour in Tibet, we have oxygen supply device inside our tour vehicle and our considerate Tibetan guide will closely follow our client's health throughout the journey.