Tibet Vista Received Global Tour Operators for the Survey of EBC Travel
Warmly received by Tibet Vista, an EBC tour survey group, consisting of seasoned tour counterparts from 13 countries, arrived in Lhasa on April 20, 2018, for a week-long survey of EBC travel in Tibet.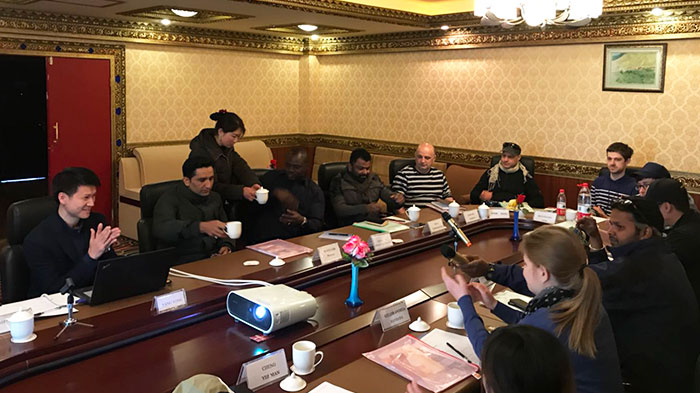 Mr. Yang gave enthusiastic applause to our guest tour operator.
The next day after their arrival in Lhasa, all the tour operators from Germany, France, and Russia, Switzerland, Vietnam, and Nigeria, Slovenia, etc., attended Everest tour promotion seminar cochaired by Mr. Yang, director of Tibet Vista's tour operation and Mr. Gongga, the customer service manager of Tibet Vista in Lhasa Gang-Gyan Hotel.
Through the vivid slideshow and video display, Mr. Yang gave a comprehensive introduction of distinct tourism resources in Tibet, including means of transport to Tibet, Tibet Permit application, and hotels and restaurants in Tibet and tour vehicles we used, etc. Besides, Mr. Yang also traced the development of Tibet Vista and introduced multiple classic travel itineraries we enjoyed. And later in the afternoon, Mr. Yang and Mr. Gongga met each tour operator and exchanged views on tour cooperation and development.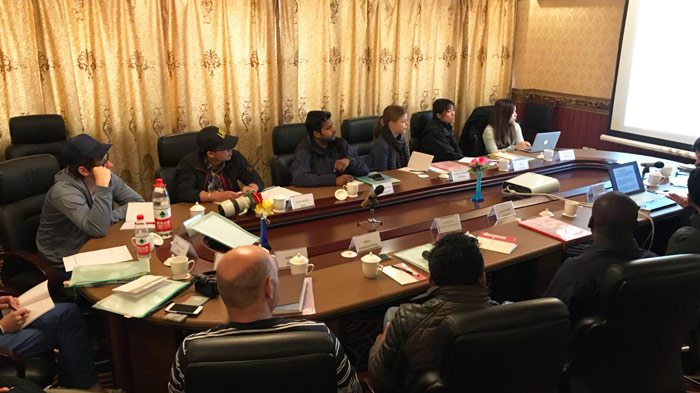 All the tour operators listened attentively to Mr. Yang's introduction.
Overall, the entire meeting went smoothly and proved to be a great success. And currently, all the tour operators are enjoying the tour from Lhasa to Everest Base Camp to gain the firsthand experience of the most popular travel route in Tibet. Hopefully, in the future, we will receive more international tourists and unveil the beauty of Tibet and Tibetan culture to the far corner of the world.