Top Seven Adventurous Outdoor Activities in Nepal
It is this varying altitude that has made Nepal a haven for adventure seekers. Very few places on earth have so many different altitudes within one country, and Nepal can offer it all. In the high mountains of the Himalayas, lie the Annapurna Mountains and the most famous mountain of all, Mount Everest. Treks through these regions are popular and exciting, exploring places where few people once set foot, and taking in the spectacular views of the world's highest mountains as you travel on foot through some of the most beautiful landscapes on the planet.
In the foothills and lower regions, there are a lot of places for other adventure sports, and the huge number of vast canyons, rushing rivers that race over daunting rapids, and the wide open expanses of grasslands make for an awesome and adrenaline-fueled experience.
Detailed Introductions of Top Outdoor Sports in Nepal
With so many things to choose from, it can be hard to know where to start. Nepal provides you with the perfect setting in which to take your vacation to the next level. Whether you have a love for trekking the wilds of the mountains and jungles or enjoy the thrill of bungee jumping from massive cliffs, you can do it all in Nepal.
Bungee Jumping
One of the most amazing adventures you can undertake, bungee jumping can only be found in two places in Nepal, in Pokhara and at the Last Resort, at the Bhote Koshi River gorge near the Tibet-Nepal border. Last Resort is the most popular and highest of the two, dropping 160 meters towards the waters of the river below. The gear for jumping is all provided in the cost of the jump, and you just need a good, tight pair of shoes or boots and comfortable clothing.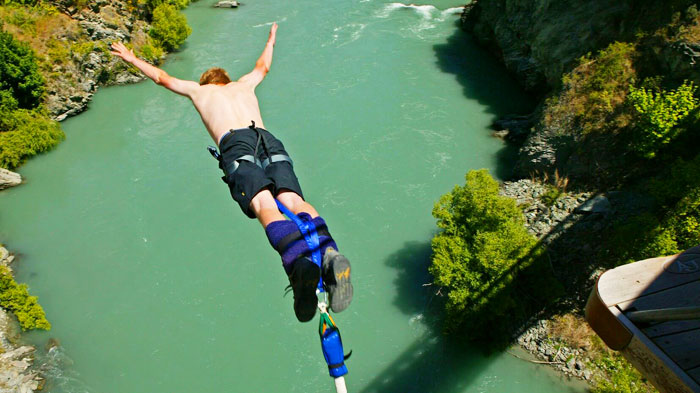 Bungee Jumping in Pokhara
It is important to notify the jumping crew of any medical conditions, such as epilepsy or high blood pressure, as this could cause make the jump dangerous. The site is open all year round, and March to May or August to November are the best times to make the trip. Jumps cost around US$ 92 for a jump only, and the Last Resort has combination packages you can avail of as well.
Canyoning
Canyoning is the adventure sport of the modern age, and is done by traveling along and through the canyons using a variety of styles and techniques to get to the other end. This can include things like swimming, walking, climbing, jumping, abseiling, and diving, and it is done in remote areas with rugged rough terrain. In Nepal, there are dozens of places that have canyoning activities, including Bhukuthe Khola, Kanglang Khola, Kahule Khola, and Panglang Khola.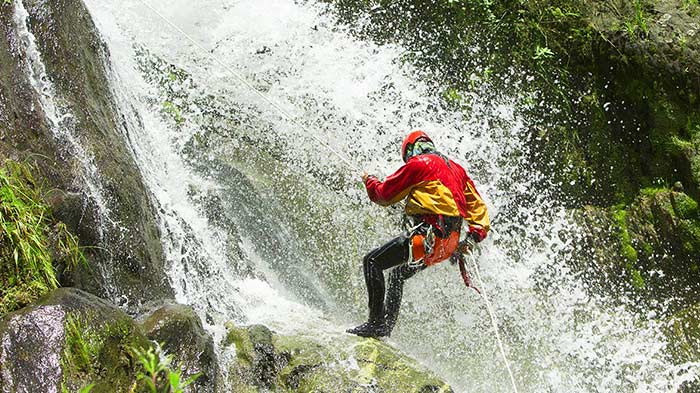 Canyoning in Nepal
The specialist gear for this activity is normally provided by the organizers, and you should wear comfortable rubber shoes and light comfortable clothing, as you are likely to get very wet. Since this is done in the lower altitude areas of Nepal, the activity is open all year round, although you should avoid the rainy season from June to August and the depths of winter in January and early February, as it can still get very cold. Costs start at around US$ 95 for a one-day excursion.
Paragliding
If you want to view the stunning scenery of Nepal from the air, then there is no better way than paragliding. This awesome sport is not for the faint-hearted, as you will be floating hundreds of meters in the air above the mountains or forests of Nepal. The flying season in Nepal runs from November to the end of February, with the best months being in November and December. There are 22 sites across Nepal that have qualified paragliding pilots that can take you up, and the most popular are in Pokhara and Kathmandu.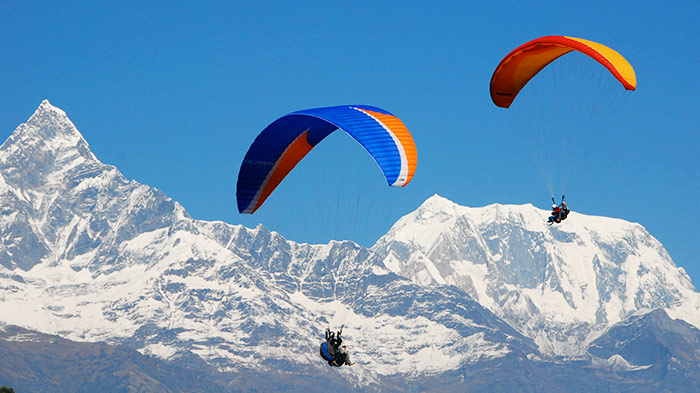 Paragliding in Nepal
All the equipment is provided for you by the centers, and warm comfortable clothing and shoes is a must. Flights last for around 20-30 minutes, and safety is taken very seriously. Flights start at around US$ 100 for a short flight of around 30 minutes.
Trekking
Trekking in Nepal is the most popular activity of all, with hundreds of thousands of people descending on this small Himalayan country every year to trek along one of the hundreds of trails in the region. Treks can be done anywhere, from the lowland Terai and jungles to the heights of the mighty Himalayas, and the most popular is the trek to Everest Base Camp. The trek takes around 14 days to complete, there and back, and starts in Lukla, in the lower foothills of the Himalayas.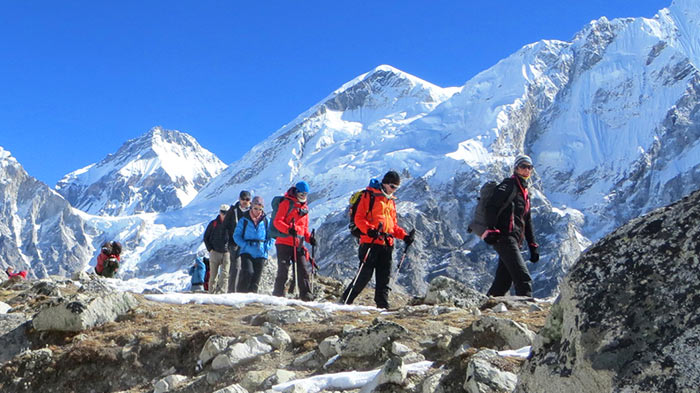 Everest Base Camp Trekking
You can trek on your own if you have experience in high-altitude trekking, but it is best to travel with a tour group if it is your first time to trek at high altitudes. Tours cost from around US$ 1,300 per person, and normally include your transfer to Lukla from Kathmandu, accommodation, tickets to the Everest National Park, meals and lodging along the trail, and a guide.
You will need a lot of equipment that you will have to buy yourself for the treks, such as backpacks, warm clothing, hiking boots, waterproofs, etc, and this can all be found in the trekking stores in Kathmandu for a reasonable price. You should be prepared to get a little cold, especially at night, and be prepared to experience some small symptoms of altitude sickness, as most people do. The best time for trekking in the mountains of Nepal is from March to May and from late September to December.
To facilitate your EBC tour, we offer easy EBC trek booking and hassle-free service to EBC in both Nepal and Tibet. Just tell us your tour date and interest and other personal preferences, we will help you arrange the details.
Mountain Biking
Hurtling down hills on a bicycle in Nepal is fast becoming a popular sport for the thrill-seekers and adventurers, and there is no better place to start than in the Kathmandu Valley Rim. There are dirt trails throughout the valley, leading up and down hills and the valley sides, with climbs to higher elevations above the valley floor. The most popular sites can be found in Bhaktapur, Sankhu, Budanilkantha, and Nagarkot, and the views as you ride are out of this world.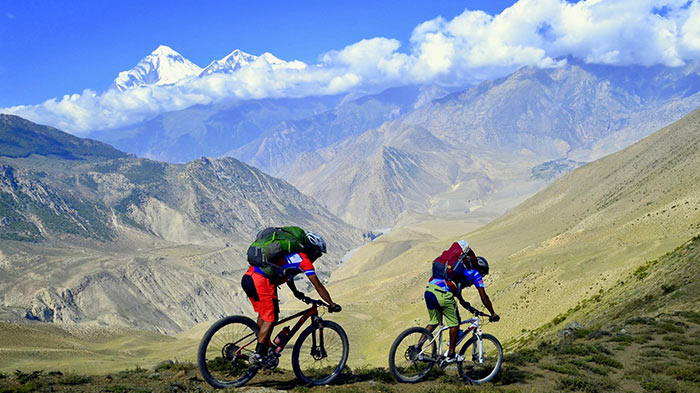 Mountain Biking
You will need to have your own biking clothing, suitable for both warm and colder weather, which can be found in most mountain bike shops around the world, and a mountain bike. This can be brought with you if you already have one, or it can be rented or bought in Kathmandu, at a number of good cycle shops. Second-hand cycles are also available, and can be sold back to the shop for a lower price after you are done.
For beginners and experienced cyclists alike, you can choose from day tours to 20-day excursions to places like Annapurna, and the cost starts from around US$ 65 to US$ 120 for a day tour per person, depending on your destination.
River Rafting
If you want real excitement and adventure, then jumping into a rubber raft and racing down a fast-flowing river, through boulder-filled rapids is just the ticket. There are several rivers throughout Nepal that have great white-water rafting experiences, as the rivers tumble down from the snow-covered peaks of the Himalayas. The main sites for rafting are on the Tamur River, the Karnali River, the Sun kosi River, and the Bhote Koshi River, and you can take your pick from half-day and full-day trips to longer adventures of up to 5 days.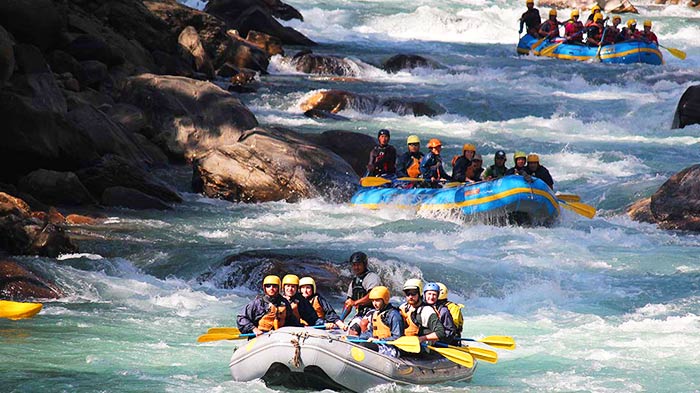 River Rafting in Nepal
Lifejackets are normally supplied as standard, as are helmets, but you will have to have your own wet gear, such as a wetsuit or drysuit, though many people tend to just wear t-shirts and light shorts with light rubber shoes and a waterproof jacket.
A day trip on the rafts costs from around US$ 50 and up, depending on the river, and longer tours can cost from around US$ 400 per for a five-day trip, which includes the tents, food, and other necessities. Longer tours, that include tours of Kathmandu before you leave for the rivers, can cost from around US$ 3,000 for a 27-day trip that covers several different rivers.
Zip Lining
Imagine flying across a massive river, with just a thin length of cable to support you. Strapped into a harness, you jump of a platform a few hundred feet in the air and whiz down along the cable to the ground below, at speeds that would make a racer shudder. Zip lining is one of the oldest outdoor adventure sports, starting way back in the 1980s, and becoming a popular thrill sport almost overnight. And in Nepal, there are some of the best zip line sites in the world.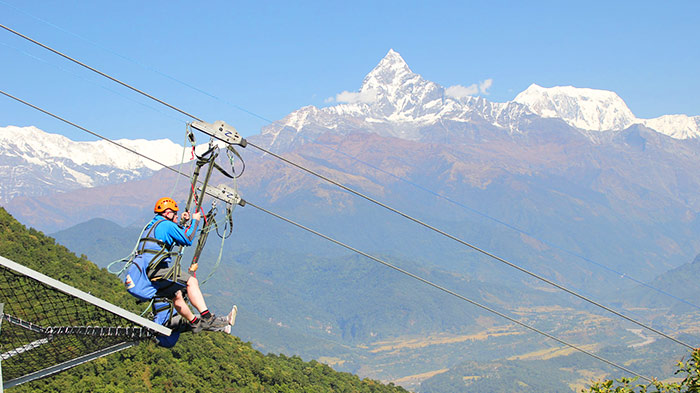 Zip Lining in Nepal
Nepal is also home to the longest, steepest, tallest, and fastest zipline in the world, which is located on top of Sarangkot in Pokhara. With a run of over 1.8 kilometers, a vertical descent of around 600 meters, and an average speed of around 120 kilometers per hour, the Pokhara ZipFlyer is the ultimate in zipline adventure.
Equipment is included in the total price of the thrilling ride, and you just need to have some comfortable clothing and shoes. The cost of one ride on the world's longest and highest zipline starts at around US$ 82 per person, and you can get photos and videos of your descent once you have landed.