Ultimate Guide on How to Get a Nepal Visa for US Citizens
For US citizens who are going to travel to Nepal, a visa is one of the requirements for entry into the country. Currently, there are two ways to get a Nepal visa, and for American nationals, the visa can be obtained in advance at an embassy or on arrival at certain entry ports into Nepal.
Latest News about Getting Nepal Visa in 2022
The Nepal Department of Immigration rescinded all previously issued orders regarding country-specific travel limitations as of March 10, 2022.
Under the prevailing law, all foreign nationals with a certificate of complete vaccination against covid-19 or a negative certificate of the covid-19 test will be able to obtain an on-arrival visa from Immigration Offices at the entry points.
Therefore, travelers getting to Nepal from abroad by air or land must submit a certificate of full vaccination against COVID-19. Travelers who are unable to submit such certificate must submit a negative COVID-19 test report (RT-PCR, True NAAT, Gene Xpert) taken within 72 hours of entry.
Documents Required for Nepal Visa for US Citizens
The main requirement for obtaining a visa is to have a passport that is valid for at least six months and contains at least 2 blank visa pages. Passports with less than six months validity remaining will not be accepted for visa applications, even if you are applying on your arrival at the border or airport.
A valid passport is required for applying for the Nepal visa.
You will also need to have a completed application form and two passport-sized photos, for both embassy applications and Visa on Arrival services.
Besides, according to the current epidemic situation, you are also required to submit the following documents, in addition to the documents mentioned above:
1. Evidence of completion of 14 days of required doses of vaccination against COVID-19;
2. Proof of hotel reservation in Nepal for at least 5 days (Not applicable to Non-resident Nepalis who have "Nepal" as place of birth in their passports, and their immediate family members);
3. Copy of mountaineering, trekking or other related permits, if travelling for tourism activities that require permits issued by relevant agencies of the government of Nepal (Not applicable to Non-resident Nepalis).
Getting Nepal Visa on Arrival for US Citizens
The simplest way used by most people is to make the application once you arrive. To help bolster its tourism industry, Nepal facilitates the quick processing of a visa on your arrival at the airport and several border crossing points around the country. This makes it much easier to get the visa without making the longer application through the embassy or consular office before you leave.
While one thing need to be noticed: on arrival visas are restricted to tourist visas only, and all other types of visa must be applied for in advance at the Embassy of Nepal in Washington DC.
For those applying for the visa on arrival, there are two ways of doing this. You can fill up the application form at the kiosks at Tribhuvan International Airport; or you can use you mobile phone or tablet to fill it out at the official website of the Department of Immigration at http://nepalimmigration.gov.np.
Option 1: fill in the application form online before your arrival
This method is more recommended, as it can avoid long line ups at the kiosks at the airport. If you use the official website to fill out the application form before you travel, you can also upload a digital photo to serve as your visa photo, and you will receive a barcode to print and present to the immigration desk on your arrival. This barcode is valid for fifteen days from the date of completing the application and will expire at midnight at the end of the fifteenth day.
With the website application, you can make the payment for the visa at the nominated bank given in the email confirmation sent to your listed email address. You will get a receipt for the payment from the bank, which will serve as your proof of payment once you reach Nepal.
For those paying for their visa on their arrival in Nepal, you will need to have cash available for the visa fee. While the website of the Nepal Embassy does give multiple currencies for the visa fee, the most accepted currency is US dollars, and it is advisable to carry enough cash to cover the fee. There are ATMs available at the airport, although they do charge a high fee for dispensing dollars, as do the few money-changers available in airport. There are, however, no ATMs or money changers at the border crossings, so you must have the cash with you.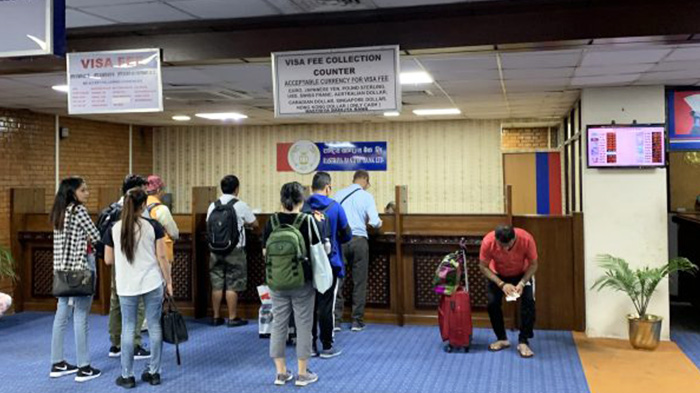 Prepare cash when pay your visa at the airport.
If you have applied online and made the payment at the bank, you simply need to take your barcode and payment receipt to the immigration desk along with your passport, and they will issue your visa. You should keep an eye on the visa dispensing end of the immigration desk for your passport and visa to be returned to you, as many Nepalese officials have problems pronouncing western names, and will simply hold up your passport with the photo page showing for you to collect.
Option 2: use the electronic kiosk computers on site
If you are unable to complete the application form online or print it before taking the flight to Nepal, you can use the kiosks at the airport. In this case, your application will be processed to the terminal at the immigration desk and will be matched to your passport number and printed slip. The kiosks also take a digital photo for your visa, so passport photos are no longer required.
You need to take your printed slip and passport to the immigration desk along with your cash payment for the fee. Once processed, your visa will be issued in the same way as above, often without calling out your name and just holding up your passport photo page. Processing of visas at the airport normally takes around 30 minutes but be prepared to wait a little longer if there are a lot of inbound passengers requiring a visa on arrival at the airport.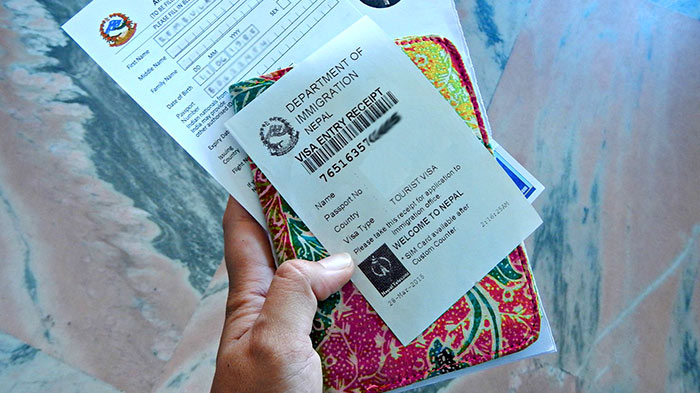 Applying for the visa on your arrival at the airport
When entering the country through one of the overland border checkpoints, you will find that the process is a little different. The border checkpoints do not have kiosks for applications, and you will need to obtain the visa application form from the immigration officer and complete it by hand.
Once you have completed the form, take it to the immigration officials along with your passport, photos, and fee in dollars (the land border checkpoints prefer to receive the fee in dollars only), and your visa will be processed. The processing time at the border checkpoints is normally fairly fast, and you can be through in as little as fifteen minutes, though this can take longer if there are a lot of people crossing at the same time.
Ports of entry for Nepal visa on arrival
The main port of entry for most people traveling to Nepal is at the Tribhuvan International Airport in Kathmandu. There are also land border crossing points at Nepalgunj, Birgunj/Raxaul Bazaar, Sunauli, Kakarbhitta, Mahendranagar, and Dhangadhi when traveling from India, and the Chinese border at Gyirong Port/Rasuwagadhi Fort.
Getting Nepal Visa at the Embassy for US Citizens
Once the only way to get a visa, the Embassy of the Federal Democratic republic of Nepal can still issue a visa prior to your departure from the United States, and the visa offices in the US are located in Washington DC; Sun Valley, Idaho; San Francisco, California; Chicago, Illinois; Boston, Massachusetts; Baltimore, Maryland; and Manhattan in New York City. Visas obtained from the embassy or consular offices are valid for six months from the date of issue, and valid for periods of up to 90 days in Nepal.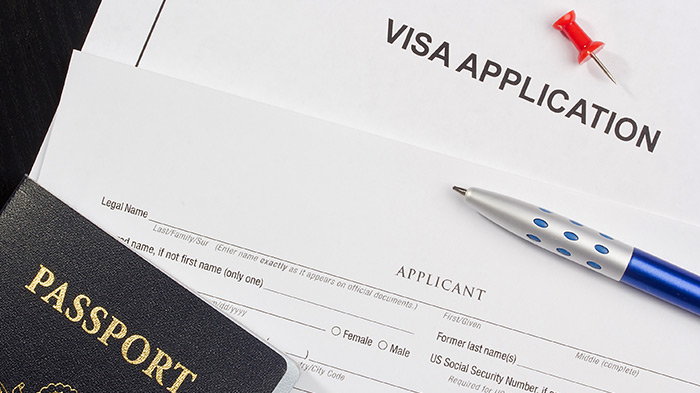 Applying for Nepal Visa at the Embassy
Visa applications through an embassy or consular office, whether by mail or drop-off, must first complete the online application process at https://us.nepalembassy.gov.np/tourist-visa/. Once you have completed the online application form, which includes a tracking number for the mailing of documents to the embassy or consular offices, you can either send the documents by registered mail or courier, or by dropping them off at the nearest embassy or consular office with the fee included. If sending the documentary requirements by mail, you will need to include a prepaid return envelope.
Payment of the visa fee when applying through the embassy must be made with the application forms and required documents and must be in the form of a money order with at least a one-year validity period. The money order must be made payable to the Embassy of Nepal and have your full name and address on the back.
Cost on Nepal Visa for US Citizens
The tourist visa fees to Nepal for American nationals is US$30 for a 15-day visa, US$50 for a 30-day visa, and US$125 for a 90-day visa. Payment for the visa can be in U.S. Dollars, or the equivalent cost in Euros, Swiss Francs, Pounds Sterling, Australian Dollars, Canadian Dollars, Hong Kong Dollars, Singaporean Dollars, and Japanese Yen. Credit cards and Indian rupees are not accepted as payment at embassies, consular offices, and for the Visa on Arrival services.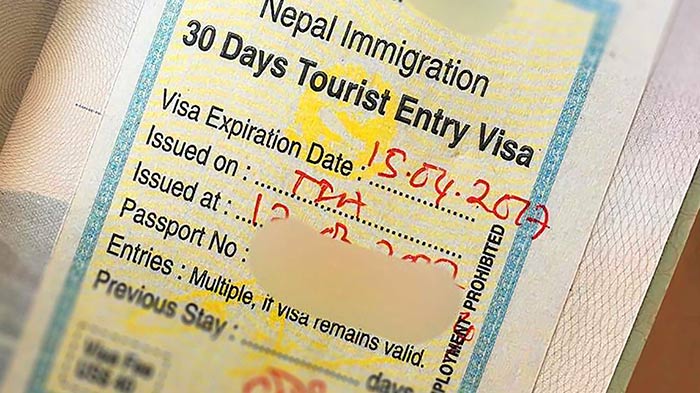 A 30-day Nepal Visa
If you are planning side-trips to Bhutan, India, or Tibet, you can make your application for a multiple-entry visa, which costs an additional US$25. You can also change your single-entry visa to a multiple-entry visa at the Central Immigration Office in Kathmandu for the same amount.
Visas can be extended for up to 150 days stay in Nepal in a single visa year (Jan-Dec), and 3 dollar will be charged for each day of extension. It is advisable not to overstay your visa in Nepal, as there is a 5-dollar late fine per day in case of delay.
Conclusion
Americans can now apply to obtain Nepal Visa now to travel to this Himalayan Kingdom, and the most common way is to get a On Arrival Visa at the borders or entry points. Besides passport and application form, you may need more documents as per the situation. We will keep an eye on the latest travel policy of Nepal and make timely update. If you still have any question, please feel free to contact us or leave you comments below.