Nepal Tourism Package Cost: How Expensive is Nepal tour?
The cost of a tour in Nepal largely depends on where you are going, what you will be doing, and how long you will be staying there, as well as the cost of the hotel type you have booked, where you intend to eat, and a whole host of other incidental expenses. Working out exactly how much it will cost for your entire stay can be a huge task, and one that will not be easy to accomplish. However, there are ways to get a rough idea of how much it will cost so that you can budget accordingly and will not run short before your trip has ended.
Nepal Cost for Visa
Tourist visas for Nepal can be obtained from the embassy in your home country or from the immigration desk at the Tribhuvan International Airport in Kathmandu, as well as the border crossing points from India and China. If you are traveling with a pre-arranged visa from the Embassy, then you will not need to worry about the immigration desk. Embassy visas are applied for by mail or in person, and cost around US$ 30 for a 30-day visa and US$ 100 for a 90-day visa. Check out for more information about how to get a Nepal Visa for United States.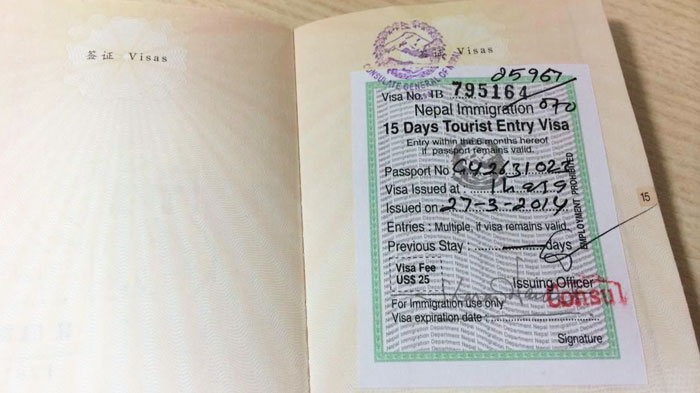 The sample of Nepal Tourist Visa
The visa issued at the border or airport also costs the same, and are easier to obtain, as the processing time is just around an hour, instead of the 3-5 days from the embassy. As long as you have all the required documents (valid passport with 6 month's validity, photo, application submission receipt, and fee), you should have no problem getting the visa quickly.
One point to remember when entering Nepal is that the application form for the visa needs to be filled out either in the kiosks at the airport or online, and it is beneficial to use the online facility to get the barcode receipt and print it before you travel, as the kiosks often have long queues of people waiting to fill in their submissions. The receipt is valid for 15 days from the date of application.
Nepal Tourism Package Cost
If you are traveling to Nepal as part of a package holiday, then your costs are going to be much higher, as the tour packages rarely use the lower end hotels and you will not be able to cook in your room. Your average 6-day package tour, which does not include your flights to Nepal, can cost from around 500-600 dollars, and includes your land-based transfers and airport transfers. If you plan on booking a package that includes your flights, then your costs are going to skyrocket, as the travel agents around the world add their own fees to the cost of the package to make a profit.
The Cost for Two of the Most Popular Outdoor Sports in Nepal
No matter what other people may tell you, Nepal is the ultimate destination for outdoor sports, and has more variety than any other country in the world in one small area. When it comes to the most popular outdoor activity, then trekking is the winner hands down. It is as if the entire country was designed to be a trekker's paradise. However, trekking is not the only activity in Nepal, and there are other sports that are hugely popular.
Bungee jumping has become a popular activity in Nepal, with hundreds of bungee jumps a day being done at the center in Tatopani, over the Bhote Kosi River. Bungee jumping first became popular in New Zealand, where the sport was developed, and quickly spread around the world, finally coming to Nepal in recent years. One of the most thrilling sports in the world, the act of jumping off a high platform with a rope tied to your legs is one of the most thrilling and exciting activities in the world.
Nepal Trekking Cost
Trekking in Nepal can be done in one of two ways: you can join an organized Nepal trekking tour and pay their fees, which cover most of the expenses of trekking; or you can go on your own, make your own way to the trailheads, and trek with a privately-hired guide, or even alone if you are familiar with the routes. The tour is the more expensive option, though if you are a first-timer to trekking in the Himalayas, then it is often the better option, at least until you have some experience in trekking in Nepal. The tour provides you with experienced guides and pre-plans the route and accommodation along the way. They also provide transport to the trailheads, which makes it more comfortable before you hit the harshness of the trails.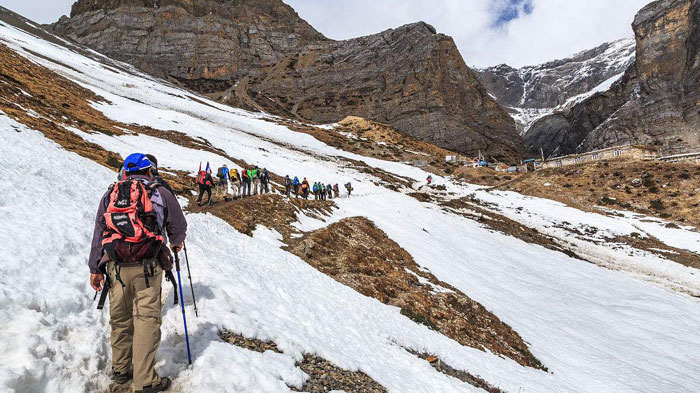 Trekking in Nepal is a must-do thing when traveling.
If you sign up to an organized trekking tour, then you can expect to pay around US$ 1,900 for a 17 Days Everest Base Camp trekking tour. For the average 16 Days Annapurna Panorama region around Ghorepani and Poon Hill trekking tour, then expect to pay at least US$ 1,700. While they do include almost everything (except the flights to Lukla), for many people they are above their expected budget.
Bungee Jumping Nepal Cost
Bungee jumping used to be restricted only to certain countries that had all the safety measures in place, as well as high enough drops to make it a worthwhile experience (a 30-50-meter drop is not as exciting for adventure sports lovers!). Now, this thrilling adrenaline rush has come to the highest mountains in the world, the obvious natural home for bungee jumping.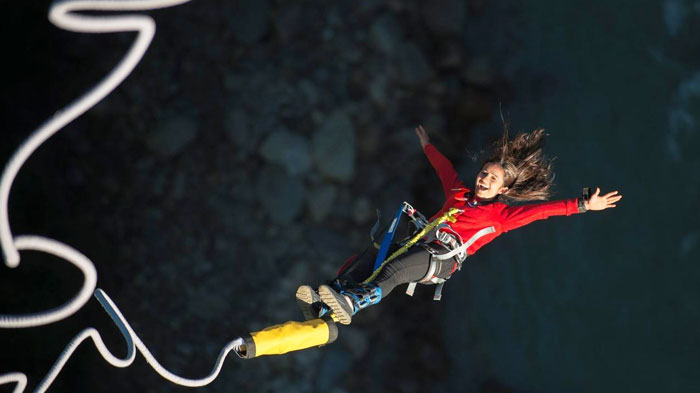 Tourists can have an exciting experience in Nepal for this kind of maximal exercise, bungee.
As of the moment, there is only one good bungee jumping spot in Nepal, at The Last Resort, the top destination for adventure sports for those adrenalin junkies. Their breathtaking plunge from a 166-meter-wide suspension bridge has become the world's most popular bungee jump, and the site at Tatopani was designed by one of New Zealand's leading bungee experts.
Stretching out of the Bhote Koshi River, the scenery around you as you jump from the 160-meter-high bridge, the world's second highest bungee jumping site. The cost of this amazing experience is US$ 108 per person, for the entire day trip. This cost includes a big lunch after your jump, local transport to the remote site, and the video and photos of your jump in action.
Cost of Living in Nepal
Nepal is widely known around the world as being one of the cheapest places on the planet to live, and this is one of the reasons it first became a popular destination for backpackers, since they were often traveling on a very limited budget. Some of the expenses have become higher over the years as Nepal has become more popular for trekking, but the cheaper costs still prevail in the country in most places.
Food in Nepal is cheap, as long as you do not mind eating the local cuisine. A good meal in an inexpensive restaurant is around 3 dollars, and a meal at the McDonalds in Kathmandu is around eight dollars. If you like to eat out, you can get a three-course meal in a mid-range restaurant for around 12 dollars, for two people, with local beer costing about four dollars a bottle and coke at around 70 cents.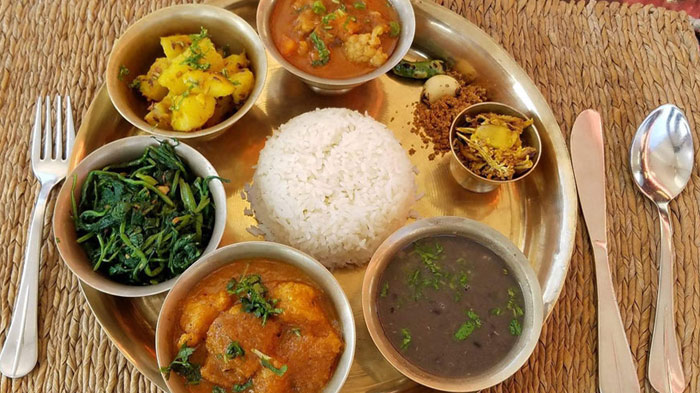 Dal Bhaat is a kind of traditional Nepali food.
You also have the option of buying local foods from the stores and markets, and this works out even cheaper, with milk costing around a dollar and a loaf of bread around 70 cents. Water, in bottles, costs around 50 cents for a 1.5-liter bottle and you can get a kilo of rice for a dollar twenty. If you are staying in a hostel that has cooking facilities, then this is the cheapest way to eat.
Staying in a luxury hotel in Nepal is not a requirement, as the whole country caters to cheaper accommodation for backpackers, and hostel rooms are some of the cheapest on the planet. If you are not that fussy, you can get a bed in a tent hostel for around 11 cents per night, which has a shared bathroom. If you want a bed in a real room, then you can expect to pay anything from $2.50 to $7.00 per night, depending on the hostel.
If you want to go a bit more up-market, you can get a good single room with ensuite bathroom for as little as $8.00. On the next level, the smaller hotels and boutique hotels, a dorm room can cost as little as 4-5 dollars and as much as 10-12 dollars, while you can get single rooms from as low as 22 dollars per night. If you are out on the trekking trails for the majority of your stay, then you can expect to pay a lot less for your bed. Teahouse accommodation along the trails is more commercial now, and the older-style lodges and teahouses are rare. But you can still expect to pay as little as 50 rupees (70 cents) per night for a dorm bed. The more up-market the teahouse, the higher the cost, and some can charge as much as 20 dollars per night for a twin room which you will share. Bear in mind that the term "homestay" is a commercial one used recently in Nepal, and is pretty much the same as staying in a teahouse or guesthouse, but for double the price.
Transport in Nepal is also very cheap, with bus tickets starting at around 28 cents and taxis costing around 3 dollars for the starting rate and 70 cents per kilometer after. Alternatively, you can buy a monthly transport pass, which is good for any local buses, for around 12 dollars.
Insider Tips for Saving the Cost of Nepal tour
If you want to save money on the cost of a Nepal tour, then go it alone, or even better, with a group of friends. Tour packages can often be the most expensive option for travelers, and it is much cheaper to get your own flight, find your own accommodation, and arrange your own food and transport.
You should be prepared for the basics when traveling to Nepal on a tight budget. The cheapest accommodation is very basic, and things like Wi-Fi and phone charging are always additional extras. Do not expect to get western food cheaply either, as even McDonalds in Kathmandu is rather expensive when compared to the same meals back in the United States and Europe.
Transport is very cheap, especially if you are using the local buses. While they can be hot and cramped, it is a great way to experience the Nepali culture and way of life, and you can meet some awesome and interesting folks on the buses. Taxis are not too expensive either, as long as you already know how to get where you are going, since they tend to take the longest possible route at times and will even take you to a shopping center that they have an agreement with if you are not careful. Just let them know that you are not interested before you start. And it is often best to agree on a price to your destination in advance, to guarantee the price does not get higher from a circuitous route.