Japan to Nepal Flights and How to Get from Japan to Nepal
Lying out in the Pacific Ocean, around several hundred kilometers off the eastern coast of the Asian continent, Japan is one of the oldest ancient civilizations in Asia. Stretching from the Sea of Okhotsk in the north to the Philippine Sea in the south, the "Land of the Rising Sun" is one of the most impressive archipelagos in the world, consisting of more than 6,800 islands. Lying around 5,156 kilometers (3,204 miles) from Kathmandu, traveling from Japan to Nepal can be done easily and simply.
For Japanese tourists, Nepal is one of the more popular places in Southeast Asia to visit, and the small Himalayan country sees up to 20,000 tourists traveling to landlocked Nepal every year for a visit. One of the most popular activities in Nepal for Japanese tourists is trekking and mountain climbing, as a change from the mountains of their home country.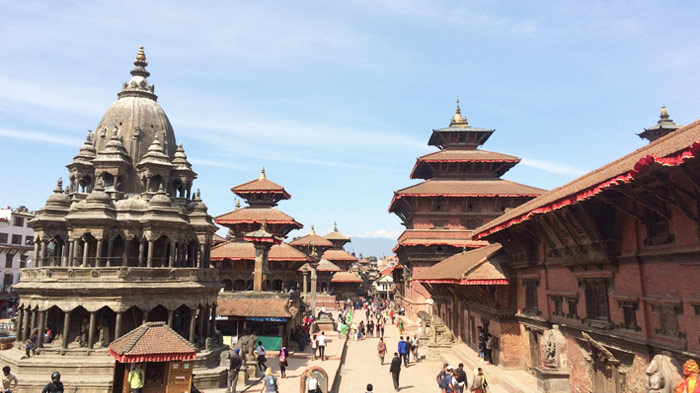 Nepal is one of the most popular cultural destinations in Asia for international friends.
Flights to Kathmandu from Japan
Unfortunately, there are actually no direct flights from Japan to Nepal, and all flights are connecting flights, which travel through Hong Kong, Seoul, Don Mueang, Chengdu, or Shanghai, among others. Seven cities across Japan offer connecting flights to Kathmandu from eight international airports.
Tokyo
Flights to Kathmandu's Tribhuvan International Airport run from Tokyo's Haneda and Narita international Airports daily, with more than 200 outbound connecting flights per day from both airports together. On average, the connecting flights can be done in around 12 hours, though that is also the most expensive option. The cheapest flights to Nepal from Tokyo cost from around US$ 360 for an economy one-way ticket, and the connecting flights can take as much as 32 hours.
Osaka
The Osaka Kansai International Airport offers more than 100 daily connecting flights to Kathmandu, traveling through Don Mueang, Hong Kong, Seoul, and other Asian airports. The fastest flight from Osaka takes around 11 hours for the connecting flights, while the cheapest flight, for around US$ 338, takes up to 31 hours for the connections.
Nagoya
Chubu Centrair International Airport is one of the most popular airports in Japan for Asian departures, and has more than 200 flights that can connect for flying to Kathmandu. Stopping at the major Asian airports as connecting flights, the fastest takes just 11 hours, while the cheapest can take up to 24 hours. Flights cost from around US$ 338 for a single one-way economy ticket, and can reach as high as US$ 1,200.
Fukuoka
Fukuoka International Airport currently has around 150 flights that can make connections for getting to Kathmandu, and the connecting flights can actually take as little as 10 hours or as long as 26 hours to get to the Nepali capital airport. Connecting flights can cost from around US$ 365 to as much as US$ 567, and are one of the cheapest connecting flight airports in Japan.
Kita Kyushu
The Kita Kyushu International Airport has fewer flights that can connect to travel to Nepal than any other airport in Japan, and is one of the more expensive departure locations, since the Fukuoka International Airport is relatively close by. Connecting flights start as high as US$ 458 per person for an economy one-way ticket, and can cost as much as US$ 1,400. Flights can take as little as 11 hours or as long as 48 hours, depending on the connections.
Okayama
Okayama International Airport has around 100 flights per day that can make connections to Nepal, with prices starting from around US$ 367 per person for a one-way economy ticket. Another of the cheaper options, the cheapest flights take around 34 hours to get to Nepal, while the fastest connections can be as little as 10 hours, but only cost around US$ 550.
Sapporo
Located on Hokkaido Island, Sapporo Chitose International Airport has more than 150 connecting flights that can make the connections to travel to Nepal, although it is not one of the cheapest options for travelers. The cheapest 400-dollar flight will take you around 32 hours to get to Nepal, while the fastest flight, taking as much as 17 hours, will cost you from around US$ 1,600 per person for an economy one-way ticket.
Other ways to Kathmandu from Japan
Traveling by the pre-booked connecting flights to Nepal is not the only way to get there. Pre-booked connecting flights are often the more expensive option to travel to one country from another, and if you have time on your side, then sometimes it is cheaper to travel in small steps, booking the individual flights separately, instead of as one ticket.
Flying from Bangkok to Katmandu would be an excellent choice for Japanese tourists.
Options such as flying to Bangkok or other Southeast Asian destinations and making your own connection can make the flight cheaper. The cheapest flight from Tokyo to Bangkok costs around US$ 160 and takes just 7 hours 15 minutes. The flight from Bangkok to Kathmandu is a 3-hour-40-minute trip that costs as little as US$ 140. This makes the whole trip around US$ 300, which works out around 40 dollars cheaper than the cheapest connecting flight from Japan to Kathmandu when booked as a single trip.
You also have the option to shop around on the internet and find the best prices and discounts for your flights, which can be done easily with a little time, and can save you even more money on the trip.
How to get Nepal visa for Japanese
Getting a visa for Nepal as a Japanese citizen is pretty much the same as for most other international travelers to Nepal that do not have any visa-free options or the option for a free-of-charge visa. While there is an option to apply for the visa in advance from the Embassy of Nepal in Tokyo, which is on Shimomeguro, in Meguro-Ku, or from the Nepalese Honorary Consulate in Osaka at Uehonmachi, Tennoji-ku, Osaka-shi, there is also the option of making the application for the Visa on Arrival when you get to the airport at Kathmandu.
> Check for the ultimate guide on how to apply for Nepal visa.
The Embassy-issued visa normally takes around two working days to process after the application has been received, and can be picked up on the date that you are given when applying between 2:00 pm and 4:00 pm only.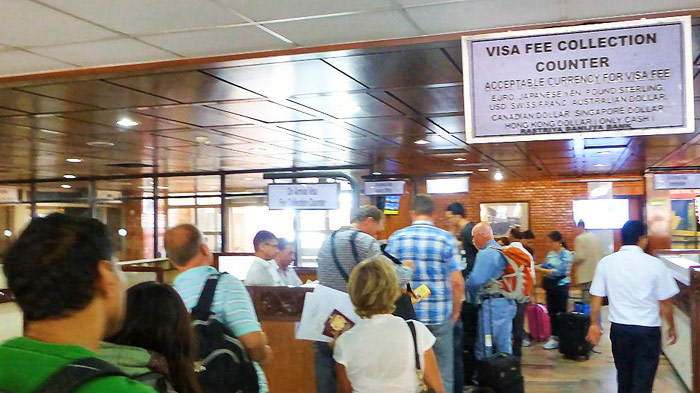 Applying for the Nepal Visa on your arrival at the airport of Kathmandu.
Applications for a visa must have a completed application form on arrival or receipt at the embassy, with a passport-sized photo affixed to the downloaded application form. Forms can be downloaded from the Nepal Embassy website. The application must also contain your original passport and the visa fee in cash (Yen only), and the Embassy does not accept checks or money orders. All postal applications should be accompanied by a pre-paid registered return envelope.
The visa fee for Embassy applications is 3,000 yen (US$ 26.41) for a 15-day multiple-entry visa, 5,000 yen (US$ 44.02) for a 30-day multiple-entry visa, or 12,000 yen (US$ 105.64) for a 90-day multiple-entry visa.
If you are planning on getting your visa when you arrive at the airport, then there are certain rules you need to be aware of when applying for the Visa on Arrival in Nepal. While it was once easy to just fill up the paper application from the Immigration Desk, now you are required to make your application via their online portal. For those traveling direct to the airport, you can use one of the six application kiosks that can be found in the arrivals lounge, close to the immigration desk, which allows applications forms to be completed and saved.
If you want, you can also complete the application form online from any internet-capable computer or tablet, and the process is simple and fast. The applications can be filled out at either of the two official Nepali Immigration websites at Online Nepalimmigration or Nepalimmigration. The online application form is uploaded once complete to the Department of Immigration (DoI) Database, and is immediately accessible by the immigration staff at the airport desk.
Once your application is uploaded, take the slip or reference number to the immigration desk, along with your passport, photo, and fee, and wait for your name to be called to receive your passport and completed visa sticker. The cost at the airport is the same as from the Embassy, and while the DoI does allow payment in a number of currencies, US dollars is the preferred payment method when you reach Kathmandu, so take dollars with you for the fee.
Visa extensions can be applied for in Kathmandu at the Office of the DoI, which is located at Kalikasthan, Dillibazar, Kathmandu. Getting there is simple, and all the local drivers know the office. Extensions can be made for any period up to a maximum period of stay of 150 days within a calendar year, from January to December.
Conclusion
Traveling to Kathmandu from Japan is not the easiest of trips, and while it is definitely worth the journey, it is an expensive and time-consuming trip if you book the whole flights as one ticket. It is better and cheaper to book each leg separately, since there are no direct flights. Visas can also be obtained easily, and it pays to do it before you leave on the website for the Visa on Arrival, as the kiosks at the airport often have long queues.