Is Nepal Safe to Travel?
The spectacular mountain kingdom of Nepal is one of the most popular places to travel for trekking , mountain climbing, and adventure holidays. The world's highest mountain, Mount Everest, is just one of the amazing things to see there, and the exotic capital city, Kathmandu, is one of the most cultural destinations in Asia for foreign travelers.
One of the most asked questions when traveling to Nepal is "Is it safe?" Without a doubt, the answer to that is yes, although there are a number of things you should take into consideration before you go. Nepal is a relatively isolated country, with very little contact with the outside world apart from its tourist industry. Majority of Nepalese have never been out of their own country, some have never even left their home villages, and there are prevailing customs and traditions that may seem unusual to the outsider.
In actuality, Nepal is safer than many countries around the world, mainly due to the religious nature of its people and their own inbuilt habitual kindness. Nepal has seen an amazing growth in tourism over the past decade, and the people are very hospitable to travelers, as tourists are the local source of income for many people. Tourism is the mainstay of the Nepalese economy, and the people are welcoming and eager to provide a good service. Follow some good advice and remember to take precautions, and your trip to Nepal can be a pleasant and invigorating one.
Trekking and Mountain Climbing in Nepal
When trekking in the mountains of Nepal, there are a few things to remember in order to keep yourself safe. All trekkers in Nepal must purchase the Trekkers Information Management System card, or TIMS as it is more commonly known. A park Entry Permit must also be obtained before entering trekking regions in the Annapurna Range, Mount Everest area, and the Langtang Region. These are required so that the Trekking Agencies Association of Nepal and the Nepal Tourism board have a correct count of the number of people out trekking in case of missing persons.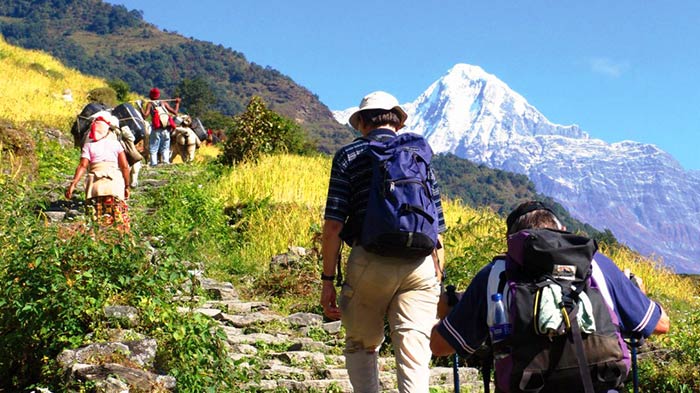 When trekking in Nepal, you need to prepare well
When trekking in remote and high altitude areas, it is possible to get stranded, injured, or even killed if you are not fully aware of your surroundings and abilities. Many of the most popular trekking routes ascend to more than 5,000 meters, and acute altitude sickness can be fatal. Sudden temperature changes or drops in temperature, or even avalanches, can occur, and you should be well prepared for these eventualities. Stay informed of the local weather forecasts, and prepare for changeable weather conditions.
One important thing to do, especially if you are going trekking, is to register with your embassy in Kathmandu. You should also keep your friends and family updated on your whereabouts and how you are, and notify them if you will be entering an area where cellphone reception is non-existent. It is also best to travel and trek in groups, using an experienced guide from a reputable company. Registered guides are more expensive than the local guides at some of the trailheads touting for work, but are safer in the long run.
Take photocopies of all your documents, especially your passport, and use the copies for identification requirements for getting passes and into places. Comprehensive travel insurance should also be acquired prior to travel Nepal so that you can be sure of help from the insurance company should something go wrong, and if you plan on trekking, use a company that offer full coverage for high-altitude treks.
Water is not safe to drink from the tap in Nepal, and you should always stick to bottled or boiled water for both drinking and brushing teeth. Avoid ice with your drinks and be wary of watered-down local beers or home-made alcoholic drinks. This should be especially noted for those traveling on the hiking trails, and do not accept bottled water that has the cap-seal broken.
Road Travel in Nepal
Travel by public bus is a popular way to travel, and it is normally fairly safe, during the day. However, you should avoid traveling by public bus in remote areas at night. Public transport in Nepal has a tendency to go fast, sometimes at what appear to be breakneck speeds on narrow roads and through mountain regions. Night buses are more prone to accidents.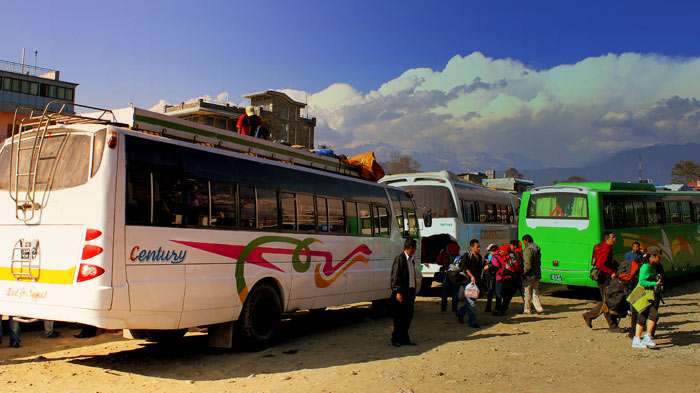 Traveling by bus is also a popular way in Nepal
Taxis are another thing to be wary of, and if you get a taxi from the airport that is not one of the government approved taxis, then you should make sure that you have the number of your hotel with you. Taxi drivers will sometimes tell tourists that the hotel they are looking for does not exist, and offer to take them to another hotel, usually one where they have an arrangement for commission with the hotel owners. insist in calling your hotel before accepting the taxi ride, and show them the hotel is real and you know where it is.
Demonstrations & Strikes in Nepal
Politically, Nepal is a place of intermittent unrest, with rallies, strikes, and shutdowns happening occasionally. However, it is more stable there now than it has been in many years, though you should read up on the political news from the country before traveling to ensure you are aware of any issues at the time.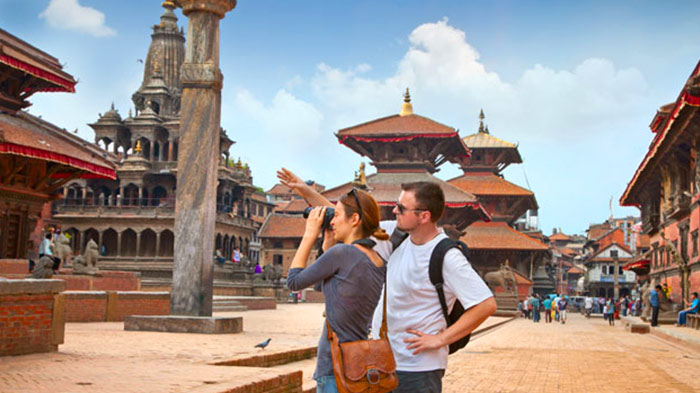 Nepal is much safer than many countries
Demonstrations and strikes will happen, though, and there are several types, all of which you should avoid being close to. Normal demonstrations are small and peaceful, though they can sometimes escalate to times when there are no vehicles on the roads or when all shops, offices, and schools are closed. If a strike does happen near your hotel, just stay inside, it will soon pass and disperse.
Crime in Nepal
Crime against foreign tourists is not as high as most people believe it to be, but it does happen, just as it can happen anywhere in the world. With a little care and attention to detail, you can avoid being a victim of crime in Nepal. The main crimes against foreigners include sexual offences (usually targeting lone female travelers), theft, and scams. Theft is often limited to the pickpockets that tend to gather in busy places within the cities, or to petty theft at tourist sites, on buses, and in hotel rooms. Scams are the main source of crime in Nepal, and there are several popular ones that you should be aware of.
The first is the drinks scam. Scammers will get talking to groups of tourists, couples, or single guys, and offer to show them around the nightlife of Kathmandu, taking them to bars and nightclubs where they have an arrangement with the bar and door staff. Once inside, the scammer runs up a huge bar tab while drinking with the tourists, then quietly exits the bar or club leaving the tourists to foot the bill.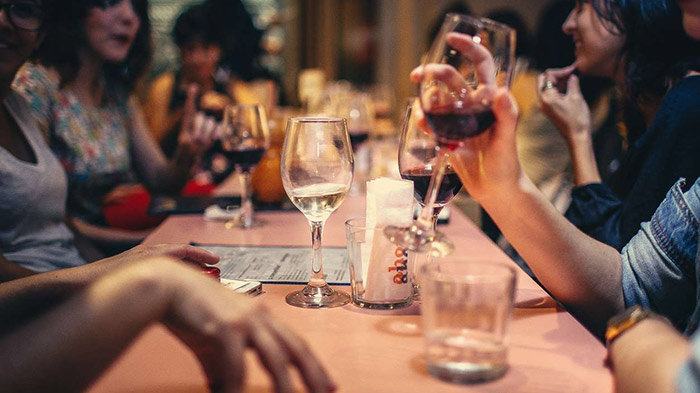 Drinks scam is one of main scams in Nepal
Another popular scam in Kathmandu is the Milk Scam. Women with young babies can be seen around Thamel in Kathmandu and Lake Side in Pokhara who will approach you asking for money to buy milk for their baby or buy the milk for them. If you agree to buy it for them, thinking you can outsmart them, they will take you to a shop or supermarket and choose the most expensive milk there. Once you are gone, they will return the milk to the store and get a refund, sharing it with the shopkeeper or staff member you paid. The best thing to do is to ignore them and walk away.
You can also find many people outside the government immigration offices offering to help with processing your visa extension for you faster, but for a higher fee than you would pay normally. The scam works because people often do not know how long it takes to process a visa extension, and the scammers prey on this, giving increased time periods for visa processing. The fact is, this can be done yourself in the same time for a lot less than you will pay the "fixers".
Altitude Sickness for Nepal Tour
While there are a few things to watch out for in Nepal, such as the odd scam, or getting on a bus at night to a remote region, one of the biggest dangers for tourists to Nepal is altitude sickness. If you are traveling to any areas that are above 3,000 meters, then you should be aware of the symptoms of altitude sickness, and know what to look for in yourself and others.
Altitude sickness normally occurs once you reach altitudes of more than 3,000 meters and have not given yourself enough time to acclimatize before heading out to exert yourself, trek to even higher altitudes, or go drinking. Symptoms of altitude sickness include headaches, nausea, dizziness, vomiting, shortness of breath, and general malaise. Severe altitude sickness can be fatal, so if you feel any of the symptoms, you should rest and breath oxygen, or move to a lower altitude to recover.
Government Travel Advice for Nepal Tour
Government travel advice is available from most international governments that have tourist traveling to Nepal, and the advice of the government websites is sound and practical. For more advice on safety in Nepal, go to your local government website and look for their advice on Nepal travel.