How to Visit Nepal: 6 Steps to Plan a Nepal Tour in 2023/2024
Great News: Nepal is now open for tourists from all over the world in 2023!
The treasure of the Himalayas reopened its border for international tourists from all over the world. All overseas tourists, with two doses of the covid-19 vaccine and the negative nucleic acid test within 48 hours can enter Nepal for travel.
To start your Nepal tour in the post-pandemic era, here are the simple 7 steps to plan your Nepal trip in 2023/2024.
1. Find Your Things to Do in Nepal
When you plan to travel to Nepal, there must be something that attracts you. What do you most want to know about Nepal? When you clarify your purpose, the next plan will be smoother.
Trekking in the Himalayas in Nepal
Undoubtedly, trekking is one of the most popular things to do in Nepal. Known as the trekker's paradise, the 6 trekking regions of Nepal offer kinds of trekking experiences for trekkers of different levels.
Trekking to Everest Base Camp in Nepal is the purpose of many people going to Nepal. The world-class Annapurna circuit trek is also the perfect challenge for seasoned trekkers from all over the world.
No matter whether you are a novice trekker or an experienced explorer, Nepal is not absolutely a wonderful trekking destination.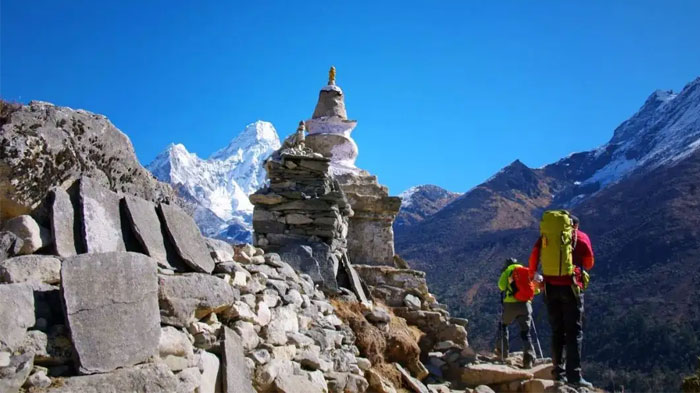 Enjoying the trekking in the Everest in Nepal
Experience Nepal Culture in Kathmandu and Lumbini
Although Nepal is small in size, due to its special geographical location, it seems to be a melting pot of cultures and religions. People from different religious backgrounds and cultures live in peace and harmony in Nepal.
There are many cultural heritage sites in Nepal, which are still in use by local people today. Kathmandu valley is a must-see for tourists, where you can visit the Pashupatinath temple, the Bhaktapur's Dubber square, Kathmandu durbar square, and Patan city. During the days in Kathmandu, you can have a preliminary understanding of the history and culture of Nepal.
Lumbini, located 360 kilometers away from Kathmandu, is known as the birthplace of Sakyamuni. It is also one of the holy places of Buddhism in Asia. If you are interested in religion, be sure to take a 10 days birhtplace of Bhuddha tour to visit Lumbini.
Jungle Safaris in Chitwan
Chitwan National Park, located in the middle of the Terai plain, is the habitat of the world's rare Asian one-horned rhinoceros and the last habitat of the Bengal tiger.
The jungle safari in Chitwan could be a lifetime experience to trek through the forest, witness kinds of wild animals, or take a canoe ride through the rainforest's river to see the flora and fauna on both sides of the river.
Adventure Activities in Kathmandu and Pokhara
The adventure things to do in Nepal are not only trekking and mountaineering. In Kathmandu and Pokhara, there are many more outdoor activities to choose from, such as paragliding over the Himalayas, bungee jumping in the deepest canyon in Asia, and white rafting.
2. Decide how long to visit Nepal
How many days are required to visit Nepal? The answer is flexible.
Whether you have only a few days to change planes here or have a long vacation, you can find things to do according to the length of your vacation.
Here are some recommendations for different lengths of trips in Nepal.
Visit Nepal in 3 to 4 Days
If you only have few a days in Nepal, like a stopover in Kathmandu, 3 to 4 days are quite enough to explore the capital of Nepal. You can visit the essentials of Kathmandu valley in 4 days, including the Pashupatinath temple, the Boudhanath Stupa, the Kathmandu Durbar Square, the Swoyambhunath, etc.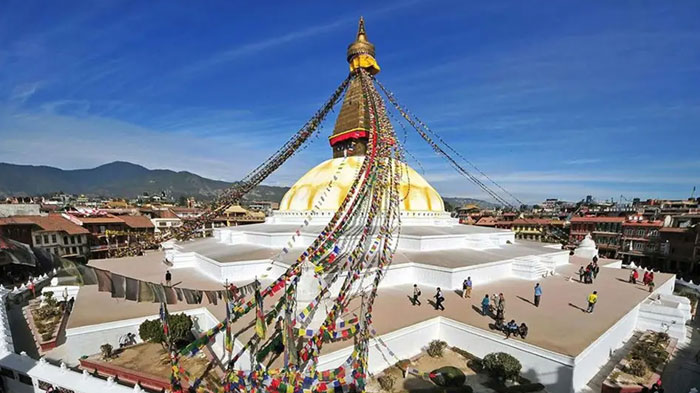 You can fully explore Kathmandu in few days.
Visit Nepal in One Week
Generally, 5 to 7 days are good to experience Kathmandu and its surroundings with a light trek. You can visit Kathmandu, Nagarkot, and Pokhara together in 7 days. If your goal is to trek in Nepal, there are short treks that can be done in a week, such as the 5 days Kathmandu to Nagarkort trek tour and the popular 6 days Ghorepani Poon Hill Trek.
However, if you want to know the whole picture of Nepal, it is still a tight schedule to travel in a week.
Visit Nepal in Two Weeks or More
A panoramic Nepal tour usually takes 12 days, during which you can experience the exotic culture in Kathmandu valley, have a jungle safari in Chitwan, explore Lumbini - the birthplace of Buddha, and relax in Pokhara.
With more specific experiences and activities, it can be extended to 12 or 14 days according to your need.
If you want to trek in the Nepalese Himalayas, you need to take at least 10 days. The popular Annapurna base camp trek and some Everest base camp treks in Nepal can even take 16 to 19 days.
3. Make Your Budget for Your Trip to Nepal
To budget for your Nepal tour, you first need to determine what type of travel you want to choose. For example, you want to travel alone as a backpacker or want a hassle-free trip served by a travel agent.
Nepal can be considered a paradise for backpackers. You can easily find cheap hostels in all travel destinations in Nepal. The public buses and local taxis can take you to almost all the destinations you want to go to. And the price of a public transfer is not expensive. Just remember to agree on the price of the taxi for your destination in advance.
However, if you want a more hassle-free and safer tour in an unfamiliar country, then booking a Nepal tour with a travel agency is the best choice.
The cost of a Nepal tour arranged by a travel agency is higher than an independent tour. But it covers almost everything you need for your trip to Nepal, including transportation, accommodation, attraction entrance fees, guide service, etc.
Whichever way you choose to visit Nepal, choosing the right accommodation can give you some control over your Nepal travel costs. In major destinations such as Kathmandu and Pokhara, accommodation options range from luxury five-star hotels to cheap B&B beds, with huge price differences. Therefore, when making a budget for a Nepal tour, choosing suitable accommodation according to your preferences and needs can better control your travel costs.
4. Choose the Best Time to Go
Avoid Visiting Nepal in the Monsoon Season
The climate in Nepal is mainly divided into the dry season (from September to the next May) and the monsoon season (June, July, and August).
Influenced by the monsoon from the Indian Ocean, the monsoon season in Nepal is humid with high temperatures and lots of rainfall, and is not very suitable for outdoor activities.
So it is suggested to avoid traveling to Nepal during the monsoon season.
Best Time for Trekking in Nepal
The best months to trek in Nepal are October and November. During the post-monsoon months, the weather f Nepal is very pleasant for outdoor activities and the clear air makes better views of the Himalayas.
Best Time for Nepal Festival Experiences
Nepal can be regarded as a country of festivals. There are more than 300 festivals throughout the year, of which more than 50 festivals are legal holidays.
Therefore, it is common to encounter festivals when traveling in Nepal. Of course, if you want a specific festival experience, you can check the Nepal festival calendar and plan your Nepal tour based on the schedule.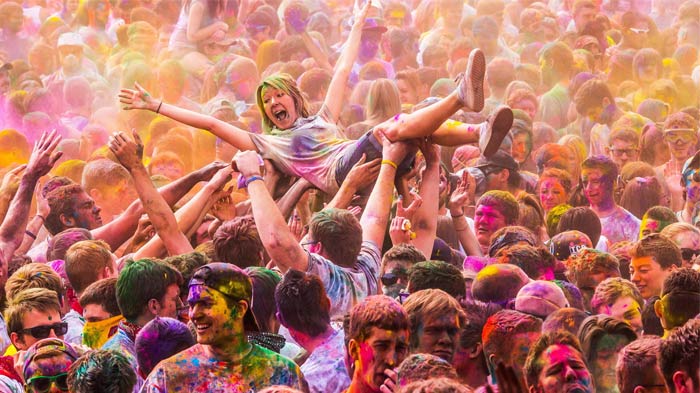 The carnival atmosphere of Holi festival is second to none in the world.
5. Book Your Flight to Nepal
Kathmandu Tribhuvan International Airport is the only international airport in Nepal. Currently, it operates direct flights to Nepal from India, Southeast Asia, and the UAE. If you are traveling to Nepal from the UK, the USA, Australia, or some other countries, you can choose a connecting flight to Kathmandu.
Notice: Although Nepal tourism is now open to overseas tourists, international flights to Nepal are still limited. Please confirm your flight ticket before traveling.
6. Get the Nepal Visa on Arrival
The most convenient way for international tourists visiting Nepal during the post-epidemic are is to get a Nepal visa on arrival at the airport or the land border.
According to the latest policy, International tourists who have received two doses of the covid-19 vaccine can apply for a Nepal visa on arrival with the proof of a negative nucleic acid test (within 72 hours).
To get a Nepal visa on arrival, you need to prepare:
- Your valid passport
- Two passport-sized photos
- A certificate of full vaccination against covid-19
- A negative covid-19 test report (RT-PCR, True NAAT, Gene Xpert) taken within 72 hours of entry
With the above documents, you just complete the application form with the visa fee to the immigration officials at the entry dest at Kathmandu airport, then you can get the Nepal visa on arrival.