How to Get to Nepal: Best to travel to Nepal by Flight, Overland, or Train?
Thanks to its great location on the western edge of the Himalayas, Nepal has long been one of the most popular destinations for trekkers and mountain climbers from all over the world. In addition, as a melting pot of Indian and Tibetan cultures, the unique culture and religion of Nepal attracts millions of visitors every year.
How to get to Nepal? What is the best way to travel to Nepal? Here are several ways for you to travel to Nepal.
Get to Nepal by Flight: the most cost-effective way to Nepal
Direct flights to Nepal run from almost every Asian country, with a major emphasis on flights from China and India. And the further non-stop international flights running to Nepal depart from airports in Dubai, Turkey, Kuwait, and Oman.
If you are traveling from further abroad than the Middle East or Turkey, then traveling to Nepal would be best done via India or China, as there are more connecting flights from these two countries than from anywhere else in Asia.
For tourists coming from Europe, America, South Africa, and Australia, getting a flight to Nepal must be done as a connecting flight, which can sometimes be a stressful experience, especially if the connections have long waiting times.
If you need to change or transfer, please pay attention to the time of both flights to avoid missing your flight.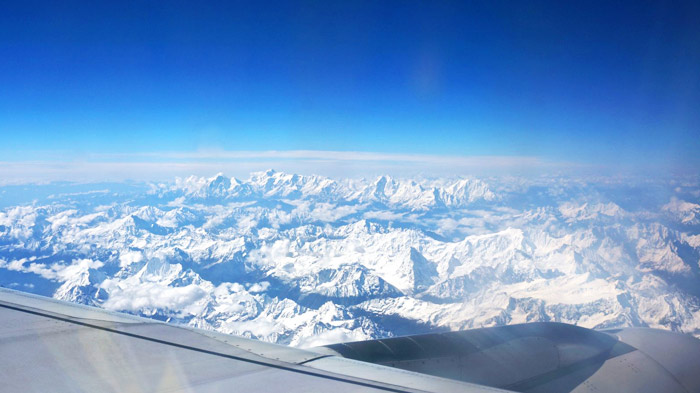 Beautiful Himalayas scenery when taking flight from Lhasa to Kathmandu.
Get to Nepal by Overland from Tibet: the Most Epic Journey through the Everest Region
An overland journey, while time-consuming can be an exciting experience, as you will get the chance to see many things that you would not when flying. The Nepal overland tour, especially the Lhasa to Kathmandu overland tour, is more than worth the time it takes for the experience and adventure you can have.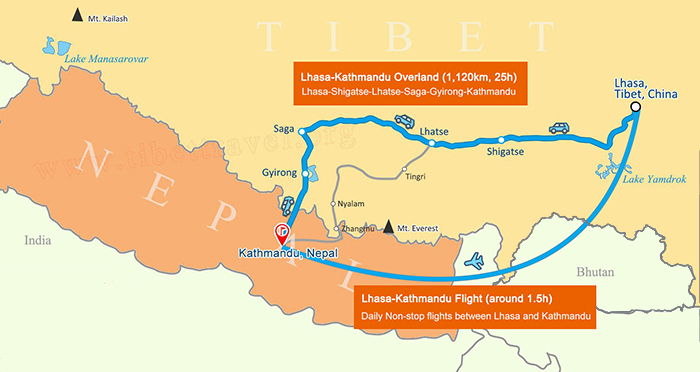 (Simple click to enlarge the map)
Lhasa to Kathmandu Map
Tibet to Nepal Overland Route
The epic Lhasa to Kathmandu overland journey is the only route to get to Nepal by land from China. It starts from Lhasa, follows the Sino-Nepal Highway through Shigatse to the west, and finally comes to the Gyirong Port.
During the overland journey across the Tibet Plateau to Nepal, you will visit some of the most stunning sights in the Everest region, such as the Potala Palace in Lhasa, the Yamdrok Lake, the Gyantse Kumbum, the Tashilumpo Monastery in Shigatse, and the Everest Base Camp.
It generally takes 7 days, with one night stay at the Everest Base Camp on the northern side of Mount Everest. You can also do this route by bike from Lhasa to Kathmandu, which takes around 22 days.
China Nepal Land Border Crossing
When you get to Nepal from China by land, you will cross Gyirong Port. Your Tibetan guide and driver will drop you at the border checkpoint on the Chinese side of the Resuo Bridge, the crossing point into Nepal.
On the other side, at the Rasuwagadhi Fort border checkpoint in Nepal, you can show the immigration officials your passport and Nepal visa. If you don't have one, you can make the application for the Nepali Visa on Arrival.
Get to Nepal from India by Overland: Either by Car or by Train
If you are traveling overland from India to Nepal, you can travel by car or by train.
The huge railway network of India makes it convenient to travel across the country. All of the six entry ports to Nepal have railway stations nearby. You can easily travel to the border from almost any city in the country by train.
If you plan to go by bus, you can take a connecting bus from the nearest large town to the border crossing. However, traveling by bus in India may not be a good experience since Indian public buses, as the cheapest form of transport in the country, are always crowded, sweaty, and uncomfortable.
For foreign tourists, the safest and the most comfortable way is to find a regular car rental company or travel agency to book a vehicle and driver to take you to the port. If you have an international driving license recognized by the Indian government, or a standard UK driving license, you can self-drive in India for a limited period (vary from state to state but never less than 30 days).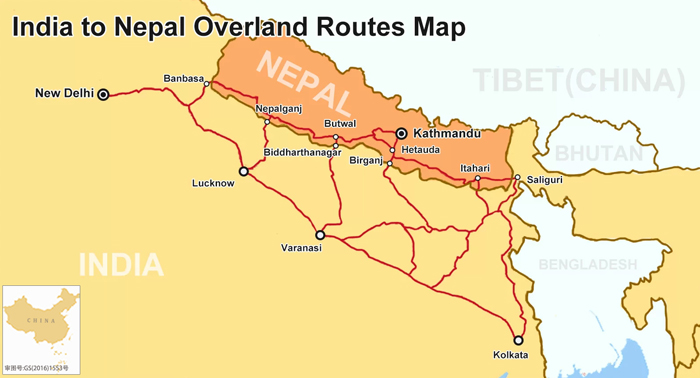 (Simple click to enlarge the map)
India to Nepal Overland Route Map
Six Land Borders between India and Nepal
Kakarbhitta, which lies in the far east of Nepal, is the main entry point for tourists traveling from the northwestern Indian states of Sikkim and West Bengal. There are regular buses that run to Kathmandu and other places from the town on the Nepali side of the border, and the bus depot is just a short walk from the immigration office.
Birgunj, in the south of Nepal, is the most popular crossing point for travelers heading to Kathmandu, as it is just a 6-8-hour bus ride. On the Indian side of the border lies the major railway station of Raxaul, which is easily accessible from anywhere in India and well known as the main crossing point into Nepal. 20km from Birgunj lies Simara, which has an airport that has flights to Kathmandu several times a day.
Belhia, in Bhairahawa District of western Nepal, is one of the most popular crossing points for Indian tourists, as it is close to the small town of Lumbini, the birthplace of Gautama Buddha. One of the most important trade connections between India and Nepal, Belhia is still over 280 kilometers from Kathmandu, and the daily bus takes around 6 hours. Flights from the local airport, however, take just 30 minutes.
The other three crossing points, Jamunaha, Mohana, and GaddaChauki, are also available for international tourists, and have the Visa on Arrival service available, but are much less popular due to their remoteness. Mohana and Gadd Chauki both lie in the far west of Nepal, with no flights to Kathmandu, and buses that take around 16-18 hours to make the trip. Jamunaha, which is close to Nepalgunj on the Nepali side, is a major trade port from India to Nepal, and a favored crossing point for Indian pilgrims. There are flights to Kathmandu from the airport at Nepalgunj, which take around 3 hours, while the buses take around 12 hours to get to the Nepali capital.
Apply for a Nepal Visa on Arrival while Getting to Nepal
It is very convenient to get a Nepali visa on arrival at Kathmandu Tribhuvan International airport and all land borders. This is a simple process that just requires your passport, one passport-sized photo, a completed application form, and the relevant fee. Visas at the borders and airport cost US$ 25 for a 15-day visa, US$ 30 for a 30-day visa, and US$ 100 for a 90-day visa. All visas are now multiple-entry, so you can go back and forth as much as you like for the duration of the visa.
Conclusion
As one of the most popular worldwide travel destinations, Nepal can be reached by international flights from most countries in the world. But only nearby Asian countries have non-stop flights to Nepal.
Visiting Nepal by overland can only be done from either China or India, as there are no other countries with borders to the Himalayan Kingdom. Most tourists prefer to take the epic overland journey from Lhasa to Kathmandu, to enjoy the best of Everest. If you travel to Nepal from India, you have more choices, since you can get to Nepal from India by flight, overland, or by train.
No matter which way you choose to go, you need to get a Nepal visa before entering the country. But don't worry, it is quite easy to get the Nepal visa on arrival once you arrive at the airport or the overland border.