How to Get to Nepal: Cheapest Way, by Flight, Overland or Train?
One of the most popular destinations for tourists in Asia when it comes to trekking, Nepal lies on the western edge of the Himalayas in Southeast Asia. A completely landlocked country, it lies between India and the Tibet Autonomous Region of China.
Nepal has long been one of the most popular places to go for Hindu teachings, and is the only Hindu kingdom in the world, an anachronism in itself. A unique nation, more than 90 percent of the country are Hindu, with a small Buddhist population made up of the remnants of the Tibetan Empire that lives in the mountain regions and a number of Tibetans that have settled in Nepal, around the area of Bouddhanath.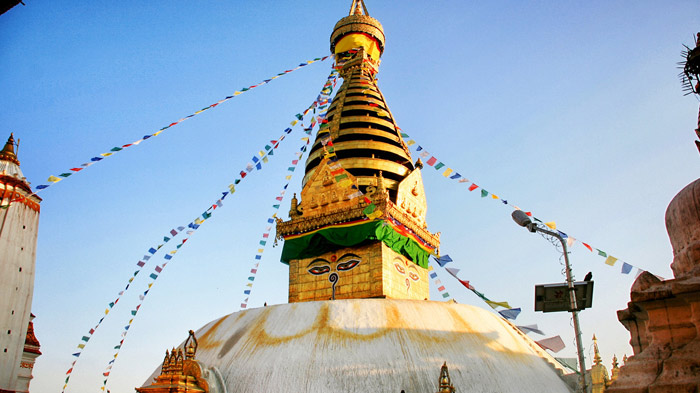 Swayambhunath, Monkey Temple, a Buddhist scripture about the origin and development of Kathmandu valley.
Traveling to Nepal can be done in several ways, and the route to take largely depends on the direction from which you are traveling and the availability of transportation. Majority of the tourists that travel to Nepal do so by flight, but with only limited international flights running to Kathmandu's Tribhuvan International Airport, long haul flights are few and far between. The furthest flights that run to Nepal from international locations depart from airports in Dubai, Turkey, Kuwait, and Oman.
Get to Nepal By Flights
There are no direct flights to Nepal from Europe, America, South Africa, and Australia, which can mean getting a flight to Nepal must be done as a connecting flight, which can sometimes be a stressful experience, especially if the connections have long waiting times. However, there are a huge number of flights from the other Asian countries that can connect to Nepal, so while you may not be able to get a direct flight, you can easily get a connecting one.
Flights to Nepal run from almost every Asian country, with a major emphasis on flights from China and India. Nepal is a popular tourist destination for both India and China, and with the lack of requirements to get into the country, especially from India, it makes it an easy place to go to for a vacation.
If you are traveling from further abroad than the Middle East or Turkey (which is counted as part of Europe now), then traveling to Nepal would be best done via India or China, as there are more connecting flights from these two countries than from anywhere else in Asia. However, with more than 35 different airlines to choose from, connecting more than 50 cities across Asia to Nepal, you have an abundance of choices for your trip to Nepal.
Get to Nepal by Overland
Traveling overland to Nepal can only be done from either China, via Tibet, or from India, as there are no other countries with borders to the Himalayan kingdom. Overland travel, while time-consuming can be an exciting experience, as you will get the chance to see many things that you would not when flying. Overland trips, especially from China through Tibet, are more than worth the time it takes for the experience and adventure you can have.
Get to Nepal From China via Tibet
Traveling from China to Nepal normally means traveling through Tibet Autonomous Region, as this is the only part of China that borders with Nepal. In order to get to Nepal through Tibet, you will first need to have a pre-booked tour of Tibet, as there is no independent travel allowed in the region, even for those just crossing it to get to Nepal.
You have the options of starting from one of seven gateway cities to Tibet, if you are taking the train to Lhasa then traveling overland to Nepal, or you can get a flight from one of more than a dozen airports across China to Lhasa.
If you opt to fly to Lhasa, then the flight times range from as little as two hours from Xining or Kunming to as much as 7-8 hours from eastern China, in Beijing or Shanghai. Prices do vary, and you will need to have a visa for China and all the permits and pre-booked tour of Tibet in order to cross to Nepal.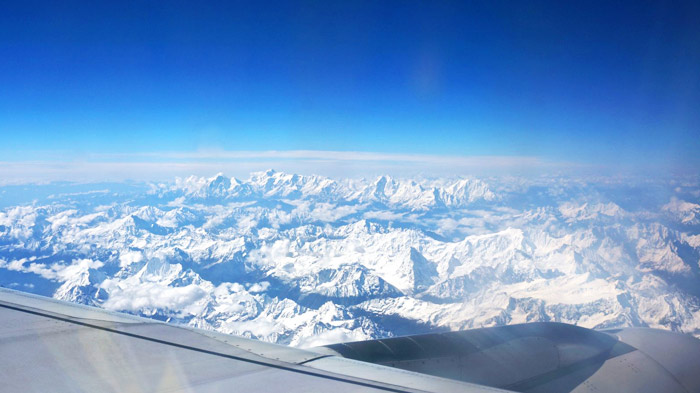 Beautiful Himalayas scenery when taking flight from Lhasa to Kathmandu.
For those traveling by train to Tibet before crossing overland to Nepal, you can board the train at Guangzhou, Beijing, Shanghai, Chengdu, Chongqing, Lanzhou, or Xining. Trains can be a long and arduous journey in most places, but the trains to Tibet have one feature that nowhere else has – the stunning views of the Tanggula Mountains and the northern Tibetan plains as you travel across them heading south to Lhasa, the Tibetan capital. The trains take from 22 to 55 hours to reach Lhasa, from where you will start your tour across the plateau to the Sino-Nepal border.
Once you have reached Lhasa, by flight or train, then your trip across the Tibetan plateau begins. Generally, the shortest tour to Nepal from Lhasa takes around seven days, so you should factor that into your travel plans. The advantage of traveling across the plateau to Nepal is that you will get to visit and see some of the most stunning sights in the world, such as the Potala Palace, the Jokhang Temple, the Gyantse Kumbum, and even Mount Everest, if you choose our Tibet Nepal tour.
Once you reach the Nepali border crossing point, which is at Gyirong Port to the north of Kathmandu, your tour will end and your guide and driver will drop you at the border checkpoint on the Chinese side of the Resuo Bridge, the crossing point into Nepal.
On the other side, at Rasuwagadhi Fort border checkpoint, you can show the immigration officials your passport and visa, or if you do not already have one, you can make the application for the Nepali Visa on Arrival. This is a simple process that just requires your passport, one passport-sized photo, a completed application form, and the relevant fee. Visas at the borders and airport cost US$ 25 for a 15-day visa, US$ 30 for a 30-day visa, and US$ 100 for a 90-day visa. All visas are now multiple-entry, so you can go back and forth as much as you like for the duration of the visa.
Once through the checkpoint, you will need to get the bus to Kathmandu, which leaves several times a day, unless it is the monsoon, when you may have to wait for some time for the next bus. Buses from Rasuwagadhi Fort only run to Kathmandu, so if you're final destination is somewhere else, then you will have to change in the nation's capital and get a connecting bus or flight to your final destination.
Get to Nepal from India by Overland
If you are traveling overland from India to Nepal, you have a choice of traveling by bus or by train. India has a huge railway network that can rival some of the biggest first-world countries, and was initiated during the British Imperial rule of the country, over 100 years ago. Since its independence, India has continued to expand its rail network, as rail transport is one of the best ways to travel across India. The network is now so big that you can travel to almost any city in the country by train, without ever needing to get a bus to connect between stations.
The advantage of this huge rail network is that you can buy one ticket from your departure location to your final destination, even if you have to change trains several times to get there. The ticket is valid for the entire journey and no other ticket is required for the different legs of the journey. You can even make a stop at an intermediate location for a day or two, and then continue your journey to your destination without any problems. - Know more about How to Travel from India to Tibet by Train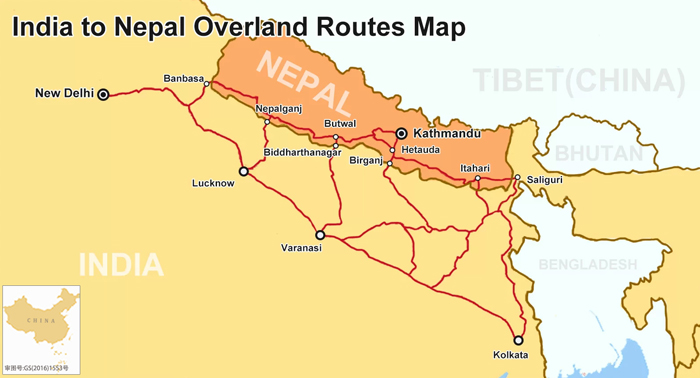 (Simple click to enlarge the map)
India to Nepal Overland Route Map
If you are thinking of traveling overland to Nepal by road from India, then you will need to have an international driving license recognized by the Indian government, or travel by public bus. As of this time, any International Driving License or a standard UK Driving License can be used to drive in India for a limited period only. The rules on how long you can drive in India on an international driving license vary from state to state, but are never less than thirty days.
However, Indian's drive on the left, the same as the United Kingdom and Japan, so if you are not used to driving on the left, then driving is not a good idea. Traffic in India can be horrendous most of the time, and very few drivers follow the road rules very much. There is also a plethora of motorcycles that weave in and out of the traffic, and even travel in huge numbers together along the roads, so these can be a bit of a nuisance.
Traveling by bus in India is an experience you are never likely to forget, and sometimes for the wrong reasons. Indian public transport buses are always crowded, as they are the cheapest form of transport in the country. Without air-conditioning, unless you get the very expensive tourist buses, the trip from one city to the next to get to Nepal can be a long, sweaty, and uncomfortable experience. However, it is cheap, and you do get to see the reality of the country, much of which is astoundingly beautiful.
Getting into Nepal can be done through one of six entry ports when traveling overland, all of which have railway stations nearby for those traveling by train. For those traveling by bus, there are always connecting buses from the nearest large town to the border crossing.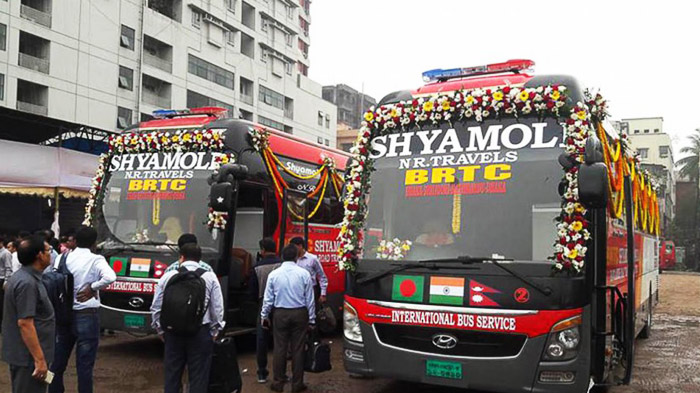 The bus from Delhi to Kathmandu.
Kakarbhitta, which lies in the far east of Nepal, is the main entry point for people traveling from the northwestern Indian states of Sikkim and West Bengal. There are regular buses that run to Kathmandu and other places from the town on the Nepali side of the border, and the bus depot is just a short walk from the immigration office. If you are looking to fly to Kathmandu, there are regular flights from Bhadrapur, around 25 kilometers from Kakarbhitta.
Birgunj, in the south of Nepal, is the most popular crossing point for travelers heading to Kathmandu, as it is just a 6-8-hour bus ride. On the Indian side of the border lies the major railway station of Raxaul, which is easily accessible from anywhere in India and well known as the main crossing point into Nepal. 20km from Birgunj lies Simara, which has an airport that has flights to Kathmandu several times a day.
Belhia, in Bhairahawa District of western Nepal, is one of the most popular crossing points for Indian tourists, as it is close to the small town of Lumbini, the birthplace of Gautama Buddha. One of the most important trade connections between India and Nepal, Belhia is still over 280 kilometers from Kathmandu, and the daily bus takes around 6 hours. Flights from the local airport, however, take just 30 minutes.
The other three crossing points, Jamunaha, Mohana, and GaddaChauki, are also available for international tourists, and have the Visa on Arrival service available, but are much less popular due to their remoteness. Mohana and Gadd Chauki both lie in the far west of Nepal, with no flights to Kathmandu, and buses that take around 16-18 hours to make the trip. Jamunaha, which is close to Nepalgunj on the Nepali side, is a major trade port from India to Nepal, and a favored crossing point for Indian pilgrims. There are flights to Kathmandu from the airport at Nepalgunj, which takes around 3 hours, while the buses take around 12 hours to get to the Nepali capital.