Are Tibet and Nepal the Same? The Differences and Similarity of Tibet and Nepal
Tibet and Nepal are both amazing lands of the mighty Himalayas, and are both great places to visit. These two stunning tourist destinations share a large portion of the western Himalayas, including Mount Everest and several others of the world's highest mountains.
However, while they do have a lot in common, there are also significant differences in the cultures, landscapes, religions, and tourism of Tibet and Nepal. These two destinations in Asia have influenced each other greatly over the last few thousand years, yet have many things that they do not share, and for the best experience in either of these major locations, you should know what the differences and similarities are.
Why do Most People think Tibet and Nepal are the Same?
Some people mistakenly think Tibet and Nepal are the same due to a few reasons. Firstly, their geographic proximity in the Himalayan mountain range creates confusion. Although they are located on different sides of Mount Everest, this fact may be overlooked.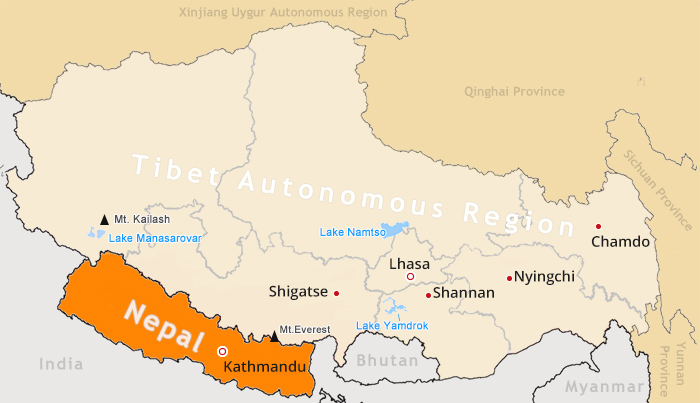 Tibet and Nepal Topography Map
Secondly, both regions have a rich tradition of Buddhism, leading to the assumption of similarity. However, Tibet and Nepal have distinct cultural practices within Buddhism. Lastly, limited knowledge or exposure to the region can contribute to misconceptions.
Despite these similarities, it's crucial to understand that Tibet and Nepal are separate travel destinations with unique landscapes, cultures, languages, and political situations, making them distinct entities in the Himalayas.
Difference 1: Landscapes in Tibet and Nepal
The biggest difference between Tibet and Nepal is the landscapes in each location. Tibet is a harsh and somewhat arid land, lying on the world's highest plateau. With an average elevation of around 4,000 meters, the plateau does have a varied landscape, which depends largely on the altitude. With vast open plains and prairies, huge lakes that are dotted across the region, as well as hundreds of smaller lakes too, and an almost uninterrupted transition from plains to mountains, the plateau landscapes in most of the region could not be more different than those of Nepal.
>> Learn more about Tibet and Nepal through different tourist maps
In Nepal, the landscape starts high with the massive mountains of the Himalayas. These tall peaks stretch along its northern border, from west to east, and below them, instead of plains, are the usual lower slopes that can be found below most mountain ranges. Then you travel into the lower foothills, gradually descend as you head south to the southern Terai region, which has an altitude of fewer than 1,000 meters; and finally to the lowland plains that border with India along the southern borders. Nepal also has a varying altitude, with the high mountains transitioning to foothills that are less than 3,000 meters above sea level, the Terai and valleys that are mostly below 1,000 meters, and then the plains, which lie at around 200-300 meters.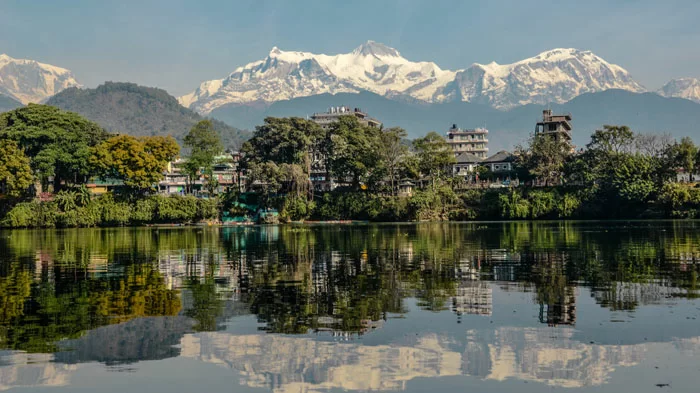 Visit Himalayas range in Nepal Pokhara.
Difference 2: Culture in Tibet and Nepal
Even though both Tibet and Nepal are influenced by Buddhism, the culture are different in Tibet and Nepal.
The culture and identity of Tibet are inextricably linked to its Buddhist religion, and religious practice is a major part of the average Tibetan's daily routine. The culture in Tibet has developed over more than a thousand years of Buddhism in the region, and is partly due to the harsh high-altitude plateau landscape, as well as some influencing factors from India, Nepal, Mongolia, and China. When Buddhism was introduced to the plateau in the 7th and 8th centuries, it exerted a deepest influence on the Tibetan way of life than anything else, and has also changed in the various regions, mostly due to the environmental and geographical differences across the plateau.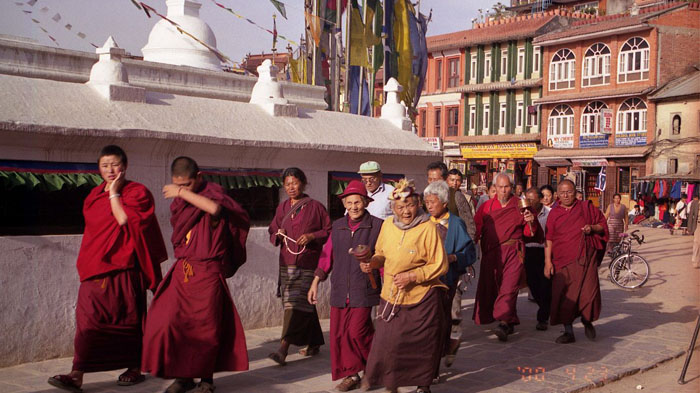 Tibetan monks do the kora round Bodhnath.
Nepali culture is a distinct fusion of the Tibet-Mongolian and Indian (Indo-Aryan) influences of more than three thousand years. These influences are the result of a long and varied history of trade, migration, and conquest. Nepal has had a lot more influence from India than from China over the centuries, and while there is a large Buddhist population in the higher mountains, most of the country is Hindu.
Difference 3: Religion and Spirituality in Tibet and Nepal
Religion and spirituality play significant roles in both Tibet and Nepal, but they differ in their religious practices and what you can witness in each region.
In Tibet, Buddhism is the predominant religion, specifically Tibetan Buddhism. The landscape is adorned with magnificent monasteries, such as the iconic Potala Palace in Lhasa, and the vibrant Jokhang Temple. These sacred sites are inhabited by devoted monks who diligently follow their religious path. Exploring Tibet allows you to witness the devoutness of local pilgrims who undertake arduous journeys to visit sacred sites, prostrating themselves along the way.
In Nepal, while Buddhism is also practiced, Hinduism holds a major influence. The country is dotted with temples and pagodas, such as the famous Pashupatinath Temple in Kathmandu. Nepal is known for its spiritual gurus or "Babas," who are revered for their wisdom and spiritual guidance. Witnessing vibrant religious festivals, such as the colorful celebration of Holi and the sacred rituals of Dashain, provides insight into the deep religious devotion of the Nepalese people.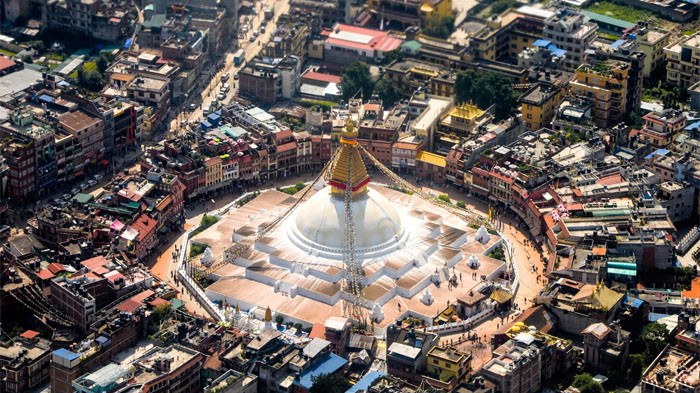 Bodhnath, one of the few places where Tibetan and Nepali culture blends. (Pic from PRAMOD)
Difference 4: Travel Policy in Tibet and Nepal
Nepal has substantially different travel regulations than Tibet does. As a visitor, all you need is a basic tourist visa, which you can get upon arrival in Kathmandu to enter Nepal, and then you're free to go anywhere you'd like inside the nation.
However, Tibet is somewhat unique. You are required to arrange your Tibet trip with a licensed tour operator in advance, and you will need both a Chinese Visa and Tibet Travel Permit to enter Tibet. Traveling around Tibet is also restricted, and you require permits for the different areas that only the tour operator can obtain. You also need to have a private guide and private vehicle for all travel within Tibet.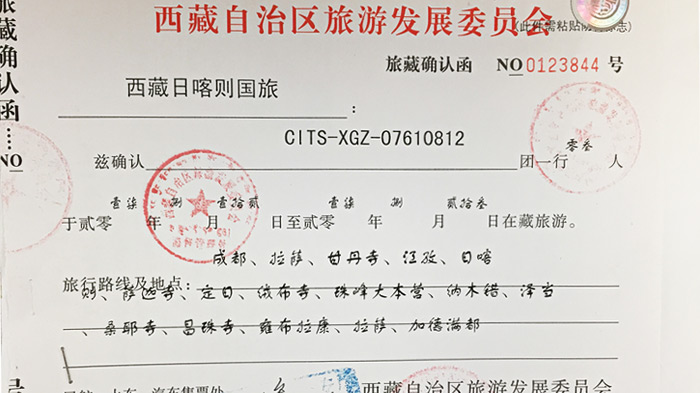 Besides Chinese Visa, Tibet permit is needed for your Tibet tour.
Insider Tips: As the leading Tibet tour operator in Lhasa, we can help you get Tibet Travel Permit with a 100% guarantee and other indispensable travel documents to places like Mt.Kailash, etc. Please feel free to contact our travel consultants for free consultancy.
Difference 5: Best Travel Seasons in Tibet and Nepal
The best travel seasons in Tibet and Nepal differ due to their distinct climates and weather patterns.
The best time to travel Tibet is from spring to autumn, with the peak period occurring from April and May and from September to October. Summer is the busiest time for tourism, while the period from November to January is the low season. Despite being accessible year-round, spring (April to May) and autumn (September to October) are the best seasons for clear mountain views, including Mount Everest. During these periods, the weather is generally stable, and the skies are clearer, offering breathtaking panoramic views of the Himalayas.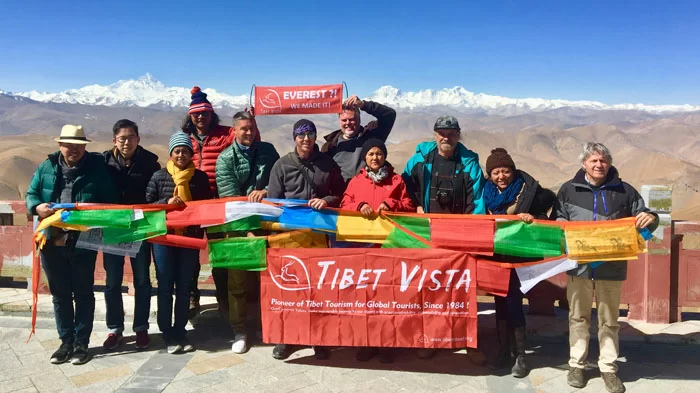 Spring and Autumn are the best seasons for clear Himalaya Mountain views in Tibet.
Nepal, on the other hand, experiences distinct rainy and dry seasons. The rainy season, known as monsoon, occurs from June to September and brings heavy rainfall to the region. This period may not be ideal for outdoor activities or mountain views due to cloudy conditions. The dry season, from October to May, is the best time to visit Nepal, particularly for trekking and mountaineering enthusiasts. The weather is generally dry and stable, offering clearer views of the mountains and pleasant temperatures.
When planning a Nepal Tour it is essential to consider your preferences and what you wish to experience. The dry season provides optimal conditions for outdoor activities, while the monsoon season can offer unique cultural experiences and fewer crowds in certain areas.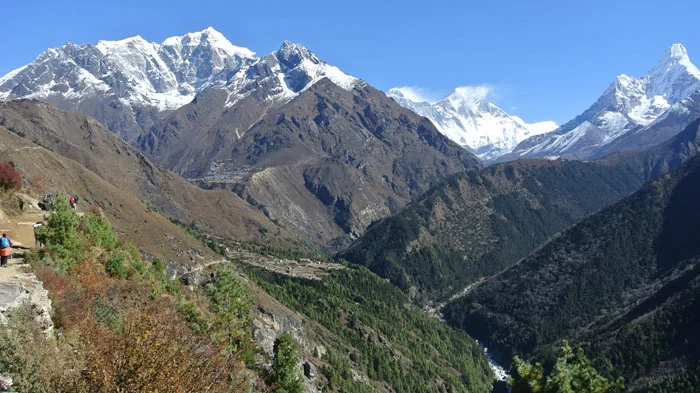 May to October is particularly for trekking in Nepal.
Difference 6: Mount Everest Tour in Tibet and Nepal
When it comes to Mount Everest tours, Tibet and Nepal offer distinct experiences:
In Tibet, the focus of a Mount Everest tour is primarily on visiting Everest Base Camp (EBC). Travelers can journey to the North Base Camp located in Tibet, which provides stunning views of the world's highest peak. The Tibetan side offers a chance to witness the mountain's grandeur and appreciate its awe-inspiring presence.
In Nepal, the Everest region offers a wider range of activities and trekking routes. Besides visiting Everest Base Camp from the South side, trekkers can embark on iconic trails like the Everest Base Camp Trek or the Gokyo Lakes Trek. These routes allow for an immersive experience in the breathtaking Himalayan landscapes, encountering Sherpa culture and picturesque villages along the way.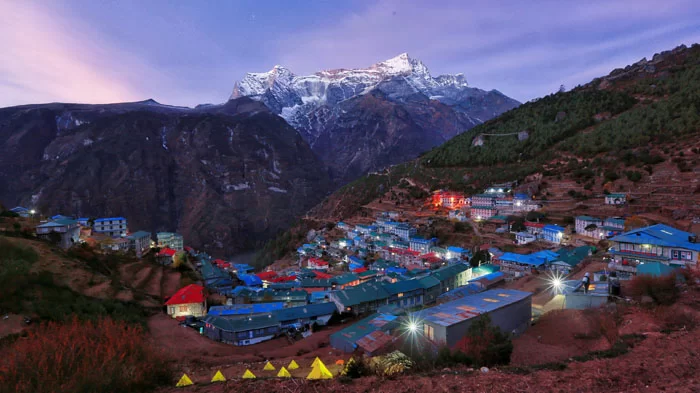 The Nepal breathtaking Himalayan landscapes and Sherpa picturesque villages.
If your ambition is to climb Mount Everest, Nepal is the preferred choice. The South side of Everest in Nepal is the more popular and well-established route for mountaineering expeditions. Nepal provides the necessary infrastructure, support services, and experienced guides for those seeking to conquer the summit.
Difference 7: Travel Highlights in Tibet and Nepal
Tourism in Tibet is mostly centered on the Buddhist monasteries, the unique culture, and the stunning landscape, with only a small percentage of tourism dedicated to adventure activities such as trekking. And with its stunning landscapes and unique Buddhist culture, Tibet has something no other destination in the world has.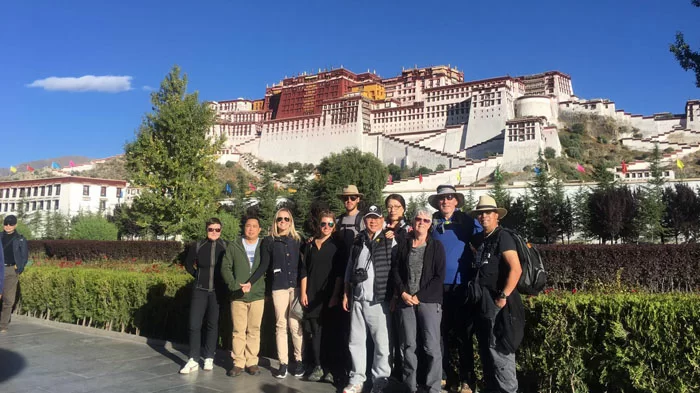 Visit the majestic Potala Palace with our guided Tibet small group tour.
The most notable activities in Tibet include exploring the historic monasteries of Lhasa, such as the majestic Potala Palace and the revered Jokhang Temple. Embarking on a tour of the holy lakes, such as Yamdrok and Namtso, provides breathtaking natural beauty.
The most popular travel route in Tibet is the 8-day tour from Lhasa to Everest Base Camp while the best spiritual experience centers on the 3-day kora around Mt.Kailash in western Tibet.
Nepal, however, has a different perspective, and while culture and landscape do come into it, the main reason people travel to Nepal is for the amazing trekking that can be done in the Everest and Annapurna Region, as well as the other adventure activities you can find across the country.
In Nepal, the capital city of Kathmandu offers captivating sightseeing opportunities, including UNESCO World Heritage Sites like Durbar Square and the sacred Pashupatinath Temple. The scenic city of Pokhara entices with its outdoor activities, such as trekking, paragliding, and mountain biking amidst stunning mountain vistas. Exploring Chitwan National Park provides a chance to encounter wildlife on an exciting safari adventure.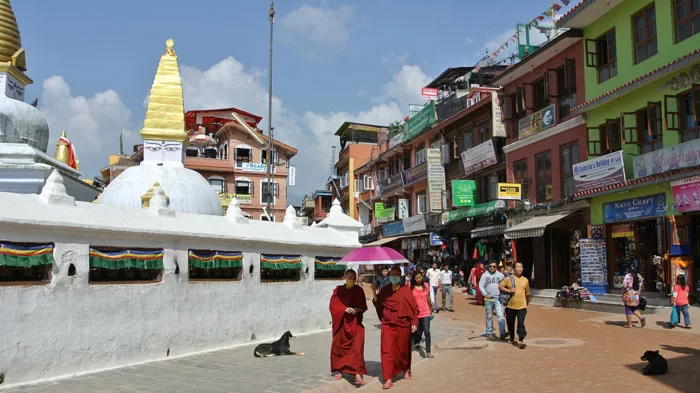 Kathmandu captivating Durbar Square.
Should I visit one or travel to Tibet and Nepal together?
If you're wondering whether to visit Tibet or explore both Tibet and Nepal together, combining the two is an immensely popular choice. These tours, expertly organized by registered Tibetan operators, offer a captivating itinerary that begins in the breathtaking city of Lhasa and concludes with a journey across the Nepal-China border at Gyirong Port, including a remarkable side trip to Mount Everest.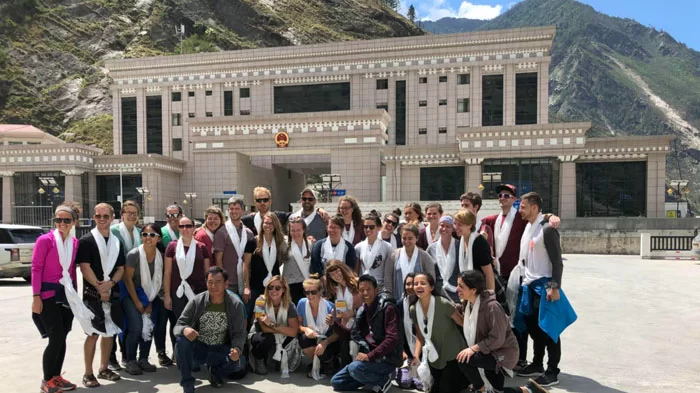 Our travel agency tourists experience Nepal Tibet tour across border at Gyirong Port.
While starting with Tibet and concluding in Nepal is a prevalent approach, the reverse Kathmandu to Lhasa overland tour is also an option. Planning this kind of trip is easier than you might anticipate since the tour operator handles all the arrangements for Tibet tours. Once that part of the journey is secured, coordinating a trip to Nepal becomes a breeze.
Headquartered in Lhasa with branches in Kathmandu, we are dedicated to meeting all your tour needs in Tibet and arrange a tailored tour in Nepal. Our knowledgeable advisors are ready to assist you in planning and organizing your entire journey from Lhasa to Kathmandu and beyond, ensuring an unforgettable experience.
Conclusion
While there are a lot of things that Nepal and Tibet have in common, there are many things that are different about these neighbors. Partially because of the massive barrier of the Himalayas, and party because of the major influence of India on Nepal and China on Tibet, these close destinations are distinctly unique from each other, like chalk and cheese.
Most Popular Tibet Tour Packages