Are Tibet and Nepal the Same? The Differences and Similarity of Tibet and Nepal
Tibet and Nepal are both amazing lands of the mighty Himalayas, and are both great places to visit. These two stunning tourist destinations share a large portion of the western Himalayas, including Mount Everest and several others of the world's highest mountains. However, while they do have a lot in common, there are also significant differences in the cultures, landscapes, religions, and tourism of Tibet and Nepal. These two destinations in Asia have influenced each other greatly over the last few thousand years, yet have many things that they do not share, and for the best experience in either of these major locations, you should know what the differences and similarities are.
Major Differences between Tibet and Nepal
There are several major differences between Tibet and Nepal, including the culture, religions, landscapes, tourism and travel policies, seasons, and tourist activities. And while there may be small instances where there are common grounds, based on their mutual influences, the differences can be quite significant.
Different Landscape between Tibet and Nepal
The biggest difference between Tibet and Nepal is the landscapes in each location. Tibet is a harsh and somewhat arid land, lying on the world's highest plateau. With an average elevation of around 4,000 meters, the plateau does have a varied landscape, which depends largely on the altitude. With vast open plains and prairies, huge lakes that are dotted across the region, as well as hundreds of smaller lakes too, and an almost uninterrupted transition from plains to mountains, the plateau landscapes in most of the region could not be more different than those of Nepal. >> Learn more about Tibet and Nepal through different tourist maps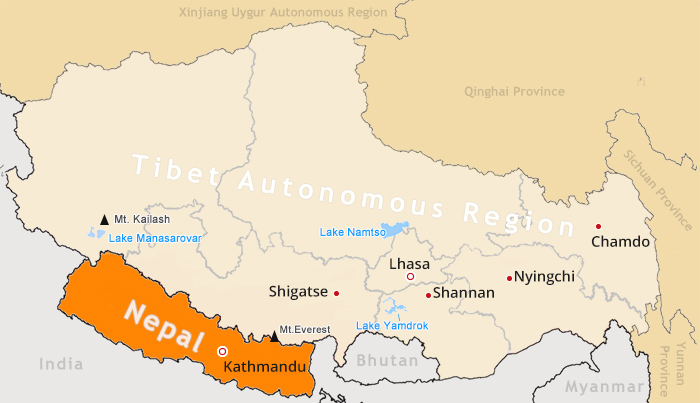 Tibet and Nepal Topography Map
In Nepal, the landscape starts high with the massive mountains of the Himalayas. These tall peaks stretch along its northern border, from west to east, and below them, instead of plains, are the usual lower slopes that can be found below most mountain ranges. Then you travel into the lower foothills, gradually descend as you head south to the southern Terai region, which has an altitude of fewer than 1,000 meters; and finally to the lowland plains that border with India along the southern borders. Nepal also has a varying altitude, with the high mountains transitioning to foothills that are less than 3,000 meters above sea level, the Terai and valleys that are mostly below 1,000 meters, and then the plains, which lie at around 200-300 meters.
Different culture between Tibet and Nepal
The culture and identity of Tibet are inextricably linked to its Buddhist religion, and religious practice is a major part of the average Tibetan's daily routine. The culture in Tibet has developed over more than a thousand years of Buddhism in the region, and is partly due to the harsh high-altitude plateau landscape, as well as some influencing factors from India, Nepal, Mongolia, and China. When Buddhism was introduced to the plateau in the 7th and 8th centuries, it exerted the deepest influence on the Tibetan way of life than anything else, and has also changed in the various regions, mostly due to the environmental and geographical differences across the plateau.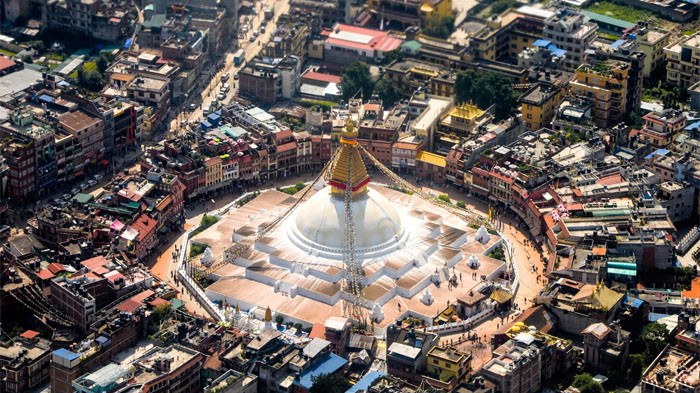 Bodhnath, one of the few places where Tibetan and Nepali culture blends. (Pic from PRAMOD)
Nepali culture is a distinct fusion of the Tibet-Mongolian and Indian (Indo-Aryan) influences of more than three thousand years. These influences are the result of a long and varied history of trade, migration, and conquest. Nepal has had a lot more influence from India than from China over the centuries, and while there is a large Buddhist population in the higher mountains, most of the country is Hindu.
Different Religion between Tibet and Nepal
Tibet is devoutly Buddhist, and with around 88 percent of the region being devoutly Tibetan Buddhists, it has long been the main and official religion in Tibet. There are still a number of people that follow the ancient animistic Bon religion, that pre-dated Buddhism on the plateau, as well as some folk religions and a few Christians as well.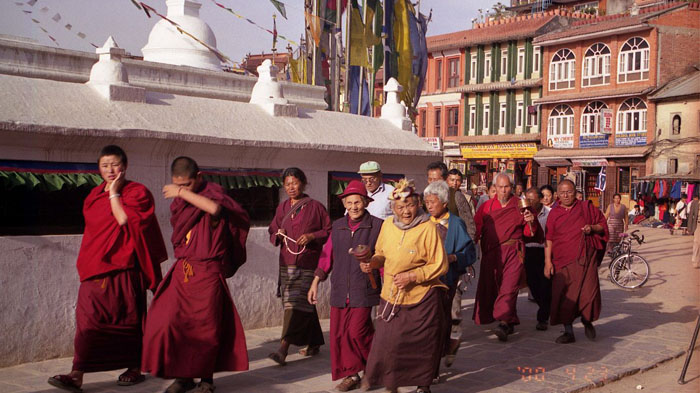 Tibetan monks do the kora round Bodhnath.
Nepal, on the other hand, is mostly Hindu, despite its policies on Freedom of Religion, which is guaranteed by their democratic constitution. It is Hinduism that has had the largest influence on the social structure in Nepal, with around 82 percent of the population being Hindu, with the remainder being a mix of Buddhism, Islam, Christianity, Sikhism, and Jainism. That said, there are certain aspects of Buddhism that have been incorporated into Hinduism in Nepal, which makes it a unique religion to that country only. It is useful to remember this difference, as you will find both Hindu and Buddhist temples in the same place, especially in the Kathmandu Valley area.
Different Travel Policy between Tibet and Nepal
The travel policies of Nepal are very different from those in Tibet. Nepal has an open-door policy for tourists, which allows travelers to enter the country on a simple tourist visa, which can be obtained on your arrival in Kathmandu, and allows tourists to travel anywhere within the country with no restrictions.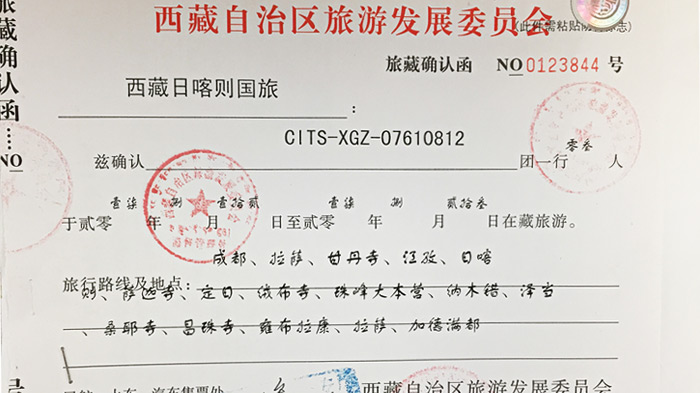 Besides, Chinese Visa, Tibet permit is needed for your Tibet tour.
Tibet, however, is very different. Travel to Tibet is governed by Chinese policies, which means that independent travel is not permitted. Tourists need to book a pre-approved tour with a registered tour operator in order to travel to Tibet. Traveling around the region is also restricted, and travelers require permits for the different areas that only the tour operator can obtain. They also need to have a private guide and private vehicle for all travel within Tibet.
Insider Tips:As the leading Tibet our operator in Lhasa, we can help you get Tibet Travel Permit with 100% guarantee and other indispensable travel documents to places like Mt.Kailash, etc. Please feel free to contact our travel consultants for free consultancy.
Different Travel Seasons between Tibet and Nepal
With the different landscape and altitude comes different travel seasons in Tibet and Nepal. Tibet's main travel season runs from spring to autumn, and the peak period is from April to October. Summer on the plateau is the busiest time of year for tourism, with the period from November to January being the low season. Summer is also the monsoon season in Tibet, though there is often little in the way of rain across most of the region due to the shadow effect of the Himalayas, which protects most of the plateau from the Indian Southwest Monsoon. >> Learn more about the best time to visit Tibet.
Nepal does have the peak and low seasons, which depend on the activities that you are interested in. trekking seasons run from April to May and late September to the end of October, while tourism in the south of the country is mainly centered on the period from November to March. Summer is the monsoon season across most of the country, which makes travel harder, so is often avoided, as the Southwest Monsoon can be heavy. >> Know more about the best time to visit Nepal
Different Travel Highlights and Tour Activities between Tibet and Nepal
Tourism in Tibet is mostly centered on the Buddhist monasteries, the unique culture, and the stunning landscape, with only a small percentage of tourism dedicated to adventure activities such as trekking. And with its stunning landscapes and unique Buddhist culture, Tibet has something no other destination in the world has. The most popular travel route in Tibet is the 8-day tour from Lhasa to Everest Base Camp while the best spiritual experience centers on the 3-day kora around Mt.Kailash in western Tibet.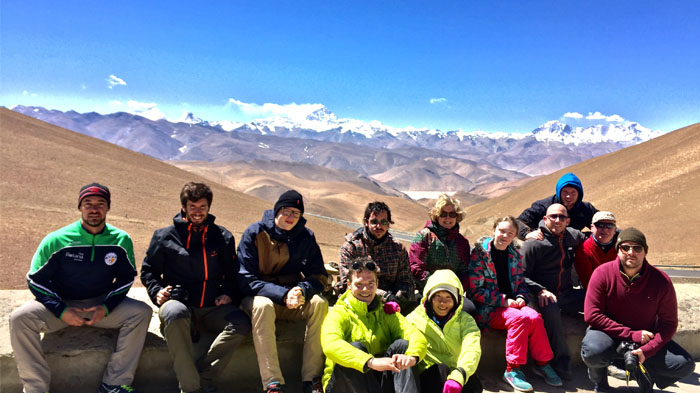 Enjoy the Himalayan peaks at Gawu La Pass in Tibet.
Nepal, however, has a different perspective, and while culture and landscape do come into it, the main reason people travel to Nepal is for the amazing trekking that can be done in the Everest and Annapurna Region, as well as the other adventure activities you can find across the country. You can visit the temples and monasteries, and enjoy the landscape as well, even if you are there for trekking, which gives more diversity of outdoor activities, such as paragliding, mountain biking, white-water rafting, bungee jumping, etc., for you.
Major Similarities between Tibet and Nepal
Tibet and Nepal do share some similarities, and this is only to be expected since they have been close neighbors and the great trade partners with each other since the dawn of time.
Travelling in both Tibet and Nepal Involves a Long Drive
No matter where you go in Tibet and Nepal, you will always have a long drive to get there. Neither destination has much of a railway network. And while more roads in Tibet are being upgraded and built, it still takes days to travel across the plateau from the capital to Mount Everest. The tour vehicle is actually the best means of transportation to Tibet, if you want to get closer to explore the amazing alpine lakes and remote Tibetan villages and majestic Himalayan peaks.
In Nepal, while you do have the option of local and air-conditioned buses, as well as private hire vehicles, it takes longer to travel the same distance due to the poorer quality of the roads. Even for the short trip from Kathmandu to Gyirong Port on the Sino-Nepal border, which is just 159 kilometers, it is at least a six-hour drive. And on average and quite interestingly, let's say traveling from Kathmandu to Pokhara or to Chitwan, it takes 6-7 hours' drive from one major tourist destination to another.
Both have Long tradition of Buddhism
Buddhism has been a part of the way of life in Tibet for more than 1,300 years, and it now forms a major part of the Tibetan culture. Culture and religion are so intertwined, it can be hard to know where one ends and the other begins. Nepal has had the Buddhist dharma since Buddhism first began, more than 2,500 years ago. The founder of Buddhism, Siddhārtha Gautama or Gautama Buddha, is believed to have been born in Lumbini in Nepal, though much of his time was spent teaching in the northeastern part of India.
Can I visit Tibet and Nepal together? And how to plan it?
One of the most popular trips in this area is taking a tour of Tibet and ending with a trip across the border into Nepal. These tours, which are run by registered Tibetan tour operators, take you from the stunning city of Lhasa to the border between Nepal and China, at Gyirong Port, with a side trip to Mount Everest. One of the most popular ways of incorporating both destinations into one trip, it is also possible to do it the other way around, traveling first to Nepal, and then crossing the border to Tibet and traveling overland to Lhasa. Planning this kind of trip is not as hard as you may think, since the tour operator does all of the work for tours to Tibet. And with that part of the trip taken care of, organizing a trip to Nepal is easy.
With our specialist tour operators, we can take care of all of your tour needs in Tibet, and can even arrange the tour in Nepal for you, if you want us to. Our expert advisors can help you plan and organize the entire trip from Lhasa to Kathmandu and beyond.
Conclusion
While there are a lot of things that Nepal and Tibet have in common, there are many things that are different about these neighbors. Partially because of the massive barrier of the Himalayas, and party because of the major influence of India on Nepal and China on Tibet, these close destinations are distinctly unique from each other, like chalk and cheese.