How to Plan a Nepal, Bhutan, and Tibet Tour
A tour in Nepal, Bhutan, and Tibet covers three different places in one single tour, and gives you the best sights, experiences, and culture of all three places. From the glorious city of Kathmandu and the stunning Durbar Square to the last Shangri-La, Bhutan, where it feels as if time stood still centuries ago, in the pastoral setting of the Paro Valley and the ancient capital city of Thimphu. Then travel to the roof of the world, in Tibet, and explore the fantastic Mount Everest, as well as the sacred Jokhang Temple and Potala Palace in Tibet's capital, Lhasa.
About Nepal
Officially known as the Federal Democratic Republic of Nepal, this landlocked country lies deep in the heart of the Himalayas, bordering China to the north and India in the south, east, and west. Birthplace of the founder of Buddhism, Gautama Buddha, and the culture of this small nation is closely intertwined with that of its nearest neighbor, Tibet.
Nepal is a country of high, snow-covered mountains and dense tropical forests full of beautiful creatures. In Nepal's capital city of Kathmandu, you will encounter an unforgettable melting pot of ancient Hindu and Buddhist cultures. You can explore local markets and bazaars in the center of centuries old, UNESCO heritage sites, including a wealth of temples, palaces and shrines. And outside Kathmandu there are trekking routes and national parks that will leave you breathless.
About Bhutan
Another landlocked country butting onto the Himalayas, Bhutan is bordered by Tibet to the north and the west and India to the south and east, including the Indian states of Sikkim and Arunachal Pradesh. The independence of Bhutan has endured for centuries, and the territory has never been colonized.
The climate in Bhutan varies with elevation, from subtropical in the south to temperate in the highlands and polar-type climate, with year-round snow in the north. Bhutan experiences five distinct seasons: summer, monsoon, autumn, winter and spring. Bhutan is well known among tourists as a mountain adventure destination, and popular treks in the country include the Jhomolhari Base Camp Trek, Snowman Trek, and Masagang trek.
About Tibet
Known as the "Roof of the World", Tibet Autonomous Region of the People's Republic of China is one of the most popular tourist destinations that butts up to the mighty Himalayas. Despite stringent restrictions on foreign travel, Tibet tourism has grown exponentially over the last 20 years to a point where the train station and airport in Lhasa sees thousands of visitors arriving every day in the high season.
Famous for its Everest Base Camp, the sacred Jokhang Temple, and the beautiful but ancient Potala Palace, Tibet has something for everyone. A devoutly Buddhist population with a unique culture, Tibetans are a friendly people, with an almost divine love for the land in which they live. Uniquely developed to cope with life on the highest altitude plateau in the world, the Tibetan people live simple lives, based around their unique culture and the mysterious Tibetan Buddhism.
Planning the trip
Planning any trip to three different countries can be a bit of a nightmare, especially when two of the places you plan to visit do not permit independent travel. Similar to Tibet, Bhutan also insists on foreign tourists having guides at all times when inside the Kingdom. This can be something of a problem, although there are tour operators that can assist you and help to plan the tour for you, taking into account your needs and requirements, and helping to obtain the required permits to travel.
For planning a tour to Nepal, Bhutan, and Tibet, a tour operator such as Tibet Vista is the best option to take. While you can get independent local tour operators for Bhutan and Tibet, and travel Nepal on your own, it involves a lot of delicate planning to manage to combine all three places.
Required Permits and Visas
Tibet
Travelers need a Chinese visa, which you must arrange, and Tibet Travel Permit issued by the Tibet Tourism Bureau, which can be obtained by Tibet Vista as part of your tour package. Travel in Tibet is restricted, and all foreign visitors must have a registered tour, a tour guide, and a private vehicle. For other areas of Tibet, your tour guide will obtain the Alien's Travel permit and the Military permit, so that you are able to travel to all of the permitted areas of the region.
Bhutan
With various restrictions on individual travel in Bhutan, all visitors must be on a registered tour, with guide, and your Bhutan visa can be arranged by Tibet Vista and forwarded to you 3-4 weeks before your trip. However, you will need to arrange your own entry visa for Nepal or China, depending on where you are entering the region.
Nepal
For Nepal, visas can be obtained on arrival at Tribhuvan International Airport, or you can obtain them from the embassy or online. Of the three, Nepal is the easiest place to get into, and has no restrictions on independent travel around the country. Apply for a multi-entry Nepalese visa, as you will be traveling through Kathmandu more than once on the tour.
How to get there
There are no simple air connections from the North Americas or Europe to the Himalayas. It is usually best to first fly to Thailand or China. From Thailand, you can fly to Bhutan and then go through Nepal to Tibet, and return home from China. From China, fly into Lhasa, Tibet, and then take an overland tour to Kathmandu in Nepal, and then on to Paro, Bhutan. After Bhutan, fly to Thailand or China and return home from there.
Bhutan and Nepal are connected by air, and Nepal and Tibet have both air and land connections. However, Bhutan and Tibet, despite shared borders, are connected neither by air nor land border crossings. This means that there are only really two possible routes a tour can take.
Starting from Bangkok, Thailand, there are two daily flights (served by Druk Air and Bhutan Airlines) between Bangkok and Paro, Bhutan. The flights usually depart in the morning, so you need to arrive in Bangkok the day before. American, Canadian and most European passport holders do not need a visa for Thailand for a stay of up to 30 days.
For getting into Tibet, you can either fly in from Tribhuvan International airport in Nepal, any of several major airports in China, or you can take the world-famous Train to Tibet, which leaves from seven gateway cities across China, including Beijing, Shanghai, and Chengdu.
Nepal's Tribhuvan International Airport has few flights to and from destinations outside Asia, so it is best to fly in to Thailand or India first, and take a connecting flight to Kathmandu from there. Similarly, there are also flights from Lhasa to Tribhuvan, as well as the newly-opened border crossing from Tibet to Nepal, at Gyirong Port.
Best time to go
Combining all three places, and getting the weather right can be a bit hard, considering they have three different climate and weather patterns. Bhutan and Nepal have sub-tropical climates with four seasons; autumn (September to November), winter (December to February), spring (March to May) and summer (June to August).
Tibet is on the high trans-Himalayan plateau, with arid weather and a long winter. Tibet is best visited during the summer, but that is when Bhutan and Nepal receive their monsoon rain. Bhutan and Nepal can be visited during the winter, but Tibet will be quite cold.
So, to visit Tibet, Nepal and Bhutan in one grand trip, it is best to do it in autumn (September to October) and spring (April to May) when the weather is mild, the skies are clear, and the scenery is beautiful.
Top sights to see
Nepal
Travel through Nepal and you will find a land of jungles, snowy peaked mountains, the Himalayas, Buddhist Monks and colorful, alluring towns that have been drawing travelers in with their charm for decades. Kathmandu is the capital and being the largest and only city in Nepal, it is a hub of cultural activity, festivals and wonders and has been attracting wanderlust travelers since the 1960s. Durbar Square is the heart of the city's culture and houses many historic temples as well as the Royal Palace, built in the 14th century with its elaborate windows and façade, it is a must see site in the city.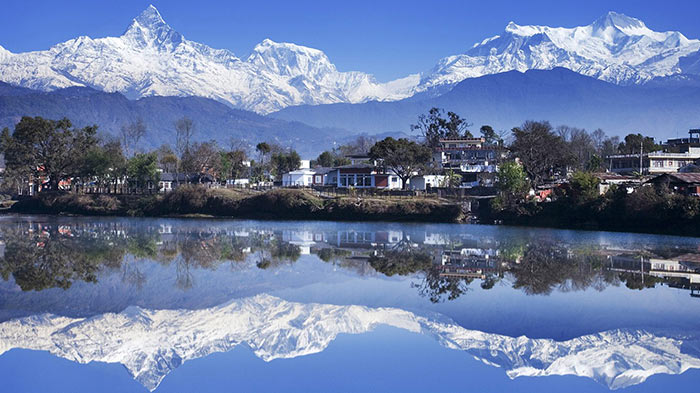 The smooth surface of Phewa Lake reflects mountain
Mount Everest is the pinnacle of goals for climbing enthusiasts and since conquered in 1953, many mountaineers have attempted to climb up to Base Camp. To get to the start of the trek, fly into Lukla, surrounded by mountain and valleys, where you can rest in Nepalese teahouses and learn about the cultures of the Sherpa. Pokhara is easily accessible via a 15-minute bus ride from Kathmandu, and has amazing scenery of lakes and mountains. The best spot to check out is Phewa Lake, which is surrounded by Phewa Tal and monkey filled forests.
Chitwan National Park is one of the World Heritage Listed National Parks. The park features incredible undisturbed regions or 'Terai', a plethora of amazing flora and fauna, and is one of the last places where the Bengal tiger roams free. The famous Lord Buddha, Siddhartha Gautama, was born in the now-famous gardens of Lumbini in 623BC, and the place has become one of the most important pilgrimage sites in the world for Buddhists. Indian Emperor, Ashoka, is numbered among the pilgrims to have visited the site, and it is now dedicated as a Buddhist pilgrimage center, and is an amazing place to visit.
Bhutan
Bhutan is one of those countries that, once it has a hold on your heart and mind, will never let you go. To see this beautiful country is to fall in love with its spectacular landscape, spirituality and ancient vibrancy. The prominent Buddhist sacred site and temple complex is situated on the cliff side of the upper Paro valley. This beautiful site in its dramatic location is also known as 'Tiger's Nest'. The temple complex, properly known as Taktsang Palphug Monastery, was built in 1692 around the cave of Paro Taktsang, where the man credited with bringing Buddhism to Bhutan, Padmasambhava, spent three years, three months, three weeks, three days and three hours meditating in the 8th century.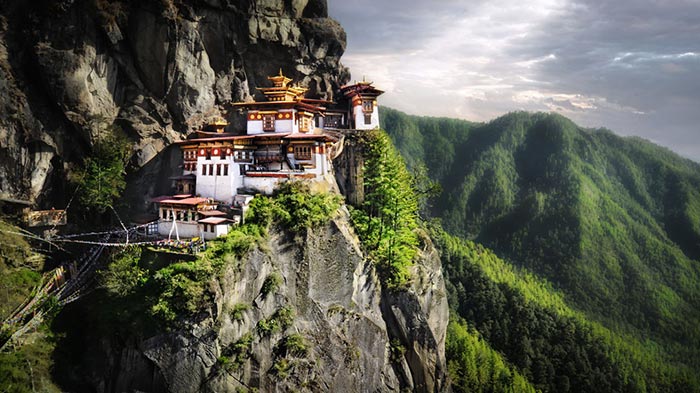 Taktsang Palphug Monastery was built in 1692 around the cave of Paro Taktsang
On the hill above Rinpung Dzong lies Ta Dzong, a watchtower fortress with seven stories that has housed the National Museum of Bhutan since 1964. This unusual building is believed to have been built in the shape of a conch shell. Drukgyal Dzong is now merely a picturesque ruin sitting on the hillside in the upper part of the Paro District. It is believed that this monastic fortress was built in 1649 to commemorate and celebrate victory over an invading force from Tibet. Sadly, a fire decimated the structure in the 1950s.
Tibet
Tibet is widely known for its Buddhist monasteries and beautiful clear lakes, its high snow-capped mountains, and the unique Tibetan culture. Visit the highest monastery in the world, view the world's highest mountain, and see the herds of yaks with their nomadic herders on the vast, open plains on the "Roof of the World". If you see nothing else in Lhasa, visit the Jokhang Temple, the spiritual heart of Tibet. Built during the reign of King Songtsen Gampo in the mid 7th century, and the scene of countless important events in Tibetan history, the Jokhang is surrounded by the Barkhor Square and prayer path, a circuit around the Jokhang that is constantly teeming with Tibetans and foreigners from all walks of life.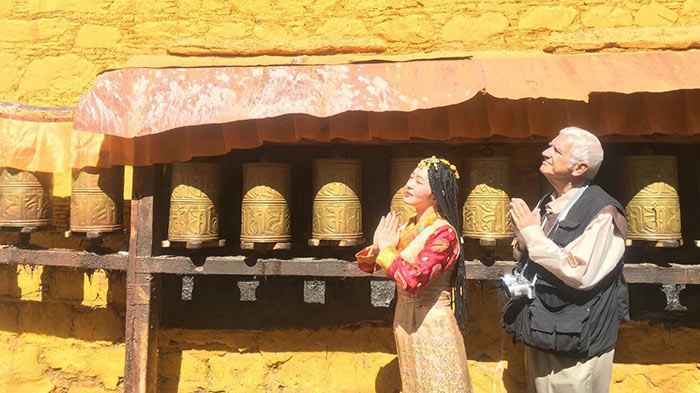 Our clients are visiting Potala Palace
Begun by the great fifth Dalai Lama, the Potala Palace is an architectural marvel, rising out of the center of Lhasa. It is now a museum instead of a living monastery and seat of government, but there is still a lot to see as you climb its thirteen stories.Mount Kailash, known in Tibetan as Kang Rinpoche or "Precious Jewel of Snow", is the most sacred peak in Tibet. It is located in far western Tibet's Ngari prefecture, more than 1,200 kilometers from the Tibetan capital city of Lhasa. It is not particularly high, as it only rises to 6,714 meters, but there is no other peak in Tibet that is as holy as Kailash. Each year thousands for Buddhists and Hindus do the 52-kilometer pilgrimage circuit around the mountain.
Mount Everest, known in Tibetan Chomolungma, lies along the border of Nepal and Tibet, so there are two base camps: south side and north side. The north side of Everest in Tibet offers a far superior view compared to the Nepal side, which can only be reached by trekking. You can drive all the way to the Tibet side Everest Base Camp (EBC), at an elevation of 5,200 meters, which is much nicer than the 14-day trek to the Nepal EBC.