Nepal Tibet or Bhutan Tibet? Which One is for You?
Indisputably, Tibet, Nepal, and Bhutan are three of the top destinations in Asia for Himalayan mountain views and amazing trekking experiences. For many, however, the budget and the amount of time for visiting all three destinations in one tour is almost inaccessible. So for those travelers that can only manage a trip to Tibet and another Himalayan country, which would you choose? Nepal Tibet or Bhutan Tibet? Well, each option has its pros and cons, and here we will help you make that choice by giving you all the information you need to choose wisely.
Find out the Obvious Differences
Knowing what you are expected to experience and get prepared in different places can help you make the right decision. The table below gives you a rough idea of the different benefits each combined tour has to offer.
Nepal Tibet
Bhutan Tibet
Transport
Air and Road, Multiple Ways
No Direct Air or Road Routes
Tour Mode
Backpacking and Organized Tour
Organized Tours Only
Travel Cost
Moderate
Extremely High
Best Season
April to May
October to November
March to May
October to November
Days Needed
7 days minimum
10 days minimum
Travel Documents
Nepal Visa
Chinese Group Visa
Tibet Travel Permit
Bhutan Visa
Chinese Group Visa
Tibet Travel Permit
Tour Highlights
360° view of Mt. Everest
Two Everest Base Camps
Up to 18 world-class treks
Diverse outdoor activities
No Everest view in Bhutan
Everest Base Camp in Tibet
Fewer Tour Options
Over a dozen amazing treks
Religion
Hinduism
Tibetan Buddhism
Tibetan Buddhism
For Easy Transport, Nepal Tibet Tour Has the Edge
The transport system and accessibility have to be as easy and convenient as possible, to make sure that your trip has as few limitations as possible. When it comes to transportation, Nepal has the edge over Bhutan, with more options for local travel as well as being easy to get to.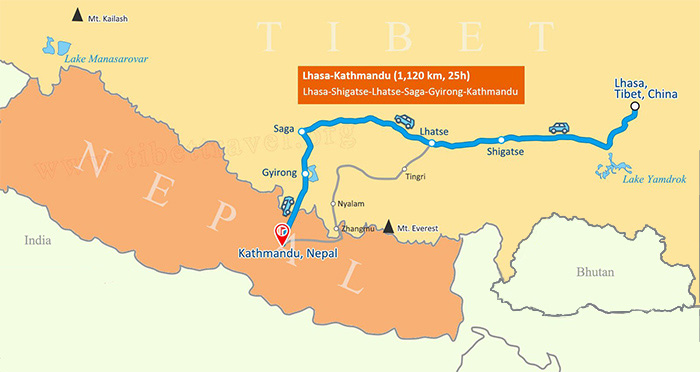 Tibet and Nepal travel route map
For the tour from Nepal to Tibet, you can travel overland around both destinations, and you have the option of traveling between the two by either crossing Kyirong border by road or non-stop flight. Flights are easily available between Lhasa and Kathmandu, and are short and convenient for travelers. Similarly, the road access between Tibet and Nepal is also fairly convenient, though you are required to be on an organized tour in order to travel from Nepal to Tibet.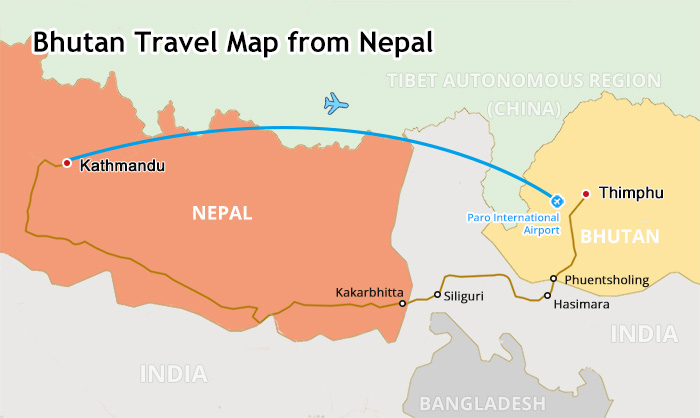 Nepal and Bhutan travel route map
Transport around Bhutan is not as hard as you may think, as you will have your own driver and vehicle to transport you around the various destinations you will be visiting. However, travel between Bhutan and Tibet is not as simple and convenient as it is between Nepal and Tibet. Firstly, there are no direct flights from Lhasa to Paro, the location of Bhutan's only international airport. This means that for your trip to Tibet and Bhutan, you will have to first stop in Nepal to get the connecting flight to Bhutan. Kathmandu is the closest city with direct flights to Bhutan for travelers coming from Tibet.
Be Fully Aware of the Different Travel Modes
The modes of travel used on each combined tour is also different. On a tour of Nepal and Tibet, you are only required to be part of an organized tour for the Tibetan leg of the trip. For the part of the trip in Nepal, you can choose how to travel around the country, and are free to travel as you please without restrictions.
The Bhutan and Tibet tour is different in that both destinations require you to be on an organized tour, and neither allows independent travel. This can be a major benefit to travelers, as it removes the need to find your own way around the destinations.
Huge Price Gap for Different Choices
The cost of the trip is often one of the deciding factors in choosing your destinations. While the cost in Tibet is in the middle between visiting Nepal and Bhtuan, the cost of the trip to Bhutan is much more expensive than to Nepal. This is due to the fact that tourism in Bhutan is regarded as high value, low impact, and therefore costs more to maintain this kind of eco-friendly tourism in the kingdom. With a defined Minimum Daily Package fee of 200-250 dollars per person per night in Bhutan, compared to the minimal budget you need to go backpacking in Nepal, the high cost is one of the things that puts many travelers off Bhutan trips. For the exact tour cost for your visit, please feel free to consult our friendly travel consultants.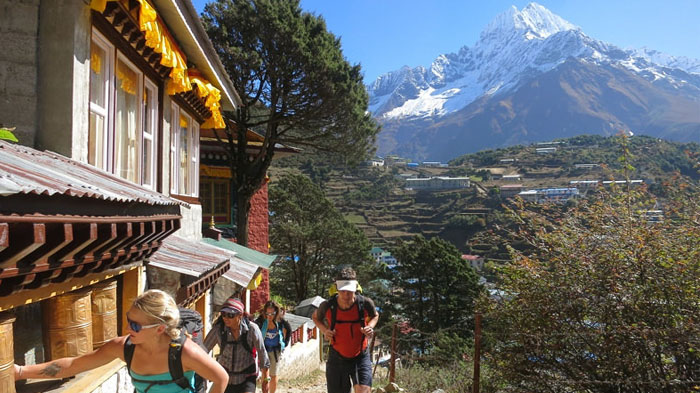 You are able to enjoy the spectacular scenery during your Nepal tour.
In Terms of Best Travel Season, There Won't Be Much Difference
There is little difference in the best times to take either of these combined trips. Spring and autumn are generally the best time to visit both Nepal and Bhutan. These are the peak seasons for the destinations. When combined with Tibet, which has a more varied peak season, they are the best times to visit no matter where you are headed. However, while you can visit Tibet almost the whole year, with the main tourism season running from April to November, it is not always possible to travel there in March, due to restrictions on tourism following the Tibetan New Year.
Nepal Tibet Tour Is More Realistic for Travelers with Limited Time
If you are limited on the time you have available for travel, then the Nepal Tibet trip is the most beneficial for you. In terms of spending a comparable amount of time in each destination, there are benefits to taking the Nepal and Tibet trip over the Tibet and Bhutan trip. You can explore Nepal in around three days to get the best of the Kathmandu Valley's amazing sights.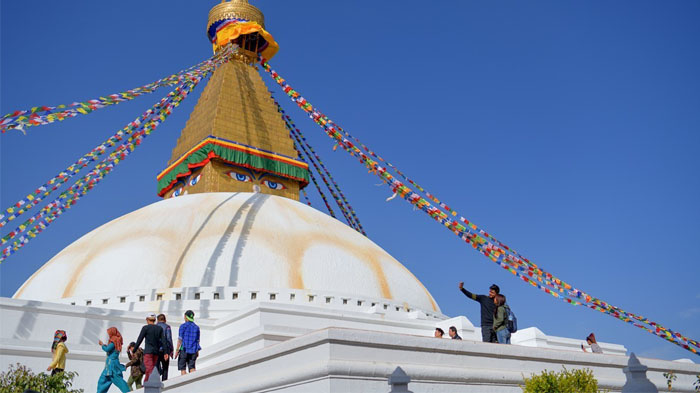 Swayambhunath Temple in Katmandu valley is one of the must-see attractions in Nepal.
And the Tibet trip is best done as a four-day tour of the capital, which is the best way to explore the ancient capital of Tibet. This is the best option for both combined trips. The difference comes when traveling to the other destination. Transit to Lhasa for the Tibet Nepal tour is simple, and you can fly from Kathmandu to Lhasa in around 90 minutes.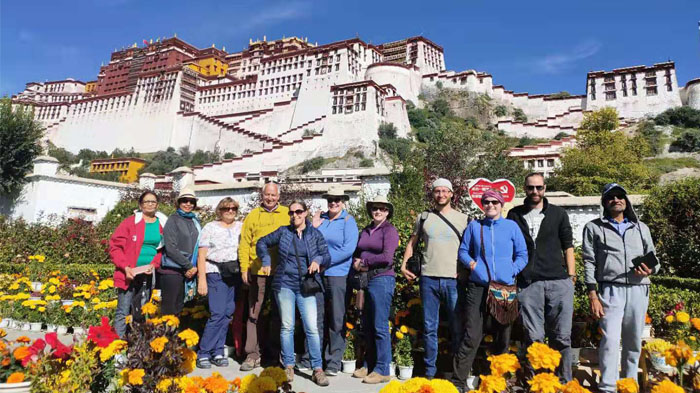 You can visit the magnificant Potala Palace in Lhasa during your journey.
It is possible to tour around Paro and Thimphu in around three days, and this gives you a great understanding of the two cities and the sights they hold. However, you also need to have time to transit through Nepal for your flight to Bhutan, as there are no direct flights from Lhasa.
The major difference here is the time required to transit through Nepal and obtain the Chinese Group Visa for entry to Tibet. For those traveling to Nepal and Tibet, the application can be made when you arrive, and you can continue your trip around Kathmandu while you are waiting for the visa. However, with a three-day wait for the visa, which can only be applied for once you arrive in Kathmandu, when traveling from Bhutan to Tibet, you need to wait in the Nepali capital for three days before you can take the flight to Lhasa.
Nepal Tibet Tour Has More Tour Varieties Than Bhutan Tibet Tour
The trip to Nepal and Tibet does have a little more variety than a tour of Tibet and Bhutan. Not only do you get a view of Mount Everest from both sides, you can also spend time trekking in both destinations. Nepal is renowned as the trekking capital of the world, and has dozens of treks around the country, from lowland treks through the jungles of Chitwan to high-altitude treks around many of the major highest mountains in the world, including Annapurna and the trek to EBC. In Tibet, you get to visit the northern EBC by car, something you cannot do anywhere else in the world, and you get some amazing views of the world's highest mountain from several locations in both destinations on the Tibet Nepal tour.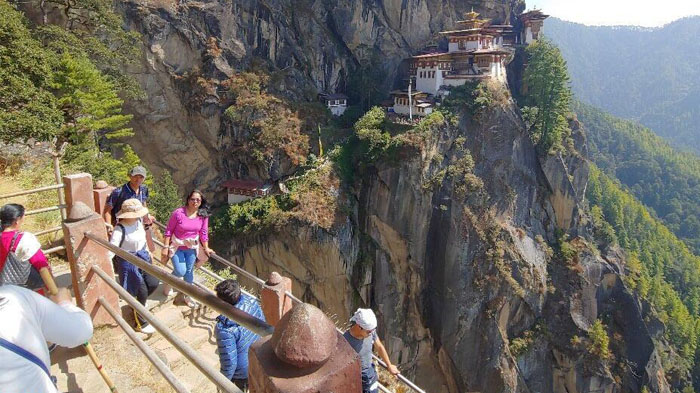 The Tiger's Nest Monastery is one of a must-visit arrtactions in Bhutan.
There are a limited number of tour options for those choosing to travel to Tibetan and Bhutan, with limited tours available for Bhutan, though there are some great treks for those that are interested in hiking. And while you can have the same experience of Tibet on both combined trips, the diversity of Nepal's outdoor activities far outweighs those of Bhutan.
Best Recommended Tour for Nepal Tibet Tour
For those that have already decided that their option should be a Nepal and Tibet combined tour, yet have a limited budget and time period in which to travel, there is an ideal tour that can give you the best of both destinations. The ideal tour would be our 8-day overland tour from Lhasa to Kathmandu, which takes you to several amazing sites across the vast Tibetan plateau, as well as stopping overnight at the famous Everest Base Camp. You can join in on the Tibet small group tour with other travelers to save more money on the cost of the Tibetan leg of the trip, and travel overland from Lhasa to Kathmandu. AS the premiere tour of the plateau and Nepal's Kathmandu Valley, this tour gives you an unparalleled view of the Himalayas from both sides, as well as giving you a unique insight into the culture and religion of Tibet.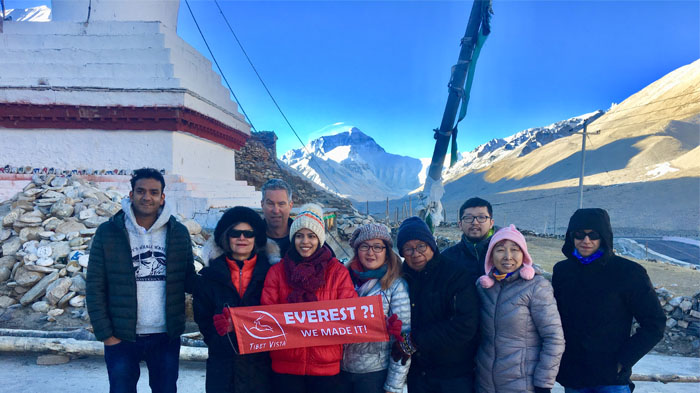 You can join our Tibet small group tour to witness the imposing Mount Everest during your Tibet Nepal tour.
Conclusion
For most people that have concerns about travel time and cost, the Nepal Tibet tour is the best option to take. Nepal has a wider range of benefits and is more easily accessible for a combined trip with Tibet than Bhutan. The trip is also more affordable for most people, has no waiting time for visas, and is the perfect option for traveling in the Himalayas. And we can provide you with excellent services, from discussing the options of taking the tour to arrange your permits, providing excellent and experienced local tour guides and drivers, and giving you the best in support services for the entire duration of the trip, and beyond.