Detailed Nepal Bhutan Tibet Tourist Maps
Nestling in the spectacular Himalayan Mountain Ranges, three mysterious areas attract swarms of tourists and pilgrims to explore the diverse religions and cultures, experience the adventurous trekking and biking, tastes the mouthwatering cuisines and beverage, etc. But for most fist-timers to Tibet, Nepal and Bhutan, where they are, what to see and how to get there must be the top three hard nuts to crack. No worries! Tibet Vista has already designed a series of Nepal Bhutan Tibet tourists maps for your reference.
Map of Nepal Tibet Bhutan Location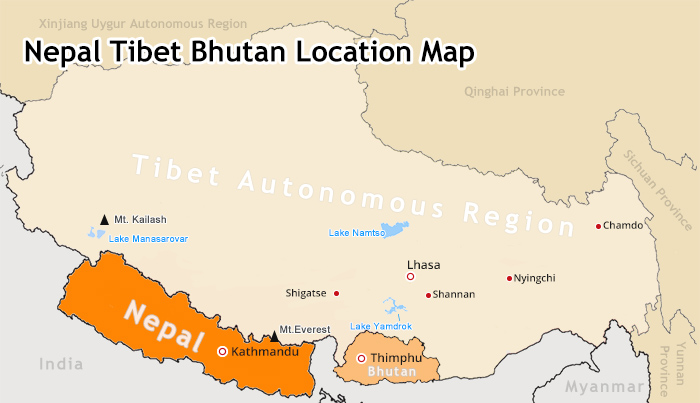 (Simple click to enlarge the map)
Nepal Tibet Bhutan Location Map
Facts about Tibet
Capital City: Lhasa (3658m), with a population of around 560 thousand
Political divisions: 6 Prefectures - Shigatse, Ngari, Shannan, Nagqu, Nyingchi, Chamdo (totally with 68 Counties and 692 Townships)
Location: latitudes 26°N and 36°N, longitudes 78°E and 99°E
Total Area: 1,228,400 square km, the second largest region in China
Language: both Tibetan and Mandarin Chinese
Currency: Chinese Yuan (CNY)
Bordering Countries: India, Nepal, Bhutan, Myanmar
Staple Food: Tsampa (roasted barley flour), butter tea, yak meat, Tibetan momo, etc
Facts about Nepal
Capital City: Kathmandu (1400m), with a population of around 1.003 million
Political divisions: Seven Federal Provinces - According to schedule 4 of the new Constitution, Nepal is divided into 7 provinces and 75 districts. They are simply called as Province No.1 to No.7.
Location: latitudes 26°N and 31°N, longitudes 80°E and 89°E
Total Area: 147,181 square kilometers, the world's 94th largest country
Language: Nepali (official language) and English
Currency: Nepalese Rupee (NPR)
Bordering Countries: India and China
Staple Food: Dal Bhat Tarkari (the boiled rice is served with a lentil soup and curried vegetables), Momo (Tibetan-style dumplings with Nepali spices), etc
Facts about Bhutan
Capital City: Thimphu (2334m), with a population of around 118 thousand
Political divisions: twenty Dzongkhags (districts)
Location: latitudes 26°N and 29°N, longitudes 88°E and 93°E
Total Area: 38,394 square kilometers, the world's 133rd largest country
Language: Bhutanese (Dzongkha) and English
Currency: Ngultrum (BTN) and Indian rupee (INR)
Bordering Countries: India and China
Staple Food: Red rice, buckwheat, maize, pork, beef, yak meat, chicken, lamb, etc
Map of Tibet Nepal Bhutan Tourist Attractions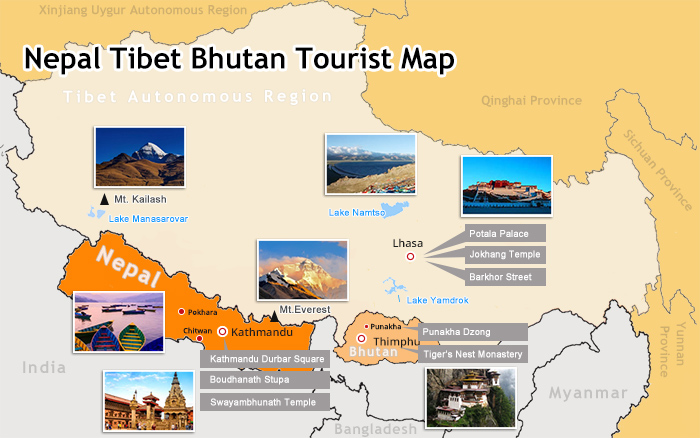 (Simple click to enlarge the map)
Map of Tibet Nepal Bhutan Tourist Attractions
Must-see Tourist Attractions in Tibet
1. Potala Palace, the landmark of Lhasa, is one of the most magnificent buildings in Tibet and integrates the palaces, castles and monasteries altogether. As the largest and most complete ancient castle architecture group in Tibet, it's put into the World Culture Heritage List in 1994 and rated as the national 5A Scenic Spot in 2001.
2. Jokhang Temple, the spiritual center of Tibet, has a history of more than 1,300 years and possesses a supreme position in Tibetan Buddhism. Established in the most glorious Tubo Period, Johkang Monastery is the earliest civil construction in Tibet and a perfect place to dive into Tibetan history.
3. Barkor Street, the most famous bazaar in Lhasa, is a lively combination of marketplace, pilgrim kora and ethnic melting pot. Here you can observe the traditional appearance of ancient Lhasa city, buy some authentic souvenirs and encounter flocks of pilgrims from all over the world.
4. Yamdrok Lake, one of the holiest lakes in Tibet, is home to alpine mountains, lovely island, rolling pastures, hotsprings, wild animal and migrate birds, etc.
5. Namtso Lake, known as Heavenly Lake in Tibetan Language, is the largest lake in Tibet as well as the second largest salt water lake in China. Here you can enjoy the spectacular view of Nyenchen Tangula Mountain and come across numerous pilgrims following the ancient kora of Namtso Lake.
6. Mount Everest (Mt. Qomolnagma in China, 8844.43m), the highest mountain in the world, is the main peak of the Himalayas. Located on the border between China and Nepal, Mt. Everest has north base camp in Tibet and south camp in Nepal. Compared with Everest Base Camp in Nepal, the base camp in Tibet can give tourists the grand panorama of Mt. Everest's Summit and its entire north ridge without any other mountains blocking your sight.
7. Mount Kailash (6656m), the main peak of the Gandise Mountains, is considered as the holiest mountain in the world by Tibetan Buddhism, Hinduism, Bon religion and Jainism. Usually tourists would complete the 52-km-long pilgrimage route of Kailash Kora within three days. Besides, you can also pay a visit to Lake Manasarovar, one of the three holiest lakes in Tibet.
Must-see Tourist Attractions in Nepal
1. Kathmandu Durbar Square, the most famous square in Kathmandu, is a great place to appreciate Nepalese palaces and temple buildings. It covers historic building constructed in the sixteenth and nineteenth centuries and more than fifty temples and palaces scattering around. In 1970, the royal family moved to the new Narayani Palace, and the old palace turns into a museum for tourists to visit, which displays the portraits of the ancient kings and a large number of records and photos the king of the King Tribhuvan.
2. Boudhanath Stupa, the world's largest spherical pagoda, is a magnificent complex with a white large dome and giant eyes on four sides, giving a sense of generous feeling. Walking around, you'll find some Tibetan Buddhist monasteries, colorful Tangkas, golden prayer wheels nearby with strong butter flavor and chanting sound haunting in the air.
3. Swayambhunath Temple(Monkey Temple), the oldest relic in Kathmandu Valley, is an important pilgrimage site for Buddhists. Here you can get a close contact with the cute monkeys and catch a panoramic view of the whole Kathmandu area.
4. Phewa Lake (Fewa Lake), a royal resort in Nepal, is close to the imperial palace of Nepal King. It's a haven of calm and tranquility. Whenever you come, you can find your own inner peace. Just image that lying on the shore or sitting in the boat, you indulge yourself in the charming lake and hills with the stunning sunset over Mt.Annapurna(8091m).
5. Mount Everest (Mt.Sagarmatha in Nepal, 8844.43m), the highest peak on earth, is the top choice for trekkers and mountaineers. In Sagarmatha National Park, tourists can catch a glimpse of other Himalayan mountains like Lhotse (8516m, 4th highest), Cho Oyu (8201, 6th highest) and explore the exotic fauna and flora.
6. Chitwan National Park, the first national park in Nepal, a prefect habitat for diverse animals and plants, like deer, horned rhinoceros, Bengal tiger, kingfisher, eagle, night heron, hornbill, etc.
Must-see Tourist Attractions in Bhutan
1. Tiger's Nest Monastery (Paro Taktsang or Taktsang Palphug Monastery), Bhutan's most sacred temple, is one of the world's cultural heritage. It's said that the Indian Guru Padmasambhava had ridden the tiger flying to Bhutan and built the monastery on the cliffside at the altitude of 900m. It takes about 2 hours to walk from foothill to hilltop and you can also ride a horse to the hillside and finish the rest by foot.
2. Punakha Dzong was built by Ngawang Namgyal, the founder of the Bhutanese state in 1637. It's the second oldest and largest dzong in Bhutan. Here you can see a large number of Bhutan Buddhist manuscripts, religious paintings, religious celebrities portraits, etc.
How to Travel from Tibet to Bhutan or Bhutan to Tibet?
The border crossing between China and Bhutan has been closed. And there is no direct flight from China to Bhutan either. Tourists would have to travel from Tibet to Nepal and fly from Kathmandu to Bhutan. Conversely, tourists can also get to Bhutan first, then fly from Paro to Kathmandu and then travel from Nepal to Tibet by overland or flight.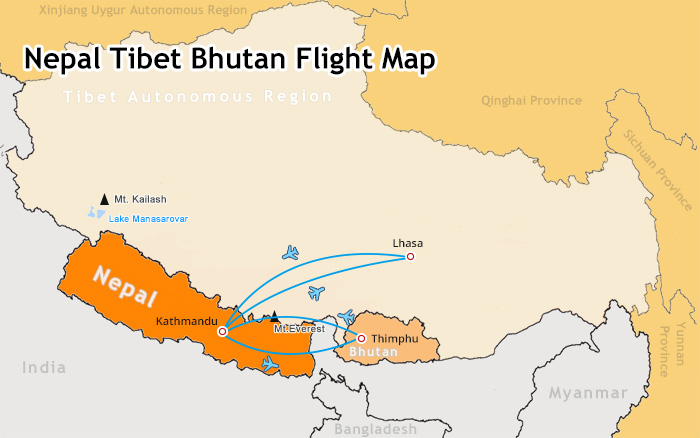 (Simple click to enlarge the map)
Nepal Tibet Bhutan Flight Map
With over 10-year Nepal Bhutan and Tibet tour organizing experience, we will help you sort out the necessary travel documents like Tibet Travel Permit and help you customize your Bhutan Nepal Tibet tour, plus tourist-friendly Tibet train and flight booking service. No more hesitation! We will let your long-expected Tibet Nepal Bhutan tour come true.