How Much Does a Nepal Bhutan Tibet Tour Usually Cost?
The Nepal - Bhutan - Tibet Tour is one of the most adventurous tours you can take near the Himalaya Mountains. Thanks to this tour, you will meet different cultures, different people, different languages and learn new lifestyles. Moreover, you will have the chance to see the natural beauties of that area, which have been left as inheritance for years.
About A Nepal Bhutan Tibet Tour
The tour will start from the core of Nepal, from its capital, Kathmandu. This wonderful place is old, full of history, but very culturally rich. The Himalayas can be seen behind the buildings, and the whole city combines its architecture with nature. However, Nepal isn't all about Himalayas, it also has other symbols.The tour will take care to include in its itinerary the Chitwan National Park, where tourists can explore the safari and its specific animals. Pokhara will be another area on the way, where you can relax and charge your batteries while admiring the wonderful view of the mountains and the Phewa Lake.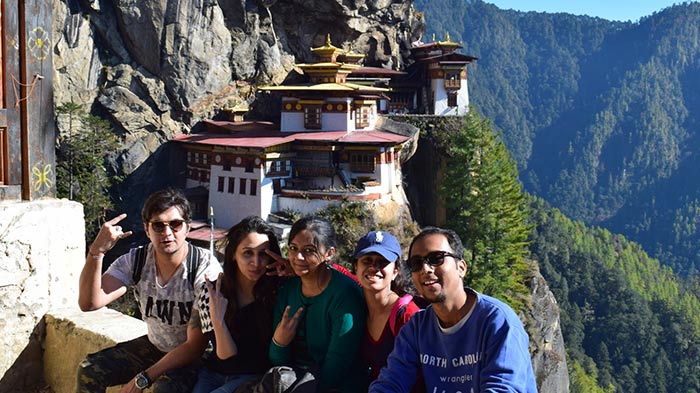 See the natural beauties of Bhutan
The next country on the tour list is Bhutan, another region completely adopted by the Himalayas. Bhutan has many natural beauties, and people have preserved their old culture over the years. Among the places visited in Bhutan is obviously its capital, Thimpu. The capital is a beautiful combination between today's modernity and the antiquity of the place.
Last but not least is Tibet, a place where culture has never lost its value. Here, people live by well-defined rules and this is observed in the beauty developed around. The tour will explore the most unknown places in Tibet, various buildings with great insignia and Buddhist monasteries. Obviously, the tour star in Tibet is Lhasa, his capital, an Asian masterpiece. Brace yourselves, because this is the place when you can almost touch the sky.
Generally, such Bhutan Nepal Tibet tours start from 2 weeks and can last up to 3 weeks, but time will pass real fast. There are too many things to see and too much information to learn, and a tourist won't have time to get bored. Of course, the tour will not leave anyone behind, because the guide respects each person's pace.
How Much Will it Cost?
The cost of the tour depends on many factors, so they have to be taken into account to see what amount is ultimately reached by each person.
First of all, you must consider if you want to be part of a private tour or if you want to travel in a small group. If you want a private tour, then you will receive your own private car with which you will travel, you will have your own driver and a private guide. The whole trip will be under your control without traveling with other foreign tourists. Instead, if you opt for a small group, the costs will drop considerably, but you will share the car and the guide with other people who come in the same tour.
Second of all, if you choose to travel as part of an organized group, the price will vary depending on how many people are part of that group. Thus, if the number of tourists increases, the cost per person will be lower. You will have the opportunity to even share the accommodation, considering that there are some taxes that apply to single travelers (even the visa can be shared with someone).
The third decisive factor in determining the price of your tour is your preference in terms of accommodation. The standard accommodation in each location will be 3-star, but you can also opt for 4-star or 5-star hotels, and this will automatically increase the final price.
The last aspect is, as you've probably figured out, the number of days you want to spend on the tour. So, if the number of travel days increases, then the final price of the tour will also increase.
You will have bigger chances at a lower price if you choose low seasons or if you are traveling with children or students - because it's possible to receive discounts. Considering all of the above and in order for you to get an idea: prices start at about $ 3,460 USD per person.
What's Included in This Price?
There's almost everything you need for the tour. We have prepared below a list of services. The list could vary slightly depending on the tour you choose.
Services included in this price
- Necessary local transport between airport hotels
- Entrance fees for sightseeing, monuments and museums
- Transportation during the tour in comfortable private vehicles
- Accommodation in all cities
- Tour guide
- Bhutan Visa fee
- All the equipment necessary for the trip
- All meals, breakfasts and snacks during the days of the tour
- Tents and kitchen utensils needed for trekking
- All additional government tax & permit
Services not included in this price
- International or any airfare
- Travel insurance
- Nepal entry visa fee
- Re-entry visa fee in Nepal
- Alcohol or any other beverages
- Any other expenses due to inevitable events (such as medical problems, flight cancellation etc.).
General Itinerary
In general, a tour of about 3 weeks will respect the following itinerary:
The trip will begin in Kathmandu, where tourists are escorted to the hotel. The group will visit Kathmandu, then Pokhara - for exploring the surroundings. After that, they will return to Kathmandu and take the flight to Paro, where the capital of Bhutan - Thimpu - is visited. The tour will take the following route in Bhutan: Punakha, Trongsa, Bumthang, Jakar, Phobijkha and Paro. All of them will take hike at Tiger Nest and then visit the whole city. Tourists will then return to Kathmandu in Nagarkot.
They will be transported by plane to Lhasa, where it is organized an exploration of both the city and the tourist attractions like Potala Palace, Norbulingka Summer Palace or Tibet Museum. It will also be a cultural and historical tour of the capital of Tibet. After Lhasa, the group will go to Gyantse, Shigatse, Gyirong and then back to Kathmandu. On the 20th day, tourists will stay in Kathmandu to rest and they will leave the next day.
Is It Worth It?
Definitely! All three regions are extremely beautiful and different from the rest of the places on Earth. Here you meet mystery, old cities, traditions, people who are very nice, traditional and delicious food. You'll see great places in Nepal, Bhutan and Tibet, like Kathmandu, Pokhara, Thimpu, Paro, Lhasa, Punakha, Sarangkot and many, many more!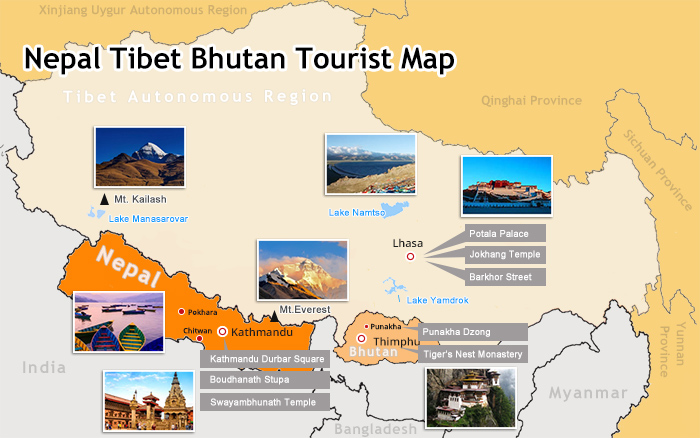 (Simple click to enlarge the map)
Map of Tibet Nepal Bhutan Tourist Attractions
You will live amazing moments, and you will climb the mountains, you will see brilliant views, you will admire unreal sunsets and sunrises and you will visit the most beautiful parks. You will travel only in comfortable and quality cars and the whole trip will be extremely relaxing. You will be able to create new friends. If you travel alone, maybe the person with whom you will share your visa will become your friend.You will not know until you try.
The Conclusion
If we try to be realistic, yes, for many people this price is not very affordable. It would mean to spend all your savings to be part of these tours. But it's something you should experience. Perhaps you will have to gather more money than you expected, but you will receive unforgettable moments in return. Are you ready for this adventurous trip to the Himalaya? Click here to see how to plan a Nepal, Bhutan, and Tibet Tour.