How to Get to Bhutan
Bhutan Travel Restrictions 2023: :
After 2 years of the pandemic, Bhutan tours are NOW reopened to international tourists without any quarantine.
It's time to plan your Bhutan tour in 2023! We guarantee the LOWEST price with an all-inclusive tour service in Bhutan.
Bhutan, also known as the "Land of the Thunder Dragon", is a small country that can be found on the southern edge of the eastern Himalaya. An isolated kingdom, Bhutan is bordered to the north by Tibet and to the south, east, and west by India.
Tourists can fly directly to Bhutan from Nepal (Kathmandu), India (New Delhi, Kolkata, Bagdogra, Guwahati, and Gaya), Bangladesh (Dhaka), Thailand (Bangkok) and Singapore (Changi), or travel overland through India to Bhutan via Phuentsoling, Samdrup Jongkhar, and Gelephu. Given the time-consuming prepation for overland tour, taking flight to Paro Airport must be the most convenient option for you to enter Bhutan.
To make your Bhutan travel much easier and more pleasant, we, Tibet Vista team, have updated the international Bhutan flight schedule as well as the best way to Bhutan from your country.
Five Gateway Countries to Bhutan with Non-stop Flight
Up to now, there are only five countries operating direct flights to Paro International Airport, namely, Nepal, India, Bangladesh, Thailand, and Singapore. Check the latest info on the international flights to Bhutan with their departure airport, distance, duration, price and frequency.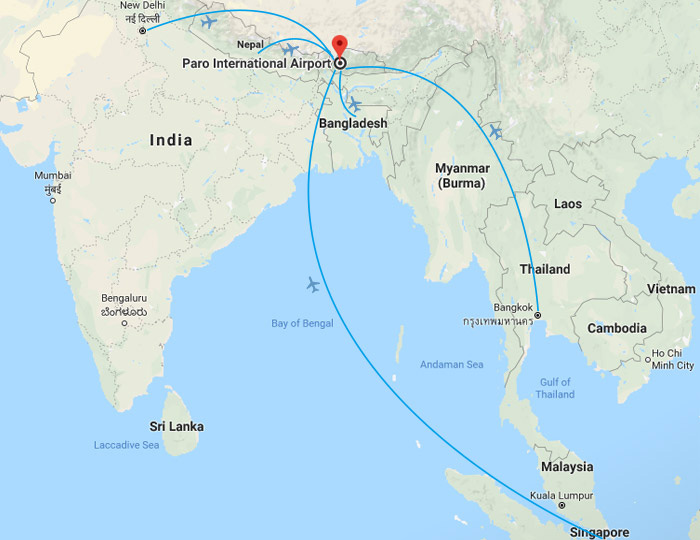 | | | | | |
| --- | --- | --- | --- | --- |
| Departure Airport | Distance | Duration | Price | Frequency |
| Kathmandu Tribhuvan International Airport | 404km | 1hr20mins | around $230 | six flights weekly |

| | | | | |
| --- | --- | --- | --- | --- |
| Departure Airport | Distance | Duration | Price | Frequency |
| New Delhi Indira Gandhi International Airport | 1,216km | 2hrs30mins | around $338 | three flights weekly |
| Kolkata Netaji Subhas Chandra Bose International Airport | 551km | 1hr40mins | around $242 | six flights weekly |
| Bagdogra International Airport | 151km | 1hr30mins | around $124 | two flights weekly |
| Guwahati Lokpriya Gopinath Bordoloi International Airport | 270km | 1hr20mins | around $140 | four flights weekly |
| Gaya Bodhgaya Airport - Paro International Airport | 536km | 1hr40mins | around $140 | three flights weekly |

Get to Bhtuan from Bangladesh

| | | | | |
| --- | --- | --- | --- | --- |
| Departure Airport | Distance | Duration | Price | Frequency |
| Dhaka Shahjalal International Airport | 425km | 1hr | around $230 | three flights weekly |

| | | | | |
| --- | --- | --- | --- | --- |
| Departure Airport | Distance | Duration | Price | Frequency |
| Bangkok Suvarnabhumi International Airport | 1,907km | 2hrs | around $530 | daily flights |

| | | | | |
| --- | --- | --- | --- | --- |
| Departure Airport | Distance | Duration | Price | Frequency |
| Singapore Changi International Airport | 3,289km | 2hrs | around $1,185 | two flights weekly |
Find the Best Way to Bhutan from Your Country
Direct flight to Bhutan are not available? No worries! Here our Bhutan travel gurus will help you to find the best way to Bhutan from your starting point and obtain Bhutan Visa & Permit successfully with the tailor-made travel route, offering you a hassel-free Bhutan travel experience.
Most Frequently Asked Questions on How to Travel to Bhutan
1. Which is the best way to get to Bhutan by air or road?
Travelers to Bhutan have two ways to get into the country. They can either book a flight from one of the five countries that are served by the Bhutanese airlines, which are India, Nepal, Singapore, Thailand, and Indonesia, or they can travel overland through India to enter at one of three border crossings.
Get to Bhutan by Flight
Flights to Bhutan operate from five countries, of which Indonesia is a seasonal service only in the height of the tourist season. Flights operate from: Bagdogra, India - two flights weekly; Bangkok, Thailand - daily flights; Dhaka, Bangladesh - two flights weekly; Guhawati, India - two flights weekly; Kathmandu, Nepal - six flights weekly; Kolkata (Calcutta), India - daily flights; New Delhi, India - five flights weekly; Singapore, Singapore - two flights weekly.
Flights cost from US$ 95 from Bagdogra to Bhutan, to as much as US$ 435 from Singapore, although prices are subject to change, and can be higher or lower depending on the season. Bhutan has only one international airport at Paro, and there are two airlines, Druk Air and Bhutan Airlines, that serve the airport. No other airline is permitted to operate flights in and out of the country. The schedules of the airlines change by season as well, although there are usually several flights per week from the major destinations of Kathmandu, Bangkok, New Delhi, and Singapore to Bhutan, either direct or through Dhaka, Kolkata, and Bagdogra. Additional flights are available during the popular festivals of the Thimphu tsechu in October and the Paro tsechu in April.
Flights in and out of Paro can often be delayed due to bad weather, and with a small runway and a lot of surrounding hills and mountains, the pilots use Visual Flight Rules on takeoff and landing. This means that they cannot land if they cannot see the runway, and cannot take off if they cannot see the hills surrounding them. No flights can be operated in Paro at night or in times of poor or zero visibility. There are times when flights can be delayed for several days, and there are also times when flights will leave the departure location early due to impending weather in Paro, so it is advisable to check in very early and check the status of your flight.
Notice: There are no "cheap flights" to Bhutan. All flights to Bhutan are only with the two permitted airlines, Bhutan Airlines and Druk Air, and the cost of the flights is dictated by the season.
Get to Bhutan by Overland
Most tourists enter Bhutan by flight to Paro International Airport, but it is possible to travel overland from Nepal to Bhutan through India. When traveling overland, one will exit Nepal at Kakarbhitta, and travel overland to one of three border crossings between India and Bhutan. Direct buses run from Kathmandu to Kakarbhitta, from where you can get local buses to Darjeeling, and then the overland bus from Darjeeling to Phuentsoling, which lies on the border between India and Bhutan. It is then a six hour drive from Phuentsoling to Thimphu, the nation's capital.
Phuentsoling is the most popular of all the three crossings into Bhutan, and is located in West Bengal and southwest Bhutan. As the closest entry point when traveling from Nepal, it is little wonder that it is the most popular. It is also the largest, and easiest to pass through. The other two, less used crossings are located at Samdrup Jongkhar in southeastern Bhutan and Gelephu in south-central Bhutan.
In the same way that your visa can be issued at Paro International Airport by the immigration officers after they receive your confirmation code from the BCT, so can it be done at any of the border crossing points. The confirmation code is sent to the Immigration Department, and the computer systems of all immigration points are linked, so any immigration official can access the details from any terminal. When crossing overland, your guide will meet you at the border crossing point in the immigration office, and will take you to your hotel. It is important to note that you will not be permitted to leave the immigration building until your guide has arrived.
2. When is the best time to visit Bhutan?
There really is no best time to visit Bhutan. The best time of year depends on what you wish to do and see, and what parts of the kingdom you want to visit. Spring and autumn are the best times to travel to Bhutan for trekking, and the trails through central and northern Bhutan are popular at this time of year, with mild temperatures, very little rain, and bright clear skies. Summer can be a nice time to experience the Buddhist festivals - Tsechu, celebrating the life of Buddha and the Guru Rinpoche with local Bhutanese. Winter is a great time for traveling to the lowland southern areas of the country, with the stunning natural beauty of the sub-tropical forests being a huge draw for those who like to spend time with nature, or take one of the many wildlife safaris looking for leopards and tigers.
3. How to apply Bhutan visa and permits?
Bhutan's idea of environmental and sustainable tourism means that independent travelers are not allowed within the country. All visitors to Bhutan must book their tour through an approved travel agent that is registered with the TCB. The whole tour must be pre-planned and pre-paid before your visa will be issued, although there is no limit on the number of tourists that can visit Bhutan each year. The only exceptions to this rule are for passport holders from India, Bangladesh, and the Maldives, who can travel independently.
Getting a visa for Bhutan is done by your travel agent once you have booked and paid for your Bhutan tour. The visa application if sent to the Bhutan Department of Immigration, and once the visa is approved, you will be sent a confirmation letter by the travel agent. The actual visa is not issued until you arrive in Bhutan. This confirmation letter can be shown to the immigration officers when you enter the country, in order to facilitate a faster processing and issuing of your visa.
The travel agent will also handle the permit requirements for traveling within Bhutan, as travel outside the Thimphu or Paro valleys requires a separate permit. The permit includes your booked itinerary, and will be issued on your arrival in Bhutan. It must be validated at any of the major checkpoints around the country, and must be surrendered on your departure from Bhutan. Failure to surrender due to losing the permit can cause serious problems as well as delays in departing from the country.
4. How much do it usually cost to visit Bhutan?
Bhutan has a minimum daily tour cost, known as the Minimum Daily Package, which is set and is designed to control tourism to the country and help to protect the local environment. This amount cannot be negotiated with the travel agents, and is required for all travelers, although the amount does go down with more people in the tour group. A portion of the minimum daily package price goes towards helping with free educations programs, free healthcare programs, and the alleviation of poverty within the poorer regions of the country. it is this Minimum Daily Package cost that makes trips to Bhutan more expensive than most Asian countries.
Included in the total cost of Bhutan tour are your hotel and meal costs, your visa and permit fees, entrance fees to various attractions according to your tour requirements, and the cost of the tour guide and private vehicle with driver as well as certain cultural programs that you can visit. Bhutan tour guides are required to undergo a high standard of training, and must pass the difficult tests that are required in order to obtain their tour guide license.
5. How about Bhutan currency and customs requirements?
Money in Bhutan is called the Ngultrum, and it is linked in value to the Indian rupee. Dollars are widely accepted in the country, and there are plenty of places where you can convert your foreign currency to Ngultrum. You can also use Indian rupees almost anywhere, with the exception of the 500 and 2,000 rupee notes. It is also important to note that there are no ATMs in Bhutan, and credit cards are rarely accepted. Take dollars or travelers checks, which can be exchanged at any bank or money changer.
Customs restrictions in Bhutan are very strict, and there are limits to what you can bring into the country. You will be required to fill in the details of all items of electronics that you bring in, as well as submitting the same details on exit. It is also important to get certifications for any souvenirs you buy to take home, as there is a very strict policy on the export of antiques and religious artifacts. Your travel agent and guide can help you to obtain these if needed.
Most Classic Bhutan Tour
After landing at Paro Airport, how to explore this great Himalayan Kingdom? Actually, Bhutan offers you tons of amazing things to do, like visiting the most prestigious Tiger's Nest (Taktsang Monastery), enjoying the superb vista of the Himalayan Mountains, exploring the off-the-beaten-track monasteries and temples, etc. Below are top 4 highly recommended Bhutan tour and treks. And you can send us your tour inquiry and a quick reply will reach you within 24 hrs.