How to Get a Bhutan Visa and Permit Successfully
Bhutan Visa is a necessary travel document for all international tourists travel to Bhutan, except for citizens from Indian, Bangladesh and Maldives. Similar to Tibet, Bhutan requires that all tourists have registered guides and private vehicles, and all tours must be arranged through approved tour operators.
Traveling independently within the country is not permitted, and there are strict regulations governing entrance to and exit from Bhutan. Besides the visa for Bhutan, there are also other travel permits required for touring Bhutan, such as the road permit for restricted-area and entry permit for some temples.
To help you make your trip to the Kingdom of Bhutan, here we provide the most ultimate guide to Bhutan Visa with quick and convenient Bhutan Visa online application, with professional travel consultants to help you solve all problems about your Bhutan tour arrangement. Just learn more details as below.
2022 Bhutan Visa and Tour
Now, 2022 Bhutan tour booking is reopen to you, our dearest global travelers. To get your Bhutan Visa successfully, you need to pre-book your Bhutan tour and finish the payment in advance. With years of experience and local offices in Bhutan, Nepal, Tibet and mainland China, we guarantee to secure your Bhutan Visa and offer hassle-free service for other travel documents to Nepal, Tibet and other surrounding destinations.
Bhutan Visa Requirement
Indian passport holders can enter Bhutan without a visa either by air or by land.
For Bangladeshi citizens and Maldivians, they don't need a visa to enter Bhutan. But they need to provide a valid Bangladeshi passport or Maldivians passport with at least six months validity from the date of entry.
For travelers from other countries, they need to finish a full payment of a pre-book Bhutan tour and offer the scan copy of their passport, with at least six month validity left on it.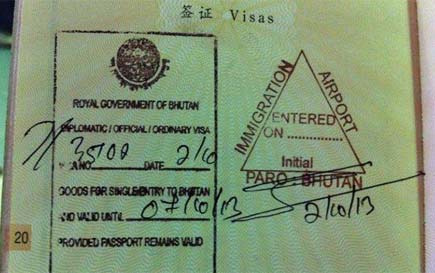 Bhutan Visa is stamped on your passport when you pass through the border.
Bhutan Visa Application Online
Get the checklist for your Bhutan Visa by simply sending the online form below. A quick reply will be send to you within 24 hours.
Passports for Bhutan Visa Application
Your passport is the most important document you need to carry with you at all times, and before booking Bhutan tour you should make sure that you have more than six months validity left on it. Many countries across Asia will refuse to issue a visa to a passport that is close to expiry, and Bhutan is strict on those rules.
Your passport should be kept safe at all times, as only Indian nationals can get a replacement passport in Bhutan. For all other nationalities, you will be required to travel "stateless" to a country that will grant you access to have your passport replaced by your own embassy or consulate. It is advisable to carry another form of identification with you, along with a photocopy of your passport, in case of such an event.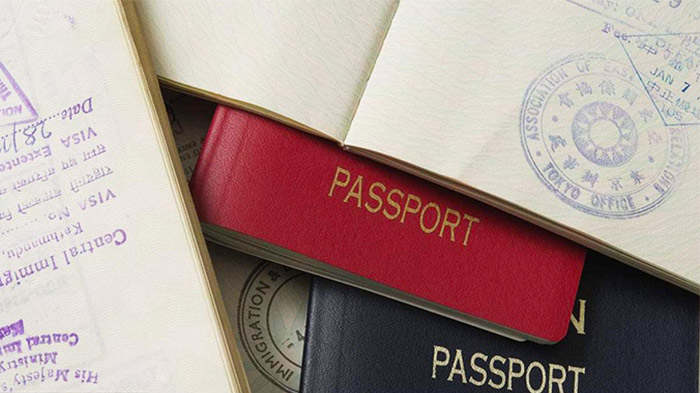 Your passport is the most important document
Passport Requirements for Neighboring Countries' Citizens
Indian and Bangladeshi passport holders can enjoy the visa-free policy to Bhutan. For the diplomatic or official/service passport holders from Thailand, they can also enter Bhutan without a visa. But a valid passport with at least six months from the date of entry is required.
For tourists from other countries in Asia, they need to apply for a Bhutan Visa in advance.
>> Learn More about Bhutan Visa Free Policy
Passport Requirements for European Tourists
Only diplomatic or official/service passport holders from Switzerland can enter Bhutan without a visa for a journey up to 90 days.
Citizens from UK, German, France, Span, Italy and other countries in Europe need to apply for a Bhutan visa with their valid passport before they go.
Notice: Since there is no direct flight from European to Bhutan. You may also need to apply for the transit visa of the third country. Please feel free to contact us to tell us your travel plan, our professional travel consultant will help you figure out all the documents required.
>> Check the guideline in Bhutan Visa Application for European Tourists
Passport Requirements for US and Canadian Tourists
Both US passport holders and Canadian citizens require to apply for a Bhutan Visa before they go. Since there are no direct flights to Bhutan from North American Continent, tourists may also need a visa for the country that you will enter Bhutan from.
For United States Passport Holders
Visa required for Bhutan. In fact, US passport holders can visit Thailand and Singapore without Visa. So if you get to Bhutan via these two countries, you also don't need to apply for the transit visa.
For Canadian Passport Holders
Visa required for Bhutan. In fact, Canadian passport holders can visit Bangladesh and Singapore without Visa. So if you get to Bhutan via these two countries, you also don't need to apply for the transit visa.
>> More Details about Bhutan Visa Requirements for US Citizens and Canadian Citizens
Notice: Please feel free to contact us to tell us your travel plan, our professional travel consultant will help you figure out all the documents required for your trip to Bhutan.
How to Obtain a Bhutan Visa
Visas for Bhutan are arranged by the tour operators that also arrange your tour, and are only issued when you arrive in the country, at either Paro Airport or at one of the overland border crossings. You need to apply in advance through your tour operator and receive the visa approval letter from them before you travel.
The visa requirements include a scanned (color) copy of the main page of your passport and an online application form that is filled in and submitted by the tour operator. All applications for entry must be made by a Bhutanese tour operator only, and are sent to the Tourism Council of Bhutan (TCB) in Thimphu, after it has checked that you have paid for the trip in full. They then issue an approval letter to the tour operator, who makes the final application to the Ministry of Foreign Affairs. It normally takes three days for them to approve the visa.
The Ministry also sends a notification of the issuance of the visa and a confirmation number to the tour operator, and to both Druk Air and Bhutan Airlines, who will only issue tickets if they have the confirmation number. Once you arrive at the airport or border crossing, the visa endorsement is stamped into your passport, and the visa is only valid for the exact period of your tour in Bhutan.
When you consider the various levels of Bhutanese bureaucracy involved in the issuing of a visa, the system is surprisingly efficient, and you can guarantee that your visa will be waiting for you when you arrive in Bhutan. It is helpful to have a printout of the visa authority your tour operator sent you, to aid the immigration officials in finding your information on the system, though they can easily search by name and passport number, and your visa will be issued on the spot.
How Must Does It Cost for Bhutan Visa Application
Bhutan Visa fee is 40 USD.
In addition to the visa fee, you also need to pay for the tour before the operator applies for your Bhutan visa. There is a minimum daily spending requirement for tourists, no matter where you come from.
It costs 200 USD per person per night from December to February and June to August, and 250 USD per person per night in the rest days of the year.
Notice: Bhutan visa fee can be only paid in US dollar.
More Travel Permits for Bhutan Tours
Bhutan Restricted-Area Permits
Outside the Paro and Thimphu valleys, the rest of Bhutan is restricted to outsiders, and a special permit is needed to travel even with your guides. This "road permit" is obtained by the tour operator, and only includes the places on your tour itinerary. There are strategically placed checkpoints at certain major road junctions, where your permit will be checked and endorsed, and the permit is returned to the government at the end of the tour, where it is scrutinized for deviations from the main itinerary.
The main checkpoints are found at Hongtsho, Chhukha, Rinchending, Wangdue Phodrang, Chazam, Wamrong, and Samdrup Jongkhar. However, the checkpoints only operate from 5:00 am to 9:00 pm daily.
Permits to Enter Temples
Most temples in Bhutan can be visited when there are no festivals, as long as you are accompanied inside by your guide, and you are permitted to enter the courtyards of these dzongs, as well as the tshokhang (assembly hall) and one designated lhakhang inside each dzong. The allowance of entry is subject to some very strict provisions, and there are set visiting hours and a dress code, as well as some other rules that can vary from district to district.
According to the Tourism Council of Bhutan, there is a small list of places that tourists are not permitted to visit at all, and it is therefore assumed that all other places can be visited. Any private or village-run lhakhang can be visited, and the dzongs are all open during a tsechu, or annual religious festival, but you will be restricted to only the courtyard, and the lhakhangs will be out of bounds. The tour companies always deal with the paperwork for dzong visits beforehand, so if there is a particular place you wish to visit, it is best to let them know well in advance of your trip.
If you are a practicing Buddhist from outside Bhutan, you may get special permission to visit dzongs and religious institutions that are normally off limits. Your application will be scrutinized closely, and it helps to have a letter of reference from a recognized Buddhist institute or organization in your home country.
Visas for Bhutan Neighbouring Countries
There are only five countries offering direct flights to Bhutan, including India, Nepal, Thailand, Singapore, and Bangladesh. Among them, only Indian share the land border with Bhutan, which means if you want to get to Bhutan by overland, you can only start from India.
Since you need to get to Bhutan from one of these countries, no matter where you start your journey, you may also need to apply for transit visa of standard tourist visa of the third country.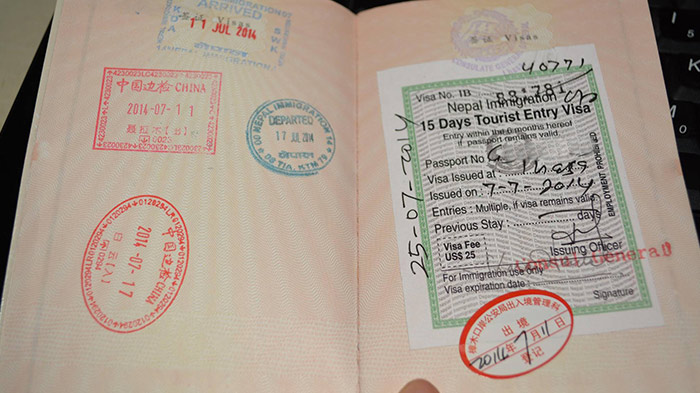 Extra Visa for Bhutan Tours from Nepal
When traveling out of Bhutan to neighboring countries, it is possible to get a visa-on-arrival only in Nepal. When landing at Tribhuvan International Airport, you can apply for your visa at the immigration desk within the airport, and then continue into the rest of the country. You can also obtain a visa for Nepal from a majority of its foreign embassies and consulates without a problem if you are intending to visit in the near future. If you are entering Nepal on the way to Bhutan, and are going back to Kathmandu after, you can obtain a multiple-entry visa on your first visit, so that you do not need to apply again when you get back. 24-hour transit visas are freely available and cost just five dollars.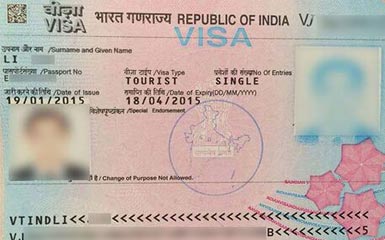 Extra Visa for Bhutan Tours from India
For India, nationals of most countries require a visa to visit, and if you are one of them, you should get your visa in your home country before you leave, as it is very complicated to get it while traveling. Obtaining an Indian Entry Visa from the embassy in your home country is very simple, and takes only a few days. You will be able to get a three-day permit if you have a confirmed flight out of India and can show the tickets. If not, it requires a fee to be paid to your embassy in India for them to fax the Indian embassy in your home country to get the visa. It can take up to three weeks to process this way.
Q: Can I get a Bhutan Visa from Tibet?
There is no possibility of getting a visa for Tibet on entry since Bhutan and Tibet do not have overland border crossings or flights that connect the two. In order to get a visa to travel to Tibet, you must exit Bhutan to either China or Nepal.
>> Read more about How to Plan a Nepal, Bhutan, and Tibet Tour
Quick Inquiry
We'll get back to you within 24 hours.
Get Your Bhutan Visa with Our Hassle-free Bhutan Nepal Tibet India Tours
No matter where you are from, it is always a good idea to travel Bhutan and surrounding destinations in the Himalaya regions together. Nepal and India are the best gateways to start a Bhutan tour, as both of them offering direct international flights to Bhutan. And a trip to Tibet, the holy land at the other side of the Himalaya, will take you to fully experience the different culture and religions of this land.
To make your journey to Bhutan more hassle-free, we offer various kinds of tour packages covering Bhutan, Indian, Nepal, Tibet, and the vast land of mainland China together, and your Bhutan Visa, as well as the Tibet Travel Permit if required, is included in the package. You don't need to worry about the tour arrangement, hotel booking, vehicles arrangement, etc. since we will handle everything for you.