How Much Does It Usually Cost to Visit Bhutan?
Bhutan, which is also called the Kingdom of the Dragon Thunder, is hiding from the rest of the world in the heart of the Himalayan mountains. Although it isn't connected to water, this region is one of the most beautiful places that someone can visit, even though it often gives the impression of an old city. As you get there, you can easily see the snow on the mountain ridges or the greenery of the surrounding nature. Bhutan is a mysterious kingdom, especially because of the fact that for a very long time, tourists were not allowed to visit it. Now, this thing has changed, and it gives you access to its Paradise, but they have a set of small rules.
However, there are many people who have always wanted to visit this picturesque small country. I'm sure you too. But I can tell that you have a lot of questions. "Do I have the necessary money? How much does it cost to travel to Bhutan? Is it worth doing this?" Well, as an expert of Bhutan tour, let me show you the right way to budget your travel to Bhutan.
How Much Does It Cost?
The least amount of money you could spend as an adult is 200 dollars. The price isn't per tour, but per person PER DAY, the tour being held in the low season months, namely: June, July, August, December, January and February. If you want to travel in the high season (from September to October and from March to May), then you have to take out of your pocket $ 250 USD. These are the prices if you want decent services. If you want your hotel to have more stars or your services to be more luxurious, prices will increase considerably, around $ 250- $ 1500 USD above the daily $ 250 USD tariff.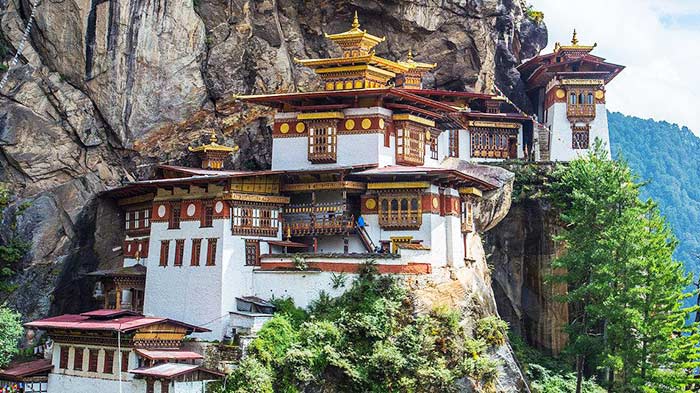 Tiger's Nest, one of the most beautiful places in Bhutan
Of course, the price may increase depending on the number of people who decide to visit Bhutan. For example, if you choose to come alone, you will have to pay an extra fee (as an addition to the $ 200 / $ 250 USD) of $ 40 USD, and if only two people are travelling, the tax will be $ 30 USD per person. In terms of discounts, children under the age of 5 will not pay a fee - other than the $ 40 USD (the visa fee). If the child is between 5 and 12 years old, he has a 50% discount. The same will happen to students who are under the age of 25 and have an act stating that they are studying at a university, so they receive a 25% discount.
Discounts are applied in large groups (group size discount). For example, in a group of 11 people, one of them will receive a 50% discount. If the group is composed of 16 people, one of them will get a full 100% discount. However, please keep in mind that children up to 5 years old will not receive a group size discount. Have no worries, however, that no charges will apply if you have a delay on arrival or departure because of the weather. If this happens, you will have to bear the cost of accommodation, meals or transport.
Why the Cost?
We know, the cost to visit Bhutan is too high. Many people complained about this and the money determined them not to come. However, those who chose to visit this country no longer have the same opinion. Although Bhutan has no limit on the number of tourists that are allowed to come, they have noticed that many of them are hampered by this tax. The explanation is the following: Bhutan has a specific tourism policy, namely: "High Value, Low Impact".
The country wants all these taxes to contribute to a friendlier, more beautiful, healthier environment. They want to develop a defense for nature and for their culture. All of this for both locals and tourists to continue enjoying the way Bhutan looks and works. The money received will be used by the Government to improve infrastructure, to develop health, culture, education, work, poverty alleviation and many other things.
Is It Worth It?
Do you want us to be honest? Well … ABSOLUTELY! Even if your visit to Bhutan costs a lot, all the money you give is well spent. The country is one of the most mysterious ones and it's so protected by the deafening noise of modernity. The buildings are old, full of history, people are valuable, and their traditions are delightful. Bhutan is located in the Himalayan mountains, so you can easily see tall, grandiose ridges, magnificent images, colors of white and green mingling. Your lungs feed on the fresh air, and you relax to the sound of … silence.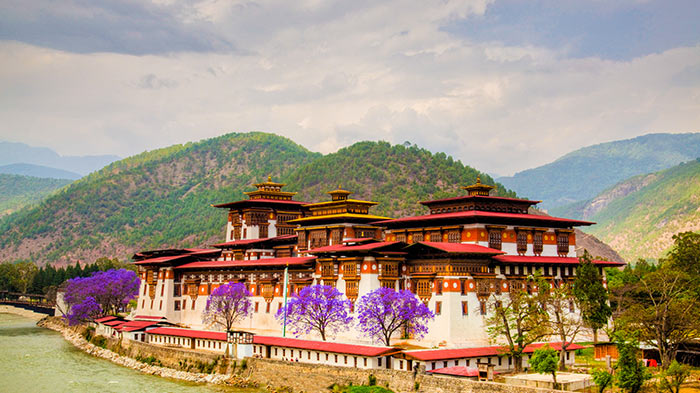 You can easily see tall, grandiose ridges, magnificent images in Bhutan.
The people from here will treat you with great kindness and all the services offered are of high quality. The region is isolated from agglomeration and the total number of inhabitants does not exceed one million. Maybe that's why this place is so breathtaking. If it's worth it?! We would spend much more on this!
What's Included in This Price?
This price includes about ... everything! For the amount you pay, you'll get: accommodation in hotels that have at least three stars, all meals of the day, all internal transport (domestic shipments are not included), all taxes in Bhutan (including the royalty charge), all the monasteries/nunneries/museums you're up for and whatever means camping equipment or tour equipment. Please don't forget that you will have access at a private guide, a private driver and, of course, a private vehicle. However, there are many things that are not included, and you have to pay for them, such as: luxury hotels, travel insurance, tips, laundry, souvenirs, alcoholic beverages, visa fees or airport/airfare taxes.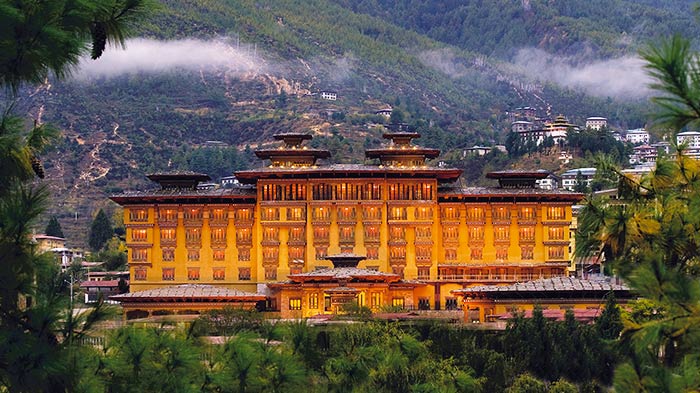 The price of luxury hotels is not included in Bhutan tour.
Please be careful because there are not many ATMs in Bhutan (so far, they haven't been AT ALL), and card payment is not accepted (maybe only at big hotels, major cities or locations with many tourists, but the tax is enormous). You will be allowed to withdraw only small amounts of money for each transaction. So, it's way better to bring cash.
When to Travel to Bhutan Depending on How Much Money Do You Have?
Honestly, this really depends only on how much money you have. If you don't want to give away more money than you have to, then you surely have to try going in the low season when the price is $ 200 USD a day per person. However, for the price to be just $ 200 USD a day, you must travel with a minimum of two more people in order not to pay the extra charge ($ 30 USD for two persons or $ 40 USD for a single person). In general, you should give up any luxury services or alcoholic beverages - basically, remove anything that means extra pay. If you manage to do that, we think you will be able to make a fairly cheap trip to Bhutan.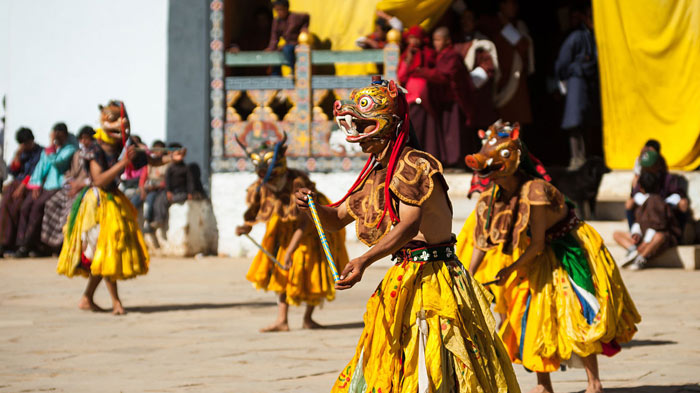 Attending Paro Tsechu Festival in Bhutan Kingdom
If you do not want to be crowded, do not go to Bhutan in February. Yes, we know the price is cheaper, but that's also when the mask festivals in Paro take place, that's when a lot of tourists choose to visit Bhutan. The festivals are extremely beautiful, but if you want to really relax regardless of the money you pay, choose the months in which there are no events that attract many tourists. Don't think that if you choose to go in the low season you will lose the beauty of Bhutan. This is not true at all. In addition to saving a large amount of money, you will be able to visit many beautiful places in Bhutan, and, more than that, remember that it will be less crowded!
Unfortunately, if you want to visit the country individually, you are not allowed to. Yes, you would probably spend less money and you can have your own program (although the guided tour is very relaxing), but you are required to pre-pay for an organized tour, licensed and approved by the Government of Bhutan. However, if you don't want to be part of a larger group of tourists, you also have the possibility to be part of a private tour of your own, which you will have to pay for in advance.
The Conclusion
Bhutan is definitely one of the quietest and most beautiful countries you could ever visit. Traveling to this unknown place is something everyone should do at least once in their lifetime. Yes, prices are high, but for those prices you get value and peace - and these things are non-existent in other holiday destinations. This kingdom is a mysterious place, away from fatigue, from noise, from pollution and anything that damages your physical and mental health. It's a Paradise-like place where you can go and charge your batteries for a new period of hard work. That only if you don't fall in love with it and want to stay there … forever!
If you are planning to enjoy a trip to Tibet Nepal Bhutan, yet have no ideas of how to sort it out the details, no worries! We would like to hear your tour plan and offer free professional consultancy and viable solutions. Please feel free to contact us.