Bhutan to Lhasa: How to Travel from Bhutan to Tibet?
High up in the Himalayas, Bhutan and Tibet share a border across the world's highest mountain range. However, this shared border is not one that can be traveled over. Lying to the south of the Tibet Autonomous Region, Bhutan is one of the smallest countries in the world, and has the second smallest population on the planet. However, this unique Himalayan kingdom is one of the most exclusive places to visit, with a national ideology of Gross National Happiness.
While it is not possible to travel direct between Tibet and Bhutan, it is not very hard to get from one place to the other. Lying on Tibet's western border, and just a short distance from the western edge of Bhutan, Nepal is the connecting gateway for both of these Himalayan lands.
Entry to Tibet can be done easily from Nepal, either overland across the border at Gyirong Port or by flight from Kathmandu's Tribhuvan International Airport, the only airport outside China with direct flights to Lhasa. Similarly, Nepal is one of only five countries that has permitted flights to Bhutan, which makes it a very unique country in the Himalayan region.
Insider Tips : Traveling to Bhutan requires that you have a pre-booked tour, in much the same way as traveling to Tibet, except that the cost of the tour is all-inclusive within the Minimum Daily Fee. You will need a valid passport as well as a pre-booked tour to even get a visa for the kingdom, and without the visa, you cannot even book a flight.
Easiest Way to Travel from Bhutan to Lhasa
One of the most popular and easiest ways to get to Tibet from Bhutan is to travel through Nepal, flying from Paro International Airport to Tribhuvan and then changing to fly on the Lhasa Gonggar International Airport, in Shannan Prefecture of Tibet. As one of only five countries that have regular scheduled flights to Bhutan, Nepal is in a unique position when it comes to touring Bhutan and Tibet together. Flights from Paro International Airport, however, are not as busy as other airlines flying to Nepal. There are normally only around three flights per week from Paro to Tribhuvan, which are run by the two Bhutanese carriers, Druk Air and Bhutan Airlines.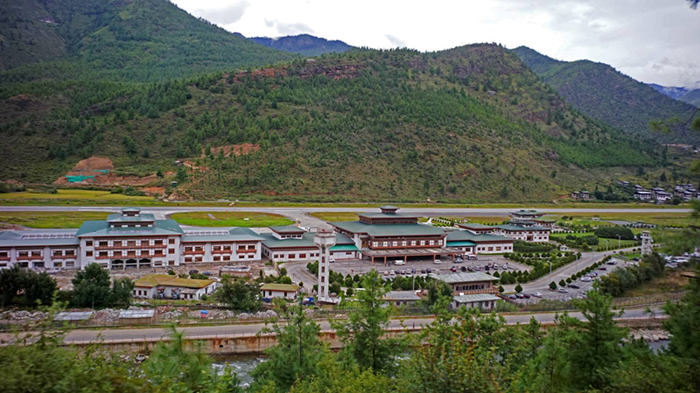 Paro International Airport
Flights from Bhutan to Nepal cost from around US$ 200 for a one-way economy flight, which must be pre-booked before your trip to Bhutan. Flights in the low season normally run on Tuesday, Thursday, and Saturday, though this is subject to change. The days of the week that flights run changes all the time, so you should check the available dates before traveling. The flight from Bhutan to Nepal normally takes around 1 hour 15 minutes.
When entering Nepal from Bhutan you will need to have or apply for a visa to enter the country. Visas for Nepal are easiest to apply for on your arrival at the airport, and take around an hour to process. You will need to have your passport, one passport-sized photo, the completed application form, and the 30-dollar fee. Once processed, your passport and visa will be returned to you, and you will be free to enter the country.
Entry to Tibet from Nepal by flight requires you to have a pre-booked tour with a registered tour operator, who will make all the applications for the permits required on your behalf. These include: the Tibet Travel Permit, for entering Tibet and traveling in the area around Lhasa; the Alien's travel Permit, for travel in Tibet outside the area of Lhasa; the Frontier Pass, required for all tourists traveling in the area of the Chinese borders, even those flying to Lhasa; and the Restricted Areas Permit, for those that are traveling to military restricted areas such as Mount Kailash, in Ngari Prefecture.
You will also need a visa to enter Tibet, although this is not the same as the standard Chinese Entry Visa. For entering Tibet from Nepal, the Group Tourist Visa is applied for on your behalf by us, once you arrive in Kathmandu. We will collect your passport and use it, along with the required permits which we will already have, to make the visa application. Processing takes around three working days, so you will need to be in Nepal at least five days before your intended departure date.
Travel from Bhutan to Lhasa with Best Tour Experience
Another option for traveling from Bhutan to Tibet is to travel by flight to Kathmandu and then take the overland trip from Kathmandu to Lhasa. The route across the border between Nepal and China at Gyirong Port is fast becoming a favored way to enter Tibet for international tourists, since the new border crossing was opened in August 2017.
Taking a tour overland from Kathmandu to Lhasa is a great way to see the Tibetan plateau, and is useful for those that are intending to continue on to discover the rest of China. The tour is the reverse of the normal route from Lhasa to Kathmandu, and crosses the border at Rasuwa Gadhi on the Nepali side.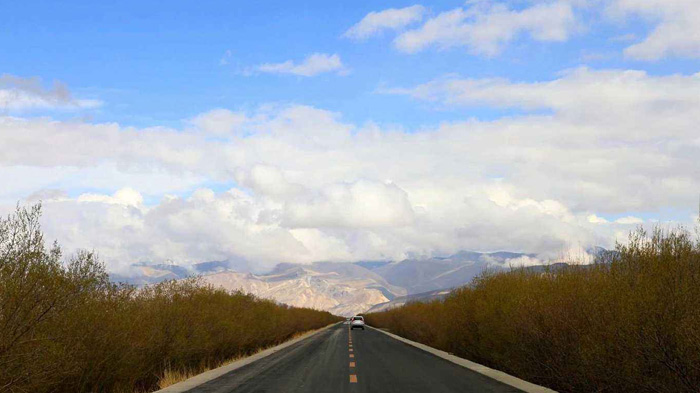 The China-Nepal Highway
The trip requires you to take a bus or car to the border from Kathmandu, which takes around six hours, where your tour guide and driver will meet you for your tour of Tibet. Your first day will normally be spent in Gyirong Town, acclimatizing to the increased elevation of the plateau, after which you will head for Lhasa, via Everest Base Camp, Shigatse, Gyantse, and any other specific places you have listed in your itinerary.
The same documents are required for overland travel as you need for flights to Lhasa, such as the Tibet Travel Permit, China Group Vista, the Alien's Travel Permit, the Restricted Areas Permit, and the Frontier Pass. Your visa will also be arranged for you once you arrive in Nepal.
One of the main advantages of entering Tibet overland from Nepal is that you will be able to continue on into the rest of China, taking the train from Lhasa, which is an adventure all of its own. It also allows you to end your tour in Lhasa, the Tibetan capital and the heart of the Tibetan people, which means you have a little more time to enjoy the city as you will already be acclimatized to the higher plateau altitude.
However, as the increase in altitude from Kathmandu to Gyirong Town is a lot more of an increase, you may experience a few of the symptoms of altitude sickness. The chance of getting altitude sickness is higher when traveling this route, unless you spend an extra day after Gyirong Town acclimatizing to the altitude again as you get higher.
Best Season for Traveling from Bhutan to Lhasa
Traveling two different places, with climates that are not compatible, can be a trying time when deciding when to travel. The peak period for Tibet is in the summer months, from June to September. However, in Bhutan this is the monsoon season, and while the monsoon in Tibet is not very wet thanks to the shadow effect of the Himalayas, in Bhutan it can be a very wet and humid time of year.
The peak time for tourism in Bhutan is normally from October to April, when the weather is drier, although it can get quite cold in the winter months. Mid-April to Oct. are the best times to do a tour of both Tibet and Bhutan together, as the weather is dry in both places and not too cold to travel comfortably in the high Himalayan Mountains.
Don't Forget to Pick a Reliable Tour Operator?
Finding the right tour operator for a tour of Bhutan and Tibet can be a tough choice. There are thousands of registered tour operators for both places, and knowing which one is the best is a complicated thing to work out. It is worth knowing that many of the tour operators for Tibet are using third-party guides and drivers for their tours, and are not operating the tours themselves.
With this in mind, it pays to use someone that offers the whole package as part of their own tour and have their own staff as the tour guides and drivers whilst in Tibet. Here at Tibet Vista, we offer the best services for our clients, from our professional tour advisors who will give you all the help you need in organizing your tour from day one, to our experienced Tibetan guides and drivers, who will be able to give you their best service, and have an extensive knowledge of the Tibetan plateau and its people and culture.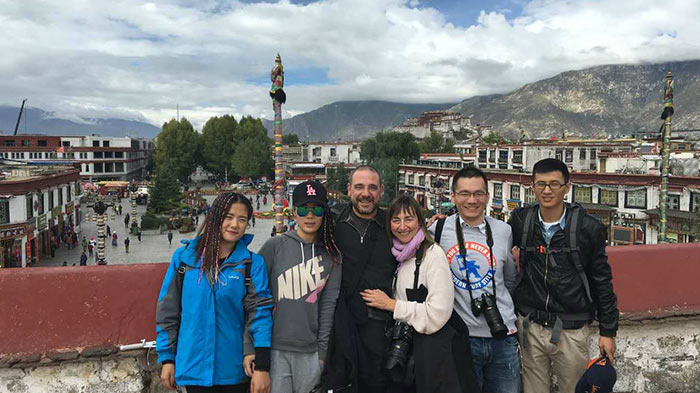 Visiting Johkang Temple with Tibet Vista
When thinking about the tour of Bhutan, it is advisable to make sure that your tour operator is registered with the Tourism Council of Bhutan (TCB) before booking your trip. Only operators that are registered can handle tours in Bhutan, and all tours are registered individually with the TCB once booked for your safety and security. We are a registered tour operator with the TCB, and can handle your tour from start to finish, giving you the best service possible.
With offices in Lhasa for the tours of Tibet, and in Kathmandu for the tours in Bhutan, with a local representative available in the kingdom, we can provide you with the best possible service and tours, using out decades of experience in tourism in both Bhutan and Tibet. Using our professional tour advisors, we make deciding on and booking your tour a breeze, taking care of all the permits and paperwork on your behalf, leaving you with nothing to do but relax and travel to Tibet.
Our experienced local guides and drivers know their way around the countryside and the attractions well, and can give you backgrounds and histories on the places you will be visiting as well as on Tibet itself, including the religion and culture of the people on the roof of the world.
Other Dos and Don'ts for Traveling from Bhutan to Lhasa
If you are planning a trip to Lhasa from Bhutan, then you should speak to us first, as we are one of only a few tour operators that can legally handle tours in both Tibet and Bhutan, and incorporate all the aspects of your tours into one complete package.
It is important when leaving Bhutan that you have all the documents that you were given on entry, as they will all be required in order for you to leave the kingdom. Losing any of the documents, including the customs declaration that you will complete on entry, can delay your exit from Bhutan whilst things are being sorted out, which would be at your own expense to re-book your flight.
Altitude sickness is a serious matter in Tibet, as the altitudes in many of the places you will visit, especially Everest Base Camp, is classed as either "very high" or "extreme". You should be aware of the symptoms of altitude sickness and watch closely for them in yourself and other members of your party.
Don't take out of Tibet or Bhutan anything that could be considered as an antique, as these artifacts are strictly prohibited. While you may not be told so when buying them, the items may cause problems with customs on leaving.