Where is Nepal Located on a Map?
As the world's last Hindu country, Nepal has the most striking feature in the great number of temples and Gods. Wandering around Kathmandu, you will come across a small temple in three steps while another monastery has already appeared in your sight. It's not exaggerated to say that temples in Nepal are as much as its housing residences.
Buildings with a strong religious color is another highlight in Nepal, where tourists can appreciate the medieval city, exquisite carvings, etc. In addition, Nepal also has the wondrous diversity of flora and fauna. Chitwan National Park is a good case in point. It provides a prefect habitat for all kinds of wildlife. Many endangered species like Asia elephant, Indian rhinoceros, Himalayan marmot, etc. are enjoying a happy life here. With a diverse geography, Nepal has risen from the subtropical regions to alpine grasslands and become a great paradise for adventurous mountaineers, explorers and visitors from all over the world.
Where is Nepal Located on a Map?
Nepal is of roughly rectangular shape. It runs in the northwest-southeast direction, stretching about 850km from west to east, 200 km from north to south. At the foot of the Himalayas, Nepal is home to eight of the world's ten highest mountains, including Mount Everest, the highest one in the world.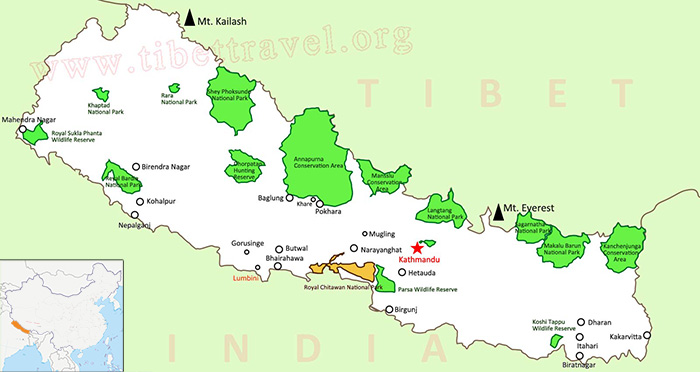 (Simple click to enlarge the map)
Map of Nepal Outline
Capital City: Kathmandu (1400m or 4600ft), with a population of around 1.003 million
Seven Federal Provinces: According to schedule 4 of the new Constitution, Nepal is divided into 7 provinces and 75 districts. They are simply called as Province No.1 to No.7.
Total Area: 147,181 square kilometers, the world's 94th largest country
Religious Belief: Hinduism (81.3%), Buddhism (9%), Islam (4.4%), Kirant (3%), Christianity (1.4%), Animism (0.4%), Irreligion (0.5%)
Geography: northern mountain region including Mt. Everest, the world's highest mountain, central hill region, southern lowland plains
Language: Nepali (official language) and English
Currency: Nepalese Rupee (NPR)
Time Zone: Nepal Standard Time (UTC +05:45)
Emergency Call: 100 for police,101 for fire,102 for medical
Bordering Countries: India and China
Economy: Services (48.5%), Agriculture (36.1%) and Industry (15.4%)
Ethnic Groups: Tharu people, Limbu people, Lama people, Sherpa, etc.
Staple Food: Dal Bhat Tarkari (the boiled rice is served with a lentil soup and curried vegetables), Momo (Tibetan-style dumplings with Nepali spices), etc.
Wildlife: Asia elephant, Asiatic black bear, Bengal tiger, Indian rhinoceros, Himalayan marmot, Gharial, Eurasian lynx, Indian fox, Tibetan fox, etc.
Mineral Deposits: Iron, Copper, Lead, Zinc, etc.
Map of Nepal and Surrounding Countries
Having a boundary line of 2400 kilometers, Nepal is surrounded by China to the north and India to the east, south and west. The natural grandeur of the Himalayas, Nepali diverse cultural heritage and profound Hinduism as well as easy approach to Tibet and India make Nepal rank among the top 10 travel destinations in the world.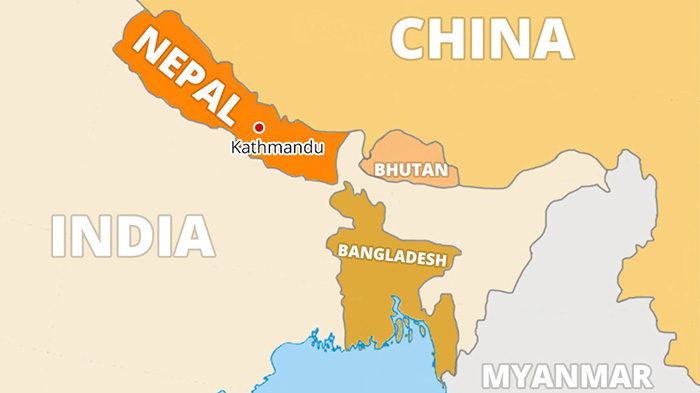 (Simple click to enlarge the map)
Nepal Border Map with India and China Tibet
Neighboring Countries: India and China
World's Highest Mountains: Mount. Everest (8848m, highest, Nepal China border), Kanchenjunga (8586m, 3rd highest, Nepal India border), Lhotse (8516m, 4th highest, Nepal China border), Makalu (8462m, 5th highest, Nepal China border), Cho Oyu (8201, 6th highest, Nepal China border), Dhaulagiri (8167m, 7th highest, Nepal), Manaslu (8156m, 8th highest, Nepal), Annapurna (8091m,10th highest, Nepal)
Major Rivers In South Asia: Brahmaputra River, Ganges River, Indus River
Cultural Influence: China, India, Bhutan
Neighboring Attractions In Tibet: Potala Palace, Jokhang Monastery, Barkhor Street, Everest Base Camp, Ganden Monastery, Namtso Lake, Sera Monastery, Mount Kailash, Lake Manasarovar, Samye Monastery, Yamdrok Lake,Tashihunpo Monastery, etc. See more at Tibet Tourist Attractions
Neighboring Attractions In India: Taj Mahal, Amber Palace, Ganga River, Hawa Mahal, Meherangarh Fort, Red Fort, Gandhi Smriti, Gateway of India, Elephant Island, Agra Fort, Golden Temple, etc. See more at Map of Nepal and India
Recommended Tibet Nepal Tours:
How to get Tibet Visa from Nepal
How to travel from Kathmandu to Lhasa
Map of Nepal Location in Asia and the World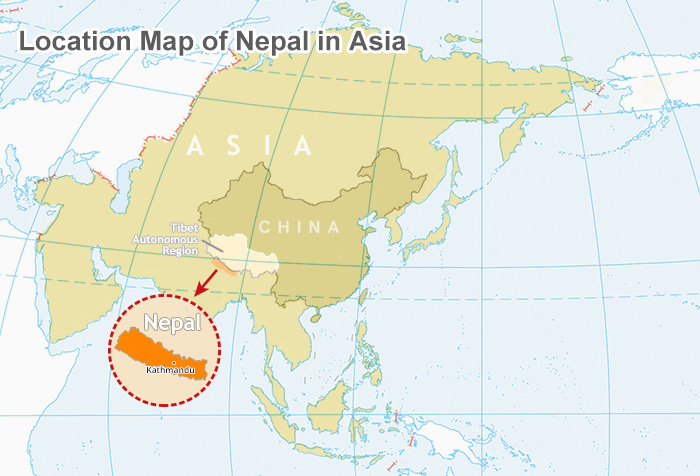 (Simple click to enlarge the map)
Map of Nepal Location in Asia
Is Nepal located in Tibet China? The answer is definitely No. In fact, Nepal is an independent landlocked country in South Asia, which lies between Tibet China and India. Tracing back to the ancient history, Nepal has been a great hub for Asian civilization. Every year, millions of Hindu pilgrims and Buddhist monks from every corner of Asia, especially in India and Tibet, would make their pilgrimage to Nepal.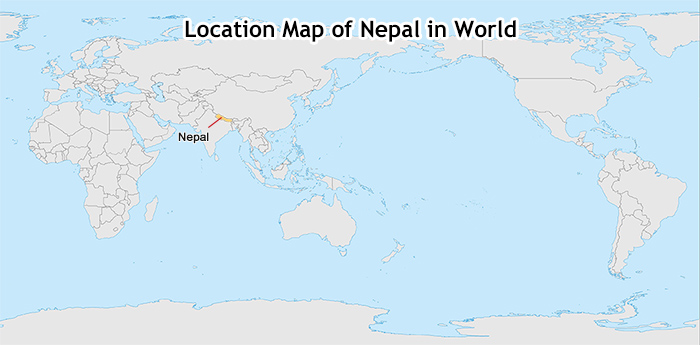 (Simple click to enlarge the map)
Map of Nepal Location in World
Sharing its border with China and India, Nepal sits between latitudes 26 °and 31° N, and longitudes 80° and 89° E. The altitude in Nepal descends from the northern lofty mountains (above 4000m) to the central hill region (1000-4000m above sea level) and the southern lowlands (below 1000m). Even if you are not a professional mountaineer, you still have various trekking trails to choose from. No wonder that swarms of global experts, scholars, mountain climbers, explorers and visitors are fascinated by this mysterious country.