Luxury Travel to Bhutan and Nepal: how to plan a luxury trip to Bhutan and Nepal?
While Bhutan is well known as a luxury destination, with its Minimum Daily Package being so high, Nepal is not as well known as such, considered to be more of a backpacker location. However, Nepal does have the same kind of luxurious hotels and attractions as Bhutan, and if you are looking for that all-important luxury holiday in the Himalayas, then you could do no better than choosing Nepal and Bhutan together as the ideal destinations.
How to plan a luxury Nepal and Bhutan tour?
Planning your luxurious tour of the Himalayas can appear to be complex, finding the best hotels and tours, as well as getting the best in professional consultants to advise you on the perfect locations, accommodations, and attractions to visit. Here at Tibet Vista, we specialize in making sure all our clients get the best service possible, ensuring that your luxury trip is as perfect as it is possible to get.
Most recommended super 5-star hotels in Nepal and Bhutan
Nepal may be the center of adventurous holidays in Asia, with trekking tours, canoeing, abseiling, etc, but that does not mean that you have to let go of the luxury that you are used to and rough it all the time. Nepal has a wealth of 5-star hotels that can make your adventures in Nepal the most luxurious.
One of the most unique places to stay in Kathmandu is the Dwarikas Hotel, a five-star luxury hotel that has been converted from a traditional Nepali building. The hotel features traditional wood carvings and terracotta statues that give it the feel of an ancient Nepali palace. Its 74 luxury suites are all set around the stunning courtyard, complete with its own pool, for the most serene experience.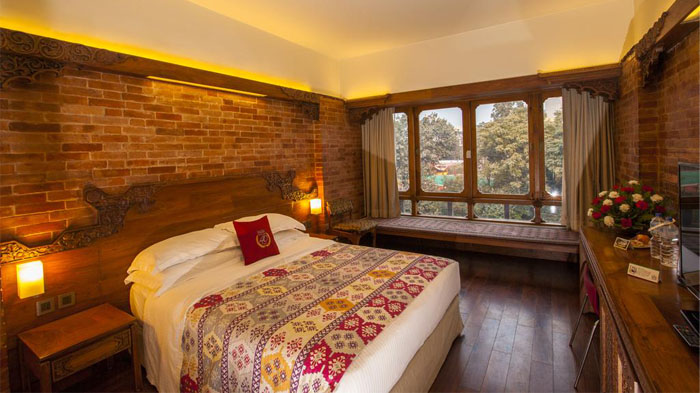 The interior view of the heritage deluxe room in Yak & Yeti Hotel.
Despite the unusual name, the Yak & Yeti Hotel is the height of luxury in Kathmandu, and the architecture is reminiscent of an ancient royal palace. Set in exquisitely landscaped gardens that feature stunning fountains, the hotel boasts a full-sized pool, two tennis courts, and its own casino, restaurants, and bars. All of the luxury rooms are decorated in stylish designs taken from the Royal Palace in Kathmandu's Durbar Square, and the hotel also includes a conference center, five-star beauty salon, and fitness center with complimentary professional fitness trainers.
One of the most elegant resorts in Nepal is the Tiger Mountain Lodge in Pokhara, which lies on a hilltop more than 300 meters above the Pokhara Valley. With stunning views of Machhapuchhre, Annapurna, Manaslu, and Dhaulagiri, this unique resort is the pinnacle of accommodation in Pokhara. Each room is a specially designed bungalow set in its own small grounds around the hilltop, each of which is built using traditional hand-cut stone and furnished with luxurious features, including king and queen sized beds. All bungalows have stone flag floors and overlook the nearby mountains, while the beautiful pool is set on the top of the hill, with the most spectacular views.
Bhutan is renowned for its expensive ours, but while they may be costly, most tours only use three-star accommodation. However, a little upgrade to your tour, and you can stay in the lap of luxury in some of Bhutan's best five-star hotels, with all the excellent service that you would expect from the same type of hotel in London or New York.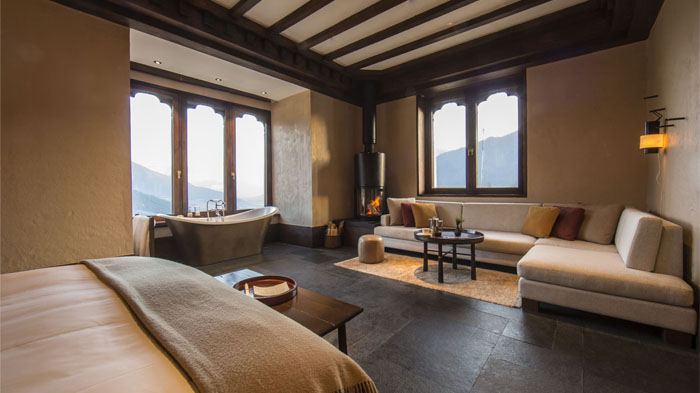 You can enjoy the stunning landscape of Gangteng Valley from the luxury suite of Gangtey Lodge.
Located in the Gangteng Valley in Wangdue Phodrang, the luxurious "farmhouse" that is Gangtey Lodge is one of the most sumptuous hotels in Bhutan. Designed to blend the luxurious feel of a quality hotel with the traditional homesome feeling of a typical Bhutanese lodge, this unique hotel features just 12 super-luxury rooms, each with free-standing bathtubs, quaint wood-burning fireplaces, and the most breathtaking views of the monastery in the Gangteng Valley below.
Previously the renowned palace of the Penlope of Paro, the Gangtey Palace Hotel is the most spectacular building in the city. With stunning views out over the ancient Paro Dzong, this 100-year-old building was converted to be the most luxurious hotel in Paro, with luxury hand-made furniture and antique luxury beds in all rooms. The hotel features just fourteen luxury rooms and five luxury suites, and has a unique historic charm about it that makes it a delightful place to stay.
The only hotel chain in Bhutan, the Amankora chain, of which the flagship hotel is in the Bhutanese capital of Thimphu, is the ultimate in Bhutanese Lodge luxury. Each of the five luxurious lodges - located in Thimphu, Paro, Punakha, Gangteng, and Bumthang - is a uniquely-designed building with all the luxuries one expects from five-star hotels around the world. The lodges all feature open-plan suites, wood-paneled interiors, exquisitely landscaped gardens, and serene mountain and valley views, set in the most tranquil locations in Bhutan.
Private tour guide and vehicle all along the way
One of the best aspects of touring in Bhutan is the unique tourism policy that requires all tourists to have a private guide, driver, and vehicle at all times. When it comes to luxury vacations, having someone to show you the best attractions and features of the location you are staying in is a must, as is having a private vehicle and driver to take you wherever you want to go. The standard service in Bhutan is one of luxury travel, and your English-speaking professional guide and professional driver will be happy to see to your needs as they transport you around the kingdom in luxury.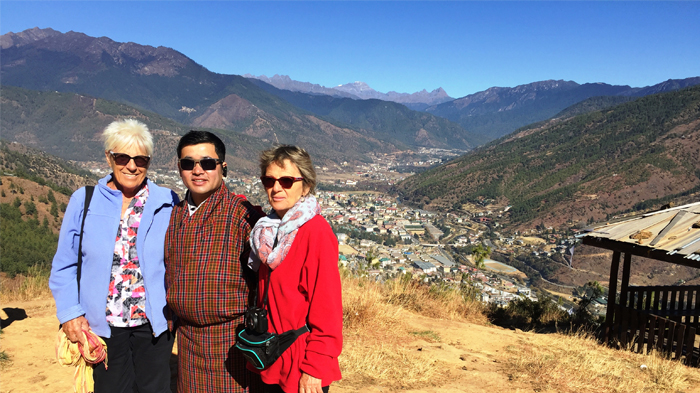 Our local tour guide will show you the best attractions in Bhutan and Nepal.
In Nepal, most trekkers take a guide with them these days, while tourists to the cities and attractions rarely use guides. However, that does not mean there are no guide around. If you require a guide, private car, and driver, it is easy to arrange it through our tour services, and we can guarantee that your guide and driver are English-speaking and professional, with the use of a clean and comfortable vehicle for the entire trip in Nepal. And with some rather long distances between some of the more popular locations in Nepal, having this service available makes it a much more comfortable ride than using a bus.
One-to-one professional travel consultant to be at your service at 7/24
As with all our luxury tours, a tour in Nepal and Bhutan means that you will have 24/7 access to your own personal travel consultant, who will be on hand to answer any queries that you may have about your tour and itinerary that your guide cannot handle for you. Your guide will have a cellphone with access to your personal consultant at all times, and you will also be given their cellphone number to be able to contact them when you are not with your guide. Our professional personal tour advisors can answer any queries you may have, and are able to make changes to your tour itinerary with ease, so that you can get the luxurious vacation that you deserve.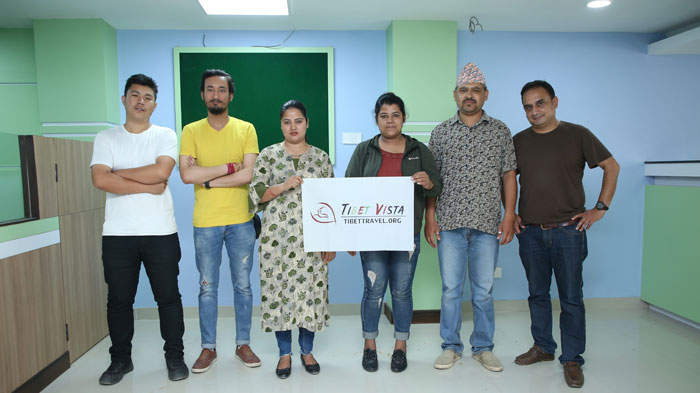 Our seasoned travel consultants will be always here for your help.
Taste the most unique food all along the way
Nepal and Bhutan are well known for their exotic foods, and on any luxury tour of these two Himalayan countries, you will be able to taste and experience the most luxurious and exotic foods of the regions. Nepali cuisine is very reminiscent of Indian cuisine, without most of the spices, but with plenty of spiciness to it. The unique foods of Nepal are based in the culture and climate of the country, and can be as diverse as their ethnic people, with regional differences in the cuisine depending on where in Nepal you are. While Dal Bhat is a lentil soup that is eaten all over the country, this delicious meal has become the national dish of Nepal, and comes with rice, vegetable curry, and a variety of spicy condiments, such as pickles, kaffir limes, and chili pastes. Even the tasty yet simple momos (steamed dumplings) are an exotic dish in Nepal, heavily influenced by Indian cooking styles and filled with a wide variety of meats and vegetables in all kinds of combinations.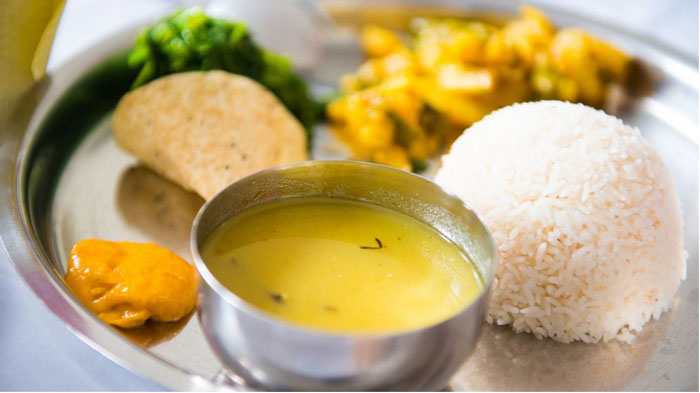 Don't forget to miss the delicious Dal Bhat in you Nepal Bhutan luxury trip.
Bhutanese cuisine is probably the least well-known style of cooking in the world, as the kingdom was isolated in the Himalayas for centuries until recently. The most unique and exotic part of Bhutanese cuisine is the use of red rice, a form of medium-grain rice found only in Bhutan, with a nutty taste. Bhutan has a varied cuisine depending on the regions of the country you are in, though most are variations on a single theme, which have been changed to suit the ingredients of the districts. Most dishes include meats of some kind, including yak, chicken, pork, pork fats, dried beef, and lamb, and almost all dishes feature the hot red chilies that are found all over the kingdom. One of the spiciest foods in the Himalayas, Bhutanese cuisine is a luxurious norm in this high-altitude kingdom.
Find the best local travel agency
In order to make sure that your trip to Nepal and Bhutan is the best possible luxury tour of these two Himalayan countries, it is important to ensure that you find the best travel agent or tour operator possible. With more than two decades of experience in travel and tourism in Nepal, China, Tibet, Bhutan and India, as well as many years of experience in several other south and Southeast Asian countries, We at Tibet Vista can offer you the best in luxurious travel to Nepal and Bhutan. We can offer you the best choice of hotels in both destinations, and provide the best services, without the use of a third party tour operator in each country. All of our tours in Nepal and Bhutan are handled directly by us, with our own permanent staff handling your everyday needs, advising on trip details, and with our own guides and drivers in both countries.
Conclusion
Planning that luxurious tour of Bhutan and Nepal together is not as hard as you might think, and with us at your back, guiding you on where you can travel and making sure all of your requirements are met, you can be guaranteed that your tour of Bhutan and Nepal with us will be the best tour you can find. We can manage all of your requirements, both prior to and during the tours, and we offer a personal service for your perfect trip.