Travel to Tibet from Kunming
Why travel from Kunming to Lhasa?
Kunming, celebrated as "City of Eternal Spring", is well known for its diverse cultures, breath-taking natural scenery and pleasant climate. Weather and climate here is really mild with blooming flowers and lush vegetation all year around. With a history of more than 2,400 years, Kunming was the gateway to the famous Southern Silk Road or Tea and Horse Caravan Road that facilitated trade with Tibet, Sichuan, Burma and India.
Besides, as the capital of Yunnan province, Kunming is home to 25 ethnic minorities, which is also endowed with a remarkable traditional folk culture.
How to travel from Kunming to Tibet?
Option 1. Kunming to Lhasa by Plane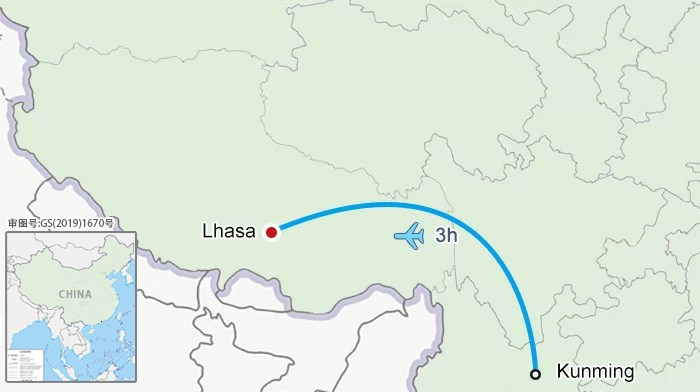 Some Kunming to Lhasa flights would stop over at Lijiang or Deqen.
If you want to save your time, travel from Yunnan to Tibet by air. You have two possibilities of flights to Tibet from Kunming or Shangri-la. Six direct flights from Kunming to Lhasa are operated by Sichuan Airlines, China Eastern Airlines, Tibet Airlines, and Air China. Shangri-la to Lhasa flight (Deqen to Lhasa flight) is seasonal from late April to late October, operated by China Eastern Airlines. It takes 2 or 3 hours to get to Tibet from Yunnan by flight . This airline is very busy and you should book in advance for there is no train to Tibet from Yunan.
For detailed flight schedule from Kunming or Shangri-la to Lhasa
Option 2. Kunming to Lhasa by Train
At present, there is no train from Yunnan to Tibet. You usually have to go from Kunming to Chengdu by flight or train and then take Chengdu to Lhasa train to Tibet. You may also try the Yunnan-Tibet Highway if you want to start your journey from Kunming. Scenery on that way is superb.
See more at Chengdu to Lhasa Train Schedule and Fare
Option 3. Kunming to Lhasa Overland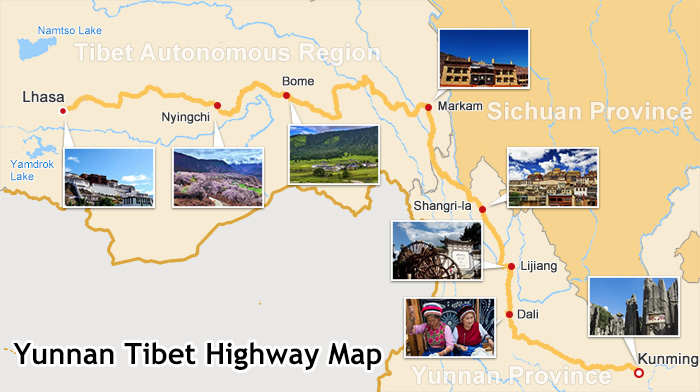 Yunnan-Tibet Highway is one of the wonderful ways to approach Tibet.
The overland tour from Yunnan to Tibet along the Yunnan-Tibet Highway is one of the most spectacular on the earth. Yunnan-Tibet Highway is one of the wonderful ways to approach Tibet. From its beginnings in Yunnan Province we follow the historic Tea Trading Route from the quaint cobble stoned alleys of Dali to the undiscovered town of ancient Shaxi. From here we take time out to view one of the deepest gorges in the world -Tiger Leaping George - before relaxing back in the UNESCO town of Lijiang with its back drop of the Jade Dragon Snow mountain. We experience our first taste of Tibetan hospitality and culture as we venture north to Zhongdian and Deqin. Traveling overland we embark on a rugged journey to discover remote monasteries, sacred mountain peaks, hot springs and glaciers through exhilarating scenery that would inspire the most seasoned travellers. Our final destination is Lhasa, the spiritual centre of Tibetan culture. This is not just a journey, but also an extraordinary life experience. However, driving from Kunming to Lhasa cannot be done in winter due to road conditions.
Before you get to Lhasa, do plan at least one day tour in Kunming.
Facts About Kunming
1. Kunming is the capital, political, economic and cultural center of Yunnan province in South China.
2. Kunming is best known as "City of Eternal Spring", with pleasant climate and fresh flowers blooming throughout the year.
3. Kunming was the gateway to the famous Southern Silk Road or Tea and Horse Caravan Road.
4. Kunming is the gateway of China to the Southeast Asian countries.
5. "Kunming" was the sound of the title of an ethnic group residing in southwest China in ancient times.
What to See in Kunming?
Dian Lake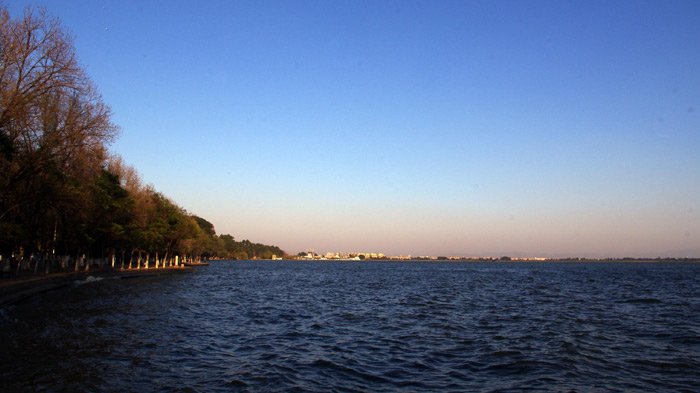 Dian Lake (Dianchi in Chinese), is located in the southwest part of Kunming City.
Dian Lake is the eighth largest lake in China, the largest lake and largest freshwater lake in Yunnan Province and the sixth largest freshwater lake in China, with 370 square kilometers in area, about 39 kilometers (24 miles) in length, 13 kilometers (8 miles) in width at its widest, 44 meters in depth, and 1,885 meters in elevation. This lake was formed by the subsidence of a fault zone.
Reputated as 'A Pearl on the Yunnan-Guizhou Plateau', this highland lake is surrounded by hills and crisscrossed by streams. More than twenty rivers nurture the lake. Four surrounding hills contribute great to the intoxicating picturesque scenery of this lake. It is wonderful to boat in this lake while appreciating the beautiful view.
Stone Forest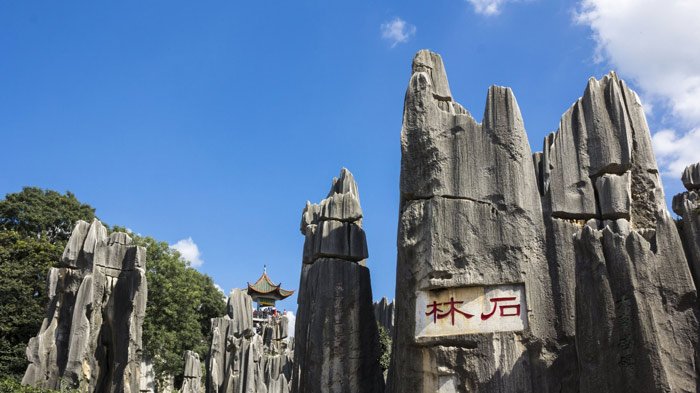 The Stone Forest is one of the natural wonders of the area and a typical Karst Landscape.
Known as the "First Wonder of the World", the Stone Forest is about 100 kilometers from Kunming. The Stone Forest is an art gallery created by nature. It was formed by karst two million to thirty mullion years ago, and a process of weathering and erosion.
Occupying an area of 2,670 square kilometers, the Stone Forest is divided into several scenic areas with names like Greater Stone Forest, Lesser Stone forest, Outer Stone Forest, Underground Stone Forest, Stone Forest Lake, and Da Dieshui Fall. From afar, it really looks like a dense forest but as you walk closer, you will find "trees" are all slender stone pinnacles. The Yi and Sani ethnic group who live there are good at singing and dancing. The Stone Forest is also easily accessible by highway and railway between Kunming and the Stone Forest.
Yunnan Ethnic Village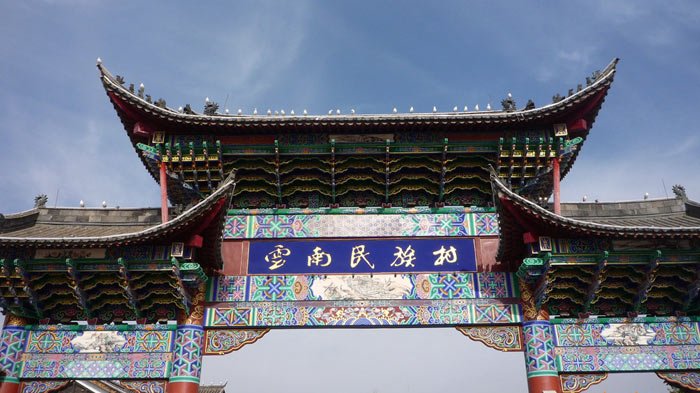 Each ethnic nationality has its own small village in Yunnan Ethnic Village.
The Ethnic Village is located at a narrow peninsula at the north shore of Dian Lake. In fact, it is a theme park displaying the colorful folklore and architecture of 25 ethnic groups residing in Yunnan Province, including the Yi, Dai, Miao, Jingpo, Wa, Hani, Naxi, Dulong and others. It acts as a good shortcut to understand the social customs of the ethnic groups in Yunnan. There are all kinds of shows and performances, folklore and wax museums, replica buildings to present the unique folkways, lifestyles, religious beliefs and beautiful clothes of different minorities. You can also have a taste of the local dishes and buy pretty handicrafts.
Golden Temple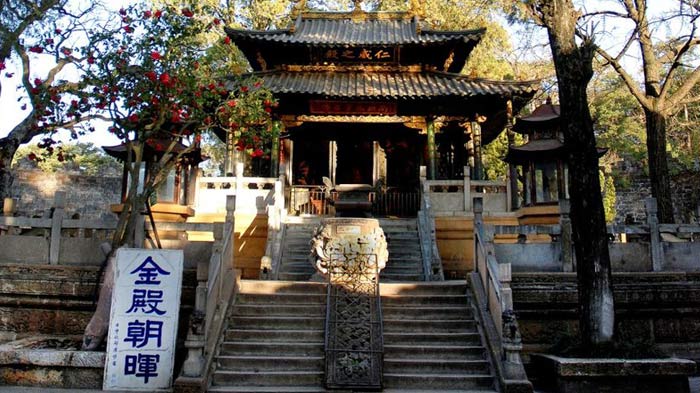 Golden Temple is a famous Taoism temple located on the charming Mingfeng Hill, about 11 kilometers northeast of Kunming.
The entire temple was built from bronze. All of the beam columns, doors, windows, roof tiles, Taoist statues, wall decorations, the banner near the gate and couplets, and so on, are made of bronze, which makes it glitter like gold in the shining sun. This is why it is called Golden Temple.
The Golden Temple was built in times of the Ming Dynasty. Its park is a national forest reserve with a natural scenery mingled with sites of historical interest and man-made gardens, it is also a large scenic resort in Kunming. The Golden Temple is 6.7 meters in height and 7.8 meters in width. The whole temple weighs more than 280 tons, making it not only one of the four largest bronze temples in China, but also the heaviest and best preserved.
Black Dragon Pool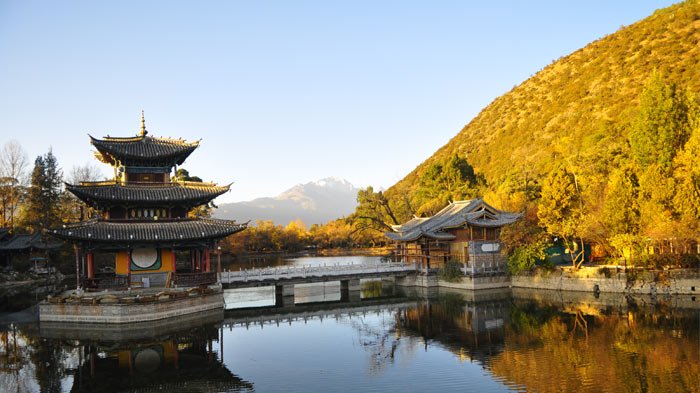 Located at the foot of Longquan Hill, Black Dragon Pool is also known as the Dragon Fountain Temple, or Heilongtan in Chinese.
The black Dragon Pool is situated 12 kilometers northeast of Kunming city, . It was named after a legend stating that in ancient times there was a black dragon living in this pool. It first became a popular tourist attraction over 700 years ago during the Ming Dynasty. The area contains many attractions alongside the main tourist draw, the Black Dragon Pool itself.
Two important building complexes in the Black Dragon Pool are the Longquan Temple (Dragon Spring Temple) and Black Dragon Palace. In front of the two temples, visitors will find huge ancient trees, including plum, cypress, and camellia tree. The plum tree was planted over 1,200 years ago during the Tang Dynasty. The ancient trees add even more charm to this particular attraction.
Yuantong Temple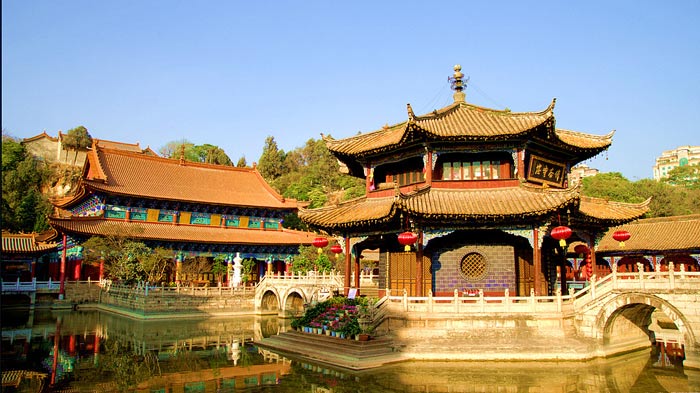 Yuantong Temple is located at the foot of Yuantong Hill in the northern Kunming.
Yuantong Temple is the grandest as well as the most important Buddhist temple under State special protection in Yunnan Province. The temple was built during the Tang Dynasty, with a history of over 1,200 years. During the Ming and Qing Dynasties, the temple was reconstructed and repaired several times to its present size and appearance.
Different from those Buddhist temples that are built on an ascendant, you enter Yuantong Temple from above and descend along a gently sloping garden path. The temple's great hall is at the lowest point of the temple. The view before you starting your peaceful walk beneath the gigantic cypress trees that line the garden path to the temple with its extensive array of flowers and foliage is deeply restful and impressive.
Recommended Day Tours in Kunming
1. One Day Kunming Tour of Golden Temple, Yuantong Temple and Yunnan Ethnic Village
In the morning, we will take a visit to the largest temple in Kunming, Yuantong Temple with a history of over 1,200 years, and then to visit the Golden Palace. In the afternoon, we will visit Yunnan Ethnic Village located near the famous Dian Lake. In the village, we can enjoy all kinds of shows, performances and delicious local food.
2. One Day Kunming City Tour of Western Hills, Dragon Gate, Yunnan Provincial Museum
In the morning, we will visit the Western Hills about 15km from Kunming city, where Taoist temples and Buddhism Temples could be found; then move on to the top of the Dragon Gate where we can enjoy very beautiful lake view of the Dianchi Lake. On the way down, visit the Huating Temple that has 500 sculptures of disciples of the Buddha. Drive back to the city and visit the Yunnan Provincial Museum which preserves many historical relics unearthed within the area of Kunming since 1950s.
3. One Day Kunming Tour of Stone Forest
In the morning, we will drive to Stone Forest, 120 km from Kunming City. It is composed of the Greater Stone Forest, the Lesser Stone Forest, the Outer Stone Forest, and the Stone Forest Lake. It is as if the countless stone shapes have sprung from the ground, assuming different shapes as if vying to surpass each other in grandeur and sublime beauty. In the later afternoon, we will drive back to the Kunming city.
We can arrange all kinds of one day tour in and around Kunming and above are only a few of them. Just feel free to send us e-mail for more Kunming to Lhasa tours.
The Hottest Yunnan Tibet Tour Routes