Tibet's nearest neighbor, Nepal is one of the closest gateway countries to enter Lhasa, either overland or by flight. It's also the only country with an international flight to Tibet. You can easily take flight from Kathmandu to Lhasa. After your Tibet tour is done, if you prefer, you can further travel to other cities, such as Chengdu, Beijing, Shanghai, and Guangzhou, etc. in mainland China and finally fly back to Nepal.
Tibet Travel Permit Application for Nepalese Tourists
Despite being Tibet's closest neighbor, Nepali citizens are still required to have the Tibet Travel Permit to enter the Tibet. Besides, a group tourist visa is also a must, esp. for Tibet entry from Nepal. For our clients, we offer free Tibet permit service. After you book our Tibet tour, do email your photocopies of your passport, visa, and a digital photo of yourself to your travel consultant for permit application,(at least 20 days before your departure) As to Group Tourist Visa, you can leave your passport in our office in Kathmandu and the visa process takes at least 3 days. So, do set aside enough time for it.
Most Popular Tibet Tour From Nepal
For Nepali tourists, traveling through the heights of the Tibetan plateau and on to China is a great opportunity to cover two places at once, and means you can experience the mystery of Tibet, with its ancient monasteries, sacred mountains, and shimmering lakes. Then, moving on to China, you can find out more about the ancient Chinese culture, and the beautiful countryside. Packages can be arranged to take you from Kathmandu, your home capital, through Tibet and on to mainland China to make the most out of your holiday.
How to Get to Tibet from Nepal? Multiple ways to travel from Kathmandu to Tibet.
Kathmandu to Tibet
By Kathmandu to Lhasa flight
There are several daily flights from Kathmandu's Tribhuvan International Airport, provided by Air China, Tibet Airlines, and Sichuan Airlines. The flight normally takes just 90 minutes, and has the added advantage of allowing you a bird's-eye view of the summit of Mount Everest as the plane flies over the Himalayas. An average economy ticket costs from around US$ 400.
By the Epic Overland Tour from Kathmandu to Lhasa
With your home country being one of the primary entry points into Tibet, taking the overland tour to Lhasa from Kathmandu is an ideal tour. Traveling by bus to the border crossing at Rasuwagadhi Fort, on the southern side of the Resuo Bridge spanning the stunning Trishuli River Gorge, takes around 7-8hours, with a stop for a meal on the way and one night spent close to Gyirong border, and costs just 2,500 rupees. Once through immigration on the Chinese side of the border, our guide will meet you at the immigration building waiting area, and will escort you to the car to take you to Gyirong Town for your first night. From there, your tour will start, traveling across the immensity of the Tibetan plateau to Lhasa, passing over high mountain passes, traveling across vast open prairies, and stopping to admire the stunning lakes and landscapes of Tibet. Once in Lhasa, you will get to experience the best of Tibetan culture and religion in the region's capital and cultural heart.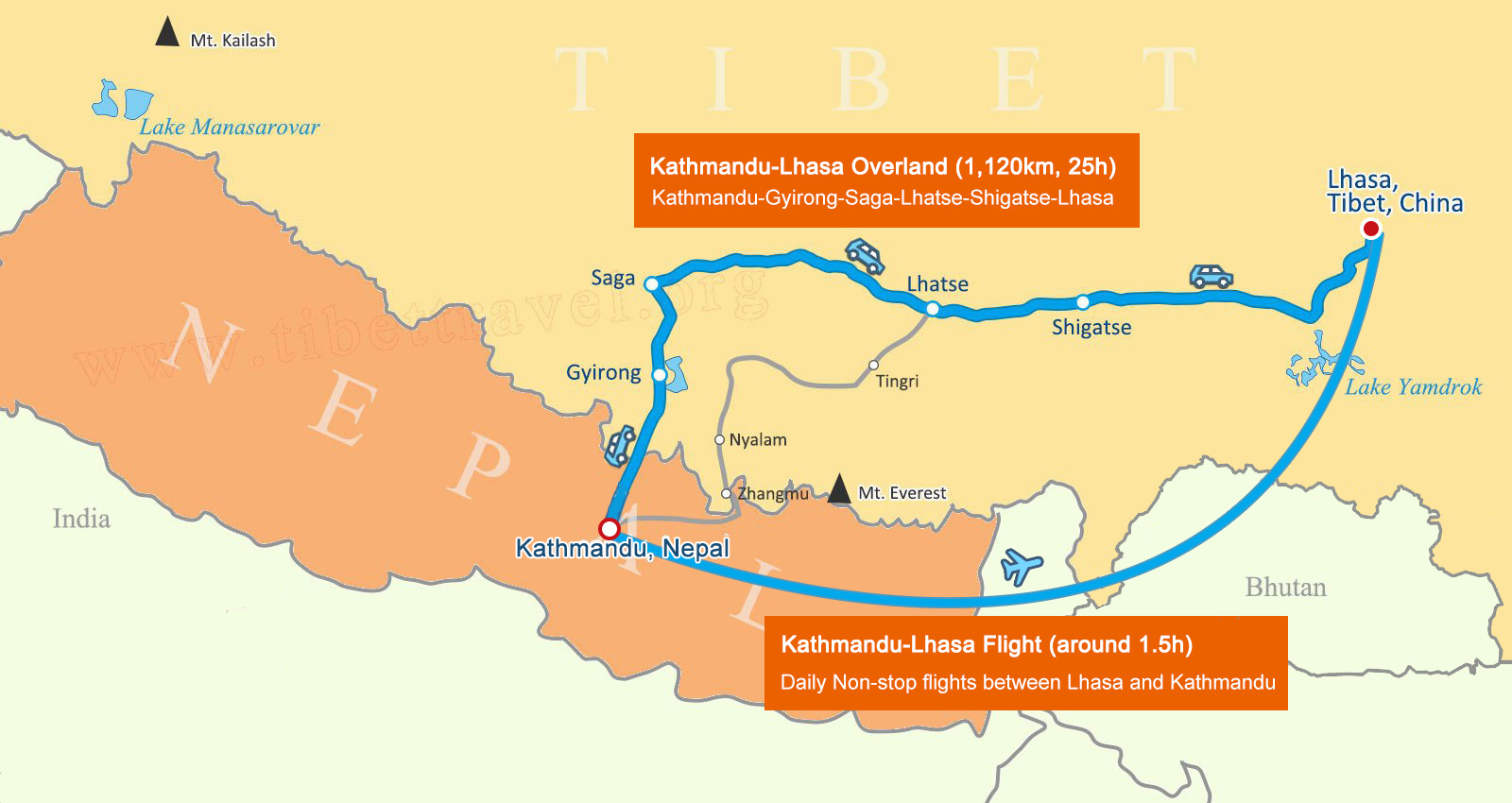 While Nepal may be a neighbor of Tibet, there are enough reasons for you to make a detour to first take flights to Chinese cities such as Chengdu, Guangzhou, Beijing, or Shanghai , etc. and later travel to Tibet. You will be able to enjoy some of the amazing sights in China before moving on to the plateau. From the seven gateway cities in China, trains run daily or every other day to the plateau, making your tour an even better adventure, or you can take the flights to Lhasa once you are complete with your tour of China's major cities and attractions.
By Flight to China
Flights to China from Nepal are frequent, and can be found for a very good price using the many comparison websites available to get the best deal. Direct flights are available to many of the Chinese airports, including Chengdu, and Guangzhou, while flights to Beijing and Shanghai are indirect flights with at least one stop in Chengdu, Guangzhou, or Xi'an. The average flight times are:
a. Kathmandu to Beijing: non-stop - 7 hours 50 minutes, one-stop – up to 29 hours 20 minutes (CAN, KMG, CTU)
b. Kathmandu to Shanghai: non-stop - 7 hours 55 minutes, one-stop – up to 31 hours 20 minutes (KUL, KMG, CTU)
c. Kathmandu to Guangzhou: non-stop - 4 hours 15 minutes, one-stop – up to 26 hours 10 minutes (KUL, DAC, KMG)
d. Kathmandu to Chengdu: non-stop - 2 hours 50 minutes, one-stop – up to 19 hours 35 minutes (CAN, LXA, KMG)
e. Kathmandu to Hong Kong: non-stop - 4 hours 30 minutes, one-stop – up to 18 hours 20 minutes (KUL, DEL, BOM)
After Your Arrival in China
If you prefer to visit mainland cities first from Nepal and later travel to Tibet, we can help you get Tibet Permit. When you arrive in China, you will receive your Tibet Travel Permit at your hotel ready for you to take your trip to Tibet. You have an opportunity to spend some time in China at your preferred locations seeing the sights and exploring the wonders of this ancient civilization before heading off to Lhasa by train or flight. Your Tibet Travel Permit is required in order to book and board both flight and train.
From Beijing to Lhasa
By flight
There is currently only one direct flight per day to Lhasa from Beijing, although there are a larger number of indirect flights that stopover in Chengdu en route to Lhasa. The direct flight takes around 5 hours to get to Lhasa Gonggar International Airport, and costs from around US$ 500 for an economy ticket.
By train
The train from Beijing to Lhasa is the Z21, which leaves daily at around 8:00pm. The journey covers 3,757 kilometers across eight provinces in mainland China as well as Tibet, arriving in Lhasa around 40 hours later at 12:10pm on the third day. However, in the summer season, from May to September, it can be hard to get a ticket for the train from Beijing to Lhasa, due to the huge demand. One option to counter this would be to take a flight to Xining, in Qinghai Province, and then get the train from there, as there are more carriages on the Xining train and a better chance of being able to procure a ticket.
From Shanghai to Lhasa
By flight
Flights from Shanghai leave several times a day, although there is currently no direct flight to Lhasa. The flights stop at Xi'an, Chengdu, Chongqing, or Kunming, and take from around 8 hours to as much as 26 hours for the multiple-stop flights. The cheaper flights start from around US$ 455.
By train
The Z164 leaves Shanghai daily at 8:10pm, and takes around 47 hours to reach Lhasa, as distance of around 4,373 kilometers. The train arrives in Lhasa at around 7:15 in the evening of the third day, and the journey is the second longest of all the routes to Lhasa.
From Guangzhou to Lhasa
By flight
imilar to Shanghai, there are no direct flights to Lhasa from Guangzhou, although there are a number of indirect flights, with stopovers in Chongqing and Chengdu. The average flight takes from 5 hours 55 minutes to 10 hours 30 minutes, and costs from around US$ 455.
By train
Departing at 11:45am daily, the train from Guangzhou takes over 53 hours to get to Tibet, making it the longest of all the train journeys to Lhasa. For small children and the elderly, the long ride could be a challenge. Covering almost 5,000 kilometers, the train arrives in the Tibetan capital at around 5:05pm on the third day.
From Chengdu to Lhasa
By flight
From Chengdu, there are numerous direct flights to Lhasa, which take around 2 hours 15 minutes on average. With more than 15 flights a day from Chengdu, it is one of the best airports from which to fly to Tibet, and with the short travel time, it is one of the best options for those with time constraints. It is also relatively inexpensive, costing from around US$ 233 for an economy flight.
By train
The trains from Chengdu depart every other day at around 9:37pm, and arrive in Lhasa on the third day at around 9:55am. Covering a distance of 3,070 kilometers across mainland China and Tibet, the journey takes a little over 36 hours, and is one of the more popular gateway cities to travel to Tibet from. Scheduled departures from Chengdu are on odd days of the month (1st, 3rd, 5th, etc) in January, April, May, August, November, and December, and even days of the month for the rest of the year.
Quick Inquiry
We'll get back to you within 24 hours.
The trip is there waiting for you to travel! All you need to do is get in touch with us and tell us your requirements, and we will do most of the work for you, including booking your hotels, train tickets, etc., if you require it. All you need to think about then is enjoying your holiday at the Roof of the World.