Southern & Northern Route of Mt. Kailash
For most visitors to Tibet, the pilgrimage to Mount Kailash is one of most attractive experiences that they want to take. It is not only an awe-inspiring adventure to the holy Mt. Kailash, but also the best choiceto take in the best of Ngari Prefecture, the "roof of the roof of the world"and "the most Tibetan part of Tibet". Basically, there are two routes to Mt. Kailash, the southern route and northern route. Both start from Lhasa and feature different landscapes.
Southern Route of Mt. Kailash
The southern route offers the most essential part of Ngari Prefecture, and is the shortest way to take a return trip from Lhasa to Mount Kailash. With excellent road conditions, it is the most popular route among tourists. Attractions along the way reveal the most charming part of Tibet, including Yamdrok Lake, Everest Base Camp, Tashilhunpo Monastery etc.
Day 1: Lhasa-Lake Yamdrok-Karuola Glacier-Gyantse Kumbum-Shigatse (360km)
Starting from Lhasa, we will drive all the way to Shigatse. On the way, you will have a glimpse of Yamdrok Lake (4400m), which will come into view after climbing the 5030-meter-high pass. Surrounded by the snowcapped mountains, the scenery is spectacular and impressive. After passing the Korola Glacier, we will arrive in Gyantse, where you will visit the famous Pelkor Monastery and Gyantse Kumbum and enjoy the Far view of Gyantse Fortress.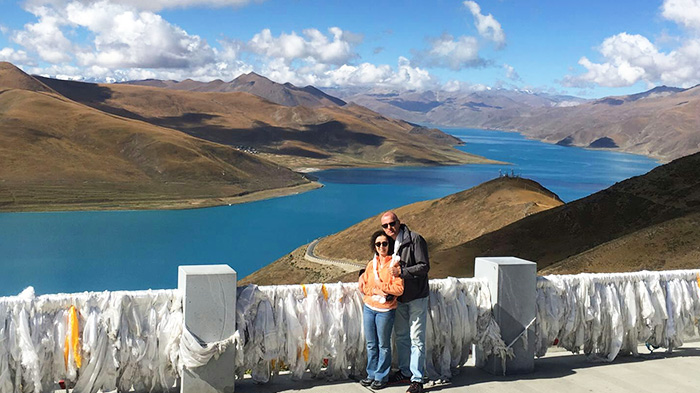 Lake Yamdrok
Day 2: Shigatse-Tashilhunpo Monastery-New Tingri-Rongbuk Monastery-Everest Base Camp (350km)
Before leaving Shigatse, we can pay a visit to home of the Panchan Lama -Tashilunpo Monastery. After that, we drive to Lhatse, Tingri, then drive along the new zigzag road to Everest Base Camp. At Everest Base Camp (5200m), you can get closer to gaze at the Mt. Everest peak.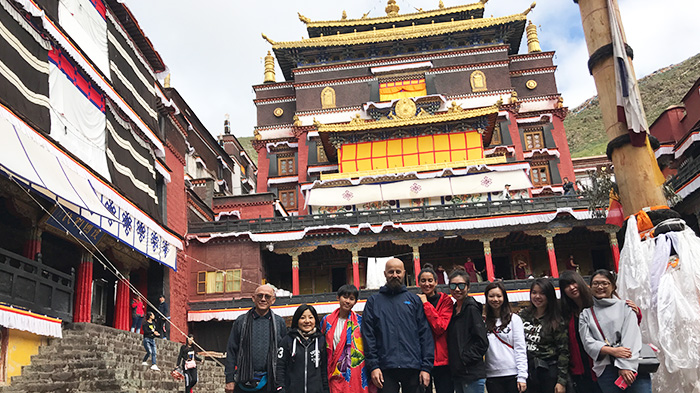 Tashilhunpo Monastery
Day 3: EBC-Old Tingri-Shishapangma-Saga (450 km)
On the third day, we will head to Saga from EBC. On the way, the road condition will worsen from old tingri and run parallel to the Himalayan ranges and Nepalian sides called Anapurna ranges. Passing by old Tingri, we will enter the Shishapangma. Here you need to pay CNY65 per person and CNY40 per car. Shishapangma is the only Tibetan snow mountain with the elevation of over 8000 meters completely located within the territory of China.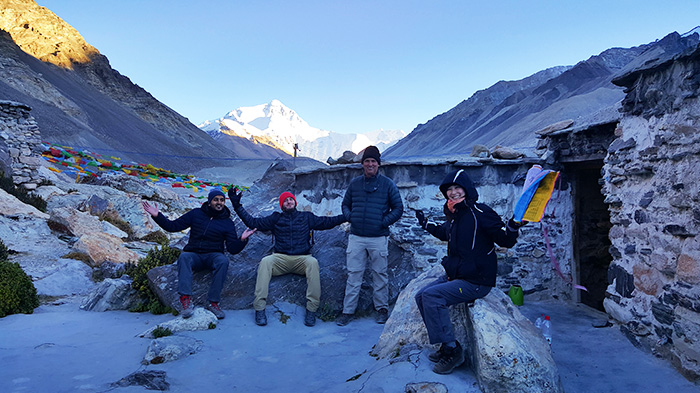 Everest Base Camp
Day 4: Saga-Zhongba-Payang-Darchen (450 km)
This is the last day to get to Mount Kailash. As we drive to our destination, we will cross the Saga Valley, Mayouma Pass (5112M) and enjoy thespectacular vista of Mt. Naimonanyi(7694M). Then we will pass by the holy Lake Manasarover and finally arrive at Darchen, the small town at the southern foot of Mt. Kailash.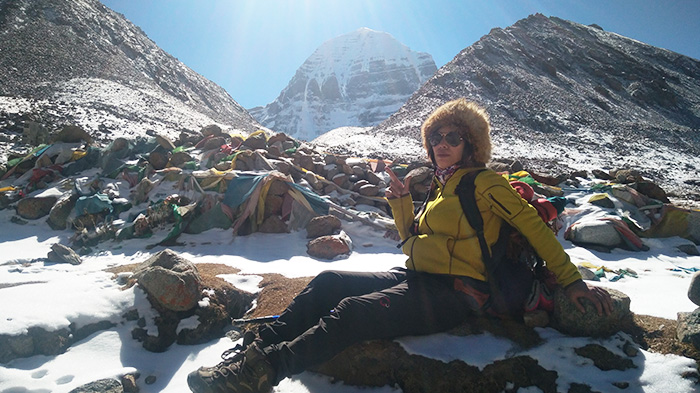 Mount Kailash
If have enough time, you can take the famous kora around Mount Kailash, following the footsteps of the devout Tibetan pilgrims. The kora usually takes 3 days to complete, requiring much persistence and courage, as well as good health.
Day 5-8: Darchen-Zhongba-Saga-Sangsang-Lhatse-Shigatse-Lhasa
We will drive back to Lhasa along the same way. It will take another 4 days to complete this return trip. Starting from Darchen, we will go through Zhongba to Saga on the first day. Then we will drive straight to Shigatse via Sangsang, a small high-altitude town of Shigatse. On the last day, after driving for 5 hours along a 360 pathway, we will finally arrive in Lhasa.
>> Join in the 15 Days Kailash Pilgrimage Small Group Tour
Northern Route of Mt. Kailash
Compared with the southern route to Mt. Kailash, the northern route is much longer in distance, with poor road condition, especially for the last half of the road. But it is still worthwhile to explore. With superb sceneries along the way, the northern route is accompanied with multiple plateau lakes on the last half part. There is also a chance for tourists to encounter with different wild animals, like Tibetan Antelope.
Day 1- 4: Lhasa-Gyantse-Shigatse-EBC-Saga-Payang-Darchen
On the first half part from Lhasa to Mt. Kailash, the northern route goes the same way of the southern one. It will take 4 days to get to Darchen. After that, we will turn to a totally different path back to Lhasa.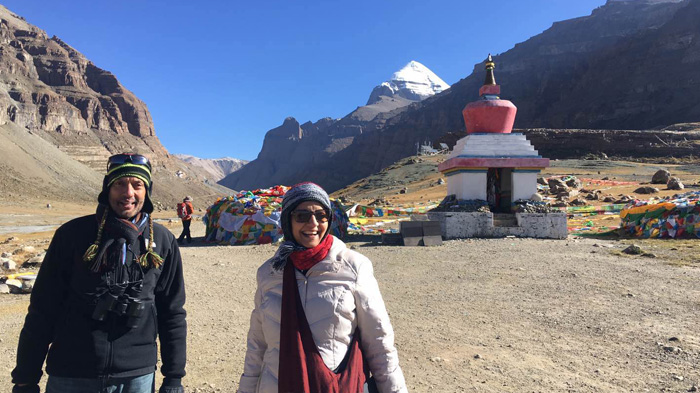 Way to Mount Kailash
Day 5: Darchen-Zanda(243km)
It will take about 8 hours driving from Darchen to Zanda. The road here is narrow and steep. Over a sharp turn, Zanda Toling will appear and extend to the Himalaya range. It is due to the influence of Richen Zangpo that Toling becomes the main religious centre of Guge Kingdom after inviting the great Indian master ATISHA.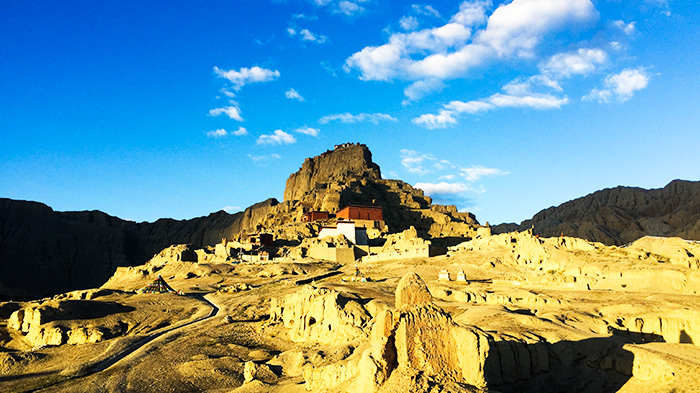 Guge Kingdom
Day 6: Zhada-Shiquanhe (200km)
On the way from Zhada to Shiquanhe Town, you will be able to see the stunning Clay Forest formed by crustal movement in Xiangquan River Canyon. After arriving at Shiquanhe, you can tour this town as it is the capital city of Ngari prefecture.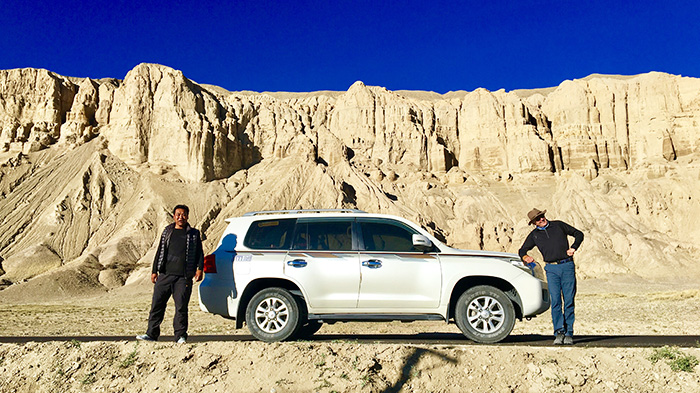 Zhada Clay Forest
Day 7: Shiquanhe-Gerze (200km)
Starting from Shiquanhe Town, we will pass Gégyé and travel all the way to Gerze. On the way, we will pass the Changthang grassland of Gégyé County, and we can see packs of wild Tibetan donkeys, Tibetan antelopes and other wildlife. Also, a great number of nameless lakes and mountain passes scatter on the both sides of the road.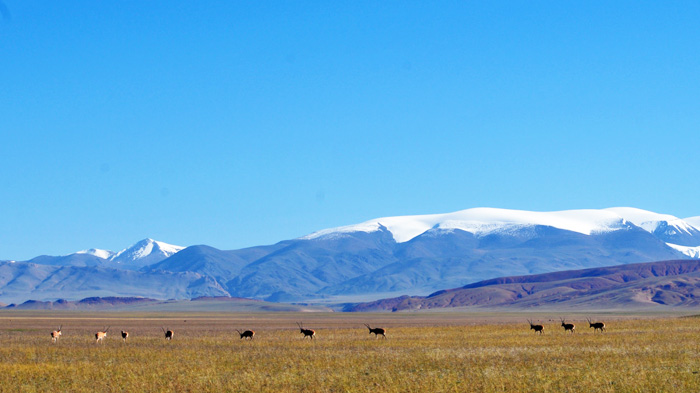 Changthang grassland
Day 8: Gerze-Coqen-Wanpo South Village
Today we will ride from Gerze to Wanpo South Village. After we pass Coqen County, you can see many colorful mountains, red, green, or yellow, largely due to the abundant mineral resources hidden inside these mountains.Then we drive to Zhari Namco Lake, the largest saline lake in Ngari region. After that, we will arrive at TangraYumco Lake, the holiest lake in Bon religion. And finally we will finish today's drive at Wanpo South Village.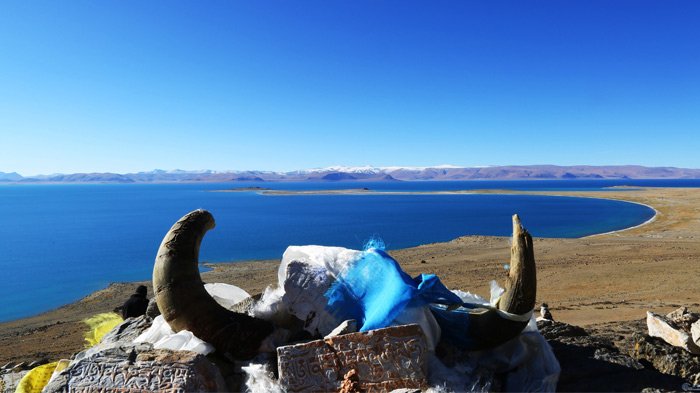 Zhari Namco Lake
Day 9: Wanpo South Village-Nima-Bangkog-Namtso Lake
In the morning, we will drive to Serling Tso, after passing Nima. As the second largest saline lake in northern Tibet, Serling Tso is believed to be a "Demon Lake" in Tibetan.Then in the afternoon, we will continue our journey to Namtso Lake, via Bagkog. It will take about 3 hours to arrive at Tashi Island of Namtso. Here, you can enjoy the stunning view of Namtso Lake, the biggest salt lake in Tibet.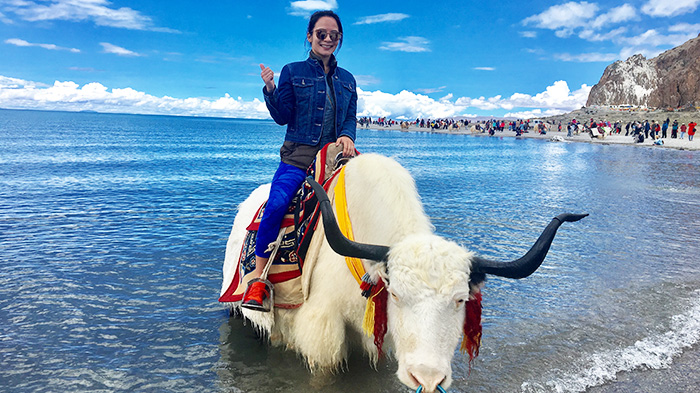 Namtso Lake
Day 10: Namtso Lake-Lhasa (220km)
After enjoying the stunning sunrise view of Namtso Lake, we will head back to Lhasa, the final destination. On the way, we will pass Yangpachen Hot Spring in Damxung Country.
>> Join in the 19 Days Big Loop Tour around Ngari Region
It would be decided by yourself to choose which route to take, according to your own schedule. Normally, to make better use of the time and energy, it is suggested to start on the southern route, circuit Ngari Prefecture and then finally follow the northern route back to Lhasa. By incorporating the two routes, tourists will not miss any of the essence in this area. While, no matter each route you will take, it will be a great opportunity for you to explore the real Tibet and enjoy a lifetime memorable Tibet tour.