What to Pack for Mount Kailash Tour and Trekking?
Though being one of the most spectacular and spiritual treks in the world, the Mount Kailash kora is also one of the hardest treks in Tibet and not for the faint-hearted. Covering 52 kilometers over rough terrain and a pass of more than 5,000 meters, this trek around the world's most sacred mountain is one of those defining bucket-list adventures that will leave its mark on your forever.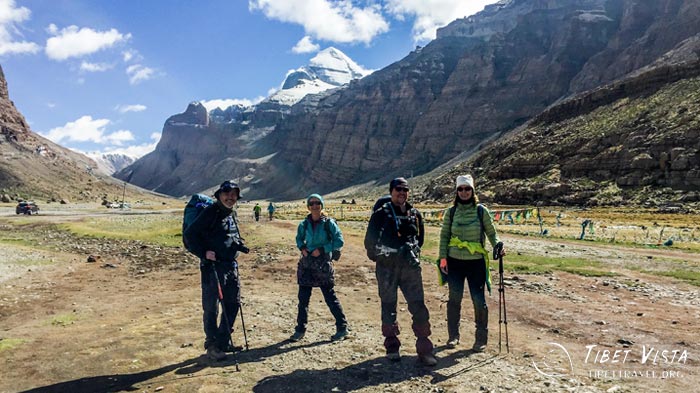 Trek across the Ser Shong Valley around Mt.Kailash
The trek takes three days to complete, and is normally done as part of a tour, including the stunning sights of Lhasa, Gyantse, Shigatse, and Mount Everest Base Camp. Set in the Gangdise Mountains in western Tibet's Ngari Prefecture, the weather in this area is changeable, and what can be sunny one day can change completely the next. And at these altitudes - exceeding 4,000 meters for almost the entire trek - it is important that you come well prepared for just about every eventuality. This is not some afternoon stroll in the woods, so you need to make sure you have the right gear for the job.
Travel Documents for Mountain Kailash Trek
Getting to Mount Kailash can be done as a tour from either Lhasa or Kathmandu, and to get there you need to have all the right documents. Being in the remote Ngari Prefecture, you will need more documents, permits, and passes than for any other part of the trip. The Chinese Entry Visa, for those traveling from China to Tibet, can be obtained from any Chinese Embassy, and must be done before you book your trip. If you are traveling from Nepal, then our agent in Kathmandu will process the Group Tourist Visa on your behalf once you arrive. Processing takes just three days, so you should plan to be in Kathmandu at least five days before your date of travel.
The Tibet Travel Permit is the first permit you will need, which requires you to be on a pre-booked tour to get one. Once you have booked your tour, we will make the application on your behalf using a scanned copy of your passport and visa. The application process takes around 15-20 days, so you should book your tour with enough time to process the documents.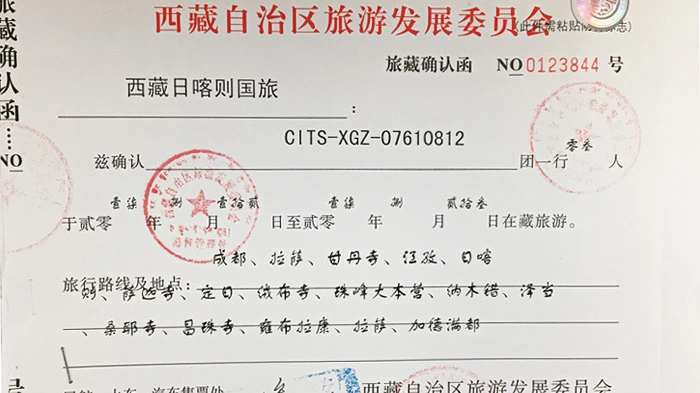 A Sample of Tibet Entry Permit
You will also need the Alien's Travel Permit and the Frontier Pass, just to get out of Lhasa and as far as Mount Everest. These are normally applied for using your original passport and Tibet Travel Permit once you reach Lhasa, from the local government offices. Your guide will make the applications on your behalf, and processing time is just a few hours. If you are traveling from Kathmandu to Mount Kailash, then these will be processed by us on your behalf before you reach Nepal.
The final permit you need is the Restricted Areas Permit, which allows you to travel to certain military restricted areas in Tibet. Without this, you will not be able to get to the Ngari Prefecture. This is also applied for by us once you have booked your tour, and takes around 15 days to process.
Clothing and Shoes for Mt. Kailash Trek
What you need to bring with you largely depends on the time of year you are traveling to Tibet. However, when you consider the remoteness of the mountain and the higher altitudes, then you should prepare for colder weather, even in the summer months. The first thing you should consider is a suitable backpack to carry all your gear. While yaks and horses are available for carrying your packs, they are expensive, and detract a little from the whole experience.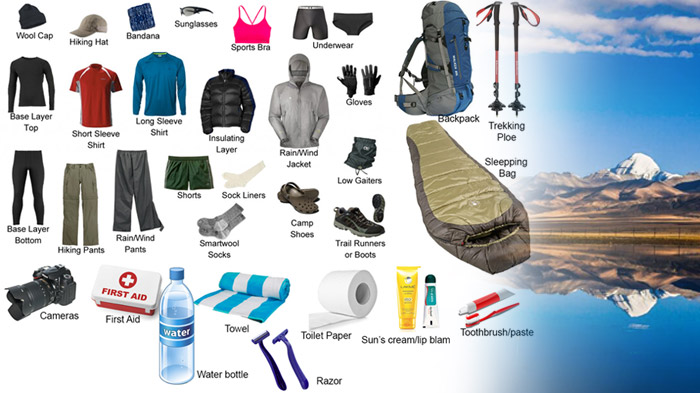 A sample of stuff to pack for Mt.Kailash trek
Clothing should be warm enough for the times when the weather is not so warm, and it is best to have several layers you can add or remove depending on how cold it is. Start with a thermal undershirt, then add thinner layers until you reach a comfortable temperature. You should consider having at least five layers available, as you will not be able to wash along the trail. On top of this you need to have a decent warm jacket, down or fleece is the best option to keep the warmth in.
Long underwear is the best option to wear under your pants, as they can help keep the cold off your legs, and consider thick socks over thin socks to keep your feet warm. Hiking pants are the best option, as they often have layers of fleece or quilt inside, though they can be expensive. Sturdy cotton pants, not jeans, are the best and cheaper option, and if they can be shower resistant then it is better. If not, then some light waterproofs would be an advantage, just in case it does rain.
For the feet, good strong hiking boots are necessary, as you will be traveling over some very rough terrain along the trail. If you need to buy new boots, then it is best to wear them in for a few weeks before coming to Tibet, so that they can mold to your feet and reduce the risk of blisters. Gloves are also needed, to keep your hands warm when it gets colder, as well as a hat and sunglasses for the bright sunlight. While a beanie will keep your head warm, a hat with a brim is better for keeping the harsh sun off your head, face, and neck.
Trekking Gears for Mt. Kailash trek
While some treks may not need any specialist equipment, the Kailash kora is a rough trek with some steep climbs, and one or two trekking poles can be very helpful to keep your balance on the uneven ground and help you in the climbs. There may also be a need to camp out along the trail, especially if the monasteries that have accommodation are already full.
In the peak periods for trekking Mount Kailash, as well as the major pilgrimage periods, the monastery guesthouses can fill up fast, but both monasteries where you will stay have their own camping grounds. You should also bring a small one-man tent, or two-man if you are a couple. Something easy to erect and take down is best, and there are many ideal kinds of tents available at professional hiking and camping stores.
Toiletries
Toiletries are an absolute necessity, as the chance of finding toilet paper in the guesthouses is slim to none. And you will need them if you need to go whilst out on the trail. Rather than toilet paper, wet wipes are much better, as you can clean up properly where there is no water available. While you will not have chance to take a shower along the hike, a wash cloth and some antibacterial soap should also be included, as should your dental hygiene kit.
For the ladies, if you have long hair, make sure you bring your brush and hair bands, as hair is easier to manage on a hike when tied up. Sanitary wash would also be an advantage, as well as a bottle of water you can use and a dry hand towel.
Medicine and First-aid Kit
While your guide will normally have some first aid equipment with him, it is a good idea to bring a simple first aid kit of your own. A basic kit should contain alcohol or hydrogen peroxide and antiseptic cream for cleaning small wounds, as well as plasters or band-aids to cover them. A crepe bandage, triangular bandage, safety pins, gauze, and tape should also be included. If there are any other, more serious injuries along the trail, you will need hospital treatment, so will be moved to the nearest hospital as soon as possible.
Extras to take for Mt.Kailah trek
On top of everything else, there are also a few essentials that you should bring with you to cover up from the harsh sun and to keep your energy up whilst trekking along the kora. At this high altitude, the rays of the sun can be more harmful than at sea level, so a good sun cream should be used. Factor 30 is adequate, as it has been proven that there is no higher protection by getting a higher factor cream. Sunglasses will help keep the sun out of your eyes, and you should find a pair that have UV protection as well.
The wind at these higher altitudes can also be harsh and cold, and can result in chapped lips and facial skin. Bring lip balm and a good moisturizer, if your sun cream is not already moisturizing. And for those bursts of extra energy along the trail, bring some high-energy snacks with you to munch on while you walk.
Chocolate, cookies, dried fruit and nuts, and oatmeal biscuits are ideal for this. Trail mix, a mixture of granola, dried fruit, and nuts is the best snack for trekking. Most of these contain nuts, legumes, chocolate chips, banana chips, crystalized ginger, and dried fruit such as cranberries, raisins, currants, apricots, apples, and orange peel.
We Help You Travel Light
For those of you that want to travel lighter on your trip to Tibet, but still need all the gear for the Kailash kora, we can help with some items that can take the strain off your flight weight allowance a little.
With just a minimal deposit of 50 yuan, we also offer a rental service for trekking poles, camping lanterns, and a portable charger. We can also provide rented tents and sleeping bags, to lighten your load when traveling to Tibet. We can also provide you with warm and cozy Tibetan aprons, hot water bags, comfy, warm neck scarves, neck pillows, ear plugs, cutlery sets for camping, and even an eye mask to help you sleep better.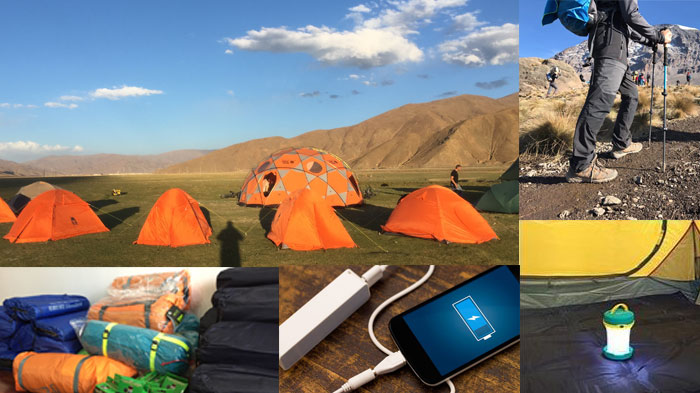 Some of the trekking gears available for our clients during Mt.Kailash trek
And for your warm, sweet, Tibetan tea, why not get one of our souvenir drinking bottles for your trip. As avid supporters of eco-friendly tourism, we have a line of custom-designed drinking bottles that can hold cold or hot liquids and will not burn your hands on the outside because of the thermal lining. Convenient to use and minimizing your impact on the environment, these are ideal for our trekking tours to Mount Kailash.