Mount Kailash Tour Cost: How Much to Cost for a Mt Kailash Trip?
Mount Kailash, far out in the west of Tibet, is one of the most popular tours in the region, as well as being the single most popular destination for both Buddhists and adventurers.
A trip to Mount Kailash, which usually includes Lake Manasarovar, is a 15-day tour that is not a cheap Tibet trip.
When budgeting, there are usually these factors to be considered: the cost of the hotels you will stay in, the season in which you will travel, the means of transport that will be used, taking a private tour or joining a small group tour, and other personal and incidental expenses.
We will help you with the total Mount Kailash costing in the article.
#1 Mount Kailash Tour Cost: the Necessary Travel Documents
The first expense you will have for the Mount Kailash trip is obtaining the necessary documents to enter China and Tibet.
So, aside from your passport, the Chinese Entry Visa is top priority, which you will need to get into China before traveling to Tibet.
The visa is obtained from the local Embassy of the People's Republic of China in your home or resident country or through the Chinese Visa Application Service Center (CVASC) in certain countries, and can be processed in around three days. The cost of the visa does vary depending on your home country, and the latest fees in local currencies are:
Country
Single Entry
Multiple Entry
Australia *
AUD 109.50
AUD 139.50
Canada *
CAD 142
CAD 142
France *
EUR 126
EUR 126
Germany *
EUR 125.45
EUR 125.45
Japan *
JPY 8,000
JPY 10,000
New Zealand
NZD 140
NZD 210
Singapore *
SGD 85
SGD 95
Spain *
EUR 126.55
EUR 126.55
United Kingdom *
GBP 151
GBP 151
United States of America
USD 140
USD 140
Countries marked with an asterisk (*) are required to apply for the Chinese Entry Visa via the local Chinese Visa Application Service Center (CVASC). Cost includes the CVASC fees.
For those traveling through Nepal, the visa fees are different; as the Chinese Group Visa is applied for once you reach Kathmandu by us, on your behalf. The current costs of the visa from Kathmandu for entry to Tibet are:
Nationality
Processing Time
Cost (US$)
American
3 Days
$202.00
Canadian
$132.00
Other Nationalities
$46-191
Besides, you will need several permits in order to enter and travel in Tibet. The Tibet Travel Permit (TTP) is the main permit, which is for free.
Other permits include the Alien's Travel Permit (approx 50 yuan), the Restricted Areas permit (100 yuan), Foreign Affairs Permit (100 yuan), and the Frontier Pass (100 yuan). These permits are arranged and obtained very easily by your tour guide whilst in Lhasa.
#2 Mount Kailash Tour Cost: Travel in Peak or Shoulder Season
The cost of the tour to Mount Kailash does depend also on the season in which you travel. The high season for travel to Mount Kailash is from late of June to early of October in general.
During the peak season costs are usually higher than at other times of the year. On average, a 15-day join-in small group tour to Mount Kailash in the peak season can cost as much as US$ 2,090 per person (all-inclusive).
From the beginning of April to late June, and late of October, it's the shoulder season of Mount Kailash trip. During this season, the cost is lower, normally US$1,880 per person for the same trip above.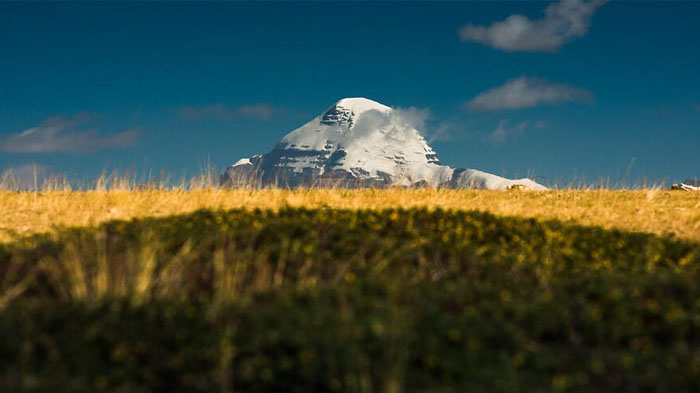 View of Mt.Kailash in summer
#3 Mount Kailash Tour Cost: Getting to Lhasa by Train or Flight
Getting to Tibet for the tour can be done by flight or train, and each has a different cost. Flights to Lhasa from mainland China cost around 250 dollars from Chengdu, 327 dollars from Guangzhou, and around 500 dollars from Beijing. Flights from Kathmandu to Lhasa are also available, and cost around 220 dollars per person.
For budget travelers, trains are more appropriate as they are normally less costly. The cheapest train to Tibet is around 74 dollars from Xining. Besides, trains from Beijing cost from 108 dollars, and Shanghai from 120 dollars per person.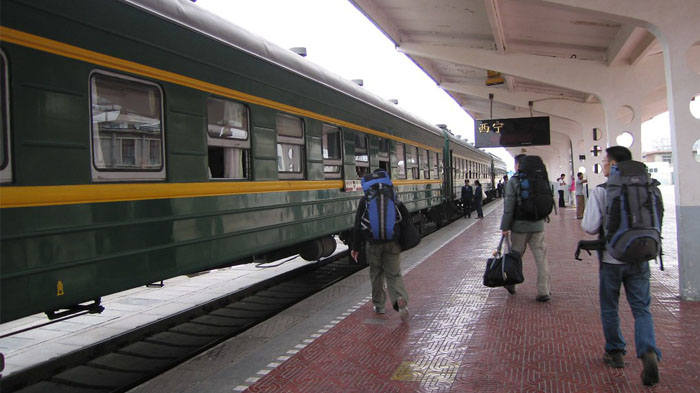 Board the Xining-Lhasa train to Tibet
#4 Mount Kailash Tour Cost: the Types of Accommodation and Dining
During your trip from Lhasa to Mount Kailash, you will stay in different type of hotels, and the cost vary greatly. In Lhasa, the hotels can cost from 148 dollars to 10-12 dollars per night. In Shigatse, the prices of hotels range from 70 dollars to 20 dollars.
In remote areas such as Saga, the hotels are more basic, and cost around 30-60 dollars per night. While this price can increase in peak season. Around Mount Kailash area, the hotels range from three stars to economy, and will cost from 42 dollars to 20 dollars per night.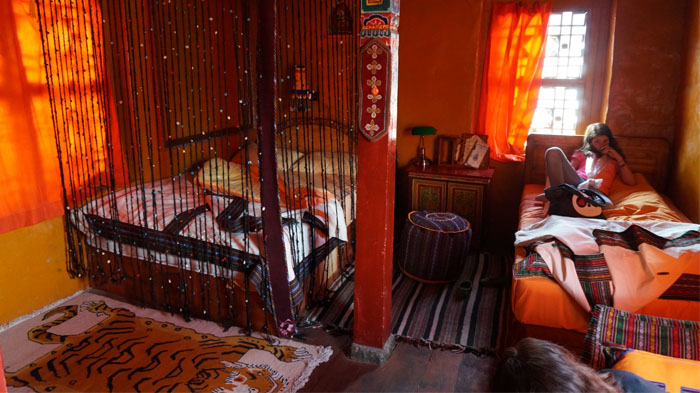 Traditional Tibetan-style hotel in Lhasa
For dining along the tour, you can get good meals of different cuisines in Lhasa and Shigatse, for around 10-15 dollars. Outside Shigatse and on the road to Kailash, you can mainly get Tibetan or Chinese food, and each meal can cost at least 5 dollar per person.
#5 Mount Kailash Tour Cost: Join in a Small Group Tour or Take a Private Trip
Travelling to Mount Kailash can be done on a private tour or small group tour. If you want to save money, then taking the Small Group Tour in Tibet is the best option. With our small group tours, you can share the cost on guide, driver, private vehicle etc., with other members of the group.
If you take private tour, you will need to pay for these expenses yourself. This will cost you an extra 1200 dollars at least.
#6 Mount Kailash Tour Cost: 3-Day Trek around Mt. Kailash
During your 3-day trek, the cost of guesthouse and certain meals are included. However, if you require a porter, or a yak and herdsman, or a horse and groom, then you will need to pay an additional fee for these, as they are not included in the tour package.
The prices of yaks, porters, and horses vary differently, and your guide will help to select the best or the cheapest according to your needs.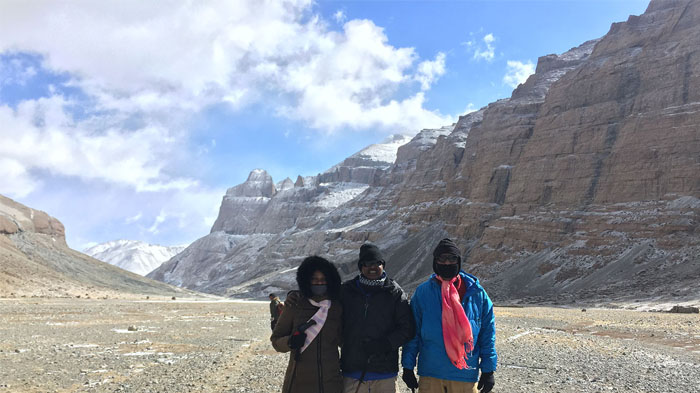 On Day 1 of the Mt.Kailash trek in Sarshung Valley
#7 Mount Kailash Tour Cost: Tips for the Tour Guide and Driver
While tipping is not a requirement, it does help the tour guide and driver with their income and your appreciation is gratefully received. The amount is up to you, based on your tour experience and how you feel about their services.
On average, tips for drivers range from 75-125 yuan per day, while tips for guides are around 100-500 yuan per day. If you travel on a small group tour, the tips will be shared by all group members.
#8 Mount Kailash Tour Cost: Other Personal Expenses (Souvenir, etc.)
The final expense would be your own personal spending, such as snacks you want to eat while travelling, alcohol in the evenings, souvenirs and gifts for your friends or families.
How much you spend on this is entirely up to you, but it is advisable to have the cash, as very few places will accept credit cards.
Conclusion
While a trip to Mount Kailash may appear to be expensive, it is really worth the cost, and there is no experience like it in the world. Booking your Mount Kailash tour with us, you will receive the most valued services from experienced local guide, drivers and vehicle, and more.
Video about How to Plan a Lifetime Mount Kailash Trip