Lhasa to Mount Kailash: Distance, Road Condition, Best Way to Go
When it comes to travelling from Lhasa to Mt. Kailash, two ways are mainly available: driving overland or taking a flight.
For the overland trip, there are two routes from Lhasa to Mt. Kailash: the southern and the northern ones. Each is featured by different distance, road conditions and on-the-way scenery, and thus is favored by different group of tourists. While for flight to Mt. Kailash, it can be an alternative for tourists with tight schedule.
Follow our ultimate guide to find out the distance, road condition and best way to go from Lhasa to Mt. Kailash, and get fully prepared before your departure to ensure a safe and sound journey.
Lhasa to Mount Kailash by Road: South Route, the Most Classic Way via EBC
The southern route is the most popular route to Kailash. Chosen by 95% of tourists, it leaves off from Lhasa and goes directly westwards to reach Everest Base Camp through Shigatse and Tingri, then turns to the northwest direction to reach Darchen, the starting point to do the Kailash kora.
Distance and Road Condition of South Route
The total distance of the south route is approximately 1600 kilometers. The road condition is good except for some sections in raining or winter season.
We divide the entire route into four stretches and for each section, it has its own features. Follow us to find out the distances and road conditions of this classic Lhasa to Kailash tour through Everest Base Camp.
1) Lhasa - Shigatse (270km; Perfect G318 Friendship Highway)
Leaving off Lhasa, we follow the G318 Friendship Highway and go straightly westwards with a completely worry-free road condition. The asphalt-covered road during this section ensures a splendid road condition with no bumpy road surface but smooth and unobstructed national highway.
G318 Friendship Highway, perfect road condition only with intermittent speed limits
However, speed traps are set up along the entire road, which directly results in a low-speed moving and costs approximately more than 5 hours to cover this section of the road.
2) Shigatse - Tingri - Everest Base Camp (363km; Good G318 Friendship Highway)
Leaving Shigatse, the road condition remains to be perfect since we continue to follow G318 Friendship Highway until we reach the Tingri County after 243 km's drive. This also means the majority part of the roads from Lhasa to Everest Base Camp is under an ideal condition.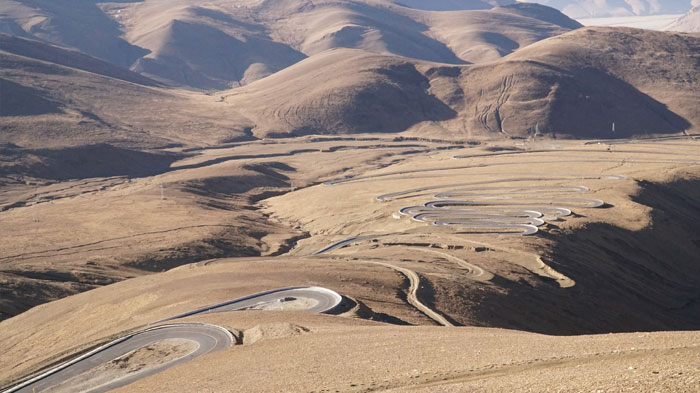 Asphalt winding mountain road from Tingri to Everest Base Camp
Roads have changed since we leave the Tingri county for Everest Base Camp. We take a southward drive to the Rongbuk Monastery located 8 km away from the north side of the Everest Base Camp. The road condition turns to be winding and the asphalt paved hillside road also makes your on-the-way journey comfortable and worry-free.
3) Everest Base Camp - Saga County (340km; Asphalt Covered Road)
After the once-in-a-lifetime stay at Everest Base Camp or in the Rongbuk Monastery, it's time to leave off the Everest Base Camp and head for Kailash by first heading to the county named Saga, which is widely accepted as the portal of the Ngari prefecture, for it has been serving as the transportation junction as well as the transfer station for foods and materials for quite a long time.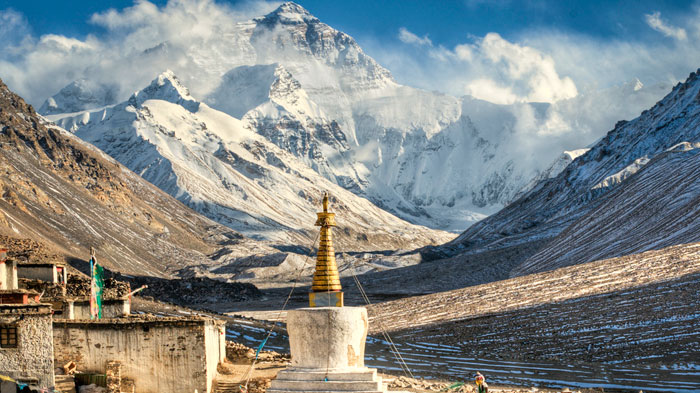 Rongbuk Monastery and Everest Base Camp
Fuel stations, retail stores and some other repair shops are doing their business here, providing indispensable goods and services for travelers and tourist buses heading westwards. So check everything and get fully prepared before going westwards.
Most of the road sections are paved by asphalt from Everest Base Camp to Saga County, so the road condition is never as bad as you might think.
4) Saga County - Mt. Kailash (638km; Perfect State Road 219)
Leaving Saga County, we begin to follow the State Road 219 and head northwest. The road is well paved with neither rough road section nor the bumpy road surface. In fact, the entire road condition is as perfect as we have previously imagined.
> Check the detailed itinerary of Lhasa to Mount Kailash tour via EBC.
Insider Tips:
If your travel schedule is tight, then you can choose to skip the EBC tour and go directly westwards to arrive at the Kailash by following the route as: Lhasa (3650m) - Gyantse (4040m) - Shigatse (3836m) - Lhatse (4012m) - Saga (4487m) - Lake Manasarovar (4588m) - Darchen (4600m) - Mt. Kailash (6638m).
The total distance of this route is 1400 km. It is also the shortest route to Kailash from Lhasa. However, this route we only recommend for tourists with a tight schedule, for it will definitely miss the popular and most classic Everest Base Camp part during the whole journey.
Highlights along South Route from Lhasa to Kailash
Besides the Everest Base Camp, there are many other breathtaking scenery out there for you to explore.
Starting off from Lhasa in the early morning, the turquoise winding Yamdrok Lake (4400m) unveils the beauty in all its splendor in front of your eyes after driving over the Gampala Pass (4790m). The solemn snow-capped Mount Nyenchen Khangsa (7191m) stands nearby the Lake, adding splendors to each other with everlasting harmony.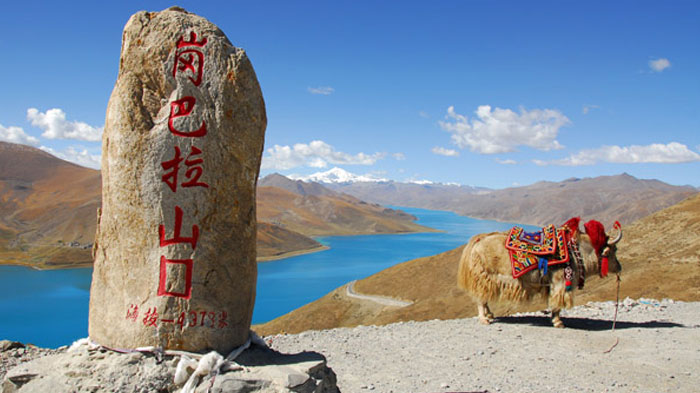 The Gampala Pass and the beautiful Yamdrok Lake are in sight
Photograph the Karola Glacier and sense the static flow of ice on the way to Gyantse, the historical Tibet's third largest city (After Lhasa and Shigatse). Pay a visit to the famous Pelkor Chode Monastery and Gyantse Kumbum and appreciate an inspiring panoramic view of the Gyantse Fortress.
Barley is widely grown in Shigatse areas, so grasp the chance to appreciate the barley mills and landscape of barley fields there in summer.
Shortly after crossing over the Tsola Pass (4600m) and Gyatsola Pass (5248m), you get a panorama of undulating and magnificent Himalaya Mountains at Gawula Pass (5198m), the world-class site to appreciate mountains along the Himalaya range.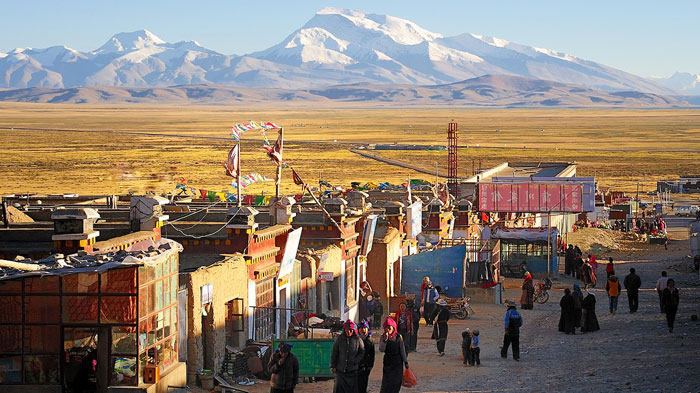 Village of Darchen at the foot of Mt. Kailash
Then we drive directly to the Everest Base Camp to have an intimate contact with the sacred Mt. Everest as well as the arrays of stars in the sky. After enjoying the sunrise of the Mountain, we are heading northwest for Saga County, then take a swerve and go directly westwards for Lake Manasarovar, and finally reach Darchen near Mt. Kailash.
Join in Our 15-day Lhasa to Mount Kailash Tour via EBC
As a leading Tibet travel agency based in Lhasa, we have arranged approximately 3,000 foreign tourists each year to enjoy the pleasant and lifetime Mount Kailash trip.
We organize 15 days small group tour to Mount Kailash along the southern route. The 15-day journey can be enough to cover most of the entire trip including the iconic landmark of Everest Base Camp. It is what we have carefully selected for you to ensure you have an impressive and unforgettable journey in Tibet.
Besides, we can also help to customize your Mount Kailash tour from Lhasa, according to your preference, if you want to skip the EBC tour or travel via the north route.
Join in our Mount Kailash tour to enjoy our quality services including professional local Tibetan guide and driver, comfortable tour vehicle, hotels and food arrangement, as well as necessary permit application etc.
Lhasa to Mount Kailash by Road: North Route, the Adventure Way via Namtso
The north road from Lhasa to Mount Kailash makes a large roundabout in the northern part of Tibet through Nagqu and Ngari Prefectures. Soil forests, snow mountains, plateau lakes, grassy marshlands, hills and Danxia landform spread all along the journey, making the on-the-way scenery the most unique and stunning than any other places in the entire Tibet.
Distance and Road Condition of North Route
The total distance of the route is about 1832 km. The road condition of the north route is apparently inferior to the south one. Most sections of the road from Lhasa to Kailash are the gravel-paved road with most distinctive features of the bumpy and rough road surface with pits. Only the four-wheel drive can deal with the situations possibly happen along the route.
Nevertheless, they are never like some really risky hillside roads on which driving with one negligence may possibly result in the major accident.
Here, we have divided the entire route into eight sections according to the road conditions as well as on-the-way scenery. Just follow us to see what we are going to explore along the journey.
1) Lhasa - Damxung - Namtso (250km; Perfect Asphalt-paved Road)
The asphalt paved road ensures an unimpeded traffic from Lhasa to Namtso Lake. And you will visit the second largest magnificent lake in Tibet and third largest saline lake in China.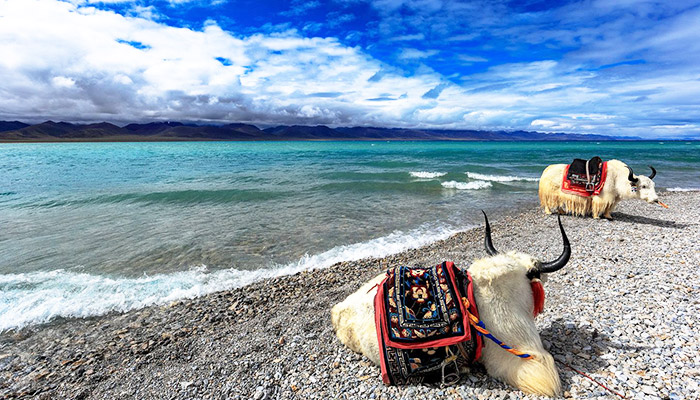 Yaks lying leisurely and enjoying the summer refreshment by the Namtso Lake
2) Namtso Lake - Baingoin (197km; Gravel Paved Road)
The road from Namtso Lake to Baingoin is under construction, making this section of road condition muddy in rainy days while sending clouds of dust and debris in the air during sunny days. So, the bumpy road requires more skilled driving technique. Yield your steering wheel to the more skillful driver if you are not confident about your driving skills.
3) Baingoin - Nyima (335km; Gravel Paved Road & Grassy Land with Forks & Shortcuts)
The road from Baingoin to Nyima is dominated by gravels and debris. Some sections are meadows with boundless grassland and only the vehicle tracks point the heading way. Magnificent plateau lakes and fresh grassy marshland are along the whole journey.
4) Nyima - Wenbu South Village (130km; Unsurfaced Dirt Road with Vehicle Tracks)
The road from Nyima to Wenbu South Village is sometimes straight and sometimes curved with no fences but the vehicle tracks. Grassland stretches as far as the eye can see while the boundless prairie extends in each direction to the aerial boundaries.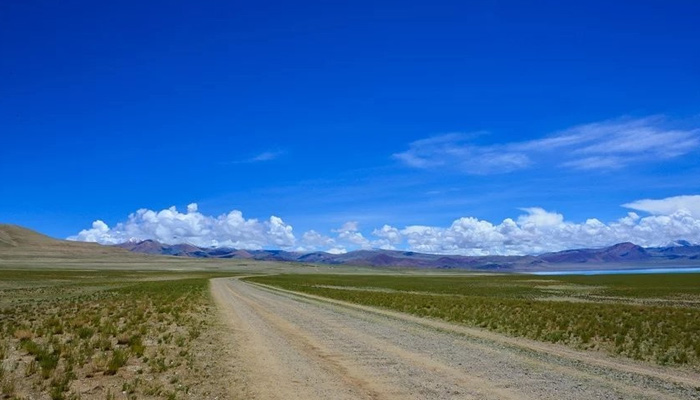 The gravel-paved road is lined with boundless grassland.
5) Wenbu South Village - Coqen (250km; Mostly Gravel Paved Dirt Road)
Road condition from Wenbu South Village to Coqen is not as ideal as you might have thought except the only 20 km's oil paved road. Dirt and gravel-paved road makes it even harder to drive when the rainfall occurs. Water gathers on the road surface and makes it muddy when the rainfall comes.
6) Coqen - Ringtor (320km; Gravel Paved Road with Pits; Some Unknown Swamps)
During the entire journey, the road condition is not that complicated but distributed with some unthreatening unknown swamps which may likely make your wheel bog into it. Most of the sections are still gravel paved dirt roads.
7) Ringtor - Yagra (97km; Gravel Paved Dirt Road)
Areas during this section are mainly depopulated zone with dirt roads and unknown signs, easy to get lost. Try to follow the deep car tracks and maintain at a comparatively slow speed. Also, try passing this section of the road in company with other cars. And try to pick a four-wheel drive with the high-powered engine.
8) Yagra - Hor - Darchen (253km; Rough & Bumpy Gravel Road; Corrugated Road)
The road approaching Kailash from Yagra to Darchen through Hor is becoming rough and bumpy. In sunny days, dust often blows into the sky as you passing by. In rainy days, the road turns to be muddy. Try driving on the comparatively smooth surface to avoid having your tires punctured.
> Check our Loop tour around Nagri including the north route via Namtso.
Highlights along North Route from Lhasa to Kailash
With no ideal road condition and a long time on-the-way journey, only a small number of visitors are willing to choose this route to reach Kailash.
However, among all those visitors who have explored this route, no one would not be stunned by the breathtaking scenery with wide visual fields, exquisite tranquil plateau lakes and kinds of wild Tibetan animals including Tibetan gazelle etc.
Wenbu North Village & Wenbu South Village
Wenbu North and South Villages by no doubt are the perfect combination with nature. Both villages have attached great importance on agricultural cultivation. With larger size of cropland, Wenbu North Village have more accommodations with stunning lake views than Wenbu South Village.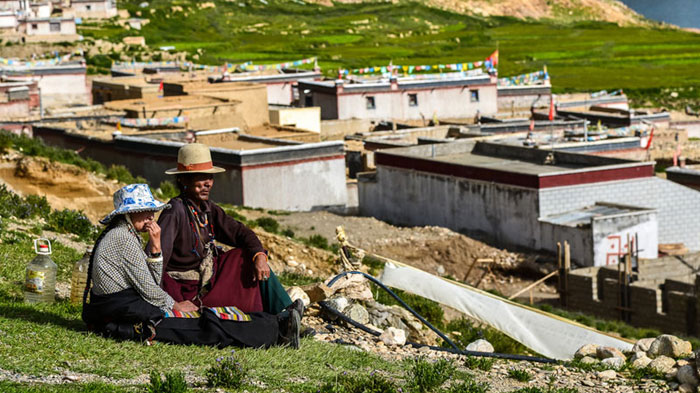 Local Tibetans are appreciating the glamorous sunset on the hillside of Wenbu South Village
When you visit Tangra Yumco Lake (4528 m) from Nyima, you first encounter the small-sized Wenbu South Village. In the place where the sacred Chonzom Mountain located, Wenbu South Village attracts many local Bonism believers to come to do the Kailash kora.
Guideboards and electric towers dot along the way. When the setting sun drapes over the prairies and the mountain ranges, the entire Bonism rooted village is exposed to the setting sun, making all the visitors drunk with this transient beauty.
Zhari Namco Lake & Tangra Yumco Lake
Zhari Namco, serving as the third largest lake in Tibet, is surprisingly a saline lake on such high elevation. The turquoise and quiet lake surface is just like a brush of deep blue painted by the artist or a blue velvet connecting the earth and sky. Prayer flags and cow skulls by the lakeside are the good wishes as well as the everlasting reverence extended by the local Tibetans.
As the sacred lake of Bonism, Tangra Yumco Lake never fades away its splendor. The isolated location makes the holy lake a small number of visitors to set foot on. The long range of Dargo Mountain stands by the lakeside, adding magnificence to the lake's holiness.
Rinchen Shuptso Lake & Zabuye Lake
The unique Rinchen Shuptso Lake makes every visitor absolutely impressed with the deep blue lake water and its grandness in size. In the center of the lake there raises a small hill with an arc-shaped path stretching to the lake-side, making it another featured scenery along the entire journey.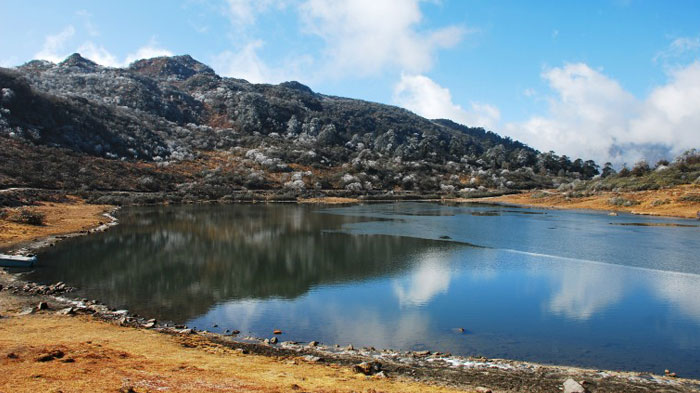 First impression of early Winter at Shuptso Lake
The Zabuye Lake, with another name of Zabuye Chaka, meaning the Zabuye Salt Lake. With liquid and solid state coexisting in the southern part of the lake, the lake surface appears to be white, blue and yellow like a master's oil painting for the breathtaking view.
Nganglha Ring Tso Lake
Leaving Ringtor to Yagra, you will appreciate the Nganglha Ring Tso Lake. Lying quietly in this area, not very big as you may find, it provides you with a sense of calmness and tranquility. Boundless prairie stretches to the skyline, making your view more open than any other place in Tibet.
Wild Tibetan Animals in Ngari
Ngari Prefecture is the paradise of wild animals. Wild Tibetan animals like marmot, black-necked stork, Tibetan wild donkey as well as the most favorite Tibetan gazelle are running on the grassland without any restraint or grazing grass with their families. If you are lucky, you may probably encounter herds of Tibetan antelope racing against your cars on one side.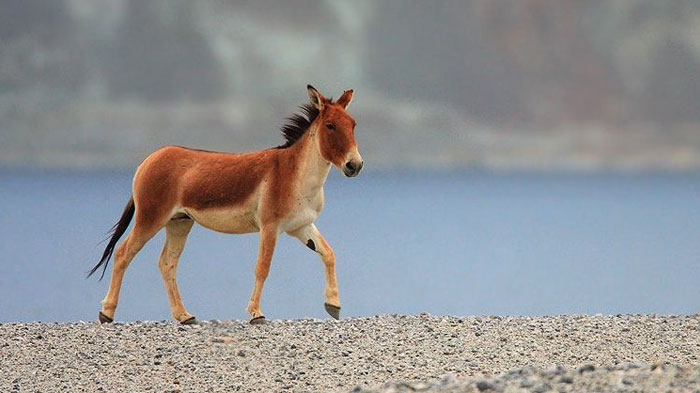 Tibetan wild donkey walking with vigorous steps by the lake
Lhasa to Mount Kailash by Flight: Tow Hours Fly to Shiquanhe Town, then Drive 200km to Mt. Kailash
There is no direct flight from Lhasa to Mount Kailash at present. If necessary, you can first fly to Ngari Gunsa Airport in Shiquanhe Town of Ngari, and then drive to Kailash Manasarovar.
The flights leave from Lhasa two times every day, taking about 2 hours to reach Ngari Gunsa Airport, which lies 60 km away from Shiquanhe Town of Ngari Prefecture. From Shiquanhe, it is around 200 km to Darchen at the foot of Mount Kailash. The road of this section is ideal national highway, so the drive can be much smoother than you suppose.
However, considering the abrupt rise of altitude, you are not recommended to take a flight directly to Gunsa Airport from Lhasa, and continue to take a drive to Kailash. Lacking spans of time acclimating the altitude may easily cause you to suffer from acute altitude sickness.
Besides, there is no stunning scenery along the route and you also miss the classic and world-class attractions from Lhasa to Everest Base Camp.
Conclusion
Conclusively, for tourists preferring an overland trip from Lhasa to Mt. Kailash, the southern route is the best choice, considering its magnificent on-the-way view and perfect asphalt-paved road condition. While the north route is also recommended if you are seeking exotic scenery and adventurous experience.
Besides, you can also take a flight to Ngari airport and then take a short drive to Kailash, when your travel time it limited.
If you have more question about travelling from Lhasa to Mount Kailash, please feel free to contact us or leave your comment below.