Ultimate Guide to How to Travel to Tibet from India
For most Indians, Tibet has a special place in their hearts as one of the main religious locations in Hinduism. Most of the sacred locations in Tibet are also sacred for Indian Hindus and Buddhists, and you can often find Indian pilgrims performing the ritual kora around such locations as Mount Kailash and Lake Manasarovar. The closeness of Tibet to India also means it is easier to get into the region for religious pilgrimage or just for tourism. All you really need to know is how best to travel from India to Tibet.
How to Get to Tibet from India
Getting to Tibet from India can be done in a number of ways, and which you take largely depends on where you want to go and what you want to see. However, you really only have two options when it comes to entering Tibet. You can travel through either Nepal or mainland China, which are the only two entry points into the plateau region.
Travel via Nepal
If you are planning a trip to Tibet from Nepal, then you can travel to Kathmandu by taking a flight to the Tribhuvan International Airport or by traveling overland by train and bus. Alternatively, you can drive yourself to Nepal, but you will not be able to take your own car into Tibet.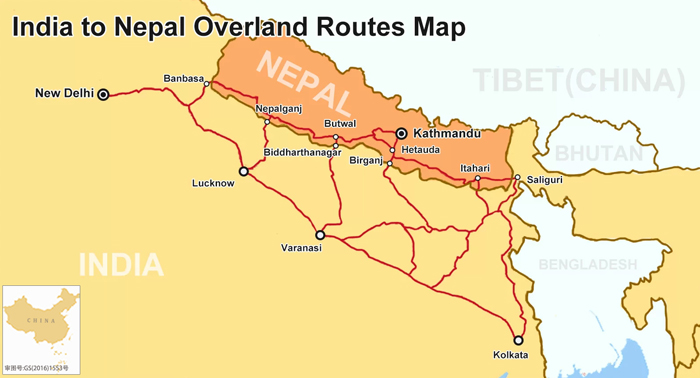 (Simple click to enlarge the map)
India to Nepal Overland Route Map
You can get the trains to Nepal to enter through Siliguri and Kakarbhitta in the east, Banbasa and Bhimdatta in the west, or via the southern crossings which are located at Jamunaha/Nepalgunj, Sunauli/Bhairawa, and Raxaul/Birganj. From any of these entry points, you can then get buses to reach Kathmandu, which can take anything from 3 hours to 8-10 hours, depending on where you cross into Nepal. The extensive railway network in India means that you can travel to any of the border crossings from almost anywhere in India. And with five crossings to choose from, there is normally one close enough for you to cross easily. - Check How to Travel from India to Tibet by Train?
If you are thinking of taking the flights to Kathmandu, and then traveling on to Lhasa either overland or by flight, then you can get flights to Nepal's only international airport from New Delhi, Kolkata, Varanasi, Bangalore, and Mumbai. While there are a large number of flights from New Delhi's Indira Gandhi International Airport, there are few flights from anywhere else in India that run as frequently. With 11 daily direct flights from New Delhi, taking just 1 hour 30 minutes to reach the Nepali airport, this is normally the best option for most travelers from India. Non-stop flights are also available from Varanasi and Mumbai.
There are no direct flights from India to Lhasa, and all flights must connect through either Kathmandu or an airport in China. Kathmandu's Tribhuvan International Airport is the only airport outside China with direct flights to Lhasa.
Travel via Mainland China
Travel via China is possible for Indian tourists, but it is a long and arduous route, and not for those in a hurry or with limited budgets and travel times. To make this trip one has to first fly to mainland China and then transfer by train to Lhasa or flight to Lhasa.
Map of travel to Tibet from India via mainland China
Flights to mainland China from India run daily from New Delhi, Kolkata, and Mumbai to several destination in China. Flights from New Delhi run to Guangzhou, Chengdu, Shanghai, and Kunming, while flights from Kolkata only run to Guangzhou and Kunming. Flights from Mumbai run to Beijing only, and are one of the most popular flights to mainland China for Indian tourists from the south of the country.
Once in China, whichever city you choose to depart to Tibet from, you can usually get trains or flights from your destination in China. Flights run daily from around two dozen different airports in China, including Guangzhou, Chengdu, Beijing, and Kunming, to name a few. However, the trains only run from seven gateway cities to Tibet, including Guangzhou, Shanghai, Beijing, Chengdu, Chongqing, Lanzhou, and Xining. And while the flights can make it to Lhasa in just a few hours, the trains can take from 22 hours to as long as 54 hours to reach the plateau capital. They are a lot cheaper, though, and can be a wonderful way to travel to Tibet, and a very scenic means of travel.
How to plan a Tibet trip for Indian tourists?
If you are planning a trip to Tibet, then you have two options for travel arrangements for the trip. There are two different options for tourists to Tibet from India, and they depend on whether you are traveling to Mount Kailash or not.
Visiting Mount Kailash
For anyone wanting to visit the area of Mount Kailash and Lake Manasarovar in Ngari Prefecture, it is not possible to travel on a pre-arranged tour with a Tibetan travel agency, even if you are not traveling as a pilgrim. All travelers to this area are treated as pilgrims, and can only arrange their tours through the authorized organizations for pilgrimage from India.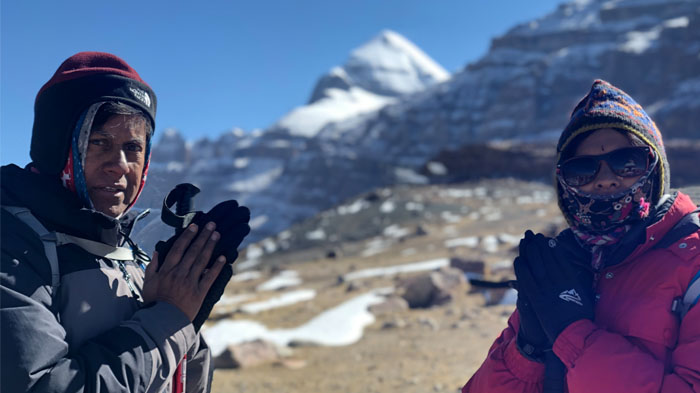 Visit Mount Kailash, one of the most sacred peak in the world.
The first, and main organization, is the Foreign Affairs Office of the Tibet Autonomous Region, who work closely with Indian pilgrimage agencies to enable pilgrims to travel to Mount Kailash. The second is the Tibet-India Pilgrim Reception Center, which is located in Lhasa. They are able to handle tours to Mount Kailash for Indian pilgrims and make arrangements with approved travel agencies for pilgrimage to Mount Kailash. Only these two organizations are able to manage your trip, and applying for a tour to Mount Kailash any other way will be declined.
Visiting other places like Lhasa, Shigatse, Namtso Lake, or Everest Base Camp
For those Indian citizens wanting to visit Tibet without going to Ngari Prefecture, it is as easy to book the tour as it is for anyone else in the world. Ordinary tourists not traveling to Mount Kailash or Lake Manasarovar can travel in the same way as other international tourists to Tibet, and the same simple requirements apply.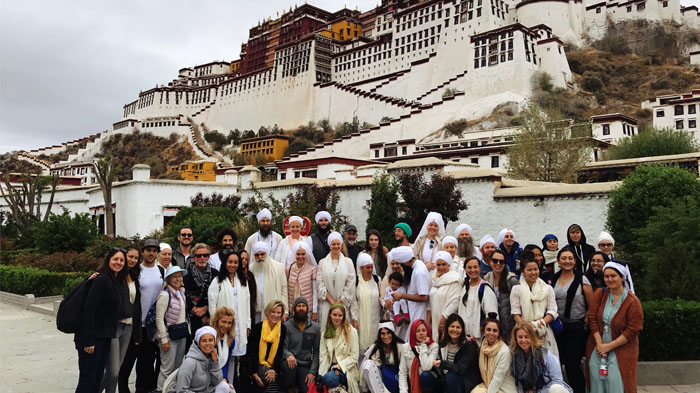 Our clients visited the magnificent Potala Palace in Lhasa.
Firstly, you need to get your Chinese Entry Visa (if entering from mainland China), and then contact us to arrange the rest of the documents you need and to book your tour. If you are traveling through Kathmandu in Nepal, your visa will be issued on your arrival in the Nepali capital.
Once you have chosen and booked your tour, we will use a scanned color copy of your passport to make the application for the Tibet Travel Permit, which you will need to enter Tibet and travel in the area of Lhasa, the Tibetan capital. When you arrive in Lhasa, we will make the arrangements for the remaining permits you may need, including the Alien's Travel permit if you are traveling outside Lhasa and the Frontier Pass if you are planning to travel to the Everest Base Camp. We also make all the arrangements for the tour, including your hotels, entry to attractions, and travel across Tibet, and we will provide you with a driver, private vehicle, and personal tour guide.
Conclusion
Travel to Tibet from India largely depends on where you are going in Tibet. For those visiting the sacred sites of Lake Manasarovar and the Holy Mount Kailash, you need to use the Foreign Affairs Office or the Pilgrim Center to arrange your pilgrimage trip. For those traveling elsewhere in Tibet, but not to Ngari Prefecture, you can travel in the same way as international tourists from other countries around the world, using registered Tibetan travel agencies.