How to Get all Travel Documents for the India Nepal Tibet Bhutan Tour?
The trip that covers India, Nepal, Tibet, and Bhutan is one of the most amazing adventures in the world, and while it is an exciting feeling to know that you will be heading to the four great Himalayan countries, planning this epic adventure is one that is tiring and complex, incorporating four different countries, with very different requirements, into one long vacation. This is why you need a tour operator that can handle the challenge of providing all four locations in one, and ensuring that all the planning is done well and properly executed, to leave you with little to do except wait for your tour to start.
There are a huge number of travel documents required for this kind of trip, and with Tibet and Bhutan included, it is not possible to manage this alone, as both locations require travelers to be on a pre-booked tour, with tour guides, drivers, and private vehicles. As a major tour operator within Asia, we are easily able to handle all the requirements of this immense tour, and can make sure that, with the help of our professional advisors, your trip to India, Nepal, Tibet, and Bhutan goes without a hitch.
How to Get India Visa for India Tour
An India visa is not a hard document to obtain, and is, in fact, one of the few documents for this tour that you will be required to obtain yourself. Applications for a visa for India are handled through the embassies and diplomatic missions around the world, and must be applied for in your home or resident country before you leave for India, as there is no Visa on Arrival service available for most people.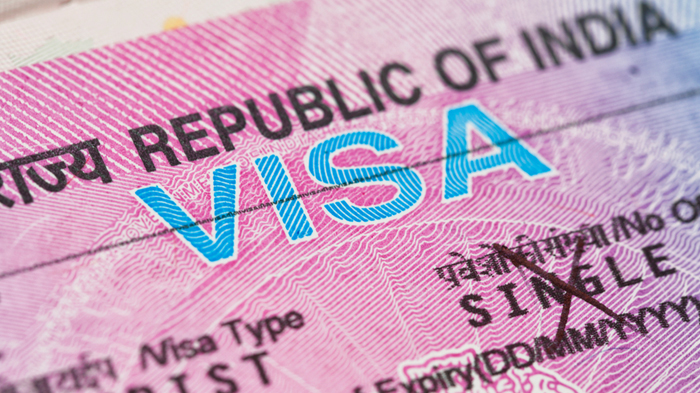 Indian visa
The application process takes around three working days to complete, and requires your original passport, two passport-sized photos, a completed application form, any previous visa (including the old passport if a new passport has since been issued), and the fee. The fee depends on your nationality, and for American nationals, it is around US$ 67.70, which gives you a six-month multiple entry visa. Longer visas are available as well. For British nationals, the six-month visa costs around US$ 136.70, which is a lot higher, considering the links between India and the UK. Other nationalities fees vary, and can be found on the website of the Indian Embassy for your home country.
How to Get Nepal Visa for Nepal Tour
While you can get a visa for Nepal from an Embassy, there are actually very few outside Asia, so the easiest way s to obtain your visa on arrival at the airport or land border crossing. The Visa on Arrival service is available at all ports of entry, and is a fast and simple process, to make it easier for tourists to come to this amazing country. Processing of the visa when you arrive can only be done after you have completed the application, which you can do at the airport kiosks in Tribhuvan International Airport, at any of the land border crossings, or on the website of the Nepali Embassy visa department before you travel. The completed form gives you a printed slip to show to the immigration officials, which you should submit with your passport, photo, and fee.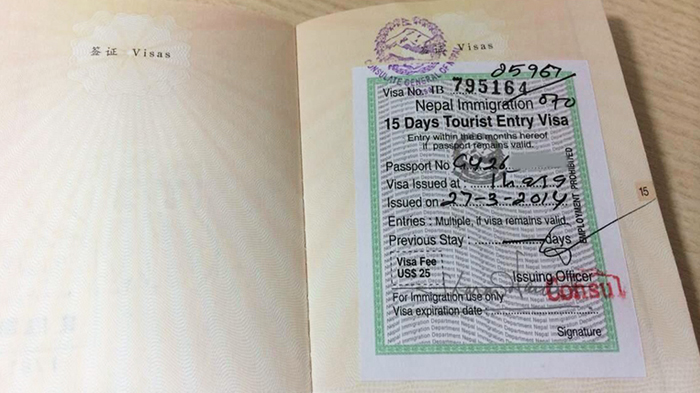 Nepal Visa Issued in Lhasa
The fee for a single-entry visa is around 30 US dollars, and is valid for a 30-day stay. Processing is fast and efficient, though you may feel like you have waited forever. Most visas are processed within 30 minutes to an hour, though this can increase in the busiest periods of tourism in Nepal. Once approved, the officials will hold up your passport with the photo page out, so you have to pay attention as they often do not know how to pronounce western names.
If you need to enter Nepal by exiting Tibet from Gyirong Border, you can get Nepali Vsia on Arrival by filling the application form and paying 25USD visa fee at the border. Then you can keep traveling from Tibet to Nepal.
> Nepal Visa for US Citizens: How to get a Nepal Visa for United States?
> How to get Nepal Visa in Tibet?
> Tibet Visa from Nepal, Enter Tibet from Nepal
> How to Get Nepal Visa? Can I Get Nepalese Visa On arrival?
How to Get Tibet Permit for Tibet Tour
Tibet is one of the places where permits and passes are a big requirement, though getting them is done by the tour operator on your behalf. In fact, the only document you need to obtain for a tour of Tibet yourself is the Chinese Entry Visa for entry to Tibet from mainland China.
Travel Document needed for Entering Tibet from Nepal
If you are entering Tibet from Nepal, in addition to Tibet Travel Permit, you need China Group Visa. And we will be making all of the applications on your behalf. Once you have booked your tour, we will make the applications for the Tibet Travel Permit, which is required for entry to Tibet and for travel around the region.
Once you arrive in Nepal, we will make the application for your Group Tourist Visa, a special visa only for tourists traveling to Tibet from Nepal. Processing takes three working days, so you should be in Kathmandu around five days before traveling to Tibet. The application form is completed by you, and then we will use your original passport and Tibet Travel Permit to make the application with the Chinese Embassy in Kathmandu on your behalf. Personal applications are not accepted.
Travel Document needed for enter Tibet from Mainland China
If you are entering Tibet from mainland China, you need to get Tibet Travel Permit. However, to get it, first and foremost, you are expected to obtain your Chinese Entry Visa from your nearest Chinese Embassy before you book your trip.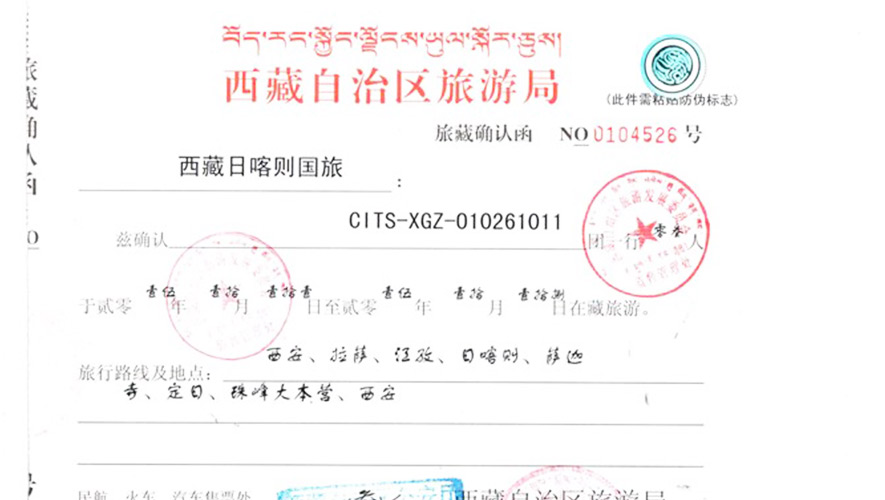 Necessary documents to enter Tibet - Tibet Permit
Then you can book your Tibet tour with us and use the Chinese visa and your passport and your photo images to make the application for the Tibet Travel Permit, which is needed to board the flight or train to Lhasa. Processing the permit alone usually takes around 8-9 days. However, the entire process takes 15-20 days. So you need to make sure you book your trip with plenty of time to allow us to apply for and receive the permit. This will then be delivered to your hotel in China for your trip to Tibet. And for our clients, we offer Tibet Permit application service for free.
Other Travel Documents needed to Visit EBC in Tibet
If you are planning a trip to Everest Base Camp (EBC) in Shigatse Prefecture in the west of Tibet, then additional permits are required. The Alien's Travel Permit is required to visit certain opened areas outside Lhasa, such as Shigatse and EBC itself, and is after you arrive in Lhasa. The permit application will be handled by your tour guide using your passport and Tibet Travel Permit, and takes a couple of hours to process, while you are relaxing in the Tibetan capital.
How to Get Bhutan Visa for Bhutan Travel
Bhutan has the most complex system for visas in the world, and it is not possible to make an application for a visa personally, no matter where you are from. The only exception to this is for citizens of Nepal and India, who have a freedom of movement into and around Bhutan without needing a visa.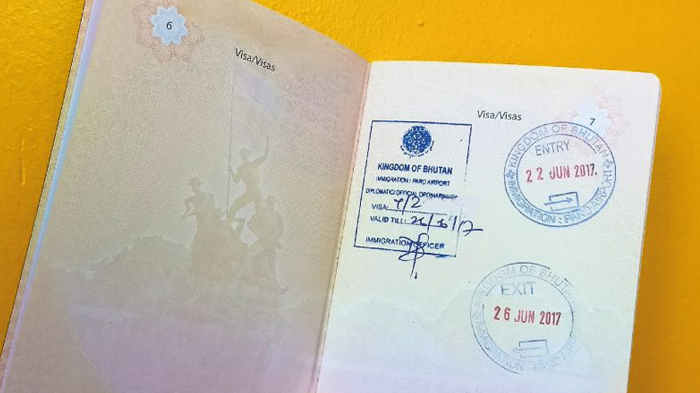 Bhutan Visa
Applications for visas are made by the tour operator, once you have confirmed and booked your trip to Bhutan. Independent travel is not permitted in Bhutan for environmental reasons, and only people on pre-booked tours can enter the country as tourists. Once you have booked your tour, we will make the application for the visa on your behalf with the Tourism Council of Bhutan, who will forward an approval letter to us once completed. This letter will also be sent by the TCB to the two Bhutanese airlines and all entry points into Bhutan for the Immigration Department. We will also forward a copy of the approval letter to your by email, as you will need the information therein to even book a flight to Bhutan.
The visa itself is actually issued once you arrive in Bhutan by the immigration officials at the airport or land border crossing at Phuentsholing. When you arrive, you need to give your passport and approval letter to the immigration officials, who will enter the visa stamp into your passport. Processing at the airport or land border is fast and simple, as only those that are pre-approved can even get there.
> Check How to Get a Bhutan Visa and Permit Successfully.
How to Find a Reliable Travel Agency for Early Booking
There are thousands of travel agents that can offer you a tour of all four countries together, and finding one that is trustworthy and reliable is a hard choice to make. One of the best options when looking for a reputable tour operator is to check out the TripAdvisor or Lonely Planet websites. These independent tour websites are advocates of consumer recommendation for the travel industry, and just about every decent tour operator, as well as most of the related businesses, have entries on both websites as a matter of course.
The pages for the tour operators are all rated by consumers like yourself, travelers that have already used their services and traveled with their companies, and the websites guarantee that only real travelers can make recommendations and rate the advertisers on their websites. This way, you can get honest opinions on what the tour companies are like, how they work, and how good they were, and with TripAdvisor, you can even contact the travelers that gave ratings through the site to get a better idea of their worth.
While we have a great review on both websites, and are frequently mentioned in the Lonely Planet guidebook and website, we will let our great reviews tell it for us.
Conclusion
The documents you need for a tour of India, Nepal Tibet and Bhutan are many and varied, but the most you will need to apply for yourself are the visas for each country, unless you travel to Tibet from Nepal. For Tibet and Bhutan, almost all of the documents you will need are obtained on your behalf by the tour operator, making them the easiest of all the countries to get to.