Ultimate Guide to Gokyo Cho-la Pass EBC Trek for Experienced Trekkers in Nepal
While many people trek the classic route from Lukla to EBC every year, it is not the only route you can take to get to the world's highest mountain. For experienced trekkers, there are several variations of the classic route, with offshoots that take you into some of the wildest and most spectacular areas of the Himalayas.
Why experienced trekkers should do Gokyo Cho-la Pass EBC Trek in Nepal
Gokyo Cho-La Pass Trek with EBC is an adventurous trek in the Everest region that includes an excursion around Gokyo valley and the crossing of adventurous Cho La Pass at 5,420 meters, combined with memorable hikes up to best viewpoints of Everest - Gokyo Ri, at 5,340 meters, and Kala Patthar, at 5,545 meters.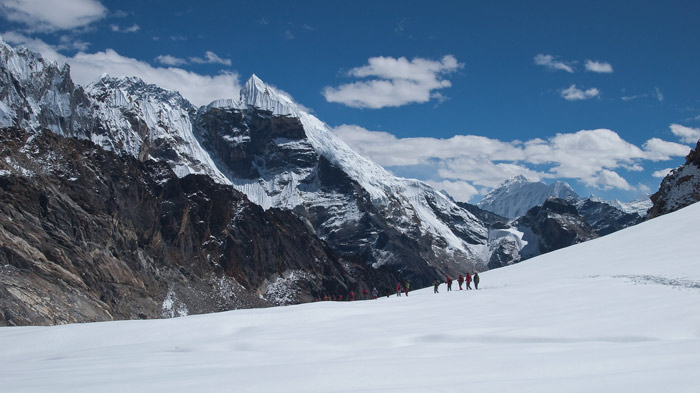 Gokyo Cho-la Pass EBC Trek in Nepal
You will also get an opportunity to explore around the Everest Base Camp, which provides a wonderful experience inside the Sagarmatha National Park. Gokyo Valley comprises of series of crystal-clear glacial lakes, which draws the attention of trekkers from all around the globe. Moreover, the stunning views of the world's highest mountains, including Mt. Everest (8,848m), Mt. Lhotse (8,515m), Mt. Makalu (8,481m), and Mt. Cho Oyu (8,201m) provides an unforgettable experience for keen and interested trekkers.
Highlights for day to day Gokyo Cho-la Pass EBC Trek
Day 1. Katmandu by flight to Lukla and overnight at Phakding (2830m)
The trekking starts with a scenic flight from Kathmandu to Lukla, which takes around 45 minutes. After landing at the airstrip of Lukla, you begin the trek over the trail that climbs gently along the left bank of the Dudh Koshi River. The trek passes along several mani walls and is a mixture of ups and downs along the left bank of Dudh Koshi River to reach Phakding for your overnight stay.
Day 2. Phakding to Namche Bazaar (3480m)
When you leave Phakding, you follow the trail that crosses a small stream before climbing up the terraced hill to arrive at Bengar. From here, the mountain path zigzags uphill and you emerge at a ridge top rest area that offers excellent views of beautiful valleys and surrounding mountains. Your climb eases somewhat as the path goes along the pine forest to reach Namche Bazaar.
Day 3. Namche Bazaar acclimatization day
Namche Bazaar is an ideal place to spend a rest day for acclimatization before you head off higher towards Gokyo valley. Namche Bazaar is an extensive market town where there is always something to see and places to explore.
Day 4. Namche Bazaar trek to Khumjung (3840m)
After spending a good day rest at Namche Bazaar, you continue your trek following the route that heads up all the way to Khumjung. It is a picturesque village, which also has its own Gompa at the top end of town. From here, you have excellent views of Thamserku, Kantega and Ama Dablam.
Day 5. Khumjung trek to Dole (4000m)
Soon after leaving Khumjung, your trail climbs to a large chorten on top of a ridge. The trek heads along a steep downhill trail, passing through Phortse Tenga, and from there climbs steeply through rhododendron and birch forest to Dole.
Day 6. Dole trek to Machhermo (4400m)
From Dole our trail climbs steadily along the side of the valley as the altitude increases. The trek passes through several summer settlements, which are used when yaks are taken to these pastures to graze in the summer months, before reaching Machhermo.
Day 7. Machhermo trek to Gokyo Lake (4750m)
Today, you begin to descend, following the melt-water rivers of the Ngozumpa Glacier, before the trail heads for a steep climb through the rocks into the valley to the first of the beautiful lakes. The path continues to the second lake, crossing the path that leads to Cho-la Pass, before heading to the third lake, with the settlement of Gokyo on its shores.
Day 8. Gokyo to Thangnak
Today is a rather short trekking day from Gokyo to Thangnak, following the trail that crosses the most impressive glacier in the entire Everest region – Ngozumpa Glacier. You leave Gokyo and trek towards Thangnak for our overnight stay, to ready yourself for the crossing of the Cho-la Pass.
Day 9. Thangnak trek to Dzongla(4800m)
Today you start early as we head for the crossing of challenging Cho-la Pass, and follow the trail that ascends slightly along the valley and steepens as you approach the pass. The Cho-la Pass is covered with blue ice most of the time, giving trekkers a chill feeling. From the top of the pass, the trail descends steeply down for about an hour and then levels out slightly all the way to Dzongla.
Day 10. Dzongla trek to Lobuche (4910m)
The trek to Lobuche goes over the trail that crosses the Khumbu Glacier, the highest glacier in the world. After crossing the glacier, you continue on the trail that heads towards Lobuche, where you stay overnight.
Day 11. Lobuche - Gorak Shep - Kala Patthar - Everest BC - Gorak Shep - Lobuche
From Lobuche, the trail leads you up to the village of Gorak Shep, and from there to the hill behind - Kala Patthar - with the best views of Everest in the world. After a photo shoot on Kala Patthar, you drop back down and continue on the trail to EBC, crossing the moraine of the Khumbu Glacier. Then it is back down the mountain again, heading through Gorak Shep and back to Lobuche for the night.
Day 12. Dingboche trek to Tengboche / Tyangboche (3890m)
Another small side trip off the main route takes you across more suspension bridges to the villages of Dingboche and Tyangboche, before following the trail to Tengboche.
Day 13-16. Tengboche to Lukla and fly to Kathmandu
From Tengboche, it is a three-day hike down again to Lukla, passing through Namche Bazaar on the way. This is a good time to pick up those last minute gifts in Namche, before reaching Lukla, and your flight back to Kathmandu.
Join-in Nepal Everest Base Camp Trekking Tours
Travel documents needed
The most important requirement here is the TIMS Card. For safety, all trekkers in Nepal must acquire the Trekkers Information Management Systems (TIMS) Card before trekking. The TIMS Card is mandatory to ensure the safety and security of trekkers in the general trekking areas. A permit is also needed for the Everest area trek, and both TIMS and permit can be obtained at the tourist office in Kathmandu, which is just a short walk from Thamel, or can be obtained in Mojo, on the route from Lukla to Namche Bazaar.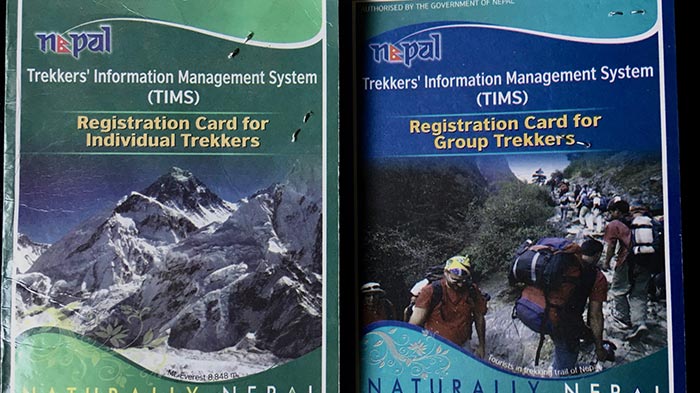 Trekkers Information Management Systems (TIMS) Card
Best time for trek
Three months in spring (March, April, May) and three months in autumn (September, October, November) are considered as the best time for trekking around Gokyo Cho-la and EBC. The clear weather conditions allow trekkers to make the most out of their days in the most enchanting spot on the planet, the Gokyo lakes. However, for trekkers wanting to avoid the crowds of the peak seasons, a rather easy and calm trek can be done around December, January, and February.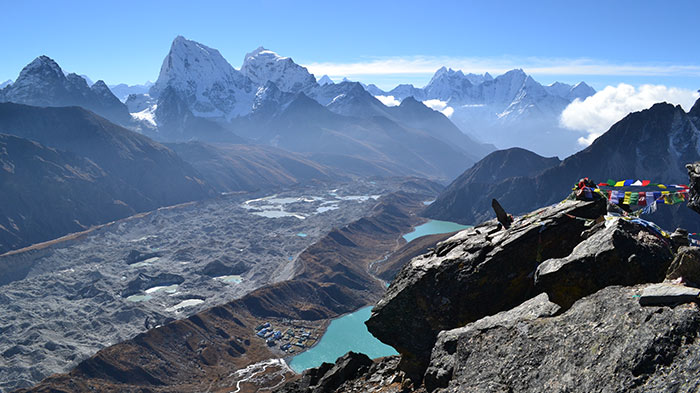 Enjoy the excellent views of the Himalayas in Gokyo Cho-la Pass EBC Trek
Trekking gears and clothes
Clothing and equipment plays vital roles to make an adventure trekking experience great. It is not a good idea to carry lots of unnecessary items, so make sure you bring only what you need, as the trek is hard enough without an overloaded pack. You can follow the list as a basic fundamental of equipment, and some of the equipment can also be hired or purchased in Kathmandu before you head for Lukla to begin the trek: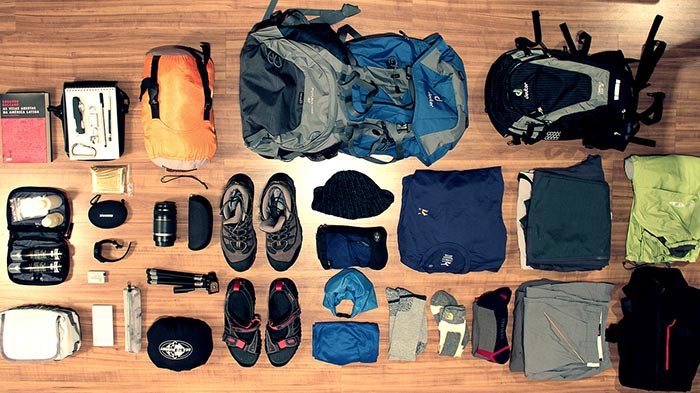 Clothing and equipment are of great importance
Backpack, hiking boots, down jacket, rain (windproof) jacket, camp shoes, socks, trousers, (pants) ,thermal wear, shirts (t-shirts) ,gloves, hat, sunglasses, sleeping bag, water bottle and, purifying tablets, trekking poles, gaiters (leg protection) , micro-spikes (mini crampons) , hand sanitizer, torch, toiletries, prescriptions, medical kit.
There may be other things you want to bring, and the list of general packing is not exhaustive. Pocket knives can be bought locally, for personal use, as can many other items, just in case you forget to pack something important. There are many shops in Kathmandu, in the Thamel area, that cater to trekkers and mountaineers, and you can buy or hire everything you need there before leaving for Lukla.
>> Read more about Ultimate Packing List for EBC Trek in Nepal
Other travel tips:
1. Generally, you can find bottled water at lower altitude but it gets harder to find it at higher elevations. Boiled water can be purchased at teahouses for a small fee, you can bring chlorine tablets, or a backcountry rated water filter to purify your water.
2. Hydro electricity or solar power sources are best to charge your electrical items like cameras, batteries, iPods, phones etc. Teahouses or lodges may charge small fee per hour for charging facilities.
3. Use a dustbin and do not throw anything into the fire. Carry garbage until dustbin facilities are available. Do not litter on the trail. Please be conscious of conserving the environment.
4. It is required to have travel insurance that covers emergency evacuation, lost items, liabilities, injuries and medical treatment. Ensure the insurance covers all the activities in the Himalayas.
5. All guesthouses offer showers, which can be a shower stall or a bucket of hot water. Please note that at high altitude there may not be enough hot water for all the trekkers. Limit the use of hot water unless the water is solar heated for ecological reasons. Every lodge has some kind of washing facilities but you must carry a bar of soap. If the water is frozen, ask your guide to get warm bowl of water.
6. Toilets are mainly Asian style squat toilets and are outside of your room. You should not throw toilet paper in the toilet. Instead, use the rubbish bin that is kept inside the toilet room.
Recommended Nepal Everest Base Camp Tour Packages