Follow 5 Steps to Plan a China, Tibet, Nepal Tour; Insider Tips for the First-timers
The ancient oriental emperor, the Himalayas, the thousands of years of history, the mysterious religions…as one of the most attractive destinations on earth, China, Tibet, and Nepal would be a dreamy destiny for some travelers. How to plan a lifetime journey to China, Tibet and Nepal? How to explore these charming destinations in one go? Here we will introduce you the best way to plan your China Tibet Nepal tour.
Step 1: Find What Your Interest is
There are so many things to do in China, Tibet, and Nepal. How to make the use of your time when visiting these destinations in one go? The first and the most important thing you need to do is figure out what your interest really is. The most popular travel route for a China Tibet, and Nepal tour is from Beijing to Lhasa via Xining, then follows the overland trip route from Lhasa to Kathmandu with a short trip to Everest Base Camp and finally passes the border at Gyirong to Kathmandu in Nepal.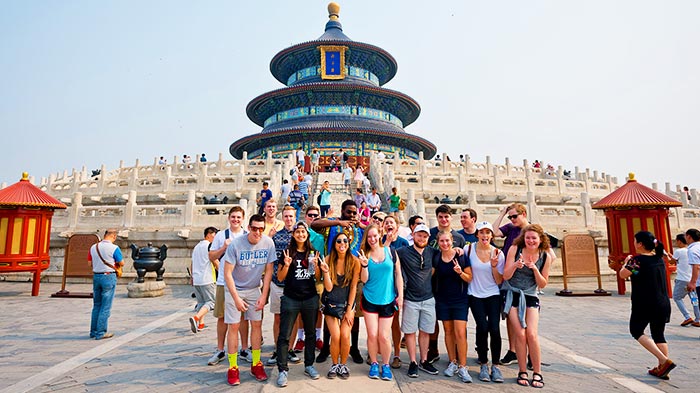 Starting China Tibet Nepal tour from Beijing
By this route, you will not only witness the modern capital of China, but also explore the ancient heart of these old countries with thousands of years of history. Since you go further into Tibet, you will be amazed by the total difference culture of this mysterious land. The visit to Everest Base Camp in Tibet will be a lifetime memory to face the top of the world. And of course, the following journey to Nepal will take you go deep to the Himalaya regions.
The sharp contrast between the present and the past, the religion different between Tibetan Buddhism and Nepal Hinduism, and the culture difference between the Han in mainland China and the Tibetan in Tibet will definitely give you a unique travel experience. Check the detailed itinerary of 15 Days Beijing Lhasa Kathmandu Overland Tour
Step 2: Check the Best Time to Visit China, Tibet (TAR) and Nepal
It is hard to say when the best time is to visit China since it is really a big country that offers much to experience all year round. There are different things to explore and experience in different seasons. But when you plan your trip to China, it is suggested to avoid visiting in the Chinese national holidays, such as the Golden week at the beginning of October. Since there are too many domestic travelers, it is really hard to get Tibet train tickets, and there are always crowded in all popular tourists sites.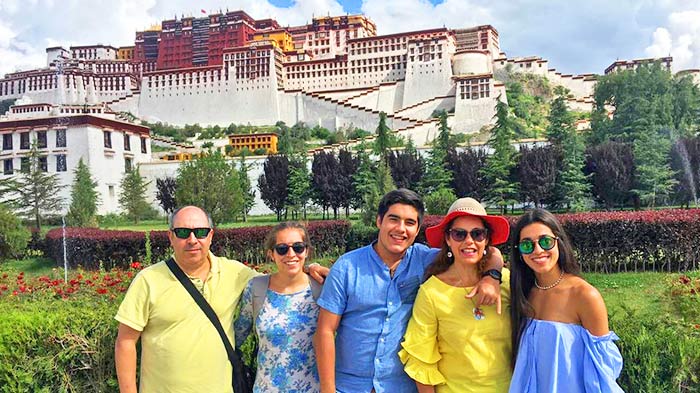 The best time to visit Tibet will offer you enchanting scenery
The best time to visit Tibet is from April to May and September to October, especially for the trip to Mount Everest and Mount Kailash. The summer months are the rainy season in Tibet, but it is a good time to see vibrant grassland in northern Tibet. And rarely do you experience constant downpour in Tibet. Also, there are many local festivals held in the summertime, such as the horse riding festivals and the famous Shoton Festival.
Since most travelers coming to Nepal for trekking experience, the best time to trek in Nepal is from October to November. For those who are interested in safari, the best time to go is from October to May. If you can't decide when to go, please feel free to contact us. Just tell us your interests, our experienced local travel consultant will provide you with professional advice.
Step 3: Find a Reliable Tour Operator with Tourist-friendly Services
After you have some rough ideas of where and when to visit for China, Tibet, Nepal Tour. The next vital step is to find a reliable tour operator to deal with the details.
Secure You Tibet Permit for Visiting Tibet
Since Tibet Travel Permit is the most important travel document that required for all foreign travelers to enter Tibet, how to get the Tibet Permit successful is always a big question for the first-time travelers coming to Tibet. Because the Tibet Travel Permit can be only applied through a local Tibet travel agency, the only way to ensure that you can successfully get the permit is to find a reliable travel agency.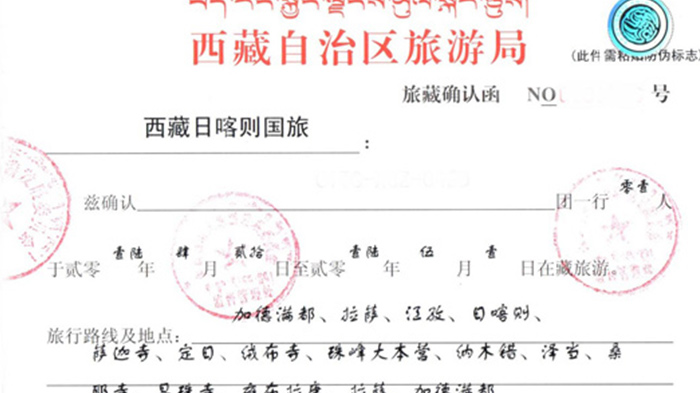 Tibet travel permit, the entry pass to Tibet
Help You Get All the Other Travel Documents to Visit Major Attractions Across Tibet
In fact, Tibet Travel Permit is not the only travel permit required for visiting Tibet. If you want to visit some remote areas outside Lhasa city, you need to apply for some other permits, such as Alien's travel permit for visiting Everest Base Camp and the Military Permit for visiting Mount Kailash and Lake Manasarovar.
It is a little bit difficult for most tourists who visit Tibet for the first time to figure out how many documents are really required for their Tibet tour. So booking your trip with a reliable travel agency is quite important. The experienced and professional travel operator will help you arrange your trip to Tibet and point out all the permits needed for your journey, and also apply them for you.
Guarantee Your Tibet Train Ticket to Lhasa
When you plan to take a China Tibet Nepal tour, taking a train to Tibet from mainland China via the Qinghai-Tibet railway, the world's highest railway is absolutely the best way to get to Lhasa. During the Tibet train journey, you will enjoy the marvelous landscape of Qinghai Tibet plateau. However, the Tibet train tour is so popular among tourists that it is difficult to get a Tibet train ticket for individual traveler, especially in the peak season from the summer holiday to early October (the Chinese National Holiday, etc.).
The best way to obtain a Tibet train ticket is to find a reliable local travel agency to book the train ticket for you. As the leading member of Tibet tourism, we, Tibet Vista, can guarantee your Tibet train tickets, as well as apply for the Tibet Travel Permit on your behalf and help you arrange your China Tibet train tour.
Help You Arrange Transport, Hotel, and Dining, etc. in Mainland China, Tibet, and Nepal
What a good travel agency can do for you is more than arrange the itinerary, apply for travel permits and book the train tickets. With many years of service experience, we have summed up the issues that our customers are most concerned about. And with the good relationship with our local tour operators, we can offer you the best one-stop service for your China Tibet and Nepal tour, covering all aspects, such as itinerary arrangement, local transportation arrangement, hotel booking, train ticket and flight ticket booking, etc.
Step 4: Decide Your Travel Route and Means of Transportation
Fly to Major Tibet-entry Cities like Beijing, Shanghai, Chengdu, Guangzhou…
Nowadays, it is quite convenient for travelers to visit the mainland China, and the most popular gateways to China include Beijing, Shanghai, Guangzhou, Chengdu and so on. These cities not only provide international flights connecting to other countries around the world, but also provide trains and flights to Tibet. So it is highly suggested to enter China and start your China Tibet Nepal tour from these cities.
Please remember that Chinese Visa is required for entering China, which can be only applied in your home country before your arrival. And to continue your journey to Tibet, you also need to apply for the Tibet Travel Permit before you go. To offer you a worry-free trip to Tibet, we can help you apply for the Tibet Travel Permit, as well as all the travel documents required for your long journey from China to Nepal. Once you book your trip with us, just confirm your travel itinerary with us and send us the copy of your Chinese Visa and passport, we will do the rest for you.
Then Choose either to Take Tibet Train or Flight to Lhasa
After your China tour, you need to decide how to get to Tibet from mainland China. The fastest way to go is by air. If you just have a short vacation, you can take a flight to Lhasa from most major cities in mainland China. But you will miss the chance to enjoy the marvelous landscape of Tibet plateau. If you have enough time, it is highly recommended to get to Tibet by train. Through the Qinghai-Tibet railway, the highest railway on earth, you will go through the Qinghai Tibet Plateau from Xining to Lhasa, enjoying the snow-capped mountain ranges, the vast grassland and even seeing the lovely wild donkeys and Tibetan antelopes beside the railway.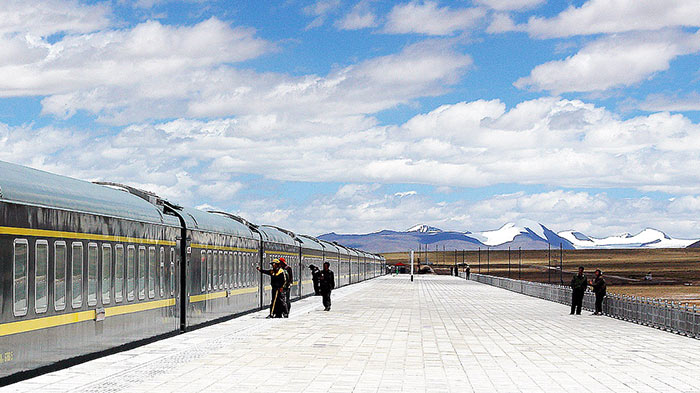 Taking train to Tibet
Tibet to Kathmandu: Lhasa-Kathmandu Overland Tour vs Lhasa-Kathmandu Flight
The trip from Tibet to Nepal is one of the most popular travel routes in the world. The overland trip from Lhasa to Kathmandu will be a good choice to connect the two destinations. The journey always starts from Lhasa city with a short day trip to Everest Base Camp. It generally takes 7 days to go. During the Lhasa to Kathmandu overland tour, you will visit the most important cities in Tibet, Lhasa, and Shigatse, enjoy the charming view of Yamdrok Lake and explore the Himalaya areas by visiting Everest Base Camp. Following the Sino-Nepal friendship highway, you will finally get to the Gyirong port to enter Nepal and reach to the capital, Kathmandu.
However, if you have a tight schedule, the best way to get to Nepal is taking a flight from Lhasa. No matter you just want a short to Lhasa city and surrounding areas, or want to explore the remote areas in the western Tibet, like Mount Kailash and Lake Manasarovar regions, you can get back to Lhasa after your Tibet tour and take the non-stop flight to Kathmandu. It just takes around 2 hours, which can be the fastest way to go.
Step 5: Basic Packing List for the Long Trip
The final step is to make sure you pack the right stuff for your travel. Believe me, it can't be underestiamted. Some of the basic packing list is highly recommended.
Travel Documents
Your passport, Chinese Visa, Nepal Visa, Tibet Travel Permit and some other required travel documents according to your exact travel route.
Clothes
Whenever you go, it is suggested to take the warm coat with you, especially when you will visit the Mount Everest area. Other things, like shirts, shorts and pants, you need to pack depends on the weather on your trip. Remember to bring downjacket and other warm clothes even in summer if you travel to places with high altitude in Tibet.
Toiletries
In fact, all the basic toiletries can be bought in the major cities. If you plan to visit Everest Base Camp or trek Mount Kailash, you can prepare daily necessities in Lhasa city. Do prepare the sunscreen, sunglasses, etc. to prevent the sunburn in Tibet.
Book/Kindle
Since a trip to China, Tibet and Nepal is really a long journey, and the movement between each city takes a lot of time, it is suggested to bring your favorite novels or your Kindle with you to kill the time on the long flights and train rides.