Travel to Tibet from Chengdu
Check the most popular Chengdu Tibet tour packages
Why Travel from Chengdu to Tibet?
1. The Biggest International Hub in Southwest China
With flights to more than 50 international destinations and over 170 domestic airports, Chengdu Shuangliu International Airport (CDIA) is definitely the biggest airport in southwest China. Originally built in 1938, CDIA with an area of 500,000 m² has two terminals, Terminal 1 and Terminal 2. The runway was extended to 3,600 metres (11,811 ft) with Class 4E rating, allowing for larger jumbo jets including the Boeing 747-400.
Chengdu Shuangliu International Airport has ranked to the 5th busiest in mainland China, which is among world's top 30 busiest airport. There are nearly 82 flights connecting Chengdu with 70 major cities of Europe, America, Australia and Asia, like Los Angeles, San Francisco, New York, Vancouver, Frankfurt, London, Sydney, Melbourne, Delhi, Paris, Lumpur, Tokyo and so on. Chengdu airport linked to downtown Chengdu by an expressway has well air connection with all major cities of China. You can also fly directly from Chengdu to Shanghai, Beijing, Hongkong, Guangzhou and other metropolises for your international flights. Therefore, it is quite convenient for tourists to get in and out of Chengdu by air.
2. 34 Direct Flights from Chengdu to Lhasa
As the most important hub for flights connecting Tibet with the outside world, there are over thirty flights between Chengdu and Lhasa every day. Flights to Tibet from Beijing, Shanghai, and Guangzhou, all go through Chengdu.
Besides, there are non-stop flights flying from Chengdu to Nyingchi and Shigatse and connecting flights from Chengdu to Chamdo and Nagri.
3. Chengdu-Lhasa Train Heading to Tibet Every Other Day
Chengdu to Lhasa train Z322 departs every other day at 14:48 from Chengdu Train Station, and arrives at Lhasa Railway Station at 09:55 on the third day after running nearly 44 hours and covering a distance of 3,070 kilometers. The train has carried thousands of tourists to Lhasa since its debuting on July 2, 2006 when Qinghai-Tibet Railway, the world's highest railway,was just put into use.
4. Home of Giant Panda
As we all know, Chengdu is the hometown of Giant Pandas. The clumsy but lovely Panda in the famous film Kung Fu Panda is beloved by both kids and adults. The film might arouse watchers eagerness to see what the real giant pandas look like. Chengdu Research Base of Giant Panda Breeding is the greatest place to watch the real pandas. The center is located just 10km (6miles) away from downtown Chengdu. You can visit the different facilities for the giant pandas-fodder room, sleeping quarters, and medical station.
How to travel from Chengdu to Tibet?
Option 1. Chengdu to Lhasa by Train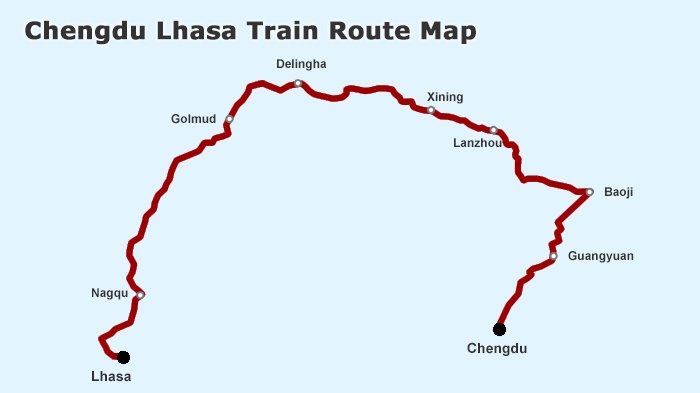 Covering a distance of 3,070 kilometers, Chengdu to Lhasa Train departs every other day at 14:48.
Traveling from Chengdu to Lhasa by train is the most popular way among tourists to Tibet, not only because it is cheaper than by flight, but also for it will offer tourists a big feast of breathtaking scenery along the railway, especially along the Qinghai-Tibet Railway which is the world's highest railway. Qinghai-Tibet railway traverses three ranges, Kunlun, Tanggula and Nyainqentanglha Mountains, and numerous rivers and lakes. The attractions along this world's highest railway are really marvellous and breathtakingly majestic.
Chengdu to Lhasa Train schedule
Currently, the train from Chengdu to Lhasa starts every other day. It starts on odd days in certain months, while on even days in other months. So please kindly take this into consideration when you are planning a trip from Chengdu to Lhasa by train.
Chengdu to Lhasa train ticket class and price
As it is a long journey from Chengdu to Lhasa by train, it is advisable to purchase a sleeper berth so that you can avoid the crowd and mess in the hard seat carriage and have a good rest and enjoy a good sightseeing trip. Furthermore, a lower berth is recommended. The lower bunk is a bit more comfortable, you can sit on the side of your bed and there's a small table you can use. It's a bit harder to sit up on the upper beds. There are no ladders to get up, but a step on the side of the wall that people use to get up. You can do it without stepping on the lower bed.
See more at Chengdu to Lhasa Train
Option 2. Chengdu to Lhasa by Air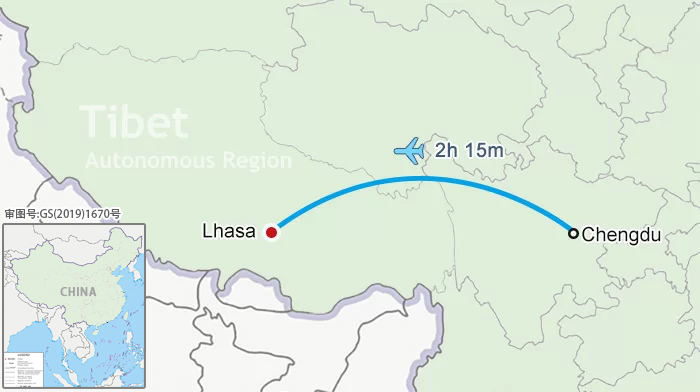 There are 34 direct flights between Chengdu and Lhasa in peak travel season from early morning to midnight.
Chengdu to Tibet by air is more time-saving and convenient though a little more expensive than by train because there are over ten flights to Tibet. Most of the flights connect Chengdu Shuangliu Airport with Lhasa Gonggar Airport. Other flights respectively connect Chengdu with Nyingchi Milin Airport in eastern Tibet, Shigatse Peace Airport, Chamdo Bangda Airport and Ngari Kunsha Airport.
See more at flights to Tibet from Chengdu.
Option 3. Chengdu to Lhasa by Road - Sichuan-Tibet Highway Overland Route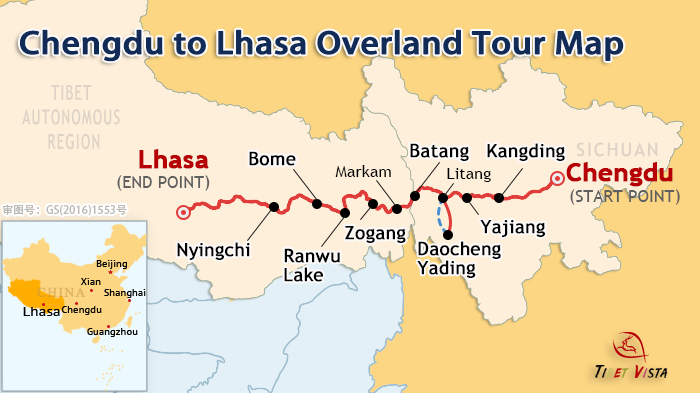 It is a lifetime driving from Chengdu to Lhasa through wild, mountainous and deliciously remote Tibetan areas of western Sichuan.
The overland route connecting western Sichuan and eastern Tibet is the longest high altitude road in China at present. It is the most dangerous but most beautiful road route, where you can feel the real nature. Snow mountain peaks, mountain passes and deep gorges can be seen along the road route. Meanwhile, the Tibetan culture is better reserved here than that in Tibet and subject to fewer religious restrictions.
Chengdu to Lhasa overland tour costs you about 10 days. Unfortunately, government has restricted to issue travel permit for foreign travelers since 2008. And rare travelers traveled through Sichuan Tibet Highway.
See more at Sichuan to Tibet overland.
Option 4. Chengdu to Lhasa by Bike
Biking from Chengdu to Tibet is hard. It is even harder than people could image. This adrenalin-fueled challenging mountain biking trip across the 'Roof of the World' covers a distance over 2000 kilometers from Chengdu, the most important gateway city in south west china from 500m high, crossing ten high mountain passes over 4000 meters. Chengdu to Lhasa biking is considered as the extreme & highest biking trip in the world due to its length, the average altitude, strong cross-wind, unacceptable bad roads. Though it is difficult, basking in the grandeur of nature, your mountain biking adventure passes through rugged landscapes, historic and archeological sites, nomadic settlements and pristine hamlets amidst spectacular views of many highest and holiest peaks. En route, you may dismount from your bike for blissful photographic moments, sightseeing and camping. Exploring the country side is another interesting and fascinating prospect that can indeed be quite culturally stimulating.
Where to Get Tibet Permit in Chengdu?
As you probably know,Tibet entry permitissued by Tibet Tourism Bureau is a must for foreigners to board the train/flight to Tibet. We can help you apply the Tibet permit and then send it to you.
What you should do is just send us a scanned copy of your passport, a scanned copy of your Chinese visa and your tentative tour itinerary in Tibet. After receiving the documents, we will apply the Tibet permit for you. But please make sure your passport and visa are valid.
When your Tibet permit is issued, we will send it to your hotel in Chengdu in advance. If you need us to do so, please tell us the address and contact information of your hotel in Chengdu. We can also have someone meet you Chengdu airport or Chengdu railway station and give you the Tibet permit. Of course, you are also welcomed to our office in Chengdu and pick up the Tibet permit by your own.
How to Minimize The Cost of Tibet Tour from Chengdu?
As Tibet is a remote area with high altitude, harsh climate and poor transportation, the cost of a tour to Tibet might be much higher than some other places of China. Here is some advice to cut down the cost of your tour.
Firstly, book air ticket in advance. Earlier booking, lower price. Though the airlines do not offer big discount on this busy air route from Chengdu to Lhasa, you can still get a discount as much as 30% with booking in advance. If you book the air ticket on the day or before the day you flying to Lhasa, you need to pay the full price at most of the time.
Secondly, you can travel from Chengdu to Tibet by train rather than by flight. You can further cut down the cost if you choose hard sleeper berth instead of soft sleeper. The hard sleeper berth is also soft and is not bad as you imagined though it can be a little annoying. The biggest difference between them is 6-pax sharing room or 4-pax sharing room. The price of a hard sleeper ticket from Chengdu to Lhasa is around RMB700, while RMB1100 for a soft sleeper ticket. Besides, it is usually harder to get a soft sleeper ticket, which causes higher service fee for purchasing the ticket. Therefore, you can save at least RMB500-600 on each train ticket to Lhasa from Chengdu.
Thirdly, you can share the cost of other travelers by joining in a tour group. By this way, you can cut down the cost of your Tibet tour on tourist vehicle, tour guide, single room supplement, even food. The cost might be cut down by as much as 30%-40%.
Moreover, you can further cut down the cost by arranging simple food and accommodation. But it cannot help you to save too much.
Before you get to Lhasa, do plan at least one day tour in Chengdu.
What to See in Chengdu?
Renowned for more than 3000 years history background, Chengdu has lots of historic places of interest such as the Thatched Cottage of Du Fu, Wuhou Memorial Temple, Wenshu Monastery, Jinsha Ruins Museum and Sanxingdui Museum.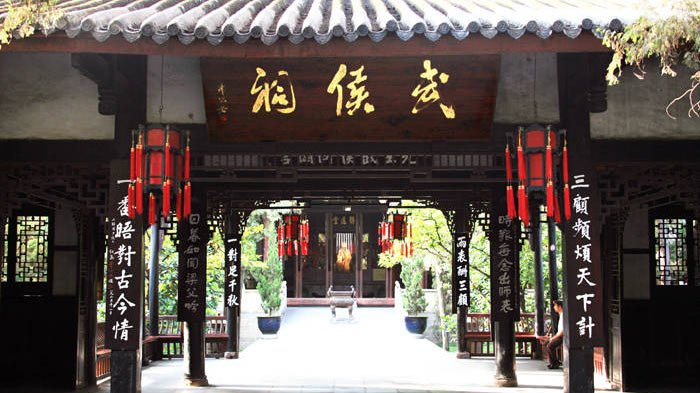 Wuhou temple has been a famous tourist destination for more than 1780 years, which was built in memory of Zhuge Liang.
Wuhou Memorial Temple and Jinli Alley, you'll see shrines to the ministers of the Shu Kingdom (221-263, a part of the Three Kingdoms period 220-280 AD). The park is large and interesting architecturally. Originally built in 223 AD, the place is steeped in history but is also nice to wander around. Just east of Wuhou Memorial Temple is a pedestrian alley lined with Sichuan snack stalls, teahouses, souvenir shops and inns. The architecture has been restored to look like ancient Sichuan. It's the perfect place for a pit-stop after a few hours in Wuhouci.
Wandering around Wenshu Monastery is an excellent chance to gain some peace.
Wenshu Temple is Chengdu's liveliest and largest Buddhist complex. Founded in the Tang Dynasty, the temple buildings date from 1691. There are a number of interesting bronze Buddhist statues, most from the Qing period but also some from the Song. The large complex also hosts a lovely teahouse where visitors can relax with tea and snacks. The alleys outside the complex are a maze of souvenir and local curiosity shops.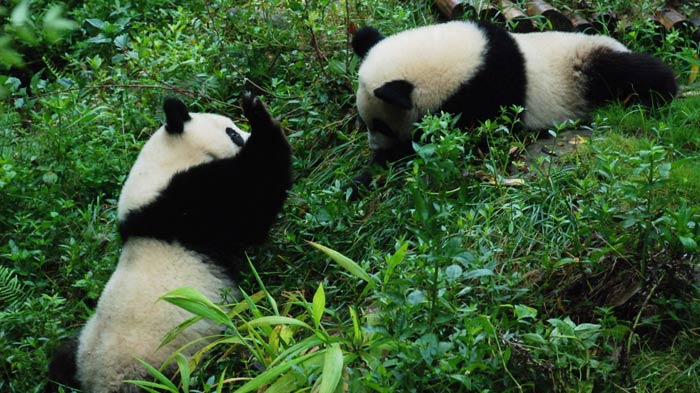 The best time to visit pandas is in the morning when they are having breakfast. In contrary, they are always sleepy in the afternoon.
Chengdu Research Base of Giant Panda Breeding, you'll get a close encounter of the giant pandas. Covering a large area, it includes a Giant Panda nursery, cub, adolescent and adult enclosures as well as enclosures for the red panda.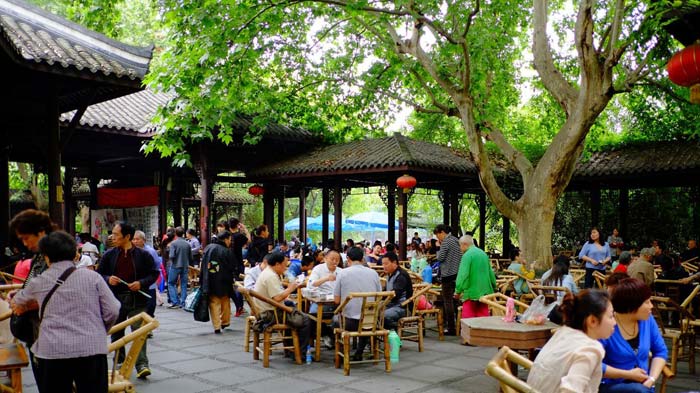 Enjoy Chengdu leisure life while drinking tea at People's Park.
People's Park Renmin Gongyuan, is a large public park with a few attractions. There's a great teahouse where you can sit for a few hours, watching people and sipping Sichuan's finest, a playground, the Monument to the Martyrs of the Railway Protection Movement and a bizarre underground museum and funhouse.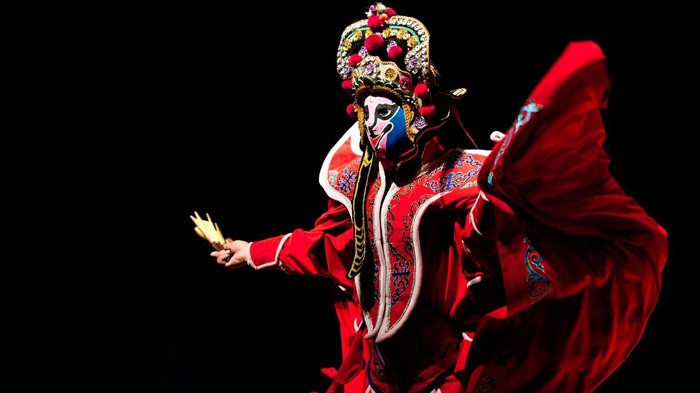 You would be amazed at the unique technique of changing masks in unbelievable speed.
Sichuan Opera House at Shunfeng Yayun is an interesting place where you'll enjoy more tea, snacks and an hour of traditional dancing and singing. The finale includes the famous "changing faces" dance where masked dancers change their masks as if by magic.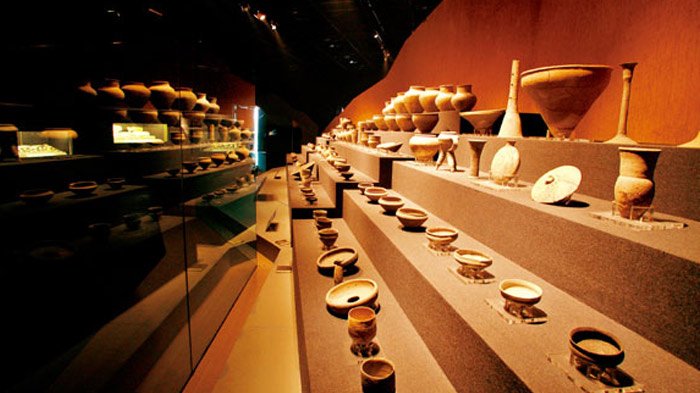 View ancient relics at the Jinsha Site Museum is a nice try.
Jinsha Site Museum, you'll view Ancient Relics. Located in west of Chengdu, this large museum attracts those who love learning about ancient civilizations. Archeologists discovered an ancient village of the Shu kingdom which was more than 3000 thousand years ago. Aside from the massive pits, gold, jade, pottery and other objects are viewable in separate exhibition halls.
What to Eat in Chengdu?
Sichuan cuisine in Chengdu is delicious, fiery as well as spicy, with heavy use of Sichuan pepper which causes your mouth to become a little numb. You may also find the local food too oily or too salty for your taste, and may want to advise your server accordingly. Try the authentic Sichuan dishes with Sichuan pepper is a great experience and use a bottle of milk or beer or something sweet would much better than water.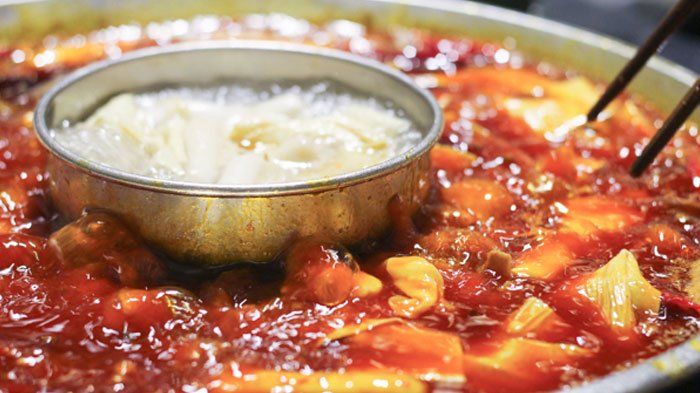 Sichuan hotpot is a must food you should have a taste.
Hotpot is the most special food in Chengdu, comes with a big pot of soup and spices simmering in a hole in the middle of your table and add-ins like lamb, mushroom, beef, tofu and kinds of vegetables; the served soup in hot pot is spicy or non-spicy available; other reprehensive Chengdu dishes are Tea smoked duck, Twice cooked pork, Mapo dofu, Sichuan hotpot, Fuqi Feipian, Spicy deep-fried chicken, Shuizhu, or literally "Water cooked", dishes, Dan dan noodles, Bon bon chicken.
Where to Stay in Chengdu?
As an international metropolis, Chengdu offers a great range of hotels from deluxe five-star international hotels to cheap hostels and convenient traffic system.
1. Hotels near Chengdu Shuangliu Airport
Moderate hotels and hostels are accessible around Chengdu Shuangliu International Airport, and high-ranking hotels are also available, such as Minhang Julong Hotel, Xiehe Airport Hotel, Chuangang Hotel, Chuanhang Hotel, Shuangliu Friendship Hotel, Chengdu Airline Hotel, Swan Commercial Hotel, and Civil Aviation Hotel which are all close to the Chengdu Airport. There are also many hotels in downtown Chengdu that offer shuttle buses to the Chengdu Airport, within 20-minute headways.
2. Hotels with convenient transportation to Chengdu airport
There is an expressway in Chengdu Wuhou District connecting Chengdu Airport with the city center. Therefore you can choose hotels along the expressway or Renmin South Rd. with buses to the airport.
3. Hotels near Chengdu North Railway Station
The train from Chengdu to Lhasa departs from Chengdu North Railway Station where there are many hotels within walking distance to the railway station. For example, Tibet Hotel, Chengdu, which is the most well known nationality culture theme 5-star hotel in China, is just 1.68km away from the train station. Another example, Celebrity Ruicheng Hotel, Chengdu, is a business hotel set up as 4-star standard and only 3.15km away from the railway station. There are also many economic 3-star or 2-star hotel around the station, like Chengdu Pearl International Hotel (3-star, 2.05km away from the railway station), Kaqiusha Hotel (3-star, 1.98km away from the railway station) and Pretty Tianfu Hotel (3-star, 2.1km away from the railway station).
4. Hotels with convenient transportation to Chengdu Railway Station
The Metro Line 1 passes through Chengdu Railway Station. You can get to the railway station within 30 minutes from any station. Therefore, you can choose hotels along this subway, such as Renmin South Rd., Renmin North Rd. and Renmin middle Rd.
Chengdu Public Transport
1. Take bus in Chengdu
There are numerous buses owned by the government in Chengdu city. You can go anywhere by bus, which is convenient and cheap. But you need to prepare some change (one yuan note) for most of them are self-service buses. Each ride only costs you two yuan (around 0.3USD). You have to get on the bus in the bus stop and also get off the bus in the bus stop. The names of the bus stops are broadcasted both in Chinese and English.During the rush hour of the day, it will be very difficult to take the bus and there will be a long queue of people to wait for the buses. So you'd better avoid the rush hour (8:00am-9:00am and 5:30pm-6:30pm).
2. Take taxi in Chengdu
The Chengdu taxi fare is CNY8 (or CNY9 for SAGITAR taxi) for the first 2 kilometers and CNY1.9 per succeeding kilometer from 6:00 to 23:00. At night from 23:00 to 6:00 next morning, the taxi fee is CNY9/CNY10 for the first 2 kilometers and CNY 2.2 per succeeding kilometer. If the journey is over 10 kilometers but less than 60 kilometers, 50% no-occupancy surcharge of the total fee should be paid. CNY1.9 (or CNY2.2 at night) will be charged for every 5-minute waiting time, which will be accumulated when the taxi speed is under 12km/hr.
3. Take subway in Chengdu
Chengdu has become the first city with subway in western China, but currently there are three subway lines in operation, Metro Line 1, Metro Line 2 and Metro Line 4. The ticket fare vary with distance. There are self-service ticket vending machines in each subway station and you can purchase tickets from the machines (English available) with ¥1 coins or 5¥ and 10¥ notes. Ticket booths are also available if you don't have suitable notes. The detail information about Chengdu Metro Lines is as follows: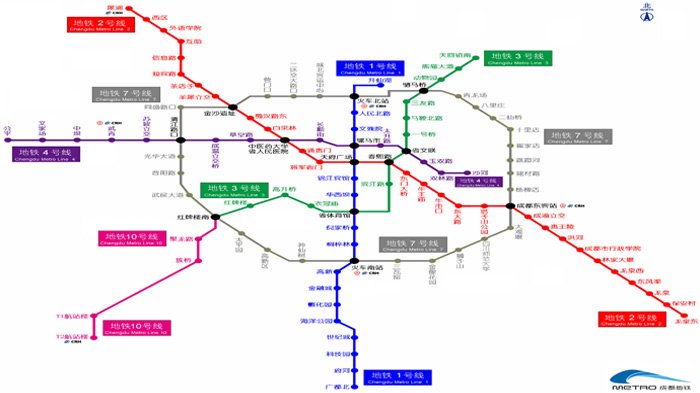 Chengdu Metro Line 1, Metro Line 2 and Metro Line 4 are available and others are still in construction.
Chengdu Metro Line 1
Stations (north to south) : Shengxian Lake – North Railway Station – Renmin Rd. North – Wenshu Monastery – Luomashi – Tianfu Square – Jinjiang Hotel – Huaxiba – Sichuan Gymnasium – Nijiaqiao, Tongzilin – South Railway Station – Hi-Tech Zone – Financial City – Incubation Park – Ocean Park and Century City.
Chengdu Metro Line 2
Stations (northwest to southeast) :Chadianzi – Yangxi Flyover – Yipin Tianxia – Jinsha Ruins Site – Shuhan Lu East – Baiguolin – TCM University/People's Provincial Hospital – Tonghuimen – Jiangjunyamen – Chunxi Lu – Dongmen Daqiao – Niuwangmiao – Niushikou – Dongda Lu – Tazishan Park – Chengdu East Station – Chengyu Flyover – Huiwangling – Honghe – the Chengdu Administration Institute.
Chengdu Metro Line 4
Stations (west to east) :Intangible Cultural Heritage Park – Caiqiao – Zhongba – Chengdu West Railway Station – Qingjiang Road West – Cultural Palace – Southwestern University of Finance and Economics – Caotang Road North – CUTCM & Sichuan People's Hospital – Kuanzhaixiangzi Alleys – Luomashi – Taisheng Road South – 2nd Chengdu People's Hospital – Yushuang Road – Shuangqiao Road – Wannianchang.
4. Take sightseeing bus in Chengdu
There are three sightseeing buses in Chengdu that will take you to tour most of the famous tourist sites in Chengdu city. The stewards on the sight-seeing buses will introduce the passing tourist attractions in both Chinese and English. In addition, there are multimedia systems of mobile TV sets, tourist film players, isochronous broadcasters with four foreign languages of English, French, Korean and Japanese, etc. to facilitate foreigners. The detail information about buses is as follows:
No.901 double-decker roofless sight-seeing bus departs every 30 minutes.
First Stop: Chengdu Tourist Distributing Center
Last Stop: Jinsha Site
Operating hours: 08:30 - 18:00; 09:45 - 18:30
Ticket Price: RMB 3
Major Stops and Route: Chengdu Tourist Distributing Center – Chunxi Road – Yanshikou – Wuhou Memorial Hall - Dufu Cottage – Jinsha Site
No.902 sight-seeing bus departs every 15 minutes.
First Stop: Chengdu Tourist Distributing Center
Last Stop: Chengdu Research Base of Giant Panda Breeding
Ticket Price: RMB 2
Operating hours: 08:00 - 18:00
Route: Tourist Distributing Center – North Street – Erxian Bridge – Beihu Park - Chengdu Research Base of Giant Panda Breeding
No.904 sight-seeing bus departs every 30 minutes.
First Stop: Chengdu Tourist Distributing Center
Last Stop: Floraland
Operating hours: 07:00-19:00
Ticket Fare: RMB 2- RMB 3.5
Major Stops and Route: Tourist Distributing Center – Guanghua Avenue – Jianxin Olympic Park – Floraland
Chengdu Travel Tour
Known as the hometown of Giant Panda and the hibiscus city or the brocade city, Chengdu will absolutely surprise you once you are there. It enjoys a longstanding history and civilization and relaxed and rather leisure life space which helps you enjoy a really holiday, no heavy work, no busy telephone.
Visiting the cute Giant Pandas is a must thing you should do in Chengdu. You are also strongly recommended to view the Leshan Giant Buddha which is the largest carved stone Buddha in the world and by far the tallest pre-modern statue in the world.
1. Tour to Chengdu Research Base of Giant Panda Breeding - The Chengdu Research Base of Giant Panda Breeding is situated in Futou Mountain, just 10km (6miles) away from downtown Chengdu. You can take taxi to the center from the downtown, costing RMB 30-RMB 40. There are also several buses that can take you to visit the lovely pandas. Bus 902 heads from Chengdu Tourist Distributing Center to the panda center directly. You can also take bus 1, 32, 49, 53, 63, 64, 69, 70, 71, 83 or 156 to Zhaojuesi Bus Stop, then change to Bus 198 to Panda center. Please prepare some small change (at least ten pieces of one yuan note or coins) to take the buses. Each ride usually will cost you two or three yuan. The admission fee to the Panda Breeding and Research Center is RMB 58.
2. Tour to Leshan Giant Buddha - Leshan Giant Buddha is located at east of Leshan City which is only 162 kilometers (about 100 miles) from Chengdu. It was included on the UNESCO's World Heritage list in 1996.You can take an expressway bus from Chengdu to Leshan and it only takes about RMB 50 and 2hours. There are many buses from Chengdu to Leshan. You could take one at Chengdu Tourist Distributing Center to reach Leshan Xiaoba Passenger Station. After, take bus no. 13 from Xiaoba Passenger Station to the Giant Buddha.
3. Tour in Chengdu City - There are attractions in Chengdu city, such as Wuhou temple which was built in memory of Zhuge Liang, a well-known strategist and statesman during the Three Kingdoms Period, and has been a famous tourist destination for more than 1780 years, Jili Street that is an ancient street for visitors to relax, admire the traditional-style buildings, buy some curios and taste some local snacks, the wide and narrow alleys, two ancient streets restoring the old architecture in Ming (1368-1644) and Qing (1644-1911) styles, where visitors can experience the leisurely and comfortable life in Chengdu with boutique hotels, characteristic local snacks and cuisines, traditional teahouse, distinctive inns and relaxing Spas and Wushu Monastery which is the best-preserved Buddhist temple in Chengdu.
Chengdu Day Tour
Here are Chengdu Day Tours we recommend:
One day tour to Chengdu Panda Base and Leshan Giant Buddha - Visit Chengdu Panda Base in the morning and continue visiting Leshan Gaint Buddha in Leshan which is known as the biggest seating Buddha in the world. Rent a private car to travel both sites within one day. If by bus, it needs two days.
Cost: about USD 150 per person.
One day Chengdu city tour including Chengdu Panda Base - Either by taxi or by private car, Chengdu Panda Base must be visited in the morning as advised, visit Wuhou Temple, Jinli Ancient Street, Wushu Monastery and its tea house in the afternoon. The vegetarian restaurant is quite distinctive, do not miss it.
Cost: about RMB 200 per person.
One day tour to Chengdu Panda Base and Dujiangyan Irrigation Project - By new Express train from Chengdu to Dujiangyan costs you only 30 minutes. One day is enough to visit both of these two sites. If time allows, try to spend a night in Taoism temple in the mountain of Qingcheng.
Cost: about RMB 400 per person.
Two days tour to visit Leshan Giant Buddha and Mt. Emei - The Leshan Giant Buddha and Mt.Emei is 250km south of Chengdu. The tourist buses depart from Chengdu tourist bus station every 1 hour. We recommend Teddy Bear Guest House at the foot of Mt. Emei.
Cost: about RMB 800 per person.
Three days Chengdu-Huanglong-Jiuzaigou flight travel - Jiuzhaigou and Huanglong National Park boast for its large number of lake groups, waterfalls and variety of endangered plants and fauna. You could get there either by flight or by bus.
Cost: about RMB 1000 per person by bus, about RMB 3000-4000 per person by air.
Tibettravel.Org has office in Chengdu, we can tailor Chengdu Tibet Tour for you.
FAQ on Chengdu Tibet Trip:
1. How to book Chengdu Lhasa train tickets?
For Chinese citizens, identity card, student card or military service card is required for booking train tickets. For non-Chinese citizens, passport is required when booking train tickets.
As Qinghai-Tibet railway is such a hot tourist railroad, almost all train tickets are reserved by travel agencies in advance. Hence it is hard for travelers to book Chengdu to Lhasa train tickets by their own and it is wise to book your train tickets through a travel agency attached to your local tour request. Please be realized that the travel agency who help you book train tickets must be a reliable one, not all the travel agencies who advertised they can book Qinghai Tibet railway tickets are able to guarantee you the tickets. The reason is so simple, the demand is large and the tickets are limited, especially when you request a soft sleeping berth. Tibet Travel org is a qualified agent to help you book train tickets to Lhasa, for its stable relationship with train station and having a reasonable number of tickets reserved annually.
2. How to board the train from Chengdu to Tibet?
For foreigners, boarding the train to Tibet is a bit special. At least a copy of Tibet entry permit which is issued by Tibet Tourism Bureau (TTB) is required along with Tibet train ticket. You need to show both of them when boarding the train. Therefore, please make sure they are in your bag before heading to the train station.
Besides, go to the train station at least one hour before the train departure time. Usually, check-in starts 30 minutes before the train's departure as Chengdu is the starting station. It takes a bit long time to line up and check in because there are about 1000 passengers flocking into Tibet every day. For your luggage, all have to be passed through X-ray machines in the entrance of the railway station and need to be carried onto the train by yourself and put it under the lower bunk.
After entering into the railway station, you should find the terminal hall where your train is going to leave from. There are always electronic departure boards in the railway station with information shown in Chinese. You can find your waiting room according to the information given on your train tickets, or you can ask a staff for help if you are in trouble with the Chinese characters.
3. What to pack for the train journey to Lhasa?
As you will spend 2 nights in the train, you need to prepare your own slippers, towel, cup, teeth brush, teeth paste, soap, even tissue paper to the train. Another problem you have to think about is the food, although there is a restaurant car in the middle of the train which provides Chinese food. If you prefer to enjoy some milk, bread, fruit, and coffee, prepare them before hand by your own. Tibet train has heating and cooling, so you do not need to wear too much in the train.
4. What to see along Qinghai-Tibet railway?
By train from Chengdu to Lhasa, tourists can view different landscapes along the railway. Particularly along the Qinghai-Tibet railway, the beautiful Qinghai lake, the grand Kunlun mountains, the mysterious source of Yangtze River, the vast Qiangtang Grassland and the Yangpachen geothermal landscape.
5. How about the cost for the train trip from Chengdu to Lhasa?
The cost on taking train from Chengdu to Lhasa is not equal to the original price of the train ticket from Chengdu to Lhasa. The train ticket will cost you around RMB 800-1100.
In China, the train ticket fare does not include meals, so you need to pay the food in the train. A normal breakfast will cost you about 10RMB and a lunch or dinner 20-30RMB. Drinking boiled water is free, but you need to take a bottle or cup with you. There is bottled mineral water sold on the train. It costs around 3-5CNY for each bottle of water. If you want to have a cup of coffee or milk, you need to prepare it by yourself in advance for it is hard to get it on the train.
Except the cost on food, another big expense on the train trip is that you have to pay the service charge to the travel agency who help you purchase the train tickets. The cost ranges from 100RMB to 600RMB in different seasons.
In a word, the total cost of Chengdu to Lhasa train tour is about 1500-1800CNY for soft sleeper berth and 1100-1200CNY for hard sleeper berth. Actually the bunk of the hard-sleeper is also soft. There are just two more bunks in a room than those in a soft sleeper room.
6. How to book air tickets from Chengdu to Tibet?
We can help you to book the air tickets from Chengdu to Lhasa. You also can book air tickets online by your own with your passport number if you prefer.
7. How to board the flight from Chengdu to Tibet?
Tibet entry permit is required for boarding the flights to Tibet for foreign travelers. But different from boarding the trains to Tibet, the original Tibet permit is required along with the air ticket.
8. How about Chengdu daily cost on food and accommodation?
The kinds and price of food in Chengdu vary greatly. You can find restaurants everywhere in Chengdu. You can enjoy a simple meal that only cost around RMB8-RMB12 per person. There are a number of stalls and hole in the wall type places all over town. Food here is dirt cheap – expect to pay no more than ¥8 for a meal, and the quality is good. If you prefer a enjoy something special, such as hotpot, it will cost around RMB30-RMB60 per person, including simple drinks. There are also many western style fast food including McDonald's, KFC, Subway and Pizza Hut throughout Chengdu. For accommodation, the price of hotels varies from RMB60 to RMB2000. The cost totally depends on your choice. You can enjoy a comfortable night, with spending only RMB150. In a word, the daily cost on food and hotel in Chengdu is around RMB200-RMB300 if you are not traveling in luxury.
9. Where to Enjoy Chengdu Nightlife and Entertainment?
Chengdu is famous for its relaxed and laid back lifestyle, from traditional tea house to modern pubs, cafe, theaters, you will find many place for night activities.
Jinli Old Street is an relaxing area with ancient Chinese style houses, and a great place for night stroll, shopping and eating; if you want to have a drink, go to the bar street located by the river. There are around 30 bars together.
Another recommended activities for visitors in Chengdu is enjoying the Sichuan Opera. Camera shots are forbidden during the performance.
Most Popular Chengdu Tibet Tour Packages