Travel to Tibet from Chengdu
Chengdu is always a popular gateway city to start a trip to Tibet for both domestic and overseas tourists. Why do they choose to travel to Tibet from Chengdu? How to get to Tibet from Chengdu? Here is a comprehensive guide on traveling to Tibet from Chengdu.
Why travel from Chengdu to Tibet?
1. The biggest and the closest international hub near Tibet Autonomous Region
Chengdu, with two international airports, is definitely the biggest and busiest international hub in southwest China. There are flights from more than 50 international destinations and over 170 domestic airports to Chengdu every day.
Chengdu also has well air connection with all major cities of China. You can fly directly to Chengdu from Shanghai, Beijing, Hong Kong, Guangzhou, and other metropolises for your flight to Tibet.
With a flight distance of only about 2 and a half hours, Chengdu is no doubt the closest and biggest international port city to Tibet. No matter where you are from, it is quite convenient for you to start your Tibet tour from Chengdu by air.
2. 34 direct flights from Chengdu to Lhasa Every Day
As the most important hub for flights connecting Tibet with the outside world, there are over 30 flights between Chengdu and Lhasa every day. Flights to Tibet from Beijing, Shanghai, and Guangzhou all go through Chengdu.
Besides, there are non-stop flights flying from Chengdu to Nyingchi and Shigatse and connecting flights from Chengdu to Chamdo and Nagri.
3. More Ways to Travel to Tibet
As the most important gateway to Tibet, Chengdu also has the railways to Lhasa and Nyingchi, as well as the popular G318 highway to Tibet.
If you are an adventurer, you can choose a more challenging way to travel to Tibet, such as driving to Tibet or riding to Tibet. From Chengdu, you will have more options and possibilities to get to Tibet.
How to travel from Chengdu to Tibet?
Option 1. Chengdu to Lhasa by Air
Taking a Chengdu to Lhasa flight is the most time-saving and convenient way for there are around 20 direct flights to Lhasa every day. It takes around 2.5 hours from Chengdu to Lhasa by air.
Currently, there are two airports offering flights from Chengdu to Tibet, one is Chengdu Shuangliu International Airport, and the other is the newly-built Chengdu Tianfu International Airport. So when you book the flight to Tibet, please double-check the departure airport in Chengdu.
Tips for Taking a flight from Chengdu to Tibet:
1. You can book the air ticket online on your own with your passport number or let us book the ticket for you.
2. Make sure you get the Tibet Travel permit in advance. It is required for boarding flights to Tibet.
3. You may also need to show the negative nucleic acid test and healthy code. Please contact your travel consultant in advance for details.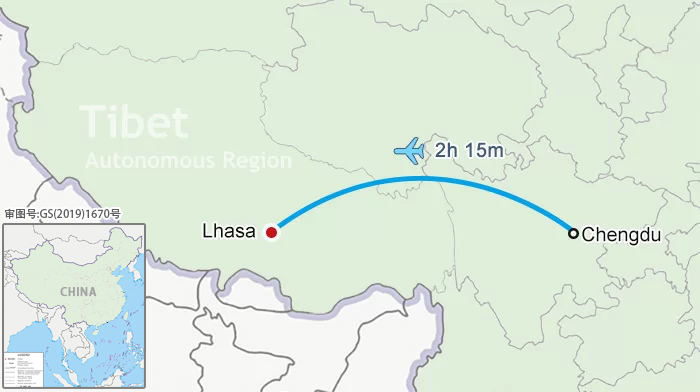 There are 34 direct flights between Chengdu and Lhasa in peak travel season from early morning to midnight.
Option 2. Chengdu to Lhasa by Train
Traveling from Chengdu to Lhasa by train is another popular way among tourists to Tibet, not only because it is cheaper than by flight, but also for the breathtaking scenery along the railway to Tibet.
From Chengdu, the railroad to Tibet goes north, passing through Lanzhou and connecting with the famous Qinghai-Tibet Railway at Xining.
Chengdu to Lhasa Train Schedule
Currently, the train from Chengdu to Lhasa starts every other day. It starts on odd days in certain months, while on even days in other months. So please kindly consider this when you are planning a Chengdu to Lhasa train tour.
Tips for taking a train from Chengdu to Tibet
1. Since the demand is large and the Tibet train tickets are limited, it is hard for you to book a Chengdu to Lhasa train ticket on your own, especially in peak seasons. With years of Tibet train tour operating experience, we can guarantee you a Tibet train journey from Chengdu.
2. The Tibet Travel Permit is required to board the train to Tibet. Please make sure it is in your bag before heading to the train station.
3. Go to Chengdu North Railway Station at least one hour before the train departure time. Usually, the check-in starts 30 minutes before the train's departure as Chengdu is the starting station, but it takes a bit long time to line up and pass through the security check.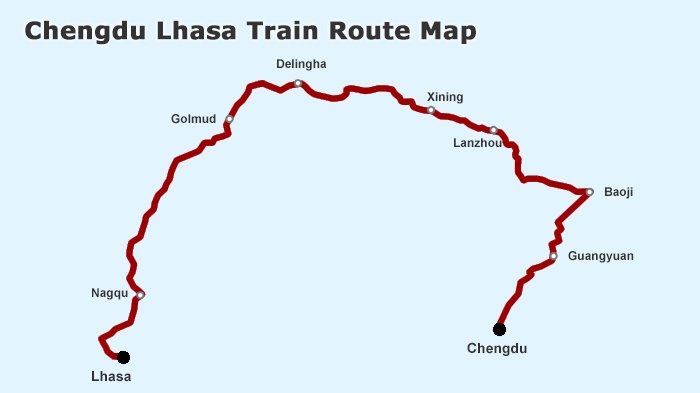 Covering a distance of 3,070 kilometers, Chengdu to Lhasa Train departs every other day at 21:28.
Option 3. Chengdu to Lhasa by Road – Sichuan-Tibet highway Overland Route
Chengdu to Lhasa overland tour costs you about 10 days to travel along the G318 National Highway. As the longest high-altitude road in China at present, it is the most dangerous but most beautiful road route, where you can feel the real nature of western Sichuan and eastern Tibet.
Snow mountain peaks, mountain passes, and deep gorges can be seen along the road route. Meanwhile, the Tibetan culture is better preserved here than that in Tibet and is subject to fewer religious restrictions.
Tips for traveling from Chengdu to Lhasa by Road
1. The best time to take an overland tour from Chengdu to Lhasa is in spring and autumn. Summer is the rainy season. The heavy rainfall in mountainous areas can easily cause landslides, mudslides, and some other geological disasters. It is dangerous for drivers who are not familiar with the road conditions. Therefore, it is recommended to avoid traveling through this route in the rainy season.
2. Foreign tourists can complete the Chengdu to Lhasa overland tour accompanied by a professional guide from a licensed local travel agency. For more details, please feel free to contact us.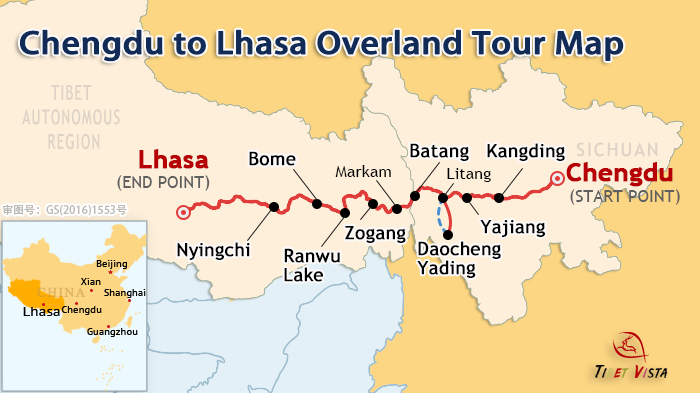 It is a lifetime driving from Chengdu to Lhasa through wild, mountainous and deliciously remote Tibetan areas of western Sichuan.
Option 4. Chengdu to Lhasa by Bike
The most challenging and the hardest way to travel to Tibet from Chengdu is by bike. This adrenalin-fueled challenging mountain biking trip across the 'Roof of the World' covers a distance of over 2,000 kilometers from Chengdu, the most important gateway city in southwest china from 500m high, crossing ten high mountain passes over 4000 meters.
The Chengdu to Lhasa biking tour is considered the extreme and highest biking trip in the world due to its length, average altitude, strong cross-wind, and unacceptable bad roads. Though it is difficult, basking in the grandeur of nature, your mountain biking adventure passes through rugged landscapes, historic and archeological sites, nomadic settlements, and pristine hamlets amidst spectacular views of many highest and holiest peaks.
En route, you may dismount from your bike for blissful photographic moments, sightseeing, and camping. Exploring the countryside is another fascinating prospect that can indeed be quite culturally stimulating.
Tips for Biking from Chengdu to Tibet
1. Avoid taking a biking tour from Chengdu to Tibet in summer, when it is the rainy season.
2. Tibet Travel Permit is also required for biking from Chengdu to Tibet.
3. You can do the section in Sichuan Province on your own, but once you enter TAR, you need to be accompanied by a local guide provided by a local travel agency.
How to Get Tibet Permit in Chengdu?
Tibet travel permit, a must for all foreigners to board the train/flight to Tibet, is issued by Tibet Tourism Bureau.
Generally, it takes around 8 to 9 working days to process your Tibet Permit. However, we recommend that you start applying for your Tibet Travel Permit at least 20 days in advance, in order to avoid any accident that may delay your Tibet tour.
When your Tibet permit is issued, we will send it to your hotel in Chengdu in advance. If you need us to do so, please tell us the address and contact information of your hotel in Chengdu. We can also have someone meet you at Chengdu airport or Chengdu railway station and give you the Tibet permit.
Of course, you are also welcomed to our office in Chengdu and pick up the Tibet permit on your own.
How to cut down the Cost of a Tibet Tour from Chengdu?
The cost of a Tibet tour might be much higher than the trip to some other destinations in China. Mainly because of the expensive transfer to and within Tibet. But thanks to the frequent flights from Chengdu to Tibet, you can save a lot on the flight to Tibet.
However, to cut down the total cost of a Tibet tour from Chengdu, here are some suggestions.
Travel from Chengdu to Tibet in Low Season
Winter is the low season for Tibet tourism, during which there could be great discounts on flight tickets, hotels, etc.
If you travel to Tibet from Chengdu in winter, a round-trip ticket may cost only about 1,000 RMB after a discount, while in normal times, a full-price ticket may cost up to 1,500 RMB or nearly 2,000 RMB in high season.
Notice:The Chengdu to Lhasa train fare is relatively fixed without seasonal influences. However, due to high demand during peak seasons, additional fees may be required to get the tickets.
Book Your Transfer from Chengdu to Tibet in Advance
No matter whether you are going to take a flight or a train to Tibet from Chengdu, it is suggested to book your ticket in advance. Earlier booking always means a lower price.
In most cases, traveling from Chengdu to Tibet by train rather than by flight could save you more money. You can further cut down the cost if you choose a hard sleeper berth instead of a soft sleeper.
But in the off-season, the airfare of the Chengdu to Lhasa flight may be cheaper than the soft sleeper train ticket. You can ask your travel consultant to check both prices for you and choose the proper way to go.
Join a Tibet Small Group Tour
Joining a small group tour in Tibet is the best way to cut down the cost of a Tibet tour. By this way, you can cut down the cost of your Tibet tour on tourist vehicles, tour guide, single room supplement, and even food. The cost might be cut down by as much as 30%-40%.
Before you get to Lhasa, do plan at least one day tour in Chengdu.
Known as the hometown of Giant Panda and the hibiscus city or the brocade city, Chengdu will absolutely surprise you once you are there. It enjoys a longstanding history and civilization and relaxed and rather leisure life space which helps you enjoy a real holiday, no heavy work, no busy telephone.
Recommended Things to Do in Chengdu
Visiting Giant Pandas in Chengdu Panda Base
Visiting the cute Giant Pandas is a must thing you should do in Chengdu. Chengdu Research Base of Giant Panda Breeding, or Chengdu Panda Base for short, is the best place to see Giant Pandas, as well as baby pandas in the world. Covering a large area, it includes a Giant Panda nursery, cub, adolescent, and adult enclosures as well as enclosures for the red panda. You can really get a close encounter with the lovely creatures.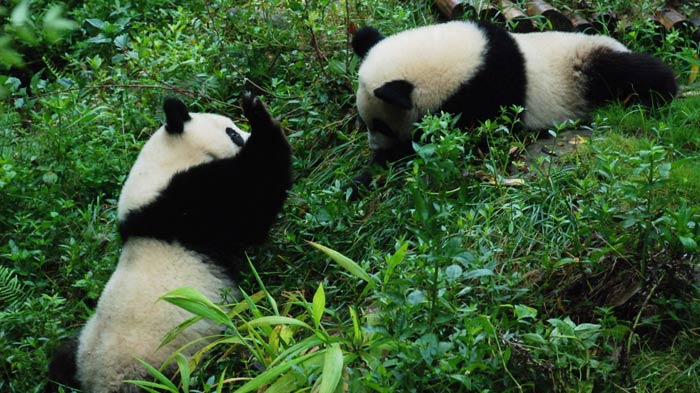 The best time to visit pandas is in the morning when they are having breakfast. In contrary, they are always sleepy in the afternoon.
Explore the Mysterious Sanxingdui Ruins and Jinsha Site Museum
Sanxingdui Ruins, combined with the Jinsha Site Museum, are amazing sites to learn about the ancient civilizations of the Shu Kingdom that appeared more than 3,000 years ago. The relics from these two sites, such as gold masks and bronze artifacts, are unique and distinctive to the ancient Shu civilization, which are unlike those found elsewhere in China. If you are interested in ancient civilizations from 3000 years ago, don't miss the opportunity to visit Sanxingdui Ruins and Jinsha Site Museum during your Chengdu tour.
Back to the Three Kingdom Period in Wuhou Memorial Temple
Wuhou Memorial Temple and Jinli Alley, you'll see shrines to the ministers of the Shu Kingdom (221-263, a part of the Three Kingdoms period 220-280 AD). The park is large and interesting architecturally. Originally built in 223 AD, the place is steeped in history but is also nice to wander around. Just east of Wuhou Memorial Temple is a pedestrian alley lined with Sichuan snack stalls, teahouses, souvenir shops, and inns. The architecture has been restored to look like ancient Sichuan. It's the perfect place for a pit-stop after a few hours in Wuhouci.
Enjoy Sichuan Cuisine
Sichuan cuisine in Chengdu is delicious, fiery as well as spicy, with heavy use of Sichuan pepper which causes your mouth to become a little numb. You may also find the local food too oily or too salty for your taste and may want to advise your server accordingly. Try the authentic Sichuan dishes with Sichuan pepper is a great experience and using a bottle of milk or beer or something sweet would be much better than water.
Hotpot is the most special food in Chengdu, comes with a big pot of soup and spices simmering in a hole in the middle of your table and add-ins like a lamb, mushroom, beef, tofu, and kinds of vegetables; the served soup in hot pot is spicy or non-spicy available; other reprehensive Chengdu dishes are Tea smoked duck, Twice cooked pork, Mapo Tofu, Sichuan hotpot, Fuqi Feipian, Spicy deep-fried chicken, Shuizhu, or literally "Water cooked", dishes, Dan Dan noodles, Bon Bon chicken.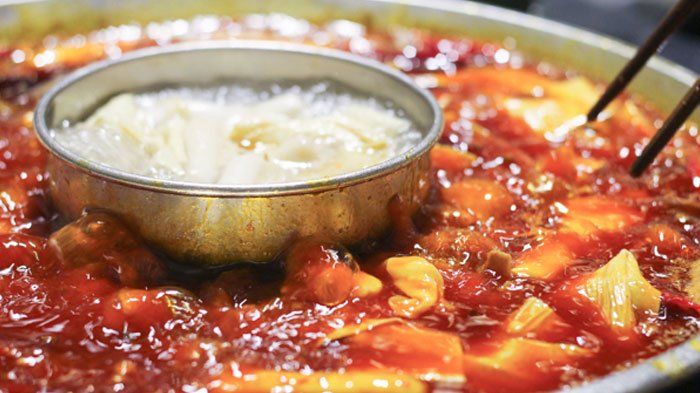 Sichuan hotpot is a must food you should have a taste.
How to Plan a Chengdu Tour before Your Tibet Tour
If you are short on time, you can have a day tour in Chengdu before getting to Tibet to visit the major downtown attractions.
If you want to explore the well-known areas nearby, such as Leshan Giant Buddha and Mount Emei, Dujiangyan Irrigation System and Qingcheng Mountain, or the Jiuzhaigou Valley, you need to plan two to four days.
With the local office in Chengdu, we handpicked classic Chengdu Tibet Tours that cover the best of Chengdu together with the highlighted Tibet tours. If it is the first time you to visit Chengdu and Tibet, this could be a good choice.
Conclusion
Chengdu, an important transfer hub in southwest China, is a popular gateway to Tibet. It offers the most frequent daily non-stop flights to Lhasa, Nyingchi, and Shigatse. Also, there is a railway route and a highway connecting Chengdu and Tibet.
The easy transfer and short distance make the journey from Chengdu to Lhasa more money effective than from other big cities in eastern China.
As Chengdu itself is also a popular tourist destination, most travelers choose to visit Chengdu before heading to Tibet. The lovely giant pandas, the delicious Sichuan cuisine, the leisure lifestyle, and the mysterious civilization of the ancient Shu Kingdom could add more fun to your trip.
With a local office in Chengdu, we welcome you to travel to Chengdu and Tibet with us.