Lying to the easternmost part of Tibetan Plateau, Chengdu, ever since the ancient times, has served as a vital gateway city to Tibet in southwest China. In fact, Chengdu Lhasa train (Z322), which covers 3070km across 5 provinces, is the third shortest train route to Tibet, only next to Xining and Lanzhou. Your train (Z322) leaves from Chengdu at 21:37 and reaches Lhasa at 9:55 the day after tomorrow, with a total duration of 36:18hrs.
You embark on your journey from fertile Chengdu plain and gradually ascend to soaring Tibetan Plateau. Likewise, the highlights of the scenery unfold as Tibet train dashes from Golmud to Lhasa. Be prepared to marvel at majestic Mt. Yuzhu, glittering sunset of Tuotuo River, and lofty Tanggula Mountain Range, etc. And its return train (Z324, Lhasa Chengdu train) bounds for Chengdu at 18:35 and been through 36:23hrs till arriving in its final destination.
So, what are you waiting for? Check the top Chengdu Tibet train tours we handpicked below and let us help you secure your Tibet Permit and Tibet train ticket for a once-in-a-lifetime journey now.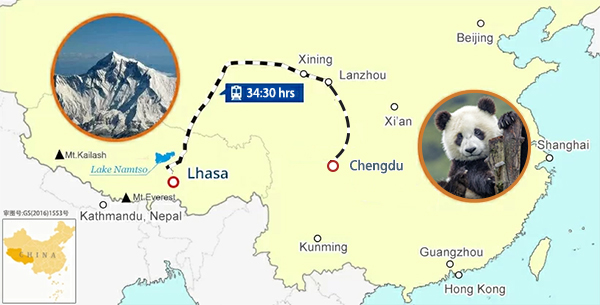 Most Popular Chengdu Tibet Train Tours
To help you make the most of Chengdu Tibet train tour, we handpick the most popular tours from Chengdu to Tibet by train, with flexible and easy tour combination to the star attractions surrounding Chengdu and to other parts of Tibet and mainland Chinese cities, even with extension from Tibet to Nepal. In addition, all the Chengdu Tibet train tour packages include a Tibet train ticket and the Tibet Travel Permit. Sounds cool? So, just take your time to pick your favorite Chengdu and Tibet by train and leave the hassle for us to take great care.
Chengdu Tibet Train Schedule and Timetable
Z322 Chengdu to Lhasa Train Schedule
Chengdu to Lhasa Train Timetable

(Simple Click to Enlarge the Timetable)
Chengdu Lhasa Train Duration: 36h18m
Frequency: Daily
Chengdu to Lhasa train is one of the most popular train routes to Tibet. Please book your Train ticket as early as possible.
Frequently Asked Questions about Chengdu Tibet Train Tour
a.How to book the Chengdu Tibet train ticket?
Answer: Basically, you have two options: one is to book the Chengdu-Lhasa train ticket online by yourself; the other is via a travel agency. If you can have no language barrier or have a Chinese bank account and know how to use Apps likes Wechat or Alipay in mainland China, you may have a try. However, in reality since traveling from Chengdu to Lhasa is one of the most popular train routes to Lhasa, it's very likely you may end up failing to get the train ticket, esp. during the high season of Tibet travel (April to Oct. and other during other Chinese festivals), because a large number of train tickets have already been reserved by big travel agencies.
So, the best way is to book your Chengdu Tibet tour by train from us, the reliable travel agency. In this case, not only can your train ticket (hard sleeper) be secured but also plan your Tibet tour together. You are free from much hassle. So, Why not?!
b.How can I get my train ticket from you?
Answer: There are two situations. One is that our staff will deliver the train ticket to you in person. The other is that your travel consultant will give you the Train Booking Confirmation No. and you go the ticket office at the railway station for the ticket yourself. In this case, you are expected to arrive at the railway station much earlier (2hours will do.) because long lines occur very often in China. Get to the ticket office and show your train booking confirmation No. and Passport and Tibet Permit (or copies) to get your train ticket.
c.Which train tickets should I buy, any difference?
Answer: Overall, three Tibet train tickets are available to the passengers. The highly recommended ones are soft sleeper ticket and hard sleeper tickets. If you book our Tibet train tours, the hard sleeper ticket has already included in the tour package. The hard sleeper cabin can accommodate 6 passengers and you can sleep on the bunk. Though a bit cramped, it's nice and clean and quite cost effective.
If you look for more privacy, soft sleeper is the best choice. The soft sleeper cabin only accommodates 4 passengers, more spacious and better equipped (such as TV, carpet, small clothes rack, etc.) You can discuss with our travel consultants to see if you need to upgrade your ticket or not. The last one is the hard seat, whose seat is not hard literally. Despite the cheapest price, it's not recommended for all you have is the seat without a bunk to sleep, esp. during the long ride.
d.Do I need to be worried about altitude sickness aboard?
Answer: Absolutely not! During the invention and construction of Tibet train, Chinese engineers have taken this issue into consideration and ingeniously solved it. The Tibet train is equipped with smart oxygen supply system. As the train reaches places with extreme altitude, such as Tanggula station (5072m), on the Tibetan plateau, oxygen will be released though the oxygen outlet in the train cabin. You may ask for the oxygen tube from the staff for the convenience of oxygen inhale. Meanwhile, the medical staff may also stay in the train for emergency.
All the travelers will respond to the altitude ascent. However, the symptom varies. And there is no need to panic. If you do feel the need to take the medication, you can buy Diamox , Rhodiola rosea (红景天) or Gaoyuanan (高原安) on pharmacist's or consult your doctor.
e.Can I have shower in the train?
Answer: Interestingly, there is no shower facilities in the Tibet train, largely due to the concern for the conservation of fresh water. Meanwhile, it can effectively reduce the chance for passengers to catch a cold, which can be a serious health issue on the Tibetan Plateau. However, hot water and water for washing face and hands and fruits are available.
f.I'm a vegetarian. Any food available to me in Tibet train?
Answer: Yes, in the dining car, you can easily check the menu and may order dishes like noodles, dumplings, and vegetable fried rice, steamed pumpkin and tomato/tofu soup, etc. Besides, during the meal times, the food trolley pulled by the staff may also sell biscuit, instant noodles and other snacks, etc.
Quick Inquiry
Scan the QR code to get 1-on-1 consultation with our travel expert on Wechat.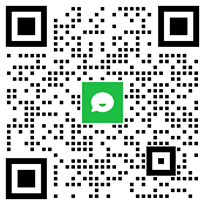 Or, leave your message below to get quick reply via email.