Bhutan Weather and Tour in February: is February a good time to visit Bhutan?
February means the winter in Bhutan will soon come to the end and the tourism industry in the entire country is going through a short term to recover its vitality back from the low season. During this period, it is the last chance in the year to enjoy the stunning winter Bhutan sceneries.
You can either choose to take a sightseeing city tour or a culture-themed trip to all parts of Bhutan, or you can just choose to enjoy an outdoor activity to explore Bhutan's winter beauty. In central or southern valleys, you may even feel the spring in the air with early buds on the trees and fish swaying in the lakes.
The weather in February remains to be fine and stable with crystal clear sky and very little rainfalls. The temperature continues to go up steadily from 1 degree to almost 12 degrees, making the not very cold winter Bhutan even warmer.
Except the forever snow-covered Himalaya Mountain peaks bordering to the Tibet plateau in the north, other parts in Bhutan seldom have snowfalls in February. If you fancy a trek during the entire month, you may get stunned by the majestic winter Himalaya range with perfect visibilities. More thick clothes and layers are the musts when you stay outside.
The Weather and Climate Condition of February in Bhutan
Affected by the terrain, Bhutan's weather to a large extent is determined by the altitude. February is a winter month in Bhutan with plenty of sunshine and little rainfalls. The air still remains to be dry and barely has snow falls except far in the northern Himalayan regions.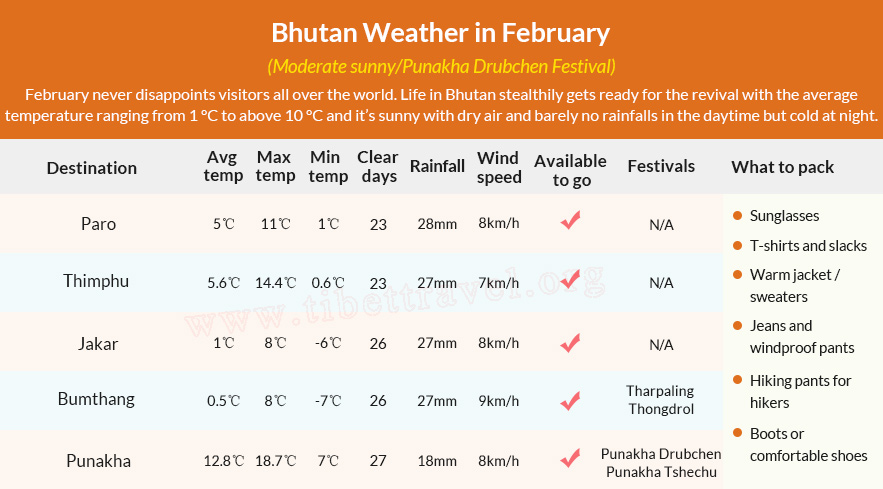 In central and eastern parts, the weather is still mild with the temperature varying from 4 to 17 degrees while in some southern areas, temperature can stay at a comparatively high level around 22 degrees, even a little bit higher than you have expected.
However, in northwestern valleys like Thimphu valley and upper Paro valley, though the weather maintains to be stable, the daytime temperature drops slightly to 5 degrees and lingers around the freezing point at night. While in the north Himalayan regions, especially on some high altitude valleys, the temperature is perfect in the daytime, but drops about 7 to 8 degrees below zero at night.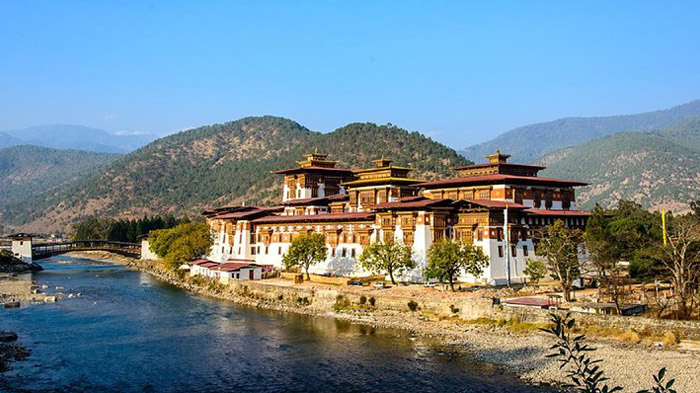 Grand Punakha Dzong with Mo Chu River in front and ever-green forests behind in Feb.
So if you plan a tour to northwestern and northern parts of Bhutan like Thimphu, Paro or the adjacent wonderful valleys and trekking routes in February, get the winter clothes well packed to beat the nipping weather in the morning and at night.
To help you get more information about the February weather and climate in Bhutan's most attractive towns and regions, we have collected the latest and detailed weather and climate information about the towns and regions listed below.
Paro weather in February
Average Maximum Temperature: 11 °C
Average Minimum Temperature: 1 °C
Average Temperature: 5 °C
Precipitation: 28 mm
Wind Speed: 8 km/h
With its location in the western Bhutan, Paro (2,200 m) in February is still in its winter time. Sunshine days dominate the entire month with the average temperature rising slightly from the minimum of 1 °C to the maximum of 11 °C.
The precipitation in February remains almost at the same level comparing to the previous month, however, in the late of this month, the entire town may be possibly stricken by a few days' snows, marking the end of Bhutan's three-month bleak winter.
The wind in Paro February tends to soothe a little bit with the wind speed approximately at 12 km/h. It is possible for you to plan a short day trek around Paro or carry out a culture-themed outdoor activity in February to enjoy the winter Bhutan.
Thimphu weather in February
Average Maximum Temperature: 14.4 °C
Average Minimum Temperature: 0.6 °C
Average Temperature: 5.6 °C
Precipitation: 27 mm
Wind Speed: 7 km/h
The capital city Thimphu (2,334 m) is just 55 km away from Paro and only 2-hour drive from it. So the weather of both major towns bares a lot of similarities in February. You can expect moderate temperature ranging from 12 °C to 15 °C during the day, however, at night, the temperature drops to the freezing point or a few degrees lower than that.
If you plan a trek, the higher place you reach, the colder the weather tends to be at night. With less rainfall and perfect sunshine, the sensible weather in daytime is much higher than expected and you may feel comfortable no matter you are doing an outdoor trekking or just taking a city tour.
In late February, you may encounter two or three days' morning snow showers but the weather soon turns to be fine. Besides the city tour and the trekking, February in Thimphu also provides great weather for adventure activities like white water-rafting and bird watching too.
Jakar weather in February
Average Maximum Temperature: 8 °C
Average Minimum Temperature: -6 °C
Average Temperature: 1 °C
Precipitation: 27
Wind Speed: 8 km/h
Jakar (2,587 m) is another popular town locates in Bumthang valley in central Bhutan. Though the February temperature drops slightly a bit when comparing to some western towns, however, the daytime weather remains to be perfect with plenty of sunshine and great visibilities. Daytime temperature maintains to be a comparatively high level while at night, it has the same chillness with most of the major towns and regions in winter Bhutan.
Rainfall is rarely seen in this month and never worry about rainy days unless you stay outside late at night or early in the morning a day or two in this month. With mild and temperate daytime weather in Jakar, the world-renowned things for travelers to explore are the scenic valleys and the historical and spiritual legacies including Bhutan's oldest and most venerated temples and monasteries, etc. No matter wherever you go, wear layers and a down feather clothes.
Bumthang weather in February
Average Maximum Temperature: 8 °C
Average Minimum Temperature: -7 °C
Average Temperature: 0.5 °C
Precipitation: 27 mm
Wind Speed: 9km/h
Bumthang area is famous for its gorgeous and lovely valleys with Ura, Chumey, Tang and Choekhor valleys top the most. Choekhor valley is the largest and widely considered as the "Bumthang Valley". With wide visual fields, the valleys are the most attractive one by their scenic natural views as well as the panoramic views of the temple structures.
Bumthang in February is cold with the average temperature ranging from -7 °C to 8 °C. However, you may still feel much warmer than you have expected in daytime, for most of the February days are sunny. Rains are hardly seen in this month, and, if any, are always rain showers in the morning or at night.
In valleys, the wind is moderate but the winter air remains to be dry, so keep your skin moisturized with sunscreens if you stay outside for a long time.
Punakha weather in February
Average Maximum Temperature: 18.7 °C
Average Minimum Temperature: 7 °C
Average Temperature: 12.8 °C
Precipitation: 18 mmvWind Speed: 8 km/h
Punakha area lies between the Thinphu valley and the Bumthang valley at a much lower altitude of 1,214 m. With suitable climate for growing rice, Punakha valley is famous for rice farming. Though the crop-planting season is yet to come in February, large pieces of farmlands can be sighted.
Due to the lower altitude, the weather is much warmer than most of Bhutan's western and central towns. The average maximum temperature in February increases to 18.7 °C while the average minimum temperature surprisingly maintains at a comparatively high level of 7 °C, making organic vegetables and kinds of fruits easy to be planted in the fields and orchard gardens.
In February, most of the days are sunny, but you may come across a couple of days with quick rain shower in the morning. Showers of Punakha in this month never blur the distant view of the stunning farmland which extends as far as eye can see, rather, the hazy morning makes the valleys more mysterious and attractive for you to explore.
When the sunshine drives away the haze, the air turns back to be dry. With moderate wind, the daytime weather in general is comfortable while at night, it is bearable to stay overnight outside. Try ascending to the mountain hills to have an overlook of the winter valleys and don't forget to bring down jacket with you.
What about Bhutan tours in February?
Bhutan in February is sunny in daytime and cold at night. The temperature can reach more than 20 degrees in the daytime while at night, it can drop below the freezing point, especially in some western parts. So if you are reluctant to stay outdoors at night, then you can take some classic Bhutan tours into consideration. These tour packages provide you with short term treks as well as city scenic spot explorations.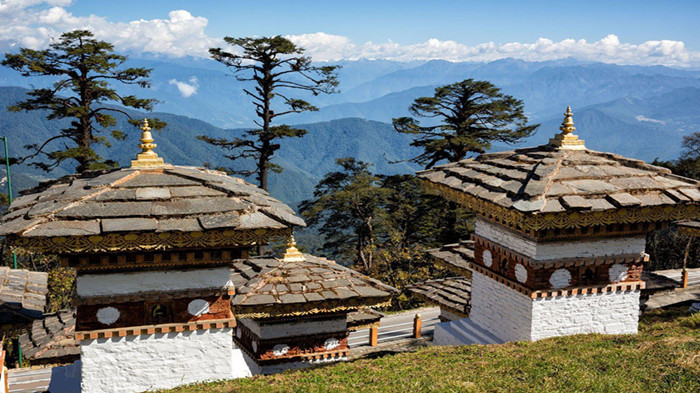 Dochula Pass with 108 stupas or chortens near Thimphu.
The classic Bhutan tours take you to Thimphu, Paro, Punakha, Wangdue and some other beautiful cities and the gorgeous Bumthang areas where you can experience every aspect of Bhutan's past and today.
You can get an in-depth understanding of the primitive civilizations of this country by visiting a great number of ancient temples and Lhakhangs. Or you can also see pristine dzongs as well as iconic Buddha points, etc. Enjoy the excitement from a tight archery match and attend the busy craft bazaar. Pay a visit to the house of the locals and experience their daily life.
Some of the tours guide you to the Dochula Pass (3,140 m). February's Dochula Pass is jaw-dropping, for the Bhutan Himalaya Mountains tend to be much grandeur than most of the months in the year. Below we have carefully selected some Bhutan classic tours with short treks for you:
>> 5 Days Classic Bhutan City and Scenic Tourist Tour
>> 6 Days Cultural Discovery Tour in Bhutan
How about Bhutan trekking in February?
February is regarded as a good time to take trek tours in western parts or central valleys. The sunny weather and clearer visibility leave you much room to explore. Meanwhile, the stunning Himalaya Range is paralleling with the route you trek, and solemn world-class mountains are at hand with great visibilities. Bhutan mountains in February are totally worth the tour.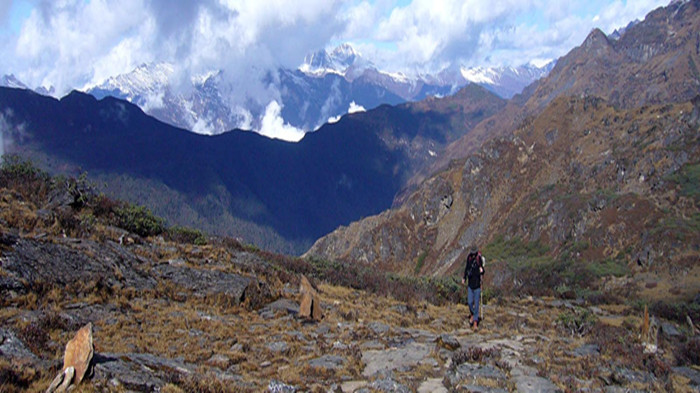 Start the Druk Path Trek to enjoy the majesty of Bhutan winter mountains.
Rocky cliffs, vast meadows, ever-green forests, pure unfrozen lakes provide all the possibilities and make Bhutan definitely a Winter Wonderland on earth. Below we have carefully selected some Bhutan winter trek tours with specific routes and arrangements for you:
>> 3 Days Bumthang Culture Trek
>> 6 Days Druk Path Trek
>> 10 Days Jhomolhari Loop trek
Insider tips:
1. We have provided some other popular Bhutan trekking routes to present more choices.
2. In February, the following trekking routes are not recommended:
3 Days Bumthang Owl Trek - You can hardly find any Bhutan owl in February, for they have already hidden deep in the forests.
31 Days Snowman Trek - The snowman trek is generally regarded as the most difficult trek in the world and it is not wise to embark on this tour in the winter season. Besides, in some sections of this trek, up on the places at higher altitude, the trekking trails are blocked by the heavy snow, which can easily jeopardize the whole tour.
Festivals in February
If you miss the Bhutan traditional festivals in January, then February is the proper time to make up for these regrets. Festivals with Bhutan features are continuously held in this month and the grand applique silk waved Buddhist image is ready to unveil and meet all the visitors.
Among the traditional Bhutan festivals, the most frequently held must be Tshechu and Thongdrol festivals in February. Tshechu is the annual religious festival held in each district or dzongkhag of Bhutan on the tenth day of a month of the lunar calendar. While the Thongdrol festival is mainly the display of a giant Thangkha or Thongdrol of applique silk Buddhist images.
Tshechu and Thongdrol festivals are large social gatherings with aborigines, farmers, distant merchants or even the highlanders all coming together. These traditional festivals with large markets congregating during the days are bustling with commerce and to some points are the carnivals of the Bhutanese people. The traditional festivals of Bhutan in February are collected below:
Punakha Drubchen - In the 17th century, Zhabdrung Ngawang Namgyel, the founder of Bhutan and also known as the lama who suddenly came alive through the sacred relics and objects displayed at the Royal Textile Academy in Thimphu, defeated the Tibetan invaders and led to the unification of Bhutan as one nation.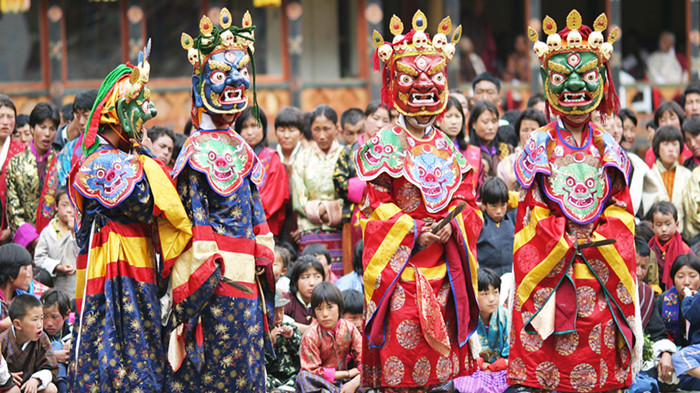 Lamas in colorful dresses and masks during Punakha Drubchen Festival.
To honor this victory and commemorate this historic moment, a grand celebration, the Punakha Drubchen was held. Nowadays, the celebration has become an annual festival in this district and Zhabdrung Ngawang Namgyel's heroic deeds have been effectively carried forward. During the festival, lamas with colorful dresses and particularly designed masks reenact this epic battle to commemorate their hero.
Punakha Tshechu - Held right after the Punakha Drubchen, Punakha Tshechu is another popular festival in the country. Punakha Tshechu festival is held annually to honor Padmasambhawa who was also known as Guru Rimpoche and had once introduced Tantric Buddhism throughout the Himalayas.
Monks in colorful brocade attire and with mask on their faces chant the Buddhist scripts and play enthusiastically during the festival. The highlight of this traditional festival is the unveiling of a giant cloth thangka, a sacred scroll describing Padmasambhava and other small-sized Buddha from the Buddhist pantheon.
Tharpaling Thongdrol - Tharpaling Thongdrol is a one-day festival held annually in Tharpaling monastery to display the giant thangka or thongdrol of Jowo Jampa and Kuenkhen Longchen Rabjam alternatively. Prayer ceremonies are performed by monks in the Tharpaling Lhakhang to the local people.
When is the best time to visit Bhutan?
For most people, there is no "best" time to visit Bhutan, as the kingdom can be visited at any time of the year. However, for the best tourist seasons, you should visit in spring and autumn, from March to May and September to November. This is when the weather is dry and bright, with no rain, and perfect for trekking. If you want less tourists and a quieter tour, then winter and summer, from December to February and June to September, are the best times of year. Summer can get a little wet in some parts of the country, as it is the monsoon season, and the winter can be colder in the far north, but overall, there are many advantages to visiting in the low seasons.
>> Further reading about when is the best time to trek Bhutan?
What to pack for visit Bhutan in February?
Depending on where you are heading, you may need to pack some warm weather clothes, as the south of the country rarely gets cold at all. In the north, however, you will need to have warmer clothing to beat the colder weather of the winter.
If you are trekking, then you should include trekking boots and plenty of layers to keep you warm or cool as you trek For those not trekking, a decent strong pair of boots or shoes is essential, as the roads in Bhutan are not all paved, and ground can be rough in some places.
The winter is a sunny time of year, so you will need sunglasses and a hat, since the sun can get a little stronger than you might expect. The northwest is quite windy too, so moisturizer and lip balm for the chaffing winds is a good idea.
Otherwise, you can bring normal clothes that you would wear anywhere else, such as t-shirts and slacks, jeans and other pants, hiking pants for hikers, and bring a warm jacket or sweaters, as it can get chilly at night.
Is it easy to get the Bhutan Visa in February?
Bhutan does not have any restrictions on when you can visit the kingdom, and is open all year round. However, as February is also the low season for tourism, it does mean fewer tourists applying for Bhutan Visa. The Department of Immigration does say that visas are normally processed within five working days in the peak season, so it is entirely possible that the visa may be processed faster if there are fewer applications. Other than that, it is always easy to get the visa, as long as you meet the requirements for travel to Bhutan and are using a reputable tour operator.
Conclusion:
The weather of Bhutan in February is far better than most of us could possibly imagine. It tends to be mild with plenty of sunshine and barely rainfalls. The temperature in most of the areas in the daytime stay above 15 degrees while at night, western and central parts do drop below the freezing point, which is bearable not only for a classic city tour, or an amazing simple to medium level trek.
The tour in February takes you to avoid the crowds in peak seasons and provide you with the chance to feel the inner tranquility. Meanwhile, the cost of the low season is still tempting, for it can help you easily to achieve a fantastic budget tour during your stay in Bhutan.