Top Flights to Bhutan
Sitting high in the Himalayas, landlocked and semi-isolated, Bhutan is a country the like of which you have never seen before. Shrouded in mystery for centuries, the last of the great Himalayan kingdom's, Bhutan is a unique place where the Buddhist culture exists hand in hand with modern development and environmental awareness.
Bhutan has been an isolated country for many centuries, and only recently opened its borders to international tourism, aimed mainly at the higher end of the tourist market. In line with the philosophy of Gross National Happiness, which puts the happiness of the people above its exportable products, tourism in Bhutan is sustainable and environmentally friendly. As the most efficient way to travel to Bhutan, flying to Bhutan should be your first choice. Check the useful flight information below for Bhutan tour.
Paro International Airport
Paro International Airport is the only international airport in Bhutan, although there are three other domestic airports. Lying in the deep river valley on the banks of the River Paro, it is one of the most challenging airports to land at, since the local terrain requires pilots to perform visual landings only, between sunrise and sunset, and in clear visibility. Built by the Indian government for the Royal Government of Bhutan in 1968, the airport was extended in 1981, and the only terminal building was erected in 1999, allowing passengers to have a small area in which to wait for their flights, and for immigration officials to check passports and issue visas.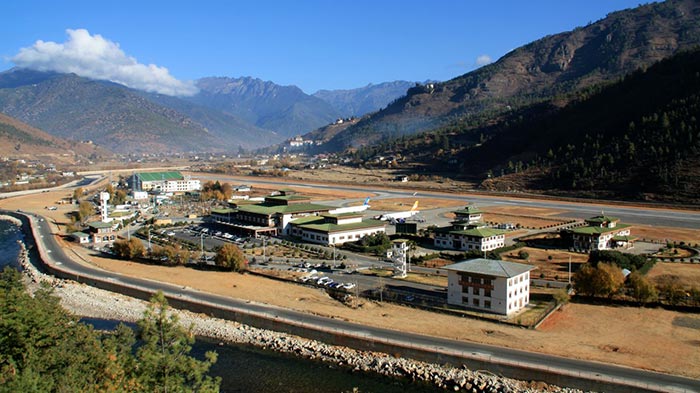 Paro International Airport
Paro airport has only three airline carriers operating internationally out of its site, which are Druk Air, Bhutan Airlines, and Buddha Air, although the latter only operates permitted charter flights from Nepal to Bhutan, normally carrying only government officials. The main airlines offer flights to just ten cities in five countries, all of which are run by the two Bhutanese airlines. Interestingly, Bhutan only allows flights into Paro International Airport from its own Bhutanese airlines.
Flights and Schedules
The kingdom has two official airlines, the first of which was Druk Air, which ran the first tourist flights to the country in 1983. Druk air currently runs flights to all of the ten destinations in all five countries, which are Bangladesh, India, Nepal, Singapore, and Thailand. Bhutan Airlines, the second Bhutanese airline and a private company owned by Tashi Air Pvt. Ltd., started running flights to and from Paro International Airport in 2013, and currently runs to five airports in three countries, Thailand, India, and Nepal.
Flights in and out of the country run daily to Bangkok, Kolkata, and Kathmandu, while New Delhi has five weekday flights per week, and the other airports only two flights per week. Additional flights are laid on for the major festivals of Thimphu tsechu and Paro tsechu, and two of the ten destinations only operate during the peak season for tourism.
One of the problems with flights to and from Paro International Airport is the weather conditions. During bad weather, when visibility is low, flights are not permitted to take off or land, and flights in the summer rainy season and winter season can sometimes be delayed due to bad weather.
Druk Air
Druk Air is the first and largest of the two Bhutanese carriers, and has been operating from Paro since the kingdom was opened to international tourism. They currently offer international flights to and from Dhaka, Bagdogra, Delhi, Gaya, Guwahati, Kolkata, Mumbai, Kathmandu, Singapore, and Bangkok. Flights are also available to Mumbai and Gaya in India during the peak tourist season.
Bhutan Airlines
The smaller of the two carriers, Bhutan Airlines operates flights to New Delhi, Kolkata, Kathmandu, and Bangkok, and is set to include Bagdogra in India by the summer season of 2018. Dhaka and Singapore are also planned for the future, as are Dubai and Hong Kong, once the government has approved travel to the kingdom from these new countries.
>> How to get to Bhutan from Singapore
>> How to get to Bhutan from Nepal
How to book a flight to Bhutan
Booking a flight to Bhutan is not like booking with any other airline to any other destination in the world. First and foremost, you need to have a pre-booked and fully paid tour with one of more than 1,150 approved tour operators for the country. All tour operators to Bhutan are carefully monitored by the government, and required to follow strict guidelines on the treatment of tourists. Your visa cannot be applied for until your tour is paid in full.
The visa for Bhutan is applied for by the tour operator, once full payment has been received, and the tour operator requires a photocopy of your passport. Once it has been approved by the Department of Immigration, the tour operator will receive a letter, which will be forwarded to you, the immigration desk at the airport in Paro, and both of the Bhutanese airlines. This letter is required for you in order to book and board a flight to Bhutan and to obtain your visa at immigration once you reach Paro International Airport.
Once you have the letter, you can then book your flight direct through Druk Air or Bhutan Airlines, through one of many comparison websites, through a local travel agent in your home country, or even through your tour operator to Bhutan. Your tour operator can book the flights direct with the carrier, and send you the e-ticket by email. This is more beneficial in case of a cancellation, and you can get your refund much faster if the ticket was booked by the tour operator.
Travel tips: We offer hassle-free tour service for Bhutan Permit and flight and hotel booking, etc. Just send your inquiry to us, our travel consultants will offer free consultation and easy solution.
Ticket cost and booking
The cost of the tickets to Bhutan do depend on where you are departing from, and the season during which you are traveling to the kingdom. Return flights must be booked, and proof of your return ticket must be shown at immigration when receiving your visa. On average, a return economy flight from Kathmandu in Nepal to Bhutan costs from around US$ 430 and up in the low tourist season, and you must use the correct home country location on booking, or you will not be allowed to board the aircraft.
Most flights to Bhutan for tourists are booked through Druk Air, as it has more flights to the kingdom than Bhutan Airlines, and flights are a little cheaper when compared for the same dates. Flights can be viewed through the official airline websites at https://drukair.prod.sita.aero/flights/ and http://www.bhutanairlines.bt/.
Get acquainted with the flight ticket cancellation policy before you book the flight ticket
CANCELLATION POLICY FOR FLIGHT TICKETS:
Once the flight tickets are being issued the flowing cancellation policy will apply:
a) More than 30 days – 90%
b) Less than 30 days but more than 10 days – 75%
c) Less than 10 days but more than 5 days – 50%
d) Less than 3 days – no refund.
e) Rescheduled ticket not permitted for refund.
f) For every date change -$ 50 per person
g) Once ticket is being issued, no name changes are permitted.
CANCELLATION POLICY FOR HOTEL BOOKING:
-All hotels require an advance deposit of 30% of the total booking invoice at the time of confirmation.
PEAK SEASON:
 Less than 45 days prior to arrival – 100% of the rate depending on the hotels and their star category
OFF SEASON:
 Less than 45 days prior to arrival – 100% of the rate
FESTIVAL DATES:
 Less than 90 days prior to arrival – 100% of the rate
-Late arrivals, no shows and early departures will be charged in full.
Tips for flying to Bhutan
One of the things you need to remember when flying to Bhutan, is that your luggage will not be automatically transferred to your Bhutan flight from your international flight from home, and you have to collect it at the carousel before checking in for your flight to Paro International Airport. The same applies on your departure from Bhutan, which can cause some problems in countries that require transit visas, such as India, where you will need to get a member of the airport staff to get your baggage as you are not permitted to exit the transit area without a visa for India. For Thailand, Nepal, and Singapore, this is not usually a problem, as transit visas are not required.
The flights to Bhutan fly relatively low over the Himalayas, especially those from Nepal, and you can get a great view of the mountains as you pass over them if you are in a window seat. The captain will normally point out the higher mountains of Everest, Cho Oyu, Nuptse, and Lhotse as you draw near to them, as well as many other lesser-known peaks.
The flights also cross many of the mountains surrounding Bhutan as they draw closer to the airport, and there are some great aerial views of the country as you cross the border and head for the airport. On your arrival in Bhutan, the planes drop quickly through the clouds, banking into the wooded valleys of the kingdom in a steep descent. On good, clear days, the Taktsang Monastery and the Paro dzong are clearly visible as you come around to land.