How to Prepare a Bhutan Trip from Delhi
Traveling to the Kingdom of Bhutan from Delhi is a lot easier for Indian nationals than for passport holders of other nations. Bhutan is a country with strict tourist requirements for foreign visitors, and for many travelers, a pre-booked tour is required in order to even get the visa for the kingdom. For Indian nationals, the requirements are very different and less demanding than for others, although there are still plenty of requirements to complete in order to get to the Land of the Dragon King. With a government agreement between the two countries, Indian nationals can travel more freely into Bhutan than anyone else.
Travel Requirements
First and foremost, Indians traveling to Bhutan require formal government-issued photo identification, such as their passport or Voters ID card in order to enter the kingdom. They are also permitted to use an Identification Slip that can be issued in Phuentsoling by the Indian Consulate Office, once they have shown proof of Indian citizenship. The passport must be current, and have at least six month's validity remaining.
Permits and Visas
Indians traveling to Bhutan can travel into and around the kingdom without the need for a visa, although certain permits are required. According to the 1949 treaty between India and Bhutan, the free movement of people between the two countries is permitted on a reciprocal basis.
As an Indian national, you can book your tour through one of the many tour operators for Bhutan, though it is not a requirement for you as it is for other foreign visitors. However, if you do not use a tour operator you will need to apply for the permits to travel around Bhutan personally. You will, however, need to have a booking confirmation slip from a hotel in Bhutan in order to obtain the permit to enter Bhutan any further than Phuentsoling or via the airport, and you must have an itinerary planned as well.
The main permit required is the Entry Permit for the Thimphu and Paro areas only, and is issued on entry to the country. The permit is valid for seven or fourteen days, and are issued at either the Immigration Office in Thimphu or at the point of entry if traveling overland to Bhutan.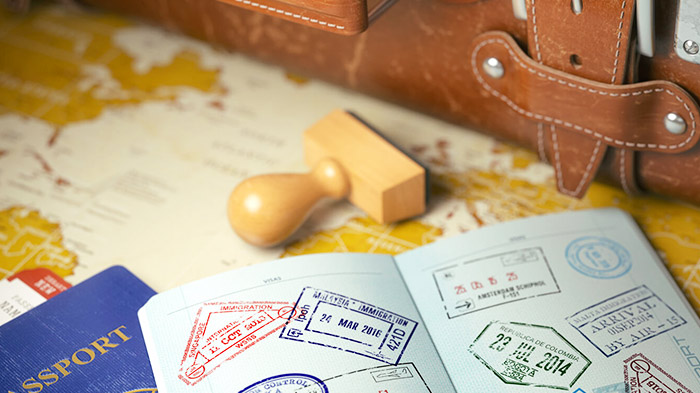 Permits and Visas sre necessary for Bhutan tour
For all other areas outside Thimphu and Paro, you will need to apply for the Restricted Area Permit, which can also be obtained at the Immigration Office in Thimphu or on entry through the overland border crossing points. Checkpoints are common at major road intersections across the country, and your permits must be in order and available for inspection on request.
The forms for all the permits can be obtained at the Immigration Office or at any photocopy shop, and the permit applications all have to be supported by a passport-sized photo, your hotel booking confirmation and itinerary, and a photocopy of your valid passport or Voters ID. You will also need a separate permit if you are using your own vehicle in Bhutan. Permits can be extended at the Immigration Office, and for Indian nationals there is no charge for the permits and extensions. It should be noted, however, that all government offices are closed at weekends, including those issuing permits at the land border crossing points.
The only problem you may encounter when traveling in Bhutan is that the permits are not issued to solo travelers, as solo travel is discouraged. One way around this is to find another solo traveler as you make your application for the permits, and make a joint application. Permits are issued individually, so you will both get your own permit, and you can go your separate ways.
Travel tips: For non-Indian citizens, we also offer Bhutanese Permit service for our clients.
Traveling to Bhutan
Getting to Bhutan from Delhi is relatively easy, and you can travel by car, train, bus, or take a flight to Paro International Airport. Until the kingdom was opened up to tourism, it was accessible only on foot through two entry points on the border with West Bengal. Nowadays, there are three land border crossing points, as well as entry via the airport at Paro.
By Road
Traveling from Delhi to Bhutan is a journey of over 1,600 kilometers, which will take around 27 hours of continuous driving, and which is not recommended to do alone. However, if you are traveling alone, then it is a three-day trip to the closest border crossing point at Phuentsoling. The fastest and easiest route runs through Agra, Lucknow, Darbangha, and Siliguri, before finally arriving at the border town of Jaigoan on the Side of West Bengal. From there , it is a short hop across the border to Phuentsoling, which is basically the same town that straddles the border.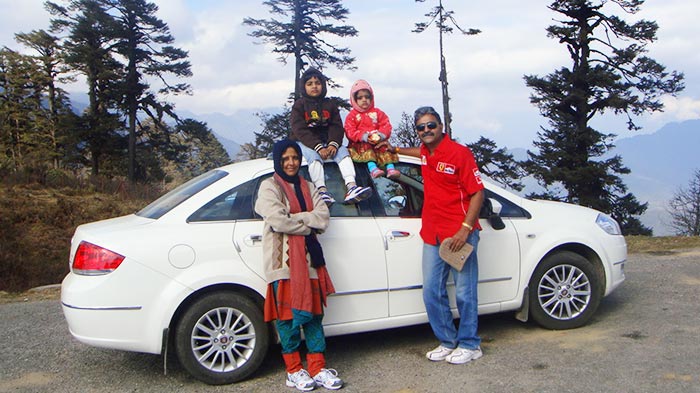 Traveling from Delhi to Bhutan is a 1,600-kilometer road journey
Other border crossing points to Bhutan can be found at Gelephu and Samdrup, though they are much further than Phuentsoling, and can increase your journey time dramatically. Moreover, they are not as well staffed and popular as the crossing at Phuentsoling, and take much longer to reach Thimphu from the border.
By Rail
Traveling by rail is one of the preferred methods of travel to Bhutan when traveling overland, and with the huge rail network in India, it is easy to get from Delhi to New Jalpaiguri Railway Station, the nearest decent-sized railway station to Phuentsoling.
The route from Delhi to New Jalpaiguri takes around 27 hours by train, and there are often several connections that you need to take into account when planning your trip. However, it is much faster to get there than by driving, and leaves you much more rested when you get to Bhutan, so you can enjoy your trip to the fullest. Tickets for an AC 3 Tier berth will cost around 2,800 INR per person for the entire trip, and you can book the ticket straight through to New Jalpaiguri.
There are several buses or shared local taxis from New Jalpaiguri to Jaigoan/Phuentsoling, and prices are relatively inexpensive, with bus tickets costing around 100-150 INR per person. Buses run from opposite the bus station near the Heritage Hotel, and take around four hours to travel the 160km to Jaigoan.
Bagdogra is the closest airport to Bhutan, and a flight from Delhi to Bagdogra can be booked seven days a week, leaving you with a short journey to New Jalpaiguri. There is an option for getting a train from New Jalpaiguri to Hasimara, the closest railway station to Phuentsoling, which takes around five hours, with a change of train at New Cooch Behar Station. Hasimara is just a short 30km bus rice from Phuentsoling, which costs just a few rupees.
By Air
If your preferred method of travel is by flight, then you have two options of getting to Bhutan's Paro International Airport. Druk Air operates four direct flights per week from Delhi to Paro, which take just under three hours, or an indirect flights via Kathmandu, that takes around 3 hours 30 minutes, plus waiting time in Kathmandu's Tribhuvan International Airport. Bhutan Airlines, Bhutan's only civilian carrier, has just one flight per week to Paro from Delhi, which is indirect through Kathmandu.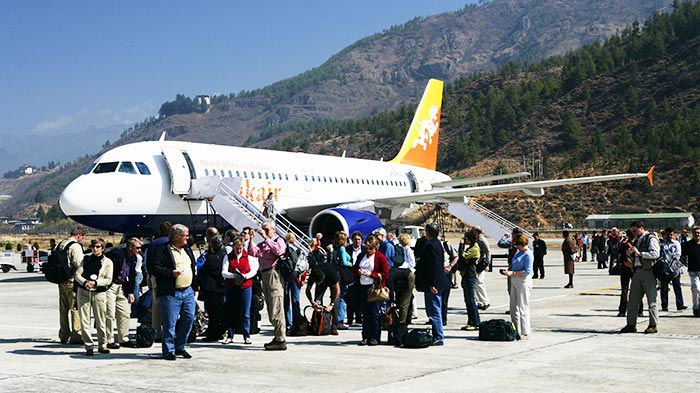 Traveling to Bhutan by air is the most convenient way
Flights to Bhutan from Delhi cost from around 10,600 INR for a single, one-way, economy ticket via Kathmandu, or around 28,600 INR for the same flight direct to Paro International Airport. If budget is important, then the added hour for the indirect flight through Kathmandu is worth the amount you will save. Flight costs also go down the closer you get to the date you require, and you can save more by booking the flight last minute. Since there is no visa requirement for Indian nationals traveling to Bhutan, there is really no need to book the trip too far in advance, and you can get the flight cheaper by waiting until a few days before your planned trip.
When to Go
The best time to travel to Bhutan for a vacation is really whenever you want to. While the tourism industry does have high and low seasons, depending on what you are wanting to see and do, you can travel to Bhutan at any time of the year. If trekking is your thing, then spring and autumn, the peak seasons, are the best times to go, as it is neither too cold nor too wet. The northern areas of the Himalayas are not the ideal place to travel to in winter, and from December to February the weather is cold with heavy snowfalls in higher areas.
The south of the country really has very little different in temperature from summer to winter, and the only main difference is that summer is hot, wet, and humid, while the rest of the year is dry and a little cooler. The summer monsoon rains can be rather heavy in the southern areas of Bhutan, however, and the downpours can last for several hours at a time, or even all day on rare occasions, and you should really avoid traveling in the south in the monsoon season.
Planning your trip around where you want to go, and when is the best time to visit that part of the country is the best way to travel, and if you want to avoid the crowds of the peak seasons, then winter in the south or summer in the north is the best option.