How to Plan Your Bhutan Travel Cost
Traveling to Bhutan, the Land of the Dragon King, is an experience of a lifetime, and one that requires some careful financial planning. With a Minimum Daily Package (MDP) of around 250 US dollars required for all travelers to the kingdom, cost is something to think carefully about, to ensure that your Bhutan trip is perfect, and you do not hit any problems.
Bhutan is rated by some as one of the most expensive destinations in Asia, although that is largely dependent on where you are comparing it. While Bhutan is definitely not a budget location, it is an affordable destination for the average mid-range budget traveler. Bhutan's policy on tourism is one of "High Value, Low Impact", which means that they want the tourists visiting the kingdom to have the best holiday possible without damaging the culture and environment. And the best way to make sure that people respect your culture and environment is to make them pay for it.
Minimum Daily Package
Bhutan holidays have what is known as a Minimum Daily Package (MDP), which means that there is a minimum cost of your tour per day, and even if the actual cost does not reach that amount for the entirety of the tour, that is how much you will have to pay. In the peak months from March to May and September to November, the MDP is US$ 250 per person, per day. This also has a single traveler supplement of US$ 40 per day, much like the single room supplement in a hotel, which brings the peak season total for a single traveler to US$ 290 per day. This supplement also applies to couples traveling together, and for a group of two, the supplement is US$ 30 per person, per day.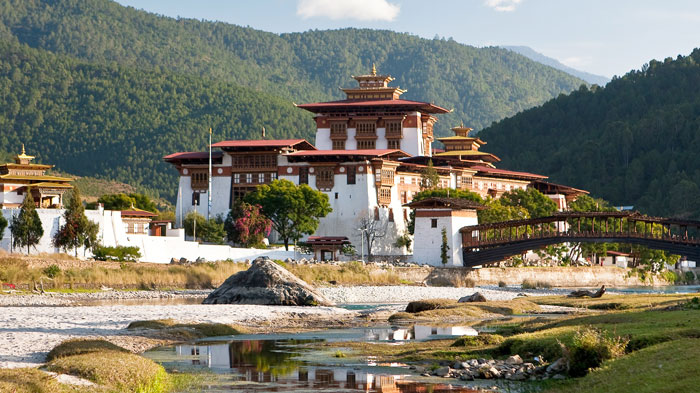 The famous Punakha Dzong is a must-see attraction during your Bhutan tour.
In the off-peak months, the MDP is normally only US$ 200 per person per day, although the single traveler supplement still applies, making the total daily cost as much as US$ 240 per day for a solo traveler. The group of two supplement also applies here, and is the same thirty dollars per person, per day. Part of the cost of traveling to Bhutan is what is known as the Sustainable Development Fee (SDF), which amounts to US$ 65 per day, and which is used to pay for education and healthcare, and to help alleviate poverty in the kingdom. In fact, the free healthcare part also extends to you for the entire duration of your tour in Bhutan.
The MDP actually accounts for almost all of what you can expect to pay for your tour to Bhutan, including your 3-star accommodation, food, travel and transfers, guide/driver, any camping and trekking gear needed, and entrance fees to the sites you are visiting. Since there is nothing additional to pay for, except the tip for your guide/driver and things you want to buy, this means that the real life cost of traveling to Bhutan is not as expensive as many people believe. The following is the actual cost of the MDP for different groups of travelers, before discounts.
Bhutan High Season
March, April, May, September, October, and November
$ 250 per person, per day for a group of three or more people
$ 280 per person, per day for a group of two people
$ 290 per day for an individual
Bhutan Low Season
January, February, June, July, August, and December
$ 200 per person, per day for a group of three or more people
$ 230 per person, per day for a group of two people
$ 240 per day for an individual
(*There might be a variation to actual tour cost in a particular region at a particular time.)
Visa Costs
The visa for Bhutan, which is obtained by your tour operator once you have paid for the tour in full, is forty dollars, irrelevant of age. Children pay the same price for the visa as adults, and for those under five, it is the only cost for their trip. The great thing about the visa fee is that it is added to your total payment for the trip, and you do not have the hassle of going to an embassy or consular office to make the application. Once your visa has been approved, you get a letter to show the boarding gate at your departure airport for Bhutan, and to immigration in Paro, and your visa will be issued in your passport when you arrive.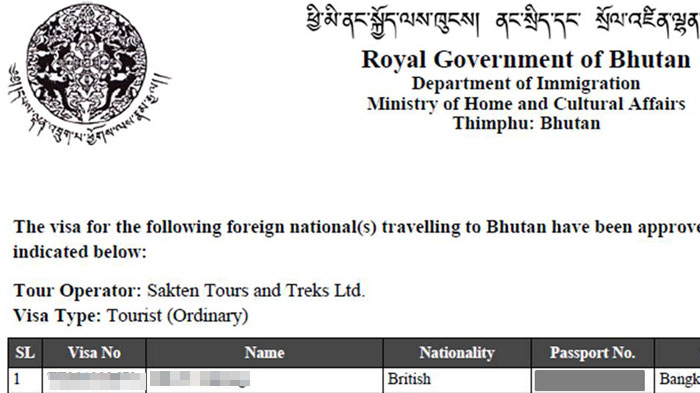 Bhutan visa
Discounts
There are rumors that there are discounts for students or kids, although these rumors have been known to vary greatly, as rumors have a tendency to do. In fact, these discounts can actually increase depending on how many people are in the party, and how long they are staying for, which can reduce the cost. The actual discounts available, according to the Tourism Council of Bhutan are:
1. Children under 5 years pay only for the visa fee of US$ 40
2. Children aged 5-12 years get a 50 percent discount on the MDP
3. Full-time students under the age of 25, with a valid student identity card from a recognized academic institution, get a 25 percent discount on the MDP
4. For groups of 11-16 persons, one member of the group can get a Group Discount of 50 percent on the MDP
5. For groups of more than 16 people, a 100 percent Group Discount on the MDP shall be valid for one member
6. A Duration Discount of 50 percent of the Sustainable Development Fee (SDF) shall be given after the 8th night in Bhutan, with a 100 percent discount on the SDF after the 14th night.
7. For those traveling into and out of Bhutan via the land border crossings of Phuentsoling, Sarpang, and Samdrup Jongkhar (known as the SDF Free Zone) and who spend the first and/or last night in the zone, a discount of 100 percent on the SDF shall be given for all nights spend in the SDF Free Zone.
8. Children under five years are not included in eligibility for any Group Discounts, Duration Discounts, and SDF Free Zone Discounts, and students are not included in eligibility for Duration Discounts.
The last clause in the list should be well noted, as this can seriously affect your costs and expected discounts.
Currency and Exchange Rates
The local currency in Bhutan is the Bhutanese Ngultrum (BTN), often known as the "nu", and the average international exchange rate as of January 2018 is around 64 BTN to the dollar. ATMs are more widely available in Bhutan than they used to be, and can be found in most major cities and towns in the kingdom. The ATMs work with most MasterCard and VISA cards, though you can check with your issuing bank as to whether your card will work. They will know! However, Amex, Diners Club, and many other cards are not accepted in the ATMs, although some of the larger 4-5 star hotels will accept them for exchanges at an extortionate rate.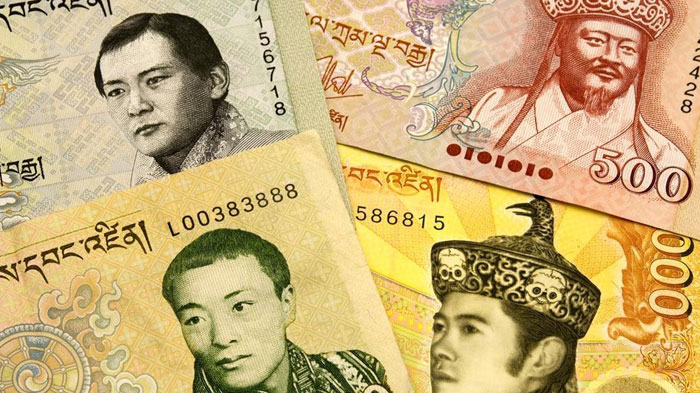 Bhutan Currency
The best way to get your local currency for Bhutan is to wait until you get there, and you will find that there are many small moneychangers and shops that will give you a better rate than you will get from your bank at home. You will also get a better exchange rate if you use 100 dollar bills rather than smaller denomination bills, as they have more value to the changers. The Indian rupee can also be used in Bhutan, and has a similar exchange rate to the ngultrum. However, the 500 and 1,000 rupee denominations are no longer accepted.
Spending Money
Well, this is really up to you to work out how much you want to bring, but you definitely do not need to take thousands of dollars with you. With nothing really left to pay for regarding the tour, your only real expenses will be the tip for the driver/guide and your souvenirs and soft drinks or candies you may want to buy while you are out. Alcoholic drinks are not included in your meals in Bhutan, so you will need to pay for your own, although the local alcoholic beverages are relatively inexpensive, and the sale of alcohol is prohibited on Tuesday, which is known as "dry day".
Tipping is not a requirement in Bhutan, and if you ask your guide and driver how much they would like, they will tell you it is up to you. Culturally, tipping is not a thing in Bhutan, and you will never see tip boxes or jars in the hotels and restaurants. However, with the increase in the tourist industry in the country, many of those working in tourism have come to expect a tip for their services, especially if they have gone out of their way to make your tour special.
Some of the hotels and restaurants are staring to add a ten percent service charge to bills, so tipping where there is the service charge is not required, although you can add more if you wish. Porters and cleaners tips depend on how you feel, and how well you have been treated, so again, it is up to you how much to leave. Low-ranking hotel staff earn around 10,000 nu per month, so even a few hundred nu is a good tip for your stay.
For the guides and drivers, it is again up to you, although on average around 15-20 dollars per day for the guide and 10-15 dollars a day for the driver appears to be the norm. However, if you are a solo traveler, this may be too high, and 10 dollars for the guide and 5 dollars for the driver, per day, is a good tip.
>> How Much Does It Usually Cost to Visit Bhutan?
>> Why Is Bhutan So Expensive? What Costs the Most?
>> Ultimate Guide on Bhutan Trekking Routes Prices and All