Bhutan Visa for European Tourists as UK Citizen, German Citizen and so on
Over the last few years, seven European countries were in the top 20 of visitors to Bhutan. In 2017, British had the eighth highest number of visitors to Bhutan with 3,246 tourists traveling to the country, followed by Germany with 2970 tourists to Bhutan in the year, while other nations, such as Australia, France, Canada, Switzerland, and Spain also had high numbers of tourists, all above 1,000 travelers within the year.
How to apply for a Bhutan visa from Europe? What are the visa requirements for travelers from Europe? Here is the ultimate guide to Bhutan Visa application for UK passport holders, Germany Citizens, as well as all the tourists from Europe to Bhutan.
How to Get Bhutan Visa from Europe
A visa for Bhutan is also very different from anywhere else in the world, and it is impossible to make a visa application in person. All applications for Bhutan visa are made by the tour operators, on your behalf, and only once you have booked a pre-arranged tour with them.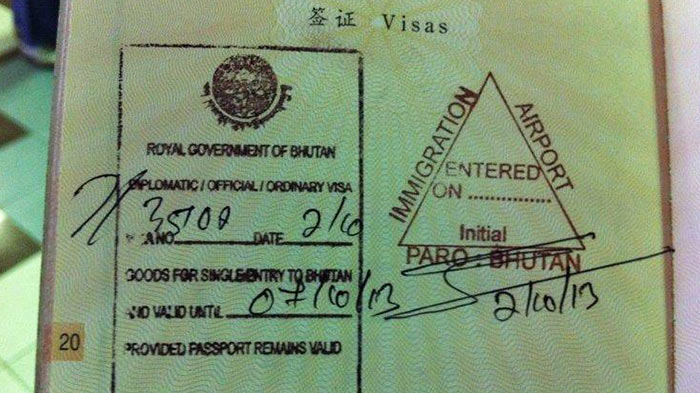 Visa for Bhutan can only be arranged by tour operators.
This has meant that tourism numbers can be controlled within the kingdom, and guarantees a higher quality of tourism for the tourists. Tour operators in Bhutan are strictly regulated, and the payment for the tour is held by the Tourism Council of Bhutan (TCB) until the end of the tour, and your satisfied survey. Only then are the fees released to the tour operator.
Bhutan Visa Requirements
Bhutan Visa requirements for European tourists are very simple, and only require a completed tour booking, with payment; a completed application form, which is done by the tour operator; a scanned copy of your passport for the application; and the payment of the visa fee, which is made with the payment for your tour.
Bhutan Visa Fee
The visa fee for Bhutan is normally 40 US dollars, but this is actually added to your Minimum Daily Package for the vacation, which you pay to the bank account of the Tourism Council of Bhutan. Once the payment has been received, the visa clearance will be issued, usually within 72 hours if payment is completed.
| | | |
| --- | --- | --- |
| | Peak Season | Low Season |
| Minimum Daily Spending | 250 USD per person per night | 200 USD per person per night |
Notice:
1. The peak season includes the month of March, April, May, September, October and November.
2. The low season covers January, February, June, July, August and December.
3. Bhutan Visa Fees can only be paid in US dollars.
Bhutan Visa Application Process
In order to obtain a Bhutan visa, you need to first arrange a pre-booked tour with one of the many tour operators for Bhutan. After arranging the details of the tour, and paying the booking fee, the tour operator will make the application for the visa using a scanned copy of your passport. It is important to ensure that the details you give match those of the passport, or the visa application will be declined, and you may have problems re-applying.
Once the visa has been approved by the Immigration Department and the Tourism Council of Bhutan, the Letter of Invitation (LoI) will be sent to the tour operator, the immigration desk at the airport, and the TCB. A copy will also be forwarded to both Bhutanese airlines, so that you can book your flights to Bhutan. Your tour operator will also send you a copy of the LoI, which you will need to book flights and to show the immigration desk once you reach Paro International Airport.
Also Need to Apply for Transit Visa of Surrounding Countries
As there is no direct flight from Europe to Bhutan, you need to get to one of the nearby countries that offer direct flights to Bhutan first. In this case, you need to ensure that your visa or transit visa is in place in order to get through the third country. Different rules apply, depending on where you are transiting through and whether you will be flying or traveling overland.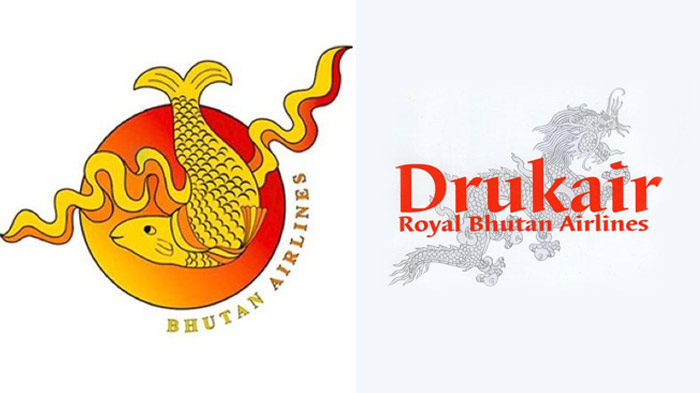 International flights to Bhutan are only handled by Druk Air and Bhutan Airlines, both are Bhutanese-owned airlines.
Q: Which countries offering direct flights to Bhutan?
Direct flights to Bhutan can be taken from India, Bangladesh, Nepal, Singapore, and Thailand, and are provided by either Druk Air or Bhutan Airlines, the two national airlines in Bhutan. No other airline is permitted to land at Paro International Airport.
Flights from India to Bhutan can be taken from one of five airports: Bagdogra International Airport in Siliguri, Delhi's Indira Gandhi International Airport, Kolkata's Netaji Subhash Chandra Bose International Airport, Gaya International Airport, and Guwahati's Lokpriya Gopinath Bordoloi International Airport.
Changi International Airport in Singapore offers daily flights to Bhutan during the peak season and twice-weekly flights in the low seasons. From Thailand, Bangkok's Suvarnabhumi Airport offers daily flights to Bhutan all year round, and in Bangladesh, Dhaka's Shahjalal International Airport has daily flights to Bhutan throughout the year. Nepal has the closest airport to Bhutan, the Tribhuvan International Airport in Kathmandu, which has daily flights in the peak seasons and twice-weekly flights in the low seasons.
Q: Is visa required for European tourists to transit from these countries by air?
For all European citizens transiting one of the five countries by air, the requirement for a transit visa when traveling by flight through their airports to Bhutan largely depends on the flight schedules and their own specific requirements.
In India, a transit visa is not required, as long as you stay within the confines of the transit area of the airport, and do not process through immigration.
In Singapore, the same applies, as long as the flight is within 24 hours of your landing flight, and you have the onward flight booking confirmation.
In Bangkok, you will not need a transit visa if you remain within the confines of the airport transit area and your connecting flight is no more than 12 hours from your landing flight.
In Bangladesh, you have up to 48 hours of visa-free transit, as long as you have the onward travel tickets and remain in the transit area.
In Kathmandu, there is no requirement for a transit visa, as long as you do not leave the transit area and have your onward travel tickets or booking confirmation.
In all cases, as long as you do not leave the transit area, have your onward tickets or proof of confirmation, and do not attempt to pass through immigration, you will be allowed to transit without a visa of any sort.
Q: Is visa required for European tourists to enter Bhutan from India by land?
If you are planning a Bhutan tour, and are intending to travel overland through India, then you will need to have a visa for the overland travel portion of your trip in India. The type of visa you require largely depends on how long you will be in India for your transit period.
While India has a huge railway network, your travel time does depend on where you land in India, and how long it will take to get to the Bhutan border will be the deciding factor on which visa you will need. But rest assured, even if you are only going to be in India for an hour, traveling to the border, a visa will be needed.
For those that are traveling to Bhutan from India and the trip is going to take less than three days, a Transit Visa can be issued by the immigration office. The transit visa is issued for the sole purpose of allowing the traveler to travel through India to reach their ultimate destination, and a change of purpose is not permitted once you have the transit visa.
The visa is normally issued for a period of 15 days from the date of issue, and is only valid for travel within India for a maximum of three days, or 72 hours from the time of entry. If your expected entry date is longer than 15 days, then wait to make the transit visa application until closer to your travel dates.
For European tourists, the visa fee for Indian transit visa is US$ 27.50, although, for British passport holders, it is US$ 95.70. These prices include the service fees charged for all Indian visas.
For those that are traveling through India to reach Bhutan, and whose trip is likely to take more than three days, then a standard India tourist visa is required. For most visa application, it can be done at an embassy in your home country before traveling, or for most countries, an E-visa can be applied for, through the website if the Indian Immigration Department, which makes the processing simpler and easier.
Visa costs vary, and the India visa fee for most European citizens is around US$ 47.70. However, British citizens will be required to pay a minimum of US$ 136.70, and can only get a minimum 6-month multiple-entry visa. 30-day visas are not available for India except for citizens of Sri Lanka.
>>Read more about How to Prepare a Bhutan Trip from Delhi
>>Read more about How to How to Get to Bhutan from India
Conclusion
During the last few years, tourists from Europe took the majority of the total number of tourists. For European tourists, it is not difficult to apply for Bhutan Visa.
Just the same as travelers from other countries, European tourists need to book a Bhutan tour package with a local travel operator and finish the full payment before they go, so that the operator can start to apply for the Bhutan visa on their behalf.
All you need to provide is the scan copy of your passport with at least 6 months validity.
Because there is no direct international flight from any European country to Bhutan, you need to get to the third country first and then take a flight to Bhutan. The countries offering flights to Bhutan include India, Nepal, Bangladesh, Thailand, and Singapore.
A transit visa is not required for connecting flight to Bhutan via these countries. But if you want to visit the country before your Bhutan tour, you may need to apply for a transit visa or a standard tourist visa.
Just feel free to tell us your travel plan; our professional travel consultant will help you figure out what you really need to apply for your Bhutan tour with your passport.