How to Travel by Flight from US to Tibet
For tourists that are heading for Tibet from the United States of America, there are actually no direct flights to the Tibetan plateau region. All travelers need to first fly to major cities in China or the exotic Nepali capital of Kathmandu and then connect to the Tibet Autonomous Region from there. The main cities that have direct and indirect flights from the US to China include Beijing, Shanghai, Guangzhou, and Chengdu, from all of which you can connect to Lhasa, the Tibetan capital.
Firstly Take Flights from US to China
Fly from West Coast to China
For those traveling from the west coast of the United States, there are options to take flights to China from such airport cities as Seattle, San Francisco, San Jose in California, Los Angeles, and even Las Vegas.
Fly from Seattle to Beijing and Shanghai
Direct flights from Seattle (SEAA) fly daily to cities in China such as Beijing or Shanghai, and take from 12-14 hours for the flight. Several airlines offer the flights to China, including Delta, Hainan, and China Southern. Prices range from as little as US$276 for flights to Shanghai to around US$328 for flights to Beijing.
Tips: The exact amount of flight ticket please check the official website of different airlines.

Beijing, one of the most populous city in the world.
Fly from San Francisco to Beijing, Shanghai, Chengdu, Guangzhou
Run by United, Delta, and Air China, flights from San Francisco (SFO) run daily to Beijing, Shanghai, Chengdu, and Guangzhou, and take from 12 hours to as long as 14 hours 30 minutes. Flight costs are as low as US$348 for Chengdu and US$334 for Shanghai to as much as US$667 for Guangzhou and US$508 for Beijing.
Fly from San Jose to Beijing
Direct flights from San Jose International Airport (SJC) run daily to Beijing. The flights are run by Hainan Airlines, and take around 12 hours 15 minutes. Flights cost as low as US$396 per person.
Fly from Los Angeles to Beijing, Shanghai, Guangzhou, Chengdu, etc.
Flights from Los Angeles International Airport (LAX) run to Beijing, Shanghai, Chengdu, Chongqing, and many other airports. Flights cost as little as US$320 up to around US$1033, depending on the destination, with Beijing being the cheapest. Flights take from 12 hours to 15 hours 30 minutes to reach China, and are offered by a range of both Chinese and American airlines.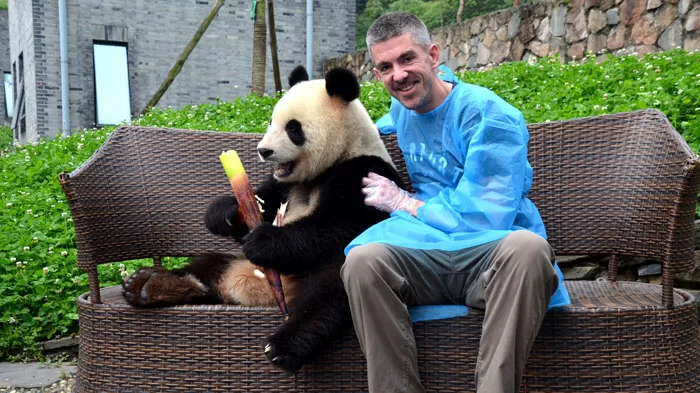 Travelers are enable to have a close look with pandas in chengdu.
Fly from Las Vegas to Beijing
There are no direct flights from Las Vegas (LAS) to China, but there are indirect flights to Shanghai and Beijing, which require only 1 stop. Flights cost from US$202 for Shanghai to US$305 for Beijing, the 16 and 15 hour flights stop at either LAX or SFO.
Fly from Midwest to China
The Midwest of the United States has only two major airports with direct flights to China, which are Chicago and Detroit. However, there are a number of daily direct flights to China from both airports, to give passengers a good choice of flights.
Fly from Chicago to Beijing
Flights from Chicago's O'Hare International Airport (ORD) run daily to Beijing only, with two flights a day to the Chinese capital. Flights take an average of around 13 hours 35 minutes, and can cost from as low as US$438 per person.
Fly from Detroit to Beijing, Shanghai
Flights from Detroit's Wayne County International Airport (DTW), fly to both Beijing and Shanghai. Flights to Beijing take 13 hours 40 minutes and cost US$963. Flights to Shanghai cost from US$1,030 per person for the 14 hour 46 minute flights.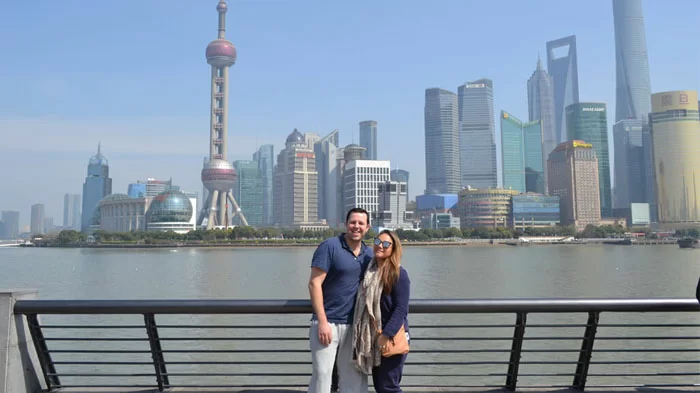 Shanghai, the largest and most developed city in China.
Fly from East Coast to China
Flying from the east coast of the United States means you can choose from several airport for your departure location, including New York, Boston, Washington, Atlanta, Dallas, and Houston.
Fly from New York to Beijing, Shanghai, Chengdu, and Guangzhou
Flights from New York for China depart from both John F. Kennedy International Airport (JFK) and Newark International Airport (EWR) to Beijing, Shanghai, Chengdu, and Guangzhou. Flights to Beijing are only offered from Newark, while flights to Guangzhou and Chengdu are offered from JFK, and to Shanghai from both. Flight s take from 13 to 16 hours, and cost from US$498 for Chengdu to as high as US$749 for Beijing.
Fly from Boston to Beijing and Shanghai
Flights from Boston Logan International Airport (BOS) run daily to Beijing and Shanghai, and cost from US$460 for Shanghai to US$590 for Beijing, taking around 14 hours to both cities.
Fly from Washington DC to Beijing
Flights from Washington DC's Dulles International Airport (IAD) fly daily to Beijing, with both United Airlines and Air China. Flights take around 13 hours 50 minutes, and cost from US$748 per person.
Fly from Atlanta to Shanghai
Flights from Atlanta Hartsfield-Jackson international Airport (ATL) only run to Shanghai, offered by both Delta Airlines and China Eastern under Delta. Flights cost from around US$1,131 per person and can take from around 16 hours to reach China.
Fly from Dallas to Beijing and Shanghai
Flights from Dallas Fort Worth International Airport (DFW) run to both Beijing and Shanghai daily, and take 14 hours 20 minutes to Beijing and 15 hours 35 minutes to Shanghai, Flights cost from US$699 for Beijing and US$1,004 for Shanghai with American Airlines and China Southern.
Fly from Houston to Beijing
Direct flights to China from Houston George Bush International Airport (IAH) in Texas run four days a week, and take around 14 hours 50 minutes to reach Beijing. Flights are offered by Air China and cost from US$832 per person.
Fly from Pacific to China
For those flying from the Pacific region of the United States, flights only run from Honolulu to China.
Fly from Honolulu to Beijing, Shanghai
Flights from Honolulu International Airport (HNL) in Hawaii run daily to Shanghai only, and cost from around US$491 per person. The flights are offered by China Eastern Airlines, and take around 12 hours 10 minutes to reach China.
After You Arrive in China, Take a Connecting Flight to Lhasa
Fly from Beijing to Lhasa (highly recommended)
With most flights from the United States landing at Beijing, it is the most popular and most recommended departure location for flights to Tibet's Lhasa Gonggar International Airport. Only two flights depart for Lhasa from Beijing daily, and take around 4 hours 30 minutes, costing from around US$426 per person. - Check all the domestic flights to Lhasa in detail.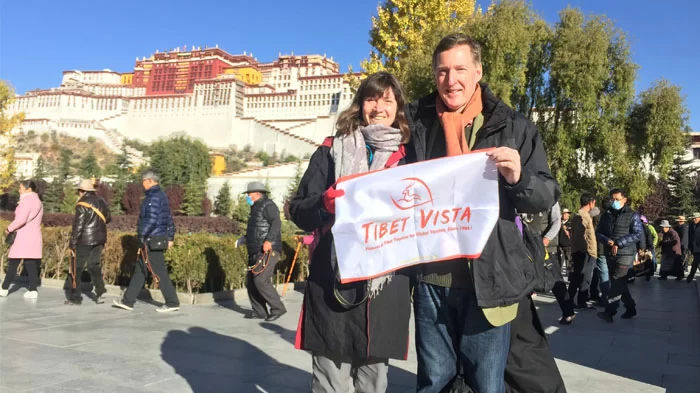 Our clients from the United States visited the magnificent Potala Palace in Lhasa, Tibet.
Fly from Shanghai to Lhasa
Only one flight departs from Shanghai to Lhasa, which takes on average around 7 hours 55 minutes to reach the Tibetan capital. Flights normally stop briefly in Xi'an and cost from around US$426 per person for an economy flight.
Fly from Guangzhou to Lhasa
Guangzhou has only one daily flight to Lhasa, which takes around 5 hours 55 minutes and costs from as little as US$320 per person for an economy flight.
Fly from Chengdu to Lhasa (highly recommended)
Chengdu has the most number of daily flights to Lhasa, with 14 flights departing from the Shuangliu International Airport daily. Flights take around 2 hours 15 minutes to reach Lhasa, and cost from as little as US$155 per person for economy flights. As one of the shortest duration flights to Tibet, Chengdu is one of the most popular and recommended departure locations for the Tibetan plateau region.
What to Prepare for Flying from Us to Tibet
Travel Documents for the Flight
Before getting to China for the trip to Tibet, you will need to obtain a visa for entry to China. The visa is available from any Chinese Embassy, and takes around three working days to process. Visa fees depend on the country of origin, and for the United States citizens, the average cost is around US$140 per person.

Tibet Travel Permit is a vital document for you Tiebt tour.
You will also need the Tibet Travel Permit in order to get into Tibet from mainland China once you arrive, which can only be obtained by a travel agency that runs tours to the region. Once you have booked your tour with us, we will make the application for the Tibet Travel Permit on your behalf, which can take around 15 days to process.
Where to Book Your Flight Tickets?
Booking flights to China from the United States can be done in whichever way you prefer, and if you have a trusted travel agent, then they may be able to get good deals for you, If not, then the vast number of comparison sites on the internet can often be the best option for cheaper flights.
Or nowadays it's fairly convenient to download the Apps of your favorite airline to book the flight. It is best to book your flight as far in advance as you can, to get a better deal.
For the domestic flight to Lhasa in China, you may also use our flight booking service, simply tell us your flight date, our travel consultant will properly book the flight for you.
How to Travel comfortably for the Long-haul Flight
Long-haul flights can be uncomfortable for most travelers, with small seats in economy class and little room to move around. We do recommend a higher class of ticket if you are not used to cramped seats, or trying to move around the cabin at regular intervals and maintaining a good level of hydration throughout the flight.
After You Land in Lhasa, Do Have Good Rest to Avoid Mountain Sickness
After arriving in Lhasa, most tourists do feel the effects of the symptoms of altitude sickness, and this is quite normal. Headaches, nausea, and dizziness are common symptoms, and you should rest as much as possible and avoid strenuous activity for the first few days, Make sure you drink plenty of water and eat properly to help acclimatize faster. - Expert's tips to avoid acute mountain sickness in Tibet.
Other Alternative: Fly from US to Tibet via Nepal
Another option for travel to Tibet is to fly to Kathmandu in Nepal and travel to Lhasa from there. Nepal is the only country with international access to Tibet, and has flights daily to the Tibetan capital, which take around 90 minutes and cost from around US$230 per person.
While there are no direct flights to Nepal from the United States, you can get connecting flights from more than 20 cities, including New York, Washington DC, San Francisco, Boston, and many more. We are also able to help you to obtain your Chinese Group Visa for entry to Tibet from Nepal, and obtain the Tibet Travel Permit to allow you to travel to Lhasa, if you book your tour of Tibet with us.
Conclusion
With more than a dozen international airports in the United States flying direct to China's major cities, getting to Tibet from the US has never been easier. Flights from some departure locations can be a little more expensive than others, but in general, for flights of such long durations, you can get some really good deals on prices by using the internet comparison websites.