Travelling from America to Tibet is easy. All you need to do is firstly fly from the US to major Chinese cities like Beijing, Shanghai, Guangzhou, Chengdu, etc. Then after you obtain your Tibet permit delivered to your hotel by us, you are on your way to either take Tibet train or domestic flight to Lhasa. Another option is to access Tibet from Nepal, due to its proximity to Tibet. In this case, Tibet permit and Group tourist visa are needed. And you may choose to take non-stop flight from Kathmandu to Lhasa or enjoy the epic Kathmandu to Lhasa overland trip. As a prestigious Tibet tour operator, we offer you a variety of Tibet tours covering China, Tibet and Nepal. Check the adventurous Tibet tours and the useful US to Tibet travel guide below.
Tibet Travel Permit Application for American Tourists
Just like other international visitors, Americans need to obtain a Chinese visa before being able to get their permit for Tibet. Visas can be applied for through the Chinese Embassy in the U.S. Then you need to book a tour with us, and you are expected to send your scanned photos of your passport and Chines Visa page and your photos to us for Tibet Permit application. As long you book our Tibet tour, we can help you get it For Free. Later after we get your Tibet permit, we will send it back by express to your hotel in China. Now, just tell us your travel date, activities and preferences, our travel consultants will work with you to customize your Tibet tour.
Most Popular Tibet Tour from the United States
For many discerning American travelers, travelling from mainland Chinese cities to Tibet is only the first half of the mesmerizing long journey. The second half of the tour begins with either the epic Lhasa to Kathmandu overland tour or the adventurous from Lhasa to Kailash. We handpick the top-rated Tibet tour packages for you. You may easily choose the different tour combinations and travel smoothly amid China, Tibet, and Nepal.
How to Get to Tibet from the United States? Multiple ways to travel from America to Tibet.
Basically, there are two ways to travel to Tibet from the US. You can firstly fly to mainland China and then travel west by flight or Tibet train to Lhasa, or you can land in Nepal, and later choose to take flight or road trip from Kathmandu to Lhasa. Flights to China and Nepal run from the United States several times a day, from many different airports across all of the four time zones.
Pacific: Seattle, San Francisco, Los Angeles
Mountain: Phoenix, Denver, Salt Lake City
Central: Dallas, Michigan, Chicago, Mississippi
Eastern: New York, New Jersey, Miami, Tampa, Washington DC, Philadelphia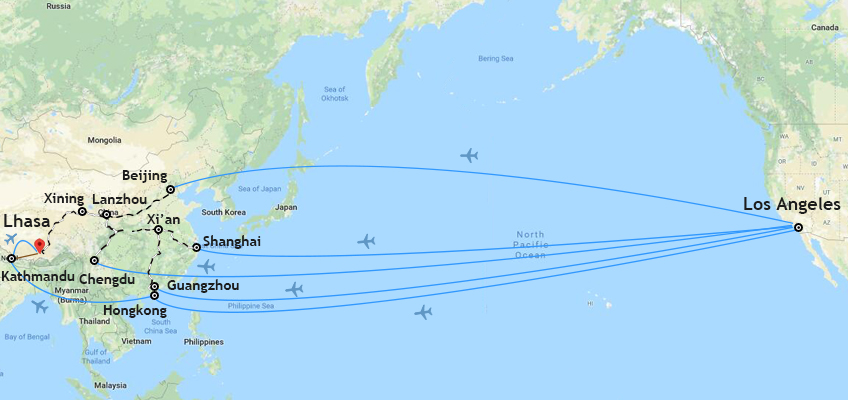 Tibet train VS Domestic flight
After you arrive in China and get your Tibet permit, then it's time to either board the Tibet train or flight to Lhasa. Train travel is the preferred method of most tourists traveling to Tibet from China, as the trains run through some of the most spectacular scenery in the world, and traverse the Qinghai-Tibet Railway, which is the highest railroad in the world, with most of its tracks at an elevation of more than 4,000 meters. And the highlights of Tibet train journey lies from Xining to Lhasa section. There are three main types of ticket for Tibet train journey: soft sleeper, hard sleeper and hard seat. The soft sleeper berth is the most expensive yet with better privacy and comfort. The cabin can accommodate 4 passengers and lockable door, TV set and foldable table, oxygen outlet, battery recharger facilities, etc. are available.
While the hard sleeper are not hard at all. With much cheaper price, hard seat cabin can accommodate 6 travelers. Though the cabin may be cramped, you can relax on the foldable table in the corridor and it offers a cost-effective option for budget travelers. For the long train journey, hard seat is not recommended.
Get to Lhasa via Beijing and Shanghai
There are many flights into Beijing and Shanghai from the U.S., and several different airlines run flights, so it is advisable to search for the best deal from your chosen departure airport.
For Beijing the flight costs around US$1,100, up to US$1,300, and can take between 21-25 hours. The train from Beijing is much longer, and takes around 41 hours to get to Lhasa. The cost of the tickets are ¥720 for hard sleeper berths and ¥1,144 for soft sleepers.
For Shanghai, the flight takes between 17-23 hours, and costs around US$1,200 for a return flight. Once there, the train from Shanghai is the second longest at almost 48 hours traveling time. Soft sleeper berths cost ¥1,263, while the hard sleeper is only ¥794.
Get to Lhasa Via Chengdu
One of the best routes to get to Lhasa from any U.S. airport is to fly via Hong Kong. As there are no restrictions on travel to Hong Kong, and American travellers can travel there without a visa, it is a preferable route. On average the flight to Hong Kong will cost between US$550 to US$3,000, depending on the airline. Philippine Airlines (PAL) is one of the cheapest at under US$600 from Los Angeles to Hong Kong. You would be best advised to shop around on the internet for the best flight deals for your required date of travel. The trip from L.A. to H.K. takes around 15 hours, direct.
For flights from Hong Kong to Chengdu, the average cost of a return trip is between US$590 to US$700 per person, including taxes, but not transfers. Travel time also varies, depending on your departure location and connections, but on average is between 17-20 hours. From Chengdu, the train to Lhasa runs daily, and costs ¥668 for a hard sleeper berth and ¥1,062 for a soft sleeper berth. The trip from Chengdu takes around 44 hours, and the train covers over 3,360 kilometers.
Get to Lhasa Via Kathmandu, Nepal
For Kathmandu, Nepal, the flight costs from US$1,200 to US$1,400 and can take between 22-26 hours, depending on departure location and connections. Travelling from Nepal to Tibet is also a popular choice. There is currently no train bound to Tibet from Kathmandu. However, you can enjoy the epic overland route into Tibet, as the Sino-Nepal border,i.e. Gyirong Port. Is readily available for international tourists. Our travel consultants will help you arrange the details.
By Kathmandu to Lhasa flight
Flights are available into Lhasa, and cost around US$275. The flight is relatively short, at around one hour for the 600km trip. Certain documentary requirements differ in Nepal, although you will still need a visa for the trip to Kathmandu from the United States, to enter Tibet from Nepal you need to have Tibet Travel Permit, and Group Tourist Visa which can be arranged using your passport and visa with the help of our tour operators. We will provide you with the permit to enter Tibet, and once in Kathmandu, our staff will aid you in getting the Group Tourist Visa from the Chinese Embassy in Kathmandu. Although it is called a "group" visa, you do not need to be a group to get one.
By the Epic Overland Tour from Kathmandu to Lhasa
Compared with flight, enjoying the epic overland tour from Kathmandu to Lhasa is much preferred by many tourists. Our staff will transfer you to Gyirong Port, current Sino-Nepal border, and after you go through the customs, our Tibetan guide will be greeting you on Tibet's side. Due to the drastic altitude ascent, you will stay in Gyirong county for acclimation and gradually move eastward to visit Tingri, EBC, and Shigatse and finally arrive in Lhasa. The classic travel route abounds with jaw-dropped Himalayan peaks, magnificent Buddhist monasteries and holy alpine lakes and unlimited chances to meet local Tibetans and explore their exotic culture and custom.
Tibet is a land that is still steeped in its ancient traditions, is full of Buddhist rituals and rich with culture, wildlife and scenery. Really, the only way to fully experience Tibetan culture is to go there and find out for yourself. Without a doubt, this holiday hot-spot at the top of the world is the one that you will remember and tell your grandchildren about.
Quick Inquiry
We'll get back to you within 24 hours.
If you are planning to enjoy a trip to Tibet from the United States, yet have no ideas of how to sort it out the details, no worries! We would like to hear your tour plan and offer free professional consultancy and viable solutions. Please feel free to contact us.