Never Miss the Peach Blossom in Nyingchi in March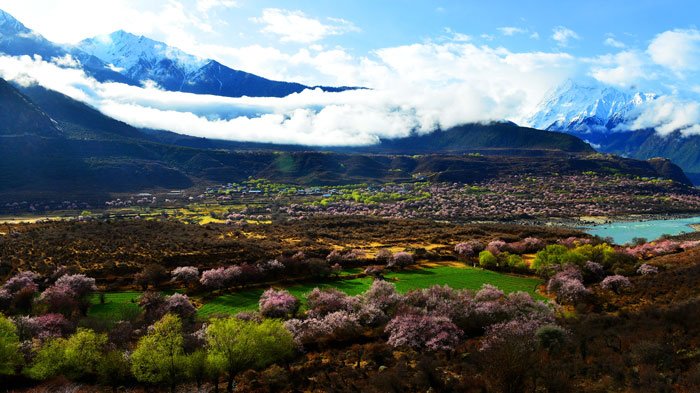 The stunning wild peach trees dotted along the Nyang River in Nyingchi.
It has been said that the spring of Tibet comes first in Nyingchi, southeast of Tibet. Gently displaying their rosy petals, peach blossoms are seen as the messengers of spring. Blanketed with a massive area of peach trees, the hillside and gullies present incredible scenery, especially on the banks of Nyang River, Yarlung Tsangpo River where you can enjoy the full-bloomed peach trees, and lofty snow-capped mountains in the distance. Hardly can one use a few words to portray its unique beauty as its breathtaking scenery truly defies description. The best way is for you to come and see it up close.
There are a number of reasons why you couldn't afford to miss visiting Nyingchi in spring.
a. Unparalleled Topography of Nyingchi (with an average altitude of 3100m)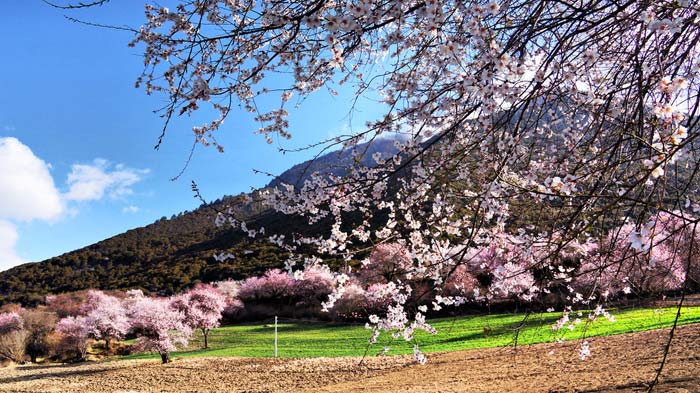 Snow-capped mountains and widespread rosy peach trees
Located in the southeast of Tibet, Nyingchi prefecture is widely known for its large-scale pristine forest, hospitable environment, spectacular valleys and alpine gorges, etc. As you travel along the Nyang River, west of the Mila Mountain, the picturesque scenery, usually compared equally to that of Switzerland, starts to unfold one after another. Tourists will be able to enjoy the fertile Bangjietang grassland, peaceful Nyang River, stunning peach blossom valley in Gala village, Yarlung Tsangpo River, Namcha Barwa Mountain, etc. The snowy mountains, scenic river banks and valleys, and blue sky make a splendid backdrop to the widespread wild peach blossoms on the hillside.
b. Experience the Annual Peach Blossom Festival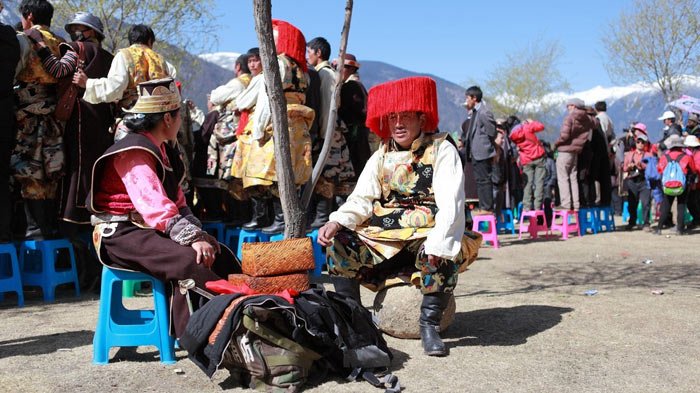 Tibetans in traditional costumes are getting ready to join the festival events.
It is well known that March and April are the best seasons to tour Nyingchi. It is also the time when annual Nyingchi Peach Blossom Festival is expected to be held there( March, 23,2016) . Travelers can explore the exotic Tibetan villages, and unique pastoral scenery amid massive peach blossoms. Meanwhile, you may also enjoy horsemanship performance, archery, and carrying stones competition. In this year's celebration, the organizers will invite singer Yunggiema to perform there. Why not come and enjoy the lovely peach blossoms with the enchanting song of famous Tibetan singers.
Tips: This year's Nyingchi Peach Blossom Festival is about to last from March, 23 to April, 20. Since Tibet normally opens to foreign tourists in early April, you will have over 2 two weeks or so to enjoy the premium peach blossoms season in Nyingchi.
c. A Rare Chance for world-wide Photographers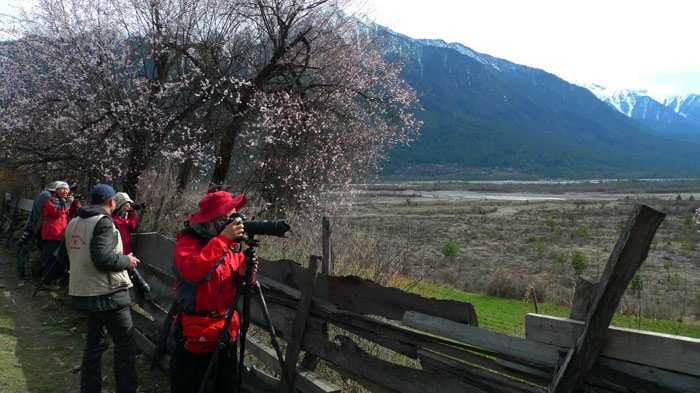 Photographers find it hard to resist the beauty of Nyingchi.
Landscape, portrait, or documentary, whatever subject you like, etc. the spring of Nyingchi is ready to meet virtually all your demand for artistic creation. In China, the unique terrain, along with diverse flora and fauna, comparatively lower altitude and favorable climate, etc. makes Nyingchi the ultimate place to shoot massive peach blossoms in spring. Arguably, it is the best place to take photos in China in spring as well as a heaven for passionate photographers. All you have to do is prepare enough memory cards or films and choose the most suitable lens to come. (24-70mm lens and 70-200mm lens are highly recommended.)
*Coming all the way to Tibet is not easy, never miss the chance to explore other must-see attractions in Tibet, here are a number of handpicked tours for your consideration.
10 Days Eastern Tibet Tour to Explore the Natural Beauty

12 Days Hongkong to Tibet Travel through Nyingchi with Low Altitude
12 Days Tibet Tour to the Historical Sites along the Brahmaputra River
11 Days Best of Tibet Tour with EBC